---
Apple held its "Far Out" event on September 7, 2022, and unveiled the iPhone 14 lineup and some new watches. The iPhone 14 lineup includes the iPhone 14, iPhone 14 Plus, iPhone 14 Pro, and the iPhone 14 Pro Max. The watches include the Apple Watch Series 8, Apple Watch Ultra, and a new version of the Apple Watch SE.
Whenever new Apple devices are released people start thinking about whether they should upgrade, and once they decide to upgrade – what should they do with their current iPhone or Apple Watch? More specifically, the questions circle around whether or not you should sell your current phone or watch or use a trade-in program.
The truth is – both options are worth considering, but selling your iPhone or Apple Watch is the better option if you want to get the most money. Of course, trade-ins can be easier, and more convenient, but it is important to remember that you will be trading value money for that convenience.
How does the Apple Trade-In program work?
Like most other trade-in services, the Apple Trade-In Program allows customers to trade in their old iPhone or Apple Watch. The Apple Trade-In Program is available online and in Apple retail stores. The process varies slightly depending on whether you are online or in a store, but the basic process has you answer a few questions about the device you are trading and then accept or reject the offer.
It is important to remember that the Apple Trade-In does not pay you cash. You'll either receive a credit, instant credit, or a gift card.
If you trade in while purchasing a new device, you'll get a credit on the payment method you used once your trade-in has been accepted and processed.
If you trade in while purchasing a new device and use a payment plan such as the Apple Card Monthly Installments or Apple iPhone Payments, your trade-in credit will be applied instantly.
If you do a straight trade-in without purchasing a new device you will get an Apple Gift Card that can be used with the online Apple store or an Apple retail store.
Apple Trade-In vs Swappa
As a quick example – I currently use an iPhone 12 Pro (256GB) and an Apple Watch Series 6 (40mm GPS + Cellular). The table below outlines what I could expect if I were to upgrade.
| | | |
| --- | --- | --- |
| | Apple Trade-In Value | Swappa (Current Listing Prices) |
| Apple iPhone 12 Pro (256GB) | $425 | $599 – $876 (Unlocked with 256GB storage / Good Condition) |
| Apple Watch Series 6 (40mm) | $120 | $185 – $269 (GPS + Cellular in Aluminum / Good Condition) |
Apple trade-in and current Swappa listing prices as of September 12, 2022.
The table highlights the reason why you should sell instead of trade. Even on the low end, I would be looking at roughly $175 more if I sold my iPhone and roughly $65 more if I sold my Apple Watch. Both of my devices are in really good condition so, with careful pricing on my end, I could reasonably get around $250 more if I were to sell instead of trade.
Get the most money for your iPhone or Apple Watch on Swappa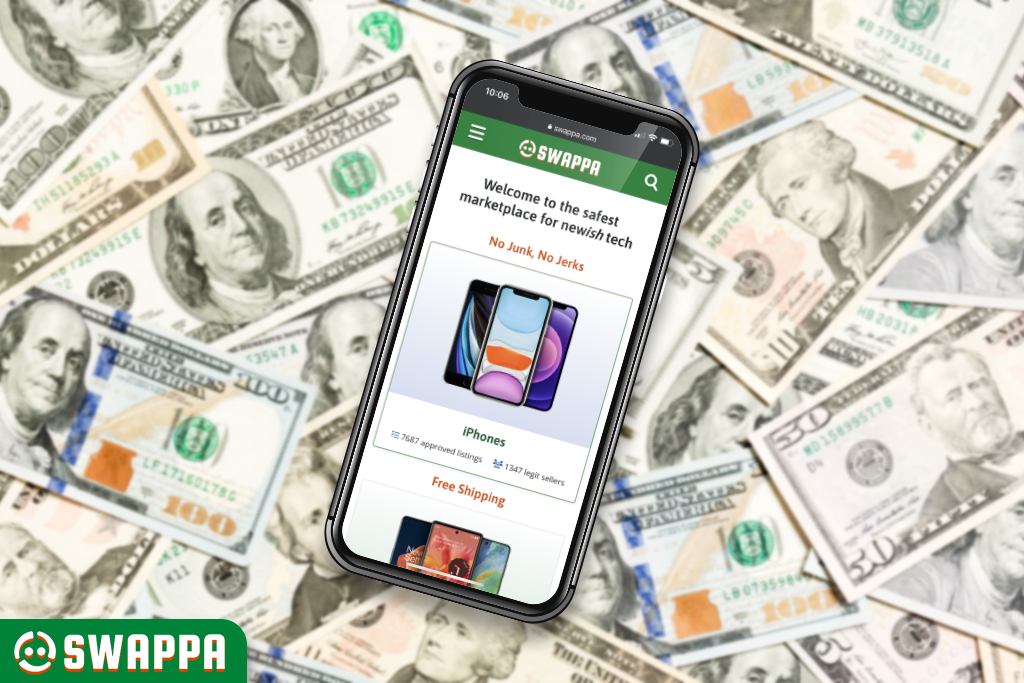 Swappa gets you more for your old phone – and also lets you pick up a gently used replacement for less! After all, the iPhone 14 and Apple Watch Series 8 may be the latest and greatest – but the iPhone 13 and iPhone 12 lineups, and the Apple Watch Series 7 and Series 6 are all still very capable (and also much less expensive than the current generation models).
Really, the choice is clear: Swappa always gets you more for your used iPhone or Apple Watch so you can upgrade for less. And when you're ready to upgrade, our iPhone Buyer's Guide helps you find the right iPhone for you!
Ready to sell your old iPhone on Swappa? Creating a listing is free, and you can get started right now by hitting the button below. For a detailed walkthrough on selling in our marketplace, make sure you check out our complete Swappa Selling Guide.