---
There are a few items to consider when choosing a wireless provider, one is to make sure the carrier has good coverage in the areas where you live, work, and play. This often means you look towards one of the major carriers; AT&T, Verizon, or T-Mobile. After all, there is some name recognition. The major carriers also have the network infrastructure, which goes back to making sure you will have good coverage.
However, you shouldn't forget about the smaller carriers. These smaller carriers are referred to as MVNO carriers, and they not only use the networks of the four major carriers — but they are often able to offer service at a lower price. In this article, we're going to discuss switching from Verizon to an MVNO carrier that uses the Verizon network — with the intent of spending less each month.
What is an MVNO?
MVNO stands for Mobile Virtual Network Operator. An MVNO is a carrier that leases network access from one of the major carriers, in this case, Verizon. An MVNO carrier leases this network access in bulk, so it can be resold, which means they are often able to offer lower prices. Essentially, this means you will be able to spend less while still using the same network.
MVNO carriers typically also operate on a BYOP (Bring Your Own Phone) setup. This allows you to use the phone you currently have or even buy a newish used phone. So…by using an MVNO carrier you can spend less on your service, and also spend less on your phone. After all, buying a newish phone will be far less as compared to buying a new phone at retail pricing.
Coverage and roaming with an MVNO
The potential of using the same network while saving money may have some ready to immediately jump to an MVNO. But before you make the switch — there are a few items to consider, such as network coverage and roaming.
A good way to check on local coverage is by asking your friends, family, or coworkers. If you know anyone using the Verizon network in your area — make sure to ask them about their experience. Asking for personal experiences regarding local coverage is a good first step, but you should also consider the second factor, which is roaming.
At times, carriers can have roaming agreements with other carriers. This basically means the carrier does not have good (or any) coverage in a market, so they have an agreement with another carrier to roam onto their network. This roaming will not cause any issues if you are a Verizon customer, however, it is important to remember that not all roaming agreements carry over to all MVNO carriers.
Verizon network coverage
Verizon touts their 4G LTE network as providing coverage for 327 million people in more than 2.68 million square miles. Or put simpler, coverage for 99 percent of the US population. They also provide an interactive coverage map on their website, which allows you to drill down into specific locations.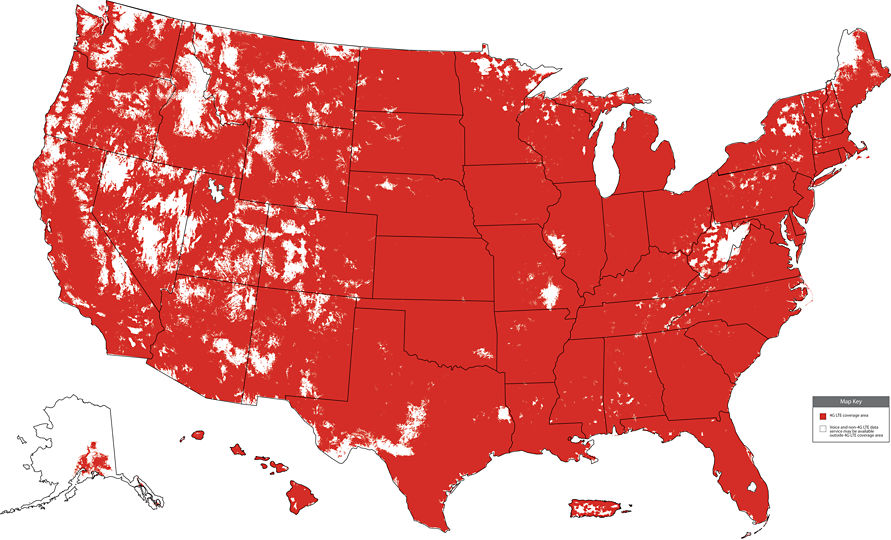 The Verizon map shows coverage in an overall area, and it also allows you to see the type of coverage. Verizon breaks this down into a few categories: 5G Ultra Wideband, 5G Nationwide, 4G LTE, 3G, and No Coverage.
Network deprioritization with an MVNO
Once you've determined the coverage is good, and that you are not in a "no coverage" location, the next item to consider is network deprioritization. Network deprioritization basically means that MVNO users may experience slower network speeds as compared to regular Verizon users.
An independent report from Tutela suggests that all MVNO users will experience some form of deprioritization. The report noted that "across the board, MVNO customers see slower download speeds than subscribers on the host networks." This report also went on to mention that with Verizon and AT&T, "there is a noticeable gulf between the MVNO and host operator speeds."
Based on the details from this report — deprioritization is something you'll want to consider, and also check, before you switch carriers. Some carriers will be upfront about capping speeds, and some will note this in the fine print. And, it is important to note that this is not something that only Verizon MVNO users need to worry about. In fact, Verizon can deprioritize users at times.
Using the $70 per month Verizon Start Unlimited plan as an example, Verizon lists this plan as having unlimited talk and text with unlimited 4G LTE data. But the fine print attached to this plan states that "users may temporarily experience slower data in times of congestion."
Which MVNOs use Verizon
Similar to what we've seen with T-Mobile and AT&T MVNOs, you can easily count more than twenty MVNO carriers that use the Verizon network. We've recently covered Verizon MNVO carriers and published a list of the top seven overall (as seen below).
We maintain these seven as being the top overall, and for today, we'll be shifting our focus to the top three MVNOs that can help you keep some of your hard-earned money in your bank account.
Best Verizon MVNOs for saving money
Verizon has a total of four unlimited plan options, which range in price from $70 to $90 per month. These plans include the Start Unlimited ($70), Play More Unlimited ($80), Do More Unlimited ($80), and the Get More Unlimited ($90).
*Pricing for these plans do not include taxes and fees. Pricing for all plans assumes an auto-pay discount of $10 per month.
These four Verizon plans all offer unlimited talk and text, with "unlimited" 5G Nationwide and 4G LTE data. Verizon also offers some perks with these plans, such as Apple Music, but when looking to cut costs, we'll be considering the core features of talk, text, and data.
In terms of the data on these plans, they offer different levels of a speed guarantee, which is noted as the included "premium" data. The Start Unlimited plan can be temporarily slowed at any time, while the Play More, Do More, and Get More plans each offer a set amount of premium data before any slow down may occur. The guaranteed amount for these three plans is 50GB per month, after which, Verizon can slow your data speeds.
Unlimited data or even the 50GB allotted premium data on the Play More, Do More or Get More plans is nice. Having an unlimited amount, or a high amount such as a 50GB guarantee will take away some of the worries. It allows you to simply use your phone and not worry about running out of data or going over your limit — but not everyone needs that much data. Simply knowing your usage can be a good starting point towards saving some money.
Today we'll be taking a look at three MVNO carriers; Visible, US Mobile, and Straight Talk. These three MVNOs each have great plans that will allow you to save some money, as compared to Verizon.
Visible
On the Visible website, the carrier mentions that picking a phone plan shouldn't be complicated. And, in this case, it certainly is not. Visible has a single plan available, and it is an unlimited plan priced at $40 per month.
*Pricing includes taxes and fees.
The plan includes unlimited talk, text, and data, as well as mobile hotspot. Visible notes that users can expect data speeds between 5-12Mbps on the regular data side, and speeds up to 5Mbps on the mobile hotspot data side. Otherwise, similar to what we see with other carriers, Visible mentions that data speeds may be temporarily slowed "in times of traffic."
This unlimited Visible plan can be most easily compared to the Start Unlimited plan from Verizon. Both plans offer unlimited talk, text, and data, as well as mobile hotspot. And, both plans can slow speeds during times of congestion. The big plus with the Visible plan is the savings. With Visible you pay just $40 per month (including taxes and fees), whereas Verizon pricing is $70 per month, which assumes a $10 per month auto-pay discount and does not include fees.
Bottom line, even just taking the $70 Start Unlimited price without adding the taxes — you are still looking at a savings of $30 per month by choosing Visible.
US Mobile
US Mobile has a few plan options available, and depending on your usage needs in terms of talk, text, and data — the monthly savings can be fairly substantial. The plan options with US Mobile include a build your own option, and an Unlimited All option.
The build your own plan is where you have the potential for seeing substantial savings. However, you will also see decent savings with the Unlimited All plan. The build your own option allows you to choose how many minutes you want, how many text messages you want, and the amount of data you want.
Prices for the voice minutes range from $0 for 0 minutes, to $6 for 1000 minutes, or an $8 option for unlimited minutes. Prices for the text messages range from $0 for 0 messages to $5 for 2000 messages or a $6 option for unlimited messages. Data pricing then ranges from $0 for 0MB, to $26 for 15GB, with an unlimited option for $40.
Of course, if you just want to use your phone without having to figure out how many minutes and messages you need — just go with the Unlimited All plan. For $40 per month, you get unlimited talk, text, and data. Mobile hotspot is also included with the Unlimited All plan. US Mobile notes that the Unlimited All plan comes with a guaranteed amount of 50GB of high-speed data, after which, a "tiny fraction of heavier data users may notice reduced speeds."
*Pricing does not include taxes and fees.
Bottom line, we can again easily use the $70 Start Unlimited plan from Verizon as the comparison. Neither the $40 US Mobile plan nor the $70 Verizon plan includes taxes and fees — but this still means you are looking at a savings of $30 per month.
Straight Talk
Straight Talk has several plan options available. One of the plans, and likely the most comparable is the Ultimate Unlimited Nationwide plan, which is priced at $55 per month (or $50 per month with auto-refill). This plan includes unlimited talk and text as well as unlimited data and 10GB of mobile hotspot data. Straight Talk notes that they "reserve the right to review your account for usage in violation" of their terms and conditions if you reach the 60GB mark.
Other options with Straight Talk can offer greater savings as compared to Verizon, however, these other options will require you to know your usage needs a bit better. For example, the carrier has a $45 per month plan that offers unlimited talk and text with 25GB of data, and a $35 per month plan with unlimited talk and text with 5GB of data.
*Pricing does not include taxes and fees.
Bottom line, Straight Talk has several options that will help you save some money as compared to Verizon. The $35 (5GB) plan or the $45 (25GB) plan would mean a savings of $35 or $25 per month, which is nice. But even going with the more direct comparison of the Verizon Start Unlimited plan ($70) and the Straight Talk Ultimate Unlimited Nationwide plan ($55), and you would be looking at a savings of $15 per month.
Switching and getting started with an MVNO
It is pretty simple to switch carriers these days, and using an MVNO just makes it even simpler as they generally do not require any contract or long term agreement. Switching carriers can be narrowed down to just a few steps: Make sure you have (or plan to buy) a compatible phone, decide whether you want to get a new phone number or keep your current one, and then get a SIM card to activate your new service.
SIM Card availability
Visible: With Visible you simply sign up on their website, which means ordering your SIM card. The SIM ships for free, and you pay for your first month of service when you sign up.
US Mobile: With US Mobile you begin the process by ordering your SIM card, which is dubbed the Starter Kit. The kit includes a few different size options for the SIM card, and it is priced at $3.99. The kit will ship for free via USPS or a "fast" 2-day option for an added $2. You would then activate your service and select your plan once your SIM card arrives.
Straight Talk: With Straight Talk, you purchase your SIM card online, and choose your plan. You'll pay $0.99 for the SIM card, and for your first month of service. You then activate your phone and service plan once you receive your SIM card in the mail.
Porting your number
Most carriers will allow you to port (transfer) your wireless number when signing up for service, however, the specific steps may vary from carrier to carrier. But regardless of the carrier specifics, you will want to ensure you have the account number and corresponding PIN/passcode for the account/telephone number you are planning to port (transfer).
Visible: To port (transfer) your number when signing up with Visible just make sure to check "Yes" when asked during the initial signup process.
US Mobile: Users can port their current number to US Mobile by selecting this option during the signup and activation process.
Straight Talk: To transfer your number to Straight Talk you will need to select "activate my phone with a number transferred from another company" during the signup process.
Phone compatibility
Verizon is a CDMA carrier, which means that you will want to ensure you have a device that is compatible with CDMA networks and also unlocked.
GSM vs. CDMA: These terms refer to two different network types. GSM stands for Global System for Mobile communication, and CDMA stands for Code Division Multiple Access. In the US market, T-Mobile and AT&T are GSM carriers, with Verizon and Sprint being CDMA carriers. Many modern phones, such as the iPhone will support both networks in a single model, however, if you are buying (or using) and older phone you would want to double-check your model number and/or the original wireless carrier for the phone.

Locked vs. Unlocked: A locked phone is also referred to as being carrier-locked, which simply means the phone is locked to one specific carrier. An unlocked phone can be carrier-unlocked or factory unlocked. A carrier-unlocked phone means the phone was originally locked to a carrier and has since been unlocked. A factory-unlocked device means the phone was never locked to a carrier. Both carrier-unlocked and factory-unlocked devices can be used with multiple carriers.
Visible: According to details from the carrier, you will want a phone that is unlocked and not attached to any carrier contract. Visible also provides a regularly updated list of compatible device types, and offers an online compatibility check page.
US Mobile: According to the carrier, "any unlocked device that has a SIM card slot will most likely work." And, in addition, they recommend using their online chat if you have a phone that you are not sure is compatible.
Straight Talk: Users can check to see if they have a compatible phone using the online compatibility check page.
As we've seen here in this article — you have the potential for decent savings just by using an MVNO carrier for your wireless service, as opposed to using one of the big four carriers. However, there is another avenue for additional savings. MVNO carriers operate on a BYOP (or KYOP, in the case of Straight Talk) basis. BYOP stands for bring your own phone, and with Straight Talk, the K stands for keep.
Ultimately this means you can potentially save hundreds of dollars on your phone purchase if you choose to buy a newish device here on Swappa, instead of purchasing a new phone at full retail price from your carrier. You can browse for CDMA-compatible unlocked phones and Verizon compatible phones in the Swappa marketplace. Just click the green button to get started.