---
Any of the four major carriers, AT&T, Verizon, T-Mobile or Sprint, are an obvious consideration when shopping around for wireless service. However, you also shouldn't ignore the smaller MVNO carriers. You may not always find the same name recognition with the MVNO carriers, but there are some perks in choosing an MVNO as opposed to one of the major carriers.
Perhaps the best perk for many — you'll often be able to save money by choosing an MVNO carrier. In this article, we'll be taking a look at switching from AT&T to an MVNO carrier — with the intention of spending less each month.
What is an MVNO?
Saving money may be a solid perk, but we can understand some people being leary of switching to a carrier if you aren't certain about the network of that carrier. So first, let's start with the basics in terms of what it means to be an MVNO carrier. MVNO stands for Mobile Virtual Network Operator.
An MVNO carrier leases network access from one of the four major wireless carriers. The MVNO leases this access in bulk, which means they are often able to turn around and offer service at discounted rates. Basically, the service you are getting from an MVNO will be provided using the same network as one of the major carriers, in this case, AT&T.
Coverage and roaming with an MVNO
Network coverage and roaming are two items that should be considered when looking towards an MVNO carrier. As a first step, you'll want to ensure the carriers network is good where you live, work, and play. For this, a good starting point would be to see how well AT&T is working for your family, friends or coworkers.
Actual use cases will be a solid indicator of the experience you will have, however, you also want to check and see what kind of coverage AT&T is providing in your area — based on the AT&T coverage map. At times, wireless carriers may have a roaming agreement with other carriers, and while this would not cause any issue if you are a direct customer of AT&T, it could be an issue if you are using an AT&T network MVNO carrier.
AT&T network coverage
AT&T touts coverage for 99 percent of Americans, with the AT&T 4G LTE network being available for more than 400 million people in the United States and Mexico. You can check coverage for your local area using the online AT&T coverage map.
The AT&T coverage map shows what you can expect in your area, and perhaps key in consideration of using an AT&T MVNO — the coverage map makes it clear whether you are using AT&T 4G LTE, other AT&T coverage, or off-net coverage. To help ensure the best experience with an AT&T MVNO — you would want to make sure you are not seeing "off-net coverage" in your area.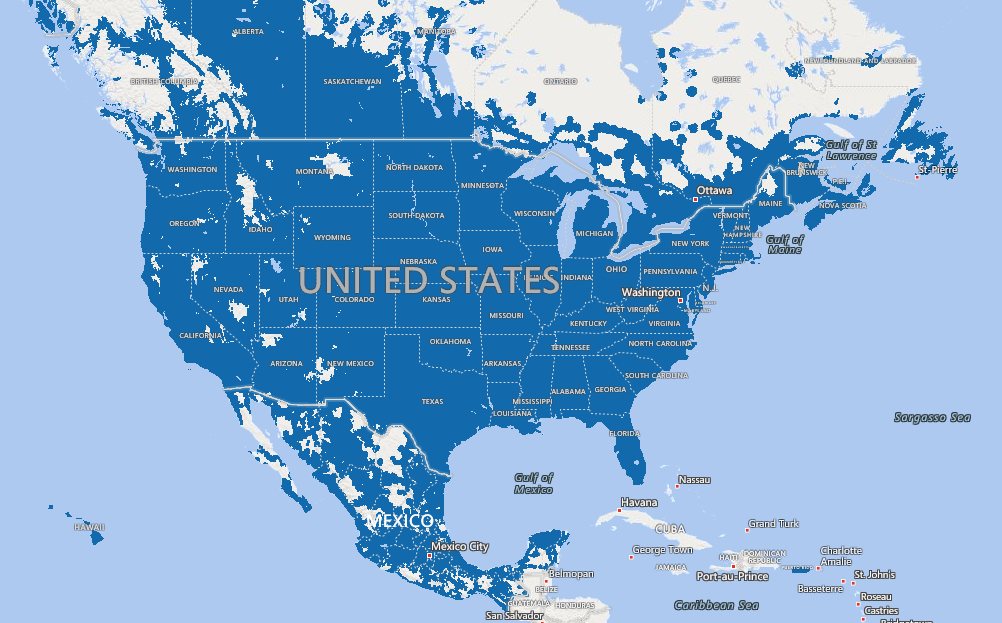 Network deprioritization with an MVNO
Along with coverage and roaming, another important item to consider is network deprioritization. This basically means that MVNO users may experience slower network speeds as compared to regular AT&T users. This may not always be immediately evident, but some carriers will have this outlined in the fine print.
For example, Cricket Wireless, a wholly-owned subsidiary of AT&T, does cap speeds. According to Cricket Wireless:
"Cricket caps download speeds on all its rate plans at 8Mbps (LTE)/4Mbps (4G) except for the Cricket Core Plan which is capped at 3 Mbps (LTE/4G) and the Cricket More Plan and data only plans."
For comparison, a July 2019 report from Opensignal shows that AT&T customers saw average download speeds of 22.5 Mbps. This deprioritization is further noted in a Tutela report, which mentioned that with T-Mobile and Sprint, "the MVNOs' average download speeds are within 1 Mbps of the host network." This was followed up with a mention that with AT&T and Verizon, "there is a noticeable gulf between the MVNO and host operator speeds."
Of course, while an 8 Mbps data speed is considerably lower than 22 Mbps — the 8 Mbps connection should be sufficient for most mobile users, including being able to use it for music streaming and even some standard-definition video streaming.
Which MVNOs use AT&T
Similar to what we saw when covering T-Mobile MVNOs — you can quickly and easily count more than twenty MVNO carriers using the AT&T network. We're focusing on using MVNO carriers to save money today, however, we also recently covered the best overall AT&T MVNO carriers and highlighted seven of the best (as seen below).
We stand by that list of seven carriers in terms of being the best overall AT&T MVNO carriers — however, today we are going to focus on three that will help you spend less each month.
Best AT&T MVNOs for saving money
AT&T has a few post-paid plans available. They include the Unlimited Starter, Unlimited Extra, and Unlimited Elite, which are priced at $35, $40, and $50 per month respectively.
*Pricing for these plans do not include taxes and fees. Pricing for all plans assumes an auto-pay discount of $10 per month.
Keeping with the assumed auto-pay discount, AT&T has some competitive pricing. The Unlimited Starter plan at $35 per month is nicely priced, though it does come with some limitations. This plan includes basics such as unlimited talk, text, and data. However, there is no "premium" data guarantee and AT&T notes they can "temporarily slow data speeds if the network is busy."
The Unlimited Extra ($40 per month) and Unlimited Elite ($50 per month) plans each offer unlimited talk, text, and data, and both of these plans come with a guaranteed amount of premium data. The Extra plan offers 50GB and the Elite plan offers 100GB. These plans also both offer 5G network access, and mobile hotspot (15GB for the Extra plan and 30GB for the Elite plan).
Today we'll be taking a look at three MVNO carriers that will help to cut your monthly wireless bill. The plans from these carriers will not always be an Unlimited to Unlimited offering — however, if you are aware of your usage in terms of talk, text, and data — there are options to save some money.
Red Pocket Mobile
Red Pocket Mobile has several plans ranging from $60 per month on the high-end to $10 per month on the low-end. As the intent here is to save money — we'll be highlighting the lower-priced plans.
Unlimited Talk & Text, 15GB of data – $40 per 30-days
Unlimited Talk & Text, 7GB of data – $30 per 30-days
Unlimited Talk & Text, 3GB of data – $19 per 30-days
*Pricing for all plans listed assumes an auto-refill discount. The discount if $5 per 30-days on the 15GB plan, $5 per 30-days on the 7GB plan, and $4 per 30-days on the 3GB plan.
These Red Pocket Mobile plans also include free international calling to 70 plus countries.
Bottom line, if you use a smaller amount of data each month, you can score some decent monthly savings with Red Pocket Mobile. If you can get by with 3GB of data — you are looking at savings of $16 per month. While 3GB of data is on the lower end, it is important to note that you will not see any overage charges with Red Pocket Mobile. And, if you should reach that 3GB level, a one-time purchase of extra data can be made.
Consumer Cellular
Consumer Cellular does not offer straight unlimited plans, instead, they allow users to build a plan — which means potential for decent savings.
Users begin with choosing whether they want 250 voice minutes or unlimited minutes. These are called Talk Plans.
250 Minutes – $15 per month
Unlimited Minutes – $20 per month
From here you go on to choose a Connect Plan. Consumer Cellular has a handful of Connect Plans to choose from, and each has varying amounts of data. Each of the Connect Plans also include unlimited text messages.
500MB – $5
3GB – $10
10GB – $20
15GB – $30
25GB – $40
*Pricing does not include taxes and fees.
Bottom line, similar to what we saw with Red Pocket Mobile — the pricing and savings you'll see with Consumer Cellular will be dependent on your individual usage needs. For example, if you do not make a lot of calls, you should be able to get by with the 250 Minute Talk plan. When this is paired with the 3GB Connect Plan — you are paying just $25 per month. That means a potential savings of around $10 per month. The other perk of using a pre-paid MVNO carrier is the ease of changing your plan should your needs change.
Tracfone
Tracfone has three plans available, which range in price from $20 to $30 per 30-days. On the higher end, this only means a potential savings of $5 per month. However, Tracfone offers Unlimited Carryover, which means you can bring any unused data forward to the next month.
Unlimited Talk & Text, 1GB of Data – $20 per 30-days
Unlimited Talk & Text, 2GB of Data – $25 per 30-days
Unlimited Talk & Text, 3GB of Data – $30 per 30-days
*Pricing does not include taxes and fees.
Bottom line, the data limits on these plans are much lower as compared to other carriers, and to AT&T. But if you are a lower data user, there is a decent potential for savings. And, as with most MVNO carriers, you can purchase an additional data package if you should reach or go over your pre-paid allotment.
Switching and getting started with an MVNO
Switching wireless carriers is relatively simple these days. You'll want to ensure you have a compatible phone. And from there, you just need to get a SIM card from your new carrier, choose the plan you want to use, and decide whether to keep your current number or get a new number.
SIM Card availability
Red Pocket Mobile: With Red Pocket Mobile you begin by choosing your monthly plan. Once you choose your plan, a SIM card can be added during the checkout process. The SIM card ships for free, and you would just pay for your first month of service during checkout.
Consumer Cellular: With Consumer Cellular you can order your SIM card on the Bring Your Own Device page. The SIM card can be added to your cart, and it ships for free. You'll also build your plan (Talk & Connect) and pay for your first month of service during checkout.
Tracfone: With Tracfone, you can order your SIM card and select your monthly plan at the same time. Tracfone charges $0.99 for the SIM card, and you pay for the SIM card and your first month of service during checkout.
Porting your number
The specifics may vary slightly from carrier to carrier, however, most carriers will allow you to bring your current phone number.
Red Pocket Mobile: To port (transfer) your current number to Red Pocket Mobile you just need to make sure you check the box and indicate yes when asked: "Would you like to port your existing wireless number?"
Consumer Cellular: It is quick and easy to port (transfer) your current number when signing up with Consumer Cellular. You just choose the Yes or No option in the "Keep Your Existing Phone Number" during the checkout process.
Tracfone: You can port (transfer) your existing number to Tracfone. This can be set up during the activation process, once you receive your SIM card in the mail.
Regardless of the specific steps or wording on the carrier pages, you will need to have the account number and corresponding PIN/passcode for the account/telephone number you are looking to port (transfer).
Phone compatibility
AT&T is a GSM carrier, which means that you will want to ensure you have a device that is compatible with GSM networks and also unlocked.
GSM vs. CDMA: These terms refer to two different network types. GSM stands for Global System for Mobile communication, and CDMA stands for Code Division Multiple Access. In the US market, T-Mobile and AT&T are GSM carriers, with Verizon and Sprint being CDMA carriers. Many modern phones, such as the iPhone will support both networks in a single model, however, if you are buying (or using) and older phone you would want to double-check your model number and/or the original wireless carrier for the phone.

Locked vs. Unlocked: A locked phone is also referred to as being carrier-locked, which simply means the phone is locked to one specific carrier. An unlocked phone can be carrier-unlocked or factory unlocked. A carrier-unlocked phone means the phone was originally locked to a carrier and has since been unlocked. A factory-unlocked device means the phone was never locked to a carrier. Both carrier-unlocked and factory-unlocked devices can be used with multiple carriers.
Red Pocket Mobile: According to the carrier, the network works with most AT&T-compatible, GSM unlocked and CDMA LTE unlocked devices. Red Pocket Mobile does not offer an online compatibility check for GSM devices, however, they do offer more information on their Getting Started help page.
Consumer Cellular: According to the carrier, your phone must be unlocked by your previous carrier, and be compatible with GSM network technology.
Tracfone: According to the carrier, compatible phones include: GSM Unlocked phones and AT&T-compatible phones. Tracfone also offers an online check to ensure device compatibility.
Along with a potential monthly savings on your wireless plan, another perk of choosing an MVNO carrier is that you can bring your own phone. For some, this may mean using the phone you already have, which means you do not have to spend any additional money.
It can also mean purchasing a newish phone for use with the MVNO. Being able to shop for a newish phone means a potential savings of hundreds of dollars as compared to what you would expect to pay for a new device at retail pricing. You can browse for GSM-compatible unlocked phones and AT&T compatible phones in the Swappa marketplace. Just click the green buttons below to get started.