---
Many wireless users immediately look to one of the big four carriers, AT&T, Verizon, T-Mobile, or Sprint, when it comes to activating their phone service. However, if you look outside that group of four you may find some wireless plans that are better suited to your needs. These other options come from the numerous MVNO carriers that are available. Here in this post, we'll be taking a look at one MVNO in particular — Twigby.
What is an MVNO?
An MVNO (Mobile Virtual Network Operator) is a wireless carrier that offers phone and data services using the existing networks of the big four wireless carriers. MVNO carriers often require the user to bring their own phone (BYOP) and offer services on a pre-paid month-to-month basis. Quite often, you can also save some money by choosing to go with an MVNO carrier.
What network does Twigby use?
Twigby uses a combination of the Sprint and Verizon networks. The primary coverage is from the Sprint network, with the Verizon network serving as a backup if you ever find yourself in an area without Sprint coverage. 
Twigby users will get their talk, text and data services from the Sprint network. The backup coverage from the Verizon network will allow for talk and text but does not offer any data service. Along with the primary of Sprint, and the backup of Verizon, Twigby also makes use of WiFi networks with WiFi Calling and WiFi Texting.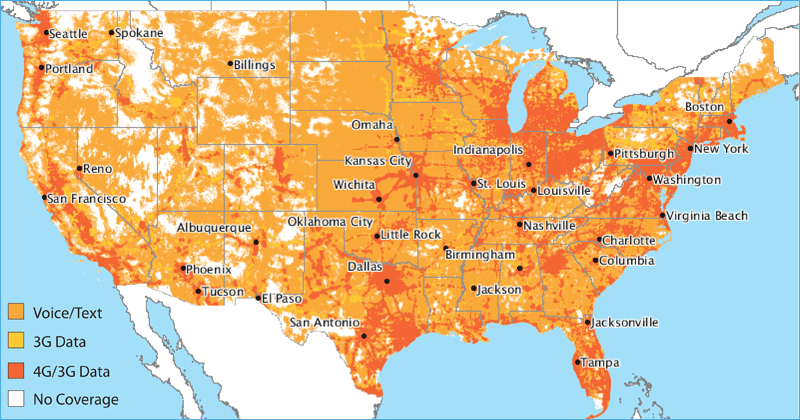 If you are in an area with solid Sprint coverage, Twigby could be a good MVNO to consider. And, if you are unsure about the coverage in your local area — that can be checked by entering your street address on the Twigby network coverage page.
Twigby plans and prices
Twigby doesn't have standard pre-set plans. Instead, they offer a few starting points, which allows customers to create a plan that better suits their needs, and their budget. Users select how many voice minutes they want, and how much data they want. 
Talk and Text
| Talk | Text | WiFi Talk & Text | International Talk & Text | Price |
| --- | --- | --- | --- | --- |
| 300 minutes | Unlimited | Included | Included | $9 |
| 500 minutes | Unlimited | Included | Included | $11 |
| Unlimited | Unlimited | Included | Included | $13 |
Once you select the number of minutes you want — you then add your data. Twigby has six starting points for data, and they all include hotspot tethering at no additional charge.
Data
200 MB – $3

1 GB – $6

2 GB – $10

3 GB – $15

5 GB – $20

10 GB – $30
For example, you can build out a plan with unlimited talk and text and 10GB of data for $43 per month. Twigby is also offering new customers a 25% discount for the first 6 months of service. This means the $43 per month unlimited talk and text and 10 GB of data plan will cost you $32.25 for the first 6 months.
While you will have data limits to consider — Twigby makes use of soft-caps, as well as a feature they call Overage Protection. With Overage Protection turned on you will be subject to the soft-cap once you reach your data limit. So if you have the 10 GB data plan you will drop to 2G data speeds once you reach 10 GB. If you reach your data limit with Overage Protection turned off you will keep your regular data speeds and automatically be bumped up to the next higher data plan. If this happens you will be charged the difference between the two plans.
Twigby also sends updates when you are getting close to your data limit. These updates are sent via text and email and will alert you when you use 50% of your allotment, and then again when you use all of your allotment. 
Twigby phones
As with many MVNOs, Twigby allows users to bring their own phones. Twigby uses the Sprint network so you'll need to ensure you have a Sprint compatible device — this includes devices from Sprint, Boost, and Virgin Mobile. An unlocked device may also work provided it supports the frequencies and bands used by Sprint. Twigby also allows you to check and confirm compatibility directly on their website.
Along with being able to manage your monthly plan cost by choosing the options you want — you can also manage your phone cost by purchasing a newish phone here on Swappa. Some of our current budget-minded favorites are detailed below:
Getting started with Twigby
The first step is to double-check your phone compatibility. This can be done by entering your phone MEID/IMEI on the Twigby phone compatibility page. Once you know your phone is compatible you order your SIM card, set up your Twigby user account, and pick the options you want for talk, text, and data.  
Is Twigby any good?
With any wireless carrier, you should consider factors to include network coverage and reputation. With Twigby using the Sprint network, you will want to make sure Sprint has good coverage in the area where you live, work and play. You can check for reputation by looking to see what other customers are saying. Twigby has shared some links to third-party reviews on their website. You can also check for independent customer reviews on sites such as Swappa.
Who should get Twigby?
Twigby is going to be good for someone with solid Sprint coverage, and for someone that wants flexibility in terms of their wireless plan. If you are someone that doesn't like to make voice calls, but sends lots of texts and uses lots of data — you may be able to get away with a service plan of $39 per month (300 voice minutes and unlimited text for $9, and 10GB of data for $30). Twigby could also be a good option for a kid. This would allow the parent to provide the basics in terms of talk and text so their child can always be reachable, even when they are out at a friend's house. Looking for Twigby customer service or tech support? Head on over to our Twigby contact info page for more.