---
Another month has begun, and that means we can look back and see which phones made the top-selling list for the previous month. It is the beginning of January, so that means we'll be looking at the top 10 best selling phones for the month of December 2020.
We regularly see the list dominated by the iPhone, and this month is no exception. But if you remember back to the post for November 2020, the list was completely filled with different models of the iPhone. This latest report, for December 2020, goes back to that pattern with a majority of iPhones, and a single Android smartphone.
Top selling used phones from December 2020
The single Android smartphone was the Samsung Galaxy S9, which entered the list at number nine. Aside from the Galaxy S9, the list included two iPhone models from the 13th generation, all three models from the 12th generation, all three models from the 11th generation, and one model from the 10th generation.
Most often, average selling prices tend to drop slightly from month to month. This time around, looking from November 2020 to December 2020, five models dropped, three models increased, and two models remained the same. The models that remained the same were the iPhone 8 Plus at $313, and the iPhone Xs at $418. Seeing the average price dropping slightly from month to month is expected, and this is really just to say that right now is always the best time to sell.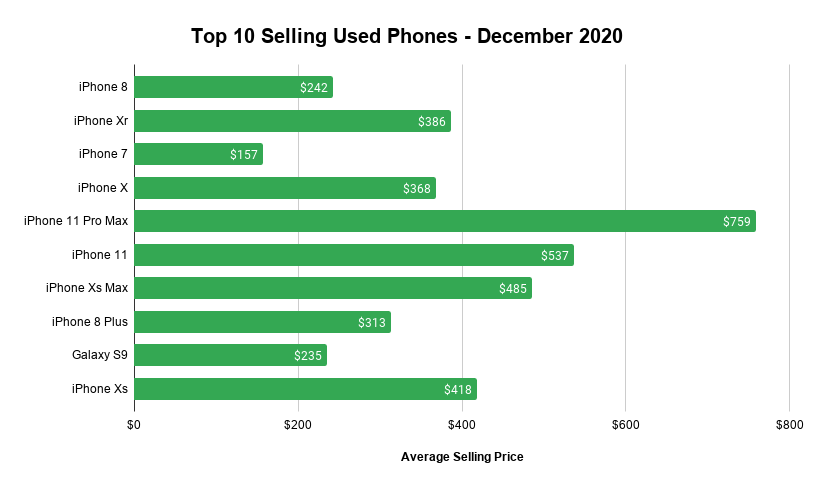 Buy and sell your used phone with Swappa
Whether you are looking to buy or sell in the Swappa marketplace — this top ten list can help. Sellers are able to get an idea of which phones are in high demand, and on the flip side, buyers will be able to get an estimate in terms of the price they can expect to pay.
Of course, while the average selling price is nice to see, we have to remind users that pricing varies based on several factors, such as the current market demand for the phone, the specs such as the amount of internal storage, and the condition of the phone.
While this top ten list highlights the phones in the highest demand — these phones are far from the only phones you will find in the Swappa marketplace. And along with phones, you can also find wearables, tablets, laptops, cameras, home tech, game consoles, and games.
Shop safe and save BIG
The Swappa marketplace is easy-to-use, and most importantly, it is safe and secure.
Any site can claim to be safe and secure and to have happy users — but Swappa can back that claim with a Trustpilot rating of Excellent that comes courtesy of over 11,000 independent user reviews.