---
Apple released three new iPads in 2022. The new releases include the 5th generation iPad Air with an M1 chip, an 11″ iPad Pro, and a 12.9″ iPad Pro, both of which are powered by Apple's M2 chip. Apple also released the 10th-generation iPad in late 2022, which arrived with a new exterior design, new colors, and new features.
These new models arrived with quite a few notable updates as compared to their previous generation counterparts — but new tech doesn't come cheap. Fortunately, you can pick up a gently used iPad on Swappa for hundreds less, but that's not your only option when it comes to saving money. A great way to fund your upgrade is to sell your existing iPad.
How much is a used iPad worth?
Trading in your existing iPad is a great way to fund your upgrade. But before you head over to the Apple Trade-In Program and exchange your iPad for an Apple Store gift card, you should figure out where you'll get the most money. Apple iPad trade-in values vary from model to model, making it difficult to figure out exactly how much you'll get. In addition, iPad trade-in programs typically give you a store gift card for your used iPad rather than cash. To help you figure out where you should sell your iPad, we've compiled the trade-in values and resale values for most iPads to see how they stack up. Let's just say that the numbers speak for themselves.
Apple iPad Trade-In and resale values for every iPad. Data collected on May 3, 2023
Simply put, the Swappa marketplace is the best place to get the most money for your used iPad. Not only does Swappa keep you safe from scams and junk devices, but you'll get more money by selling on Swappa. And unlike trade-in programs, you get paid in cash when you sell on Swappa — not a store gift card you may never use, so ditch the middleman, and sell your used iPad on Swappa today!
Can I exchange my iPad at the Apple Store?
The Apple Trade-In Program is a safe and easy way to get an Apple Store gift card for your used iPad. But as we pointed out earlier, Apple only gives you a fraction of what your iPad is actually worth. And since we're talking about a trade-in program rather than a direct sale, you'll get an Apple Store gift card — not cash.
In addition, Apple isn't exactly up-front about how much you can expect for your used iPad. For instance, rather than listing out each specific iPad, the Apple Trade-In website says that you can expect "up to $165" for an iPad, "up to $320" for an iPad Air, "up to $240" for an iPad mini, and "up to $445" for an iPad Pro. Rather than providing an overall iPad trade-in value table, Apple makes you enter your product serial number before giving you the exact trade-in value for your specific iPad.
Naturally, Apple's quoted "up to" prices only apply to the very latest generation of each product line, and your numbers will be significantly lower if your iPad is a couple of years old. Don't get suckered into using Apple's Trade-In Program. Get more money by selling your used iPad in the Swappa marketplace.
When should I sell my iPad?
In general, Apple Products hold their value extremely well. And iPads specifically hold their value even better than most other Apple products. With that said, all electronics lose value over time. So no matter which iPad you own, the best time to sell your used iPad is now.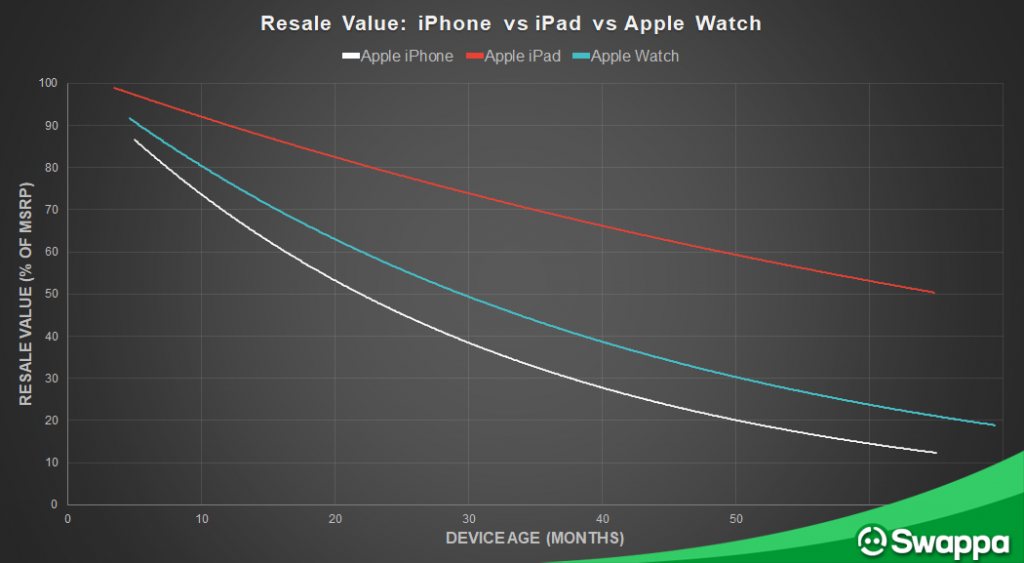 ---
After closely examining the Apple iPad trade-in program, it's clear that the Swappa marketplace is the best place to sell your used iPad for cash. If you have a fully functional iPad that's just gathering dust, you'll always make the most money by selling it on Swappa.