---
We serve the Swappa community by providing a safe, easy way to buy and sell used tech at an affordable price. We believe people deserve thousands of options to find the right device without having to worry about meeting up in person or getting scammed. Helping us spread the word is a great way to make money in the process.
Our affiliate program features competitive payout rates, 30 days cookie duration and on-going marketing support to help you be as successful as possible. Continue reading below to learn more.
How the affiliate program works
Getting up and running with the affiliate program is quick and easy. To sign up simply follow the link below and enter your information.
We manually approve every application, so make sure to include as much info as possible about your company and website so we can get a good idea of how you will be promoting Swappa.
Once approved, you will be assign an affiliate link that looks something like this:
https://swappa.com/?ref=your_affiliate_id
You use your link to send your referrals to any page on Swappa just make sure you append your affiliate ID to the end of the URL (?=ref) so you can get the credit you deserve.
If a user clicks on your link, you will get credit for a sale if they make a purchase within 30 days. If you make a sale within a given month you will be paid within 30 days from the end of the previous month.
Commission Structure
Our commission structure is pretty simple and is broken down in the chart below. Successful affiliates have focused on promoting Protection Plans as it is a great way to double or triple commissions on phone sales.
| Title | Commission |
| --- | --- |
| Any device purchase over $50 | $5 |
| Any device purchase over $500 | $10 |
| Phone Protection Plan | $10 |
| MacBooks | $15 |
| Swappa Store | 20% of total purchase |
The phone marketplace was how Swappa got its start, and even though we've expanded to several other categories, it continues to be the top selling category on Swappa. This category represents a strong opportunity for affiliates given the high volume of transactions for phones on Swappa.
Here's the top selling phones in April 2018 so you can see what's been selling recently:
MacBooks will continue to be a growing category for Swappa, and our offerings represent a great value when compared to buying new. New MacBooks come with a large price tag, so the opportunity to buying used on Swappa is a big selling point.
Please keep in mind that the payouts for affiliates are higher relative to other categories at $15, so we would encourage you to take advantage of the opportunity.
Here's the top selling MacBook models on Swappa:
Banner Ads
We've recently uploaded several new banner ads that are available in the affiliate portal. They use are recently updated branding and have a few different styles that you can use to put on your website or blog.
Here's a few banner ads in the most frequently used sizes: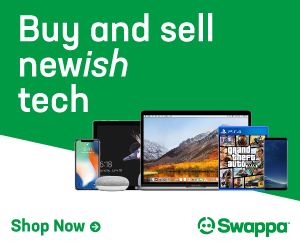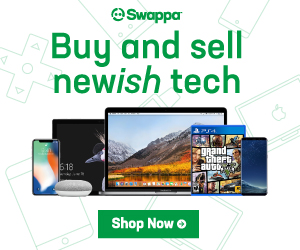 Premade social posts
To make things even easier, we'll start including some tweet templates in our monthly newsletter that you can use to post on Twitter, Facebook, Instagram or share directly with friends. Just add your affiliate code to the end of URL and you're good to go!
Here's a few to get started:
Got Ideas?
If you have any ideas about how we can improve the Swappa Affiliate Program, please feel free to reach out at any time to [email protected]. We are more than happy to help!