---
Way back in 2008, Sprint became the first major US carrier to implement a 4G network. This initial iteration of Sprint 4G was built using their now-defunct WiMAX infrastructure. After LTE gained worldwide traction and the writing was on the wall for WiMAX technology and future devices, Sprint quickly shifted gears and announced plans to transition its network to 4G LTE. In the summer of 2012, this became a reality, as Sprint flipped the switch on their new 4G LTE network, starting with 15 US cities.
We recently took an in-depth look at Sprint's network technologies. Join us, as we examine the progress Sprint has made in the last 7 years, and see how they're doing in their journey towards nationwide 5G.
Does Sprint have 5G yet?
It's been a little over 7 years since the introduction of Sprint's 4G LTE network. During this time, the nation's fourth-largest carrier has been hard at work — not only improving and updating their existing 4G network, but also laying the groundwork for a new, standards-compliant 5G network.
Dubbed True Mobile 5G, Sprint's nascent 5G network uses some of the carrier's excess 2.5 GHz "mid-band" spectrum as its foundation. As a result, Sprint 5G offers the same range and uses much of the same hardware infrastructure as their existing 4G LTE network.
How fast is Sprint 5G?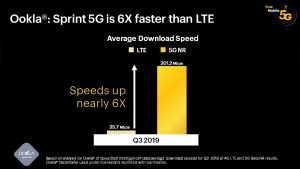 Sprint's current 4G network is already relatively quick, with the company claiming that their latest iteration of LTE Advanced is roughly twice as fast as their early 4G implementations. Sprint True Mobile 5G takes this a step further by promising speeds upwards of six times that of their current 4G network.
So how does Sprint True Mobile 5G stack up in the real world? Independent testing performed by Ookla found that Sprint 5G delivers average download speeds over 200 Mbps, compared to about 35 Mbps on their 4G LTE network. So although the use of "mid-band" spectrum results in speeds that aren't quite as jaw-dropping as the gigabit connections offered by competing mmWave technologies, Sprint 5G still offers a substantial boost for those able to connect to the network.
What cities have Sprint 5G?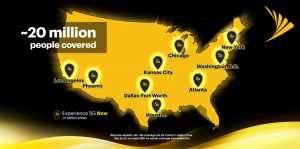 Currently, Sprint True Mobile 5G is available in 9 metropolitan areas, with coverage blanketing approximately 20 million Americans. Provided you have a compatible device and service plan, you can connect to Sprint True Mobile 5G in select areas of the following cities:
While it may be easy to initially write off this list as only being 9 cities, there is another important metric to take into consideration: network footprint within each of the supported cities. Independent "drive" testing by network analytics firm P3 found that Sprint performed strongly in this regard, with up to 80% coverage in each of these 9 cities.
Which Sprint phones are 5G?
Naturally, an all-new network means all-new hardware to take advantage of it. In other words, your existing 4G LTE phone won't be able to connect to Sprint 5G. However, there are already a handful of smartphones that can connect to Sprint's new 5G True Mobile network. See the list below, and make sure to refer to our running list of the best Sprint 5G phones.
Sprint 5G phones:
Since all three of these smartphones are available in both 5G and non-5G variants, make sure to look for "5G" in the name to make sure you're getting a 5G-enabled model. In addition to these smartphones, you can also access Sprint's 5G network using the HTC 5G Hub hotspot device. Click on the button below to start shopping the best Sprint 5G phone deals on Swappa.
Which Sprint plans support 5G?
The final piece of the 5G puzzle is making sure you choose an appropriate service plan. In addition to owning a compatible device, you must also select the right plan in order to connect to Sprint's new 5G True Mobile network. Sprint currently offers four unlimited plans and of these, only Unlimited Plus and Unlimited Premium offer Sprint 5G service. So if you're on the lookout for a new smartphone on Sprint and you're interested in making the jump to 5G, make sure you select the right service plan for your needs.
*****
With all of Sprint's recent technological advancements, now's as good a time as ever to compare Sprint's unlimited plans (or prepaid carriers operating on the Sprint network) by clicking the button below.