---
In a previous post, we told you everything you needed to know about Sprint's 5G network. Whether you're a new, old, or soon-to-be Sprint customer in an active 5G area, you're going to need a phone compatible with their next generation wireless network.
Although somewhat limited at present, 2020 is going to be a big year for 5G phones. In this post we'll be exploring the best Sprint 5G phones currently available, as well as how you can get the cheapest prices when shopping for a 5G phone on Swappa.
Does Sprint have 5G?
Sprint was first out of the gate when they deployed their 4G WiMax network back in 2008. Once LTE became the de facto standard around the world, the carrier quickly switched gears and eventually made the move to 4G LTE in 2012. With 4G LTE now deployed around the country, Sprint is now moving forward with 5G for their next generation wireless network. The question is — are you ready for it?
5G vs 4G
For the past 7 years Sprint has been working hard on building out their nationwide 4G LTE network across the US. More recently, they've been laying the groundwork for their "True Mobile 5G" network, using the carrier's 2.5GHz "mid-band" spectrum as its foundation.
While Sprint's current 4G LTE network is great for quickly browsing the web or watching online videos, it pales in comparison to their new 5G network. Even when considering LTE Advanced, the latest iteration of Sprint's 4G network, 5G is still a huge improvement, delivering lower latency, and around 6 times faster data speeds. In real world tests, Sprint's 5G speeds translate to around 200Mbps, while 4G was closer to 35Mbps.
This is a pretty dramatic difference and welcomed improvement for anyone using their phone to consume media on a daily basis. Sending large attachments via instant messaging will be quicker, videos can stream in 4K, and apps will load HD content quicker than ever before.
Where is 5G available?
Sprint's 5G network is currently live in 9 major metros, covering roughly 20 million Americans. Keep in mind that anyone looking to try Sprint 5G firsthand will need both a compatible phone and service plan.
You can find Sprint True Mobile 5G available in Atlanta, Chicago, Dallas-Fort Worth, Houston, Kansas City, Los Angeles, New York City, Phoenix, and Washington, DC.
Aside from these major US cities, you can expect the number of Sprint 5G markets to continue to grow as we head deeper into 2020. Check out our dedicated blog post for more on Sprint's 5G network, progress, and updates.
Sprint 5G phones available now
Best Sprint 5G phones
Now that we've covered the basics on Sprint's 5G network, it's time to find out which Sprint 5G phone is right for you. Right now, the number of Sprint 5G phone is limited, but you can expect that number to grow as new 5G devices are announced this year.
Of course, you'll first want to make sure you're in already in a Sprint 5G area, and you're on a 5G-ready plan. With that, here are the best Sprint 5G phones you can buy right now.
Samsung Galaxy S20+ 5G
Launching alongside the regular Galaxy S20 5G was the Samsung Galaxy S20+ 5G. As in previous years, the "plus" in the title refers to a larger 6.7-inch Dynamic AMOLED display, and higher capacity 4,500mAh battery. Other upgrades include the DepthVision camera, and an additional 512GB storage option.
But arguably the biggest upgrade is the ability for the Galaxy S20+ to connect to both (low-band) and mmWave (high-band) networks. This makes the Galaxy S20+ perfect for anyone wanting the absolute best 5G connectivity in a phone, one that will see it age more gracefully for years to come.
The Samsung Galaxy S20+ 5G currently retails for $1,199 at Sprint, but you can find much deeper discounts on Swappa where the Galaxy S20+ starts at $900. That's about $300 off the new retail price and a killer deal any way you slice it. Start shopping today using the button below.
OnePlus 7 Pro 5G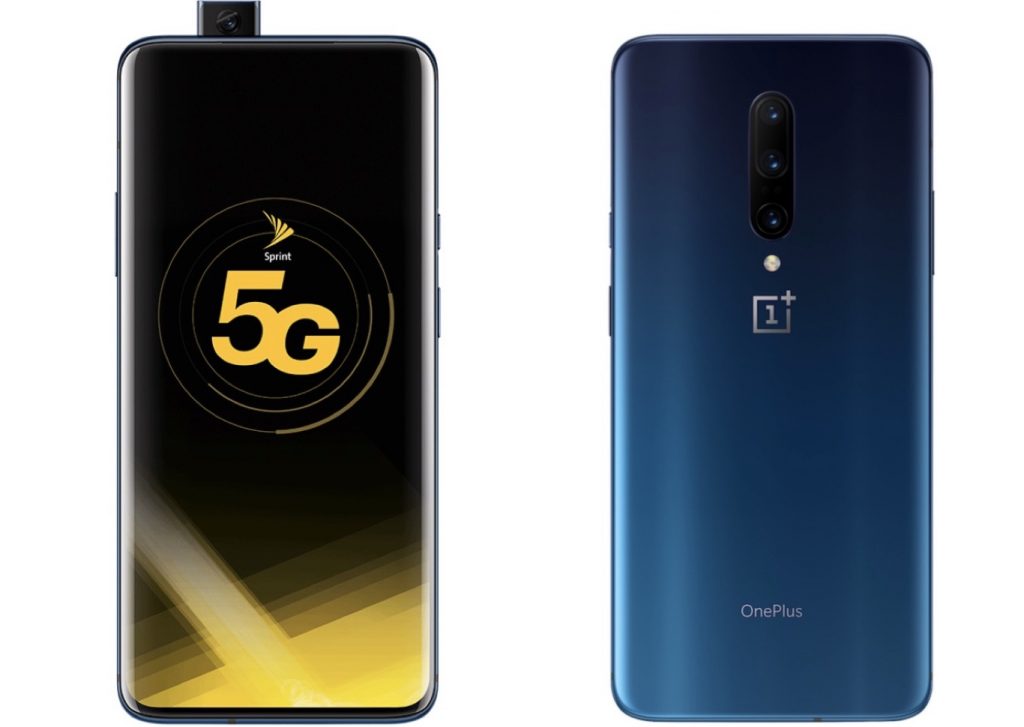 As the name suggests, the OnePlus 7 Pro 5G is the 5G-ready variant of the OnePlus 7 Pro. Exclusive to Sprint's network, the OnePlus 7 Pro 5G is priced at $840 new retail. Compare this to the Galaxy S10 5G ($1,000) and the LG V50 ThinQ 5G ($600) and OnePlus 7 Pro 5G fits right in between those price points.
The Sprint OnePlus 7 Pro 5G features most of the cutting edge specs you'd expect from a flagship phone, only priced significantly lower. With a 90Hz 6.67-inch AMOLED display, Snapdragon 855 processor, triple camera system on the back, motorized popup selfie camera, 8GB RAM, 256GB of internal storage, and a 4,000mAh battery — there's plenty here to love. The best part? There's no notch.
If you're looking for the lowest price on Sprint 5G phone, the OnePlus 7 Pro 5G is certainly a great deal. Before you head to the Sprint store, check out the deals on the Swappa marketplace where a gently used OnePlus 7 Pro 5G can be found as low as $425.
Samsung Galaxy S10 5G
Similar to the OnePlus 7 Pro 5G, the Samsung created a special 5G variant of their Galaxy S10 line called, you guessed it, the Samsung Galaxy S10 5G. It's the top-tier model offered by Samsung, featuring a slightly larger overall size (with a battery to match), and maxed out hardware specs.
The Sprint Galaxy S10 5G features a 6.7-inch Super AMOLED curved display, in-screen fingerprint reader, triple camera system on the back (with wide, ultra-wide, and zoom lenses), punch hole selfie camera, Snapdragon 855 processor, 8GB of RAM, 256GB of internal storage, headphone jack, and a 4,500mAh battery.
The Samsung Galaxy S10 5G is priced $1,299 on Sprint, but you can find an even better deal in our marketplace. Swappa has the lowest prices on the Galaxy S10 5G, with prices starting at $475 — much lower than what you'd find at your local carrier store. But don't take our word for it, you can start shopping Galaxy S10 5G deals by hitting the button below.
LG V50 ThinQ 5G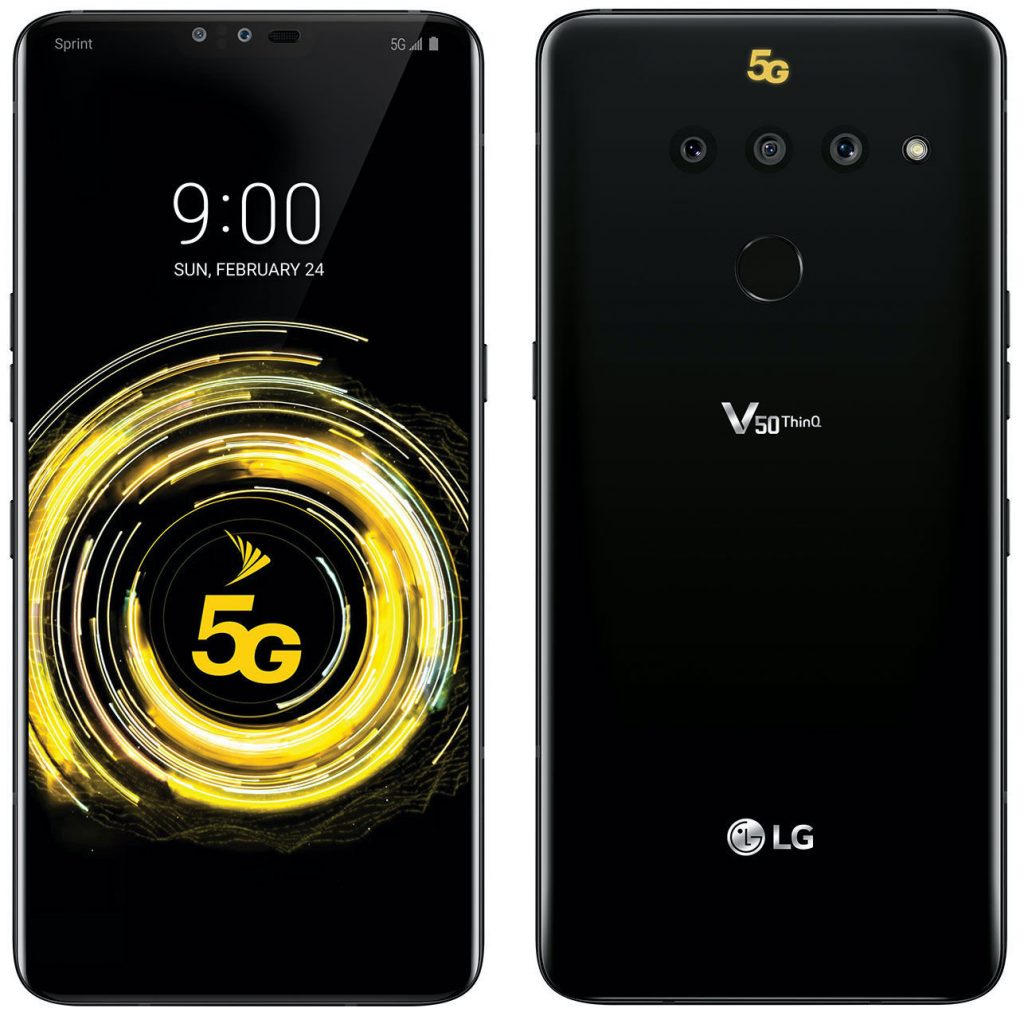 Originally Sprint's first 5G phone, the LG V50 ThinQ 5G has seen a bit of price drop since first launching last year. Now priced at $600, it's officially the cheapest 5G phone you can buy on Sprint. When it comes to hardware, the LG V50 5G is still worth a look.
The LG V50 ThinQ 5G features a 6.4-inch QHD+ OLED display, triple camera system on the back, dual selfie cameras, Snapdragon 855 processor, 6GB of RAM, 128GB internal storage, 4,000mAh battery and headphone jack with a Quad DAC for better output to larger headphones.
As you can see, there's plenty of value here, especially considering the already low price. The best part? You can find an even better deal by shopping on Swappa where the price of a gently used Sprint LG V50 ThinQ 5G starts at $329. Click the button below to start shopping.
Sprint 5G phone plans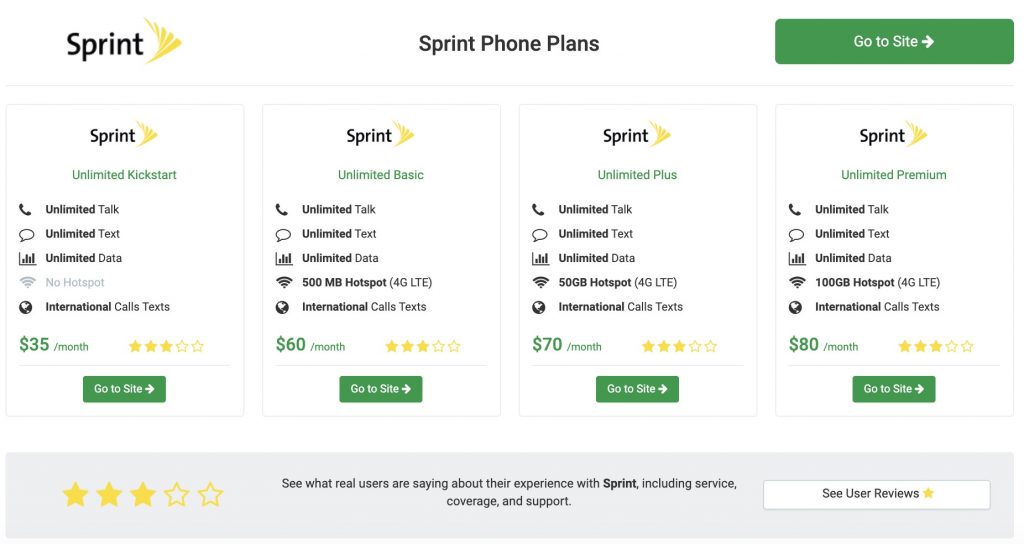 Swappa's Phone Plans pages allow you to shop and compare the best phones plans
Of course, the final piece of the Sprint 5G puzzle is making sure you have the right service plan to take advantage of their next generation wireless network. So, in addition to owning a compatible 5G phone, you must also select the right plan in order to connect to Sprint's new 5G True Mobile network.
Sprint currently offers four phone plans, but only their two highest tiers will connect you to 5G. That means you'll need to already have (or plan on upgrading to) Sprint's Unlimited Plus and Unlimited Premium phone plans to receive 5G service. For more details on all of Sprint's phone plans, click the button below to check out pricing, reviews, and more.