---
The next generation of video game systems is here. For millions of gamers around the world, the PlayStation 5 is unquestionably the best home video game console. The PS5 offers powerful specs, stunning graphics, fast load times, high frame rates, and the innovative DualSense controller. But as good as the PS5 is, it's not all roses. Even if you can cough up the dough, it's next to impossible to find a PS5 in stock at your local electronics retailer. But don't worry; Swappa's here to help.
This PS5 Buyer's Guide will touch on what makes the PlayStation 5 great, the different versions of the PS5, how it compares to last-gen consoles (including PS4 Pro), and how you can buy one for less. If you're interested in picking up a PS5, grab a drink and keep reading — we have a lot to talk about.
Table of Contents:
What is the PlayStation 5?
The PlayStation 5 is the latest entry in the Sony PlayStation lineup. Following up on the massively successful PlayStation 4, the PS5 is one of the most advanced game consoles currently available. Powered by an 8-core AMD Zen 2 processor and Radeon RDNA 2 graphics chip with 10.3 TFLOPS of processing power, the PS5 delivers a truly next-generation gaming experience.
So what's the bottom line for you as a gamer? In short, you get outstanding visuals with real-time ray tracing and native 4K resolution in many titles, as well as high refresh rates and high frame rates for a smoother overall experience. The way you interact with your games is also improved thanks to the new DualSense controller.
What's the difference between PS5 and PS5 Digital Edition?
The PS5 is available in 2 versions: the standard PlayStation 5 and the PlayStation 5 Digital Edition. The standard PlayStation 5 packs a 100GB Blu-ray drive capable of 4K Ultra HD Blu-ray video playback. The PlayStation 5 Digital Edition lacks an optical drive, which means that you'll have to download all of your games. And since PS4 and PS5 games typically come in at well over 50GB, you'll need a fast internet connection with the PS5 Digital Edition.
The PlayStation 5 Digital Edition is also a tiny bit slimmer than the standard PS5. Both consoles are 390mm tall and 260mm deep when standing upright — but the PS5 Digital Edition is 92mm wide, compared to 104mm on the standard edition.
Will PS4 games work on PS5?
The PlayStation 5 is backward compatible with nearly every PS4 game. Sony has gone on record stating that "more than 99%" of the PS4's game library will work on the PS5 — and you can check specific games for yourself using the PS5 Backward Compatibility Checker Tool.
The PS5's Game Boost technology also means that PS4 games will look and feel better than ever when playing on the PS5. Game Boost lets you play your existing games at higher frame rates and resolutions. And due to the PS5's fast SSD, load times will be reduced as well.
Should I upgrade to PS5?
Figuring out whether you should upgrade to the PS5 depends on what exactly you want from your gaming experience. The PS5 is unquestionably the fastest and most powerful PlayStation, and it has plenty of advantages over the PS4 and even the PS4 Pro, but it's also expensive and will be next to impossible to find on store shelves for the foreseeable future. Before we go any further, let's compare the PS4, PS4 Pro, and PS5 head-to-head to see how they stack up.
PS4 vs PS5 Comparison Chart
PlayStation 4
PlayStation 4 Pro
PlayStation 5
CPU
AMD "Jaguar"
8-core, 8-thread
1.6 GHz
AMD "Jaguar"
8-core, 8-thread
1.6 GHz
AMD Ryzen "Zen2"
8-core, 16-thread
Up to 3.5GHz
GPU
AMD Radeon "Liverpool"
GCN Architecture
800MHz
AMD Radeon "Neo"
GCN Architecture
911MHz
AMD Radeon "Oberon"
RDNA 2 Architecture
Ray Tracing Acceleration
Up to 2.23GHz
Graphics Power
1.82 TFLOPS
4.20 TFLOPS
10.28 TFLOPS
System Memory
8GB GDDR5 RAM
176GB/s Bandwidth
8GB GDDR5 RAM
217.6GB/s Bandwidth
16GB GDDR6 RAM
448GB/s Bandwidth
Storage
500GB or 1TB SATA
5400RPM HDD
1TB SATA
5400RPM HDD
825GB PCIe Gen4 NVMe SSD
5.5GB/s Read Bandwidth (RAW)
Game Disk
Blu-ray
Up to 100GB/disc
Blu-ray
Up to 100GB/disc
Ultra HD Blu-ray
Up to 100GB/disc
Video Out
1080p 60Hz TVs
HDMI 1.4
4K 60Hz TVs
HDR supported
HDMI 2.0
4K 120Hz TVs
8k 60Hz TVs
HDR and VRR (Variable Refresh Rate)
HDMI 2.1
Audio
AMD TrueAudio
AMD TrueAudio
"Tempest" 3D AudioTech
Dimensions
PS4: 288mm (h) x 39mm (w) x 265mm (d)
PS4 Slim: 288mm (h) x 39mm (w) x 265mm (d)
327mm (h) x 55mm (w) x 295mm (d)
PS5: 390mm (h) x 104mm (w) x 260mm (d)
PS5 Digital Edition: 390mm (h) x 92mm (w) x 260mm (d)
Release Date
PS4: Nov 22, 2013
PS4 Slim: Sep 15, 2016
November 10, 2016
November 12, 2020
MSRP
PS4: $299 (as low as $159)
PS4 Slim: $299 (as low as $210)
$399 (as low as $215)
PS5: $499
PS5 Digital Edition: $399
As you can see, the PlayStation 5 is truly a gaming powerhouse. And games don't just look and play nicer; they load quicker too. The PS5 packs an 825GB PCIe Gen4 NVMe SSD with an insane 5.5GB/s read bandwidth. This means long, drawn-out loading screens are basically a thing of the past — and you shouldn't ever experience texture pop-in when traveling across vast open-world games like the recently released Cyberpunk 2077 (get this game now, thank me later).
That said, last gen's souped-up PlayStation 4 Pro is no slouch either. It basically splits the difference between the original PlayStation 4 / PS4 Slim and the brand-new PS5 — and for many people, this is more than enough. The PS4 Pro offers 4K resolution (typically upscaled via checkerboard rendering) in many games, and it's even able to play the latest titles at more consistent frame rates. Plus, we can't forget about its massive library of nearly 3000 games. You don't have to worry about being left behind either since Sony has committed to pushing out new games for the PS4 and PS4 Pro for years to come.
PlayStation 5 Price and Availability
The next thing to consider is PS5 price and availability. With widespread shortages, it's going to be nearly impossible to snag a PS5 at your local electronics retailer for the foreseeable future. Luckily, you can pick one up today on Swappa.
So exactly how much does the PS5 cost? As you would expect, this holiday season's hottest item doesn't come cheap. Assuming you were able to preorder months ago, the PS5 costs $499 for the standard version and $399 for the PS5 Digital Edition. Unfortunately, given the widespread shortages, you can't actually find them on store shelves for anywhere near MSRP. Luckily, you can find the PS5 on Swappa, with prices starting at $800 for the standard version with optical drive — hundreds of dollars cheaper than what you'd find on eBay.
So what should you buy if you're a dedicated gamer? It's really up to you, but if you're looking to play all the latest games for years to come, we recommend sticking with either a gently used PS4 Pro or picking up a PS5 on Swappa.
Sell your PS4 and upgrade to PS5 for less
Since the PlayStation 5 offers nearly complete backward compatibility with your existing PlayStation 4 games, you might as well sell your PS4 to help fund the upgrade. But don't get ripped off by trade-in programs — sell your existing game console on Swappa instead and get what it's actually worth.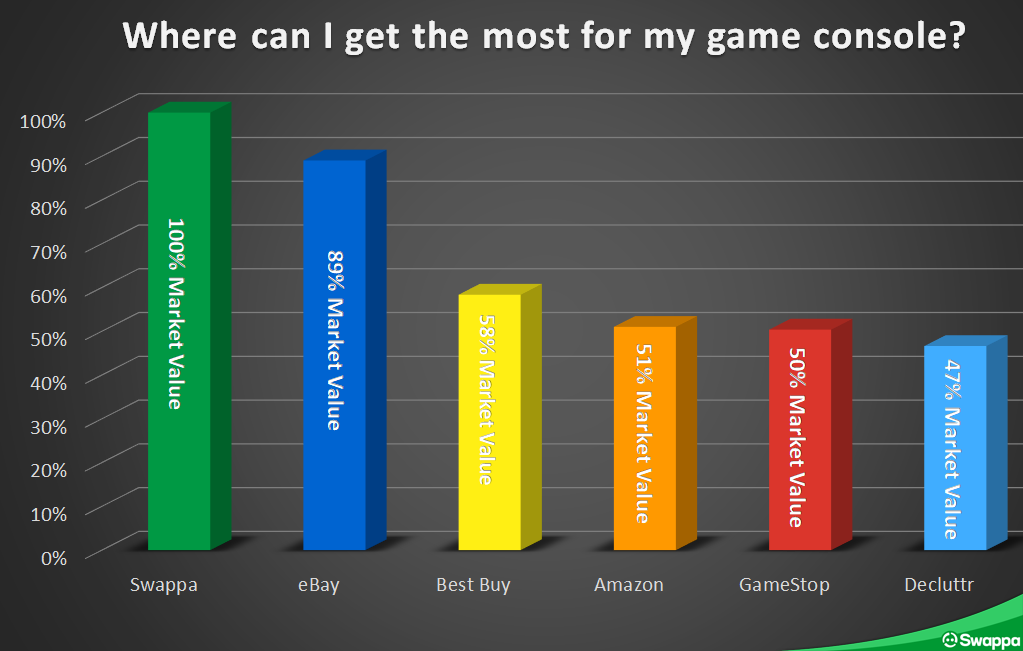 Swappa's online marketplace is safe and easy-to-use. And since sellers never pay any fees, Swappa is the best place to get top dollar for your used game system. In practice, this means you'll make about twice as much selling on Swappa. And once you're ready to sell, here's how you can safely and easily ship your PS4.
How can I get a PS5?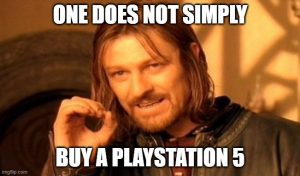 So you've sold your PS4 and are looking to pick up a PS5. Now here comes the tricky part. You can't just walk into your local Target or Best Buy and pick up a PlayStation 5. They're sold out at all electronics retailers, and shortages are expected to last for at least 6 months.
The good news is that there are quite a few PlayStation 5 consoles available on Swappa. Prices start at $800 for the PS5 with optical drive, which means you can snag a PS5 for a few hundred dollars less than eBay. So if you want the absolute best and are willing to pay for it, we can help.
No matter which game console you buy or sell, you'll always get the best deals on Swappa. Our safe and easy-to-use marketplace makes it easy to buy and sell all your used tech. And even more importantly, our expert moderation team weeds out scams and junk devices. So what are you waiting for? Head over to Swappa Gaming today!