---
At Swappa, we like to promote a culture that's both fun and rewarding. A good portion of our job involves outside of the box thinking and coming up with fun ideas to share with our users. When drafting up our latest Black Friday/Cyber Monday email, we were presented with a challenging project idea: come up with an attention grabbing image to highlight Swappa's product deals, while being unique enough that it wouldn't get lost in the mix.
Taking this unique task upon ourselves, we came up with this animated GIF to illustrate exactly how delicious the deals are at Swappa. While it's true we could have used some clean product images on top of a colorful background, but what better way to show people how delicious the deals are at Swappa than by literally slathering our phones in gravy?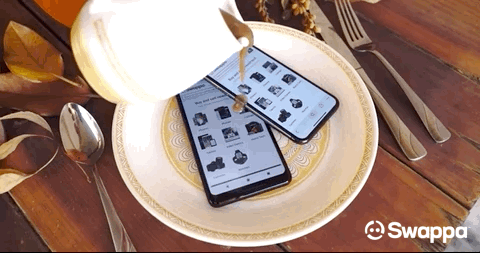 So I made a quick run to the grocery store, purchased a couple cans of gravy and prepared for the worst. On a personal note, I'm someone who obsessively cleans his phones daily with alcohol to keep them sterile and squeaky clean, so the gravy pour was a particularly huge challenge for me and my mild OCD. But I had a vision, one I was determined to see though to the end. So I set up some dinnerware, placed my Pixel 2 XL and iPhone XS on a plate and poured real, thick gravy all over them… Here's how it went:
Although the phones are water resistant, there's nothing in the manual about gravy. This is why I was careful to concentrate most of the pour on the mid-section of each phone, avoiding any gravy running off into the speakers or charging ports. As soon as the video had been recorded, I quickly ran both of my devices into the kitchen where they were promptly rinsed with warm water and towel dried, good as new.
And that, my friends, is how we created one of the most zaniest, funnest, most oddly disturbing images Swappa has ever published. We only hope you enjoy it as much as we do. Happy Thanksgiving.
– Swappa Team