---
Swappa is always looking for new ways to save you money. When it comes time to activate your new (to you) phone with wireless service, look no further than our newly launched Swappa Phone Plans page. It's there you can easily shop and compare the best cell phone plans for your device, whether you're looking for the cheapest phone plan available, or a phone plan with unlimited data — Swappa's got you covered.
Now the first places people tend to look when shopping for wireless service are major carriers like AT&T, Verizon, T-Mobile or Sprint. While those are fine, you might also want to check out smaller carriers — also known as MVNOs — which are often times even more affordable, while providing service on the same networks as the big guys. This can allow you to find a phone plan that better fits your needs and budget.
In this post we'll be taking a look at Red Pocket Mobile's phone plans, providing you with all the details on their pricing tiers, phones, reviews and more. When all is said and done, you should be in a much better position to decide whether not their plan options are the right fit for you.
What network does Red Pocket Mobile use?
Like most small carriers in the US, Red Pocket Mobile is an MVNO which stands for "mobile virtual network operator." This means Red Pocket offers wireless phone and data services using existing networks provided major US carriers like AT&T, Verizon, T-Mobile, and/or Sprint. By offering affordable phone plans powered by major networks, consumers can expect the same coverage when shopping for cheap wireless service. It's a great way to have your cake and eat it too.

Whereas most MVNOs operate only on a single (or two at most) wireless networks, Red Pocket Mobile plans cover all four major networks — AT&T, T-Mobile, Sprint, and Verizon — which means if you already own an unlocked or carrier branded phone, you should have no trouble activating it with Red Pocket Mobile. Although this is a great way for customers to bring their existing phone over to Red Pocket Mobile — regardless of their previous carrier — it's still a good idea to look over Red Pocket Mobile's phone plans as data allotments change depending on the network you're connected to.
For those looking to buy a new phone, the Swappa marketplace is a great place to start. You can find thousands of cheap phones for every carrier, much lower than if you purchased them brand new. This allows you to pick the Red Pocket Mobile phone plans with the highest data (AT&T or Sprint phones) in order to get the best deal.
How much are Red Pocket's phone plans?
Red Pocket Mobile has a handful of phone plans to fit most people's needs and budgets. Whether you prefer to talk on the phone, are a heavy texter, or someone who heavily consumers online media, Red Pocket Mobile has a plan for you. It can be difficult to understand Red Pocket Mobile's pricing tiers, especially with all the fine print, so we'll do our best to make sense of it here.
Red Pocket Mobile's cheapest plans start at $10 a month (500 min, 500 text, 500MB data), or $15 a month (1,000 min, unlimited texting, 1GB of data) and work with AT&T, Verizon, T-Mobile, or Sprint networks. These plans are only for extremely light users who rarely use their phone for anything other than phone calls and texting.
On their 500MB, 1GB, and 3GB plans, once you go over your data allotment, you'll be cut off and can't use any more data for the remainder of your billing period. On the bright side, you don't have to worry about overages and can still connect to WiFi when absolutely necessary.
Unlimited plans
While Red Pocket Mobile's 500MB and 1GB plans work across all major US networks — and any phones compatible with those networks — you'll want to be a little more careful with their 3GB, 8GB, 10GB, 20GB, and Unlimited plans. The displayed data allotments actually refer to phones compatible with AT&T, Verizon, or Sprint networks, with lower allotments (listed in fine print) on T-Mobile's network. The exception to this is their 10GB plan, which is only compatible with AT&T or T-Mobile devices — not Verizon or Sprint.
In addition to their highest tier Unlimited Plan, Red Pocket Mobile's 3GB, 8GB, 10GB and 20GB plans are also what the industry refers to as "unlimited" plans. This is because they don't cut off data once a data allotment is reached. Instead, data speeds are simply reduced (throttled) down to 2G speeds for the remainder of your billing period. Being stuck on 2G speeds is like wireless purgatory, preventing you from actively using apps, but still allowing notifications to come through. This allows customers to continue receiving data, but makes it inconvenient enough that most people will want to avoid their data speeds being slowed.
If you find yourself hitting your monthly allotment frequently, you'll definitely want to consider upgrading to a higher plan or just make it more of a point to connect to WiFi whenever possible. It's worth noting that Red Pocket Mobile plans don't include hotspot data or roaming, but all plans do include international calling to 70+ countries.
Red Pocket Mobile prices
| Price | Talk | Text | Data | Notes |
| --- | --- | --- | --- | --- |
| $10 | 500 min | 500 | 500MB (AT&T, Verizon, Sprint, or T-Mobile) | |
| $15 | 1,000 min | Unlimited | 1GB (AT&T, Verizon, Sprint, or T-Mobile) | |
| $19* | Unlimited | Unlimited | 3GB (AT&T, Verizon, or Sprint) | |
| $30* | Unlimited | Unlimited | 8GB (AT&T, Verizon, or Sprint) | 3GB (T-Mobile) |
| $30* | Unlimited | Unlimited | 8GB Family (AT&T, Verizon, or Sprint) | 3GB (T-Mobile) |
| $40* | Unlimited | Unlimited | 10GB (AT&T, T-Mobile) | |
| $40* | Unlimited | Unlimited | 20GB (AT&T, Sprint) | 10GB (Verizon, T-Mobile) |
| $60* | Unlimited | Unlimited | Unlimited (AT&T, Verizon, or Sprint) | |
*Price after Auto-Refill discount
Signing up is easy, simply select the SIM card compatible with your phone's network (or future phone), and Red Pocket Mobile will ship it to you free of charge. The SIM card, shipping, and activation is all provided completely free, with the option to either keep your current phone number or get a new one. Once you receive the SIM card, you can activate it using Red Pocket Mobile's website and you're good to go. Everything from signing up to ordering your SIM card is extremely easy and straight forward.
Red Pocket Mobile discounts
For thrifty shoppers looking to save the most money on Red Mobile Pocket, the carrier offers a few options to help you get the best possible deal on your wireless service.
Auto-Refill
The first and most obvious is their Auto-Refill discount. It's only available after paying the first month at full price and the discount varies according to the plan you're on, with a $1 discount on their 3GB plan, and a $5 discount on their 7GB, 15GB, and Unlimited plans. You'll need to set up Auto-Refill on by authorizing a recurring monthly payment to your credit card of choice.
Annual plan
Another great way to save bundles on Red Pocket Mobile is with their 360-Day Plan that allow you to pay for an entire year's worth of service upfront. There's a handful of plans available, ranging from the lowest Basic Plan which offers the bare minimum 100 minutes, 100 text, 500MB data for $60 ($5 a month), and goes all the way up to their XL Plan with 15GB of unlimited data for $360 ($33.25 a month).
| 360-Day Plan | Price in full | Price per month | Talk | Text | Data |
| --- | --- | --- | --- | --- | --- |
| Basic Plan | $60 | $5 | 100 | 100 | 500MB (AT&T, Verizon, Sprint) |
| Essentials Plan | $99 | $8.25 | 500 | 500 | 500MB (AT&T, Verizon, Sprint) |
| Standard Plan | $169 | $14.08 | 1,000 | Unlimited | 1GB |
| Best Value Plan | $205 | $17.08 | Unlimited | Unlimited | 1GB (AT&T, Verizon, Sprint) |
| Unlimited Plan | $229 | $19.08 | Unlimited | Unlimited | 2GB unlimited |
| Ultimate Plan | $240 | $20 | Unlimited | Unlimited | 5GB unlimited (AT&T, Sprint, Verizon) |
| XL Plan | $360 | $33.25 | Unlimited | Unlimited | 15GB unlimited (AT&T, Sprint) |
It's worth noting that while most of the 360-Day Plans are compatible with major networks, the Ultimate Plan excludes T-Mobile, while XL Plan excludes T-Mobile and Verizon (see chart below).
Red Pocket also offers a handful of add-ons you can use to give yourself extra high-speed 4G LTE data for the month. Just be careful — add-ons don't rollover, so choose wisely. You can find all add-on prices listed below.
Red Pocket Mobile Add-ons:
100MB ($2)
250MB ($5)
1GB ($10)
Red Pocket Family Plan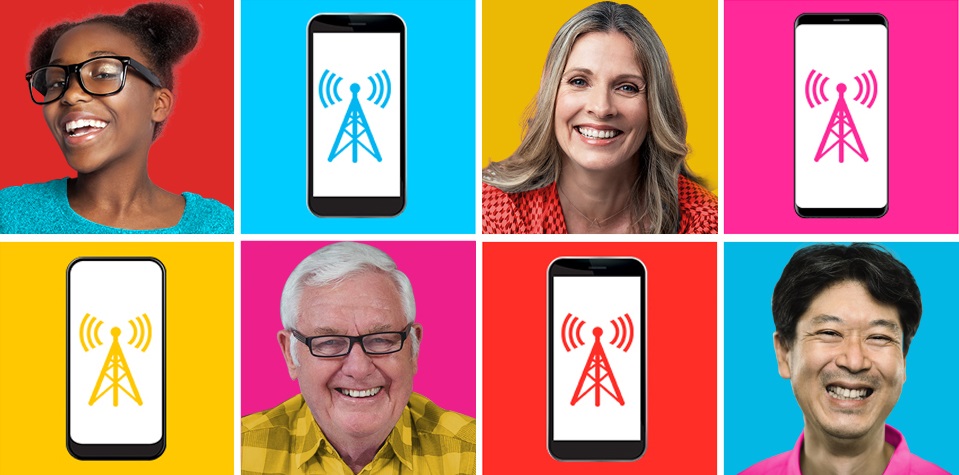 Finally, there's the Red Pocket Family Plan. It's a special plan created especially for those looking to add multiple lines to their accounts. Simply put, it's a 5GB unlimited AT&T or Sprint plan (3GB on Verizon or T-Mobile), with unlimited talk and text. The first line is $30, with every subsequent line (up to 4 lines) running $20/mo. Red Pocket notes that the discount isn't applied until after the first month, so expect to pay full price initially.
The best part about Red Pocket's Family Plan is that you can mix and match networks, meaning you can order a different network SIM for each line that's compatible with your phone. Just remember that in order to get the full 5GB, you'll want to have an AT&T or Sprint compatible phone. If you're bringing a Verizon or T-Mobile phone, your 4G LTE data allotment is reduced to 3GB.
| Red Pocket Family Plan | Cost per line | Total price | Discount |
| --- | --- | --- | --- |
| 1 line | $30 | $30/mo | -$0 |
| 2 lines | $25 | $50/mo | -$10 |
| 3 lines | $23.34 | $70/mo | -$20 |
| 4 lines | $22.50 | $90/mo | -$30 |
| 5 lines | $22 | $110/mo | -$40 |
(5GB of data on AT&T/Sprint, 3GB of data on Verizon/T-Mobile)
Red Pocket Mobile phones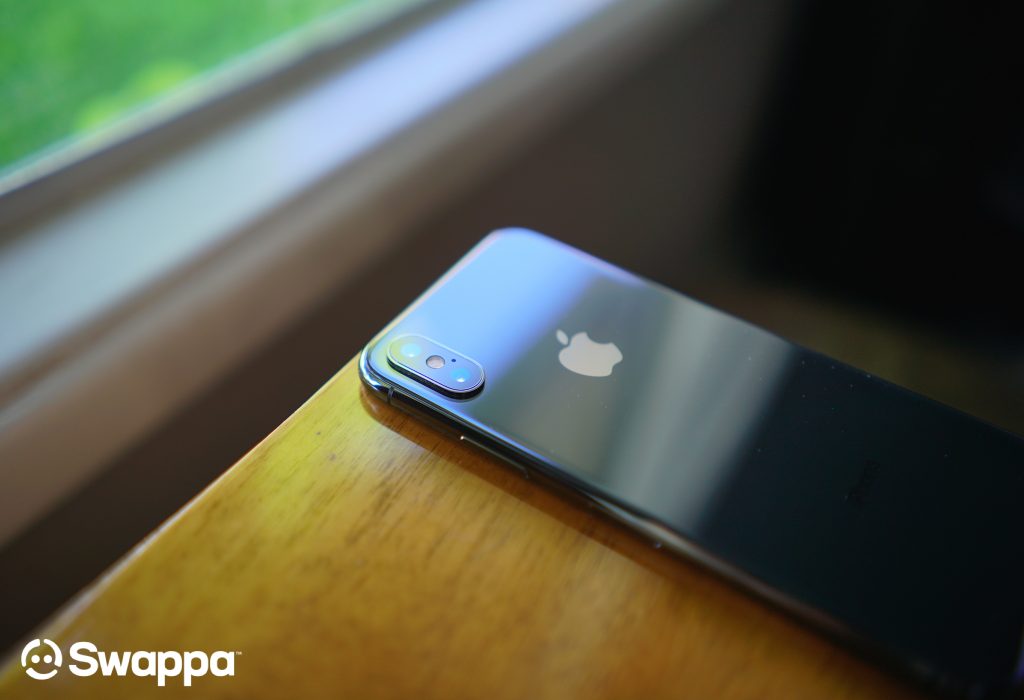 Since Red Pocket Mobile follows a BYOP (bring your own phone) business model, the carrier doesn't actually sell carrier-branded or subsidized phones from their own inventory. Instead, Red Pocket offers financing options for popular handsets with help from Affirm. This can help you pay for a new phone that would normally be out of your budget, but you'll still be paying full-price for most phones. If you're looking for a discounted Red Pocket phone, they have a promotion that saves you $400 (over the course of 24 months) on select phone plans when paired with an iPhone 11 purchase.
Best Red Pocket phones on Swappa
But if you're looking for the absolute best price on a cheap Red Pocket phone, you can shop thousands of gently used phones in the Swappa marketplace. Whether it's unlocked, AT&T, Sprint or any of the other carrier phones that are compatible with Red Pocket, Swappa has the lowest prices on all the latest phones, as well as cheap phones from yesteryear. Here are just a few of favorite phone deals:
Red Pocket Mobile reviews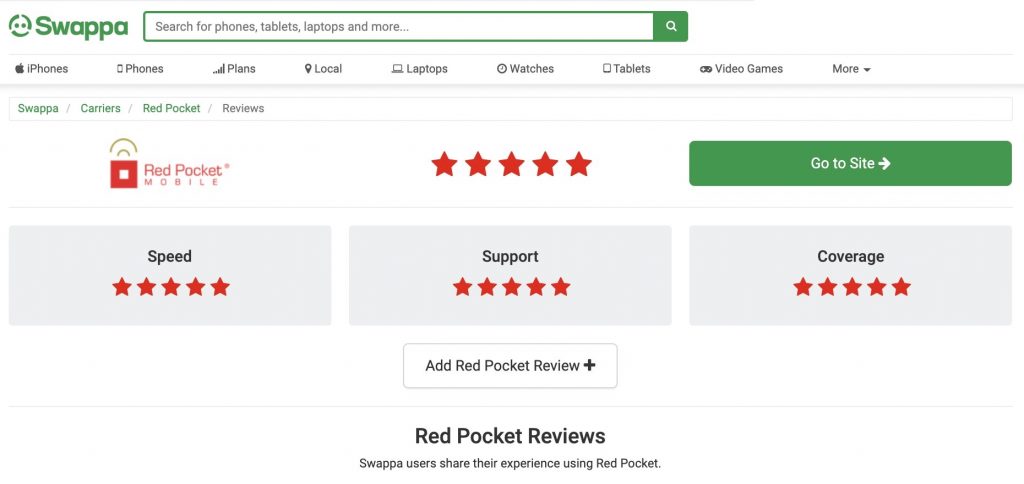 It's been mentioned several times in this post, but seeing as how Red Pocket Mobile is powered by all four major carriers in the US, you can almost certainly expect reliable coverage just about anywhere in the country. If T-Mobile isn't good in your area, then try going with AT&T or Verizon. Red Pocket gives you that freedom.
Even then, we know making the switch to a new carrier isn't always easy. Most people want to a second opinion before they decide to commit and it's why Swappa allows our users to leave their feedback on their favorite carriers. It's there you'll find unbiased Red Pocket Mobile reviews based on everything from network speed, support, and coverage. Each carrier is then given an overall 5-star score based on all user reviews. It's a quick and easy way to see what other people already think about Red Pocket Mobile and should help you better decide if they're the right carrier for you.
So don't waste any more time — hit the link below to see what real customers are saying about Red Pocket Mobile. Looking for Red Pocket Mobile customer service or tech support? Head over to our Red Pocket contact info page for more.