---
When it comes to saving money, Swappa always has your back. We usually go about this by connecting you with the best deals on gently used phones, tablets, and MacBooks. But recently, we've been branching out to help you save in other ways. One of these is cell phone repair.
With smartphones getting more and more expensive each passing generation, it makes sense to want to hang on to them just a little longer. And since they travel practically everywhere with us, our mobile devices often acquire a few battle scars along the way. But a cracked iPhone screen doesn't necessarily mean your device is finished.
We recently had a chance to chat with Jonathan Sewer of Mobile Revive, an independent repair shop that happens to be a part of the ever-growing Swappa Repair Network. Keep reading to learn more about Mobile Revive, what sets them apart from your run-of-the-mill shopping mall repair kiosk, and how cell phone repair can save you money.
Table of contents:
How it all began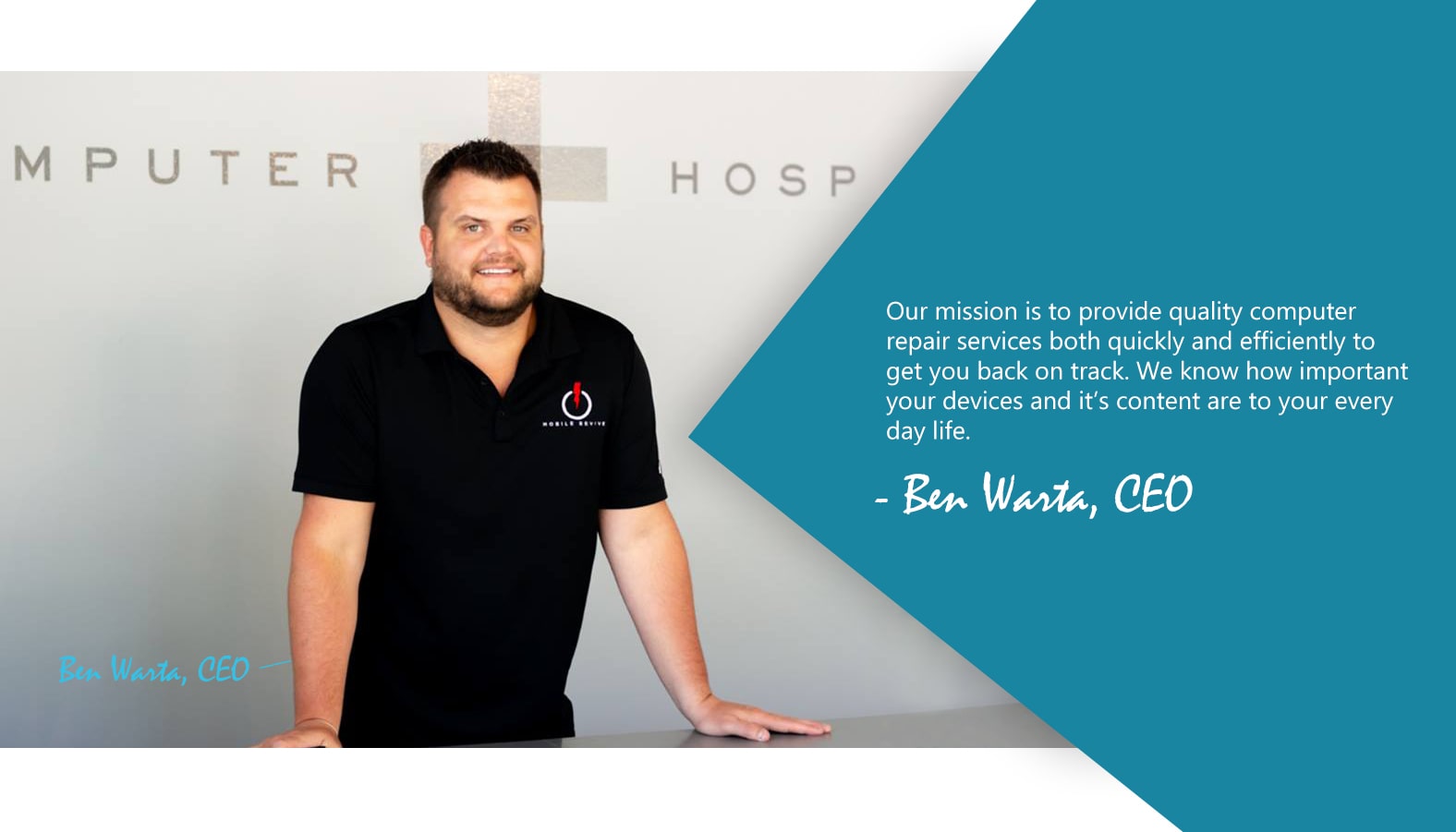 The story of Mobile Revive begins with founder and CEO Ben Warta. Offering electronics and computer repair services as far back as 2010 while still a student at Kansas State University, Warta quickly discovered that electronics repair was his passion.
Two years later, the local computer repair shop Manhattan Computer Hospital learned of Ben's talents and brought him on board as part of a joint venture called MHK iRepair. Ben quickly outgrew his surroundings; so in 2014, he opened up his brick and mortar repair shop.
As time went on, Ben acquired Manhattan Computer Hospital and rebranded under the name Mobile Revive. And with the help of Jonathan Sewer, who brings mobile electronics industry experience dating back to 2006, Mobile Revive now has two thriving locations serving Kansas City and Manhattan, Kansas.
Why choose Mobile Revive?
While a great name and backstory certainly help, you need more than that to run a successful business. And since Mobile Revive has been around for over a decade, they've clearly done something right all these years. So let's take a closer look at how they've managed to thrive in an industry dominated by some of the largest players in the mobile electronics space.
Why go with an independent repair shop?
Before going into how Mobile Revive has carved out a healthy niche for itself, we must touch on why you would want to go with an independent repair shop in the first place. Many consumers initially seek out repair directly from the manufacturer. Although your phone manufacturer is certainly well-equipped to fix a cracked screen, there are several reasons why independent repair is often a better choice.
For starters, there's availability. In the case of Apple, there are fewer than 300 retail stores spread across the entire country. This means that getting a same-day appointment at the Genius Bar is often impossible — and that's before they even begin working on your device. And in Kansas City, one of Mobile Revive's two locations, there are just two Apple stores serving over 2 Million people. In contrast, there are over 2400 (and growing) independent repair shops listed in the Swappa Repair Network.
Next, we have the actual repair time. Not only are independent repair shops able to get you in the door faster, but many are able to offer same day service for common repairs. Mobile revive takes this a step further, with Jonathan Sewer stating that most repairs are completed within an hour or two.
Last but not least, there's price. We all know how expensive it is to fix a broken iPhone screen at the Apple Store. Luckily, independent repair shops can usually perform similar repairs at a substantially lower price. And in the case of Mobile Revive, you'll save upwards of $60 on screen repair for older iPhones such as the iPhone 6, iPhone 6S, and iPhone 7.
What makes Mobile Revive stand out?
With thousands of independent repair shops across the country, how does Mobile Revive manage to set themselves apart? For Mobile Revive, it all starts with professionalism.
Mobile Revive's staff pride themselves on their ability to earn customer trust — something truly essential when handing over your most personal device. Although fly-by-night repair services may be able to change your cell phone battery, you have no way of knowing whether they'll even be there tomorrow if anything goes wrong. In contrast, Mobile Revive's goal is to have the customer feel good about "handing over the remote control to his or her life — whether that's a cell phone, laptop or tablet." Part of this comes from excellent communication and full disclosure of estimated repair costs, and part of this comes from their 16-year track record of excellent service.
Then, we have the repair technicians themselves. As Jon Sewer points out, Mobile Revive's "human capital" helps distinguish them from other repair shops. Mobile Revive prides itself on having technicians on staff who are highly trained and know how to handle any problem that may arise with your mobile device. Mobile Revive is also on track for CTIA WISE Certification, a venture aimed at pushing the repair industry forward in terms of accountability and repair quality. We'll be talking more about CTIA, WISE Certification, and what it means to you; so stay tuned to the Swappa Blog to learn more in the coming weeks.
Just in case professionalism and highly skilled technicians aren't enough for you, Mobile Revive also offers free diagnostics, free device cleanings, and lifetime warranties on their work. Incredible, right? We thought so too.
What services does Mobile Revive offer and how much does it cost?
Mobile Revive offers a wide range of services that cover basically anything and everything that could possibly go wrong with your mobile device. This means that if you've got a cracked screen, a dead battery, a broken charging port, water damage, or issues with your headphone jack or home button; Mobile revive will get you up and running in no time.
In addition to being able to swap out broken parts, Mobile Revive's highly skilled technicians are also capable of micro-soldering surface-mount components — something that's more important than ever before due to the highly integrated nature of modern devices. In fact, their technicians are so good at what they do, they've gotten a number of interesting requests over the years including custom soldering work on a broken fish tank light fixture!
Repair costs
So how much does all this cost? Cell phone repair only makes sense if it's cheaper than the price of a replacement. Luckily, Mobile Revive offers excellent workmanship at a reasonable price.
Repair prices vary based on component pricing, repair complexity, and parts availability. For instance, many Samsung devices use heaps of adhesive during assembly, making it difficult to service. Other devices, such as the Pixel 3a are so difficult to service that it's almost always better to get a replacement.
Despite the large number of variables in play, Mobile Revive makes it easy by providing estimated costs for common repairs on popular devices:
How can I get in touch with Mobile Revive?
If you are in need of electronics repair and live in or around Kansas City or Manhattan, we highly recommend giving Mobile Revive a call. Mobile Revive even offers mail-in device repair for those who don't live nearby.
Both locations are open 7 days a week, from 10-7 on weekdays and 10-5 on weekends. Their technicians are highly skilled and able to handle any problem that may pop up on your device. And thanks to their professionalism and lengthy track record of excellent service, you can feel confident handing over your most personal device.
Click the buttons below to get started. While you're at it, don't forget to browse the Swappa Repair Network, where we connect you with over 2400 cell phone repair shops all across the country.