---
Two months ago we announced the new and improved Swappa Repair Network, a complete revamp of the program we launched back in 2017. The relaunch of the Swappa Repair Network makes it easier than ever for Swappa's 2 million active community members — and 1 million+ daily visitors — to quickly and easily find qualified repair shops in their area, while providing shop owners with free listings to drive business to their stores.
Swappa visitors will oftentimes find our website when they want to replace a broken phone, but don't realize that in many cases, repair can be a cost-effective option. Finding a local repair shop through the Swappa Repair Network can help them extend the life of their device and save money.
Once you've signed up, you'll gain access to user stats and can customize your store's listing with images, your store website, a description of your business, and any/all services offered. To optimize your listing and make it more enticing to new customers, here are tips you can use to help make your listing stand out.
Basic information:

Every listing has some basic contact information you'll want to fill out as thoroughly as possible. This is displayed on your listing as individual buttons (see above) and makes it easy for users to get in touch with you. Basic listing information includes:
Business name
Address
Telephone number
Email address
Link to your website, Facebook, or Yelp page
Avatar with your brand logo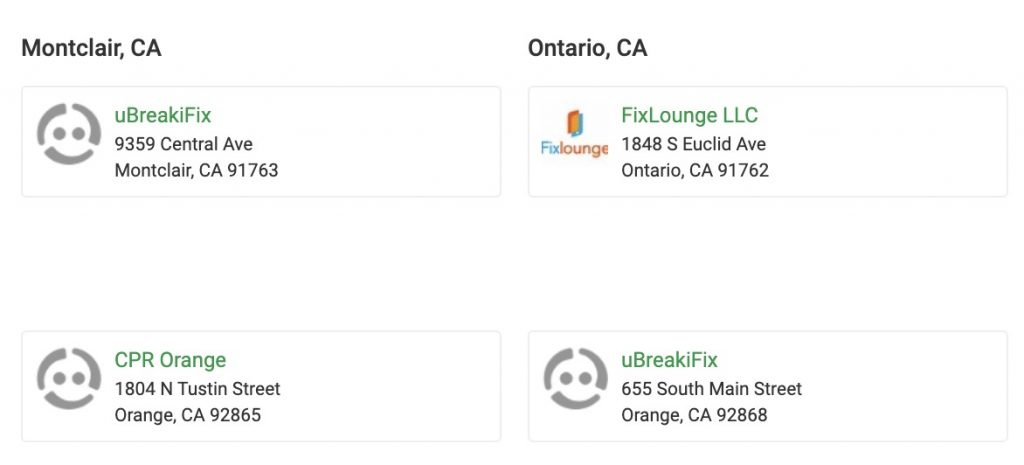 First for foremost, you'll want to upload an avatar. These are not only displayed on your main store listing, but they also show up on our city pages where customers can find a list of stores in their area. It sounds like a small detail, but when viewing a list of shops near them, customers are more inclined to click those with profile avatars.
Photos of your business
Photos of your business are extremely important to your Swappa Repair Network listing. Ideally, you'll want to upload photos of your storefront so customers can easily identify your shop from the street, as well as interior photos showing your shop's layout. We've provided some photos above taken from various listings to help give you a better idea of what works.
Other photos worth considering:
Before-and-afters of any repair work performed
Workstation
Flyer with current specials
Used devices
Accessories
The more photos on your listing, the more customers will feel confident in your services and often times is the nudge they need to bring their broken device into your store.
Detailed description of your business
Each listing has an area where you can provide detailed and enticing descriptions that will ultimately help users make informed decisions when choosing a repair shop to fix their broken device. Think of this as an "about me" section where you have the opportunity to provide additional insight on your business. You have the freedom to include whatever information you like, but if you need a little help, here are some tips on info you may want to include in your descriptions:
Background on your business
How long you've been established
General services offered (specific devices you repair, used phones, accessories, etc.)
Reiterate 30-day guarantee on repairs
It's important to take the time to check your spelling and grammar before you publish your listing. Read it aloud to make sure it makes sense and, if possible, have someone else read it to ensure clarity.
Add pricing for repairs and services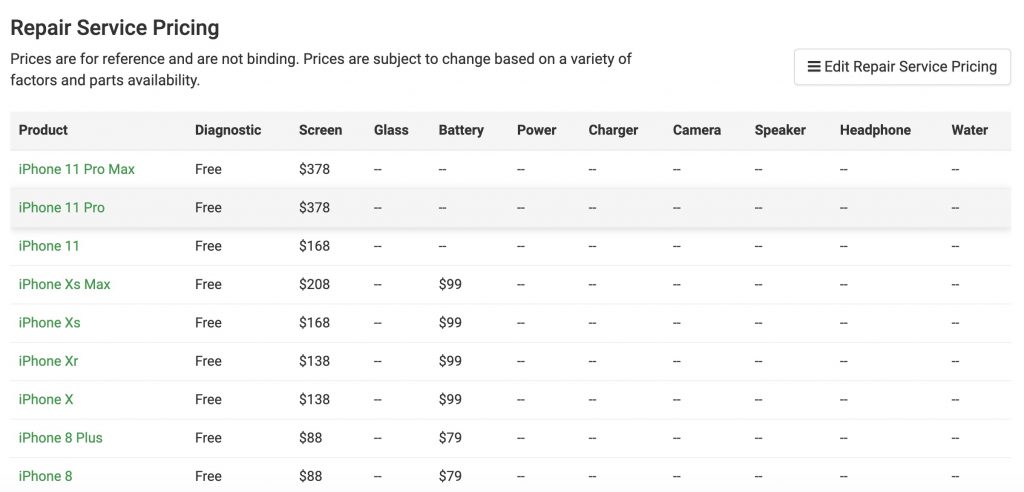 One of the most important bits of information you can display on your listing is your Repair Pricing. These are general pricing estimates for some of your most common service repairs, whether that's repair pricing for popular phones, to tablets, laptops, or even house calls. Showing this information up front is much more convenient for customers shopping for repair, and increases the likelihood of them bringing in their broken devices or calling to schedule an appointment.
The Repair Pricing tool is built right into the listing creation system, requiring you only punch in the numbers for each device you want displayed in your listing. You can either watch the walkthrough video above, or for a step-by-step cheat sheet, here's how you can display repair pricing on your Swappa Repair Network listing:
Open your store's page on Swappa
Select the "Edit Offered Services" button
Select the device you want to add pricing information for (or copy/paste pricing from previous device)
When finished, select "Upload Services Prices"
Rinse and repeat for additional devices or services
*****
Using the tips outlined in this post, we hope to make the Swappa Repair Network the best experience possible for both our repair partners and the Swappa community as a whole. Many Swappa visitors come to us because they have a broken device and don't realize that repair is a cost-effective option, often cheaper than replacing their phone. Finding a local repair shop through the Swappa Repair Network can help them extend the life of their device and save money.
With free listings, an improved user experience, and more content to act as a hub for all things repair — we can get your store in front of more eyes for the people that need your services the most. If you haven't yet, you join the Swappa Repair Network and create your own personalized listing by clicking the button below.