---
Today's iPhones are packed to the brim with expensive hardware components, and although models like the iPhone XS feature strong metal frames, most of the body is actually made of fragile glass. While this gives the phones a more premium feel, it also means even the smallest drop can spell doom for the display or back glass.
Best case scenario, a cracked screen is unsightly and may obstruct your view of things on-screen. Although technically "broken," it doesn't always result in a blank screen or get in the way of touch function. However, a broken screen could compromise your iPhone's water resistance, leaving it more susceptible to water damage.
Of course, an iPhone XS screen protector is a great way to prevent these sorts of things from occurring, but they're not foolproof and accidents still — and often times will — happen. When it comes to the iPhone XS, Apple's Super Retina HD display is anything but cheap to fix. In this post we'll explore the various repair options available to you, which should give you a better idea of repair pricing for an iPhone XS screen replacement.
Read more: How much does it cost to repair my broken iPhone?
iPhone XS screen replacement cost
When trying to figure out how much an iPhone XS screen replacement will cost you, the first place most people look is the Apple Store. The Apple Store is a great place for AppleCare+ repairs, but out-of-warranty repairs can be a bit more expensive. According to Apple, an out-of-warranty iPhone XS screen repair will cost you $279.
| iPhone model | Apple Store screen repair (out of warranty) |
| --- | --- |
| iPhone XS Max | $329 |
| iPhone XS | $279 |
| iPhone XR | $199 |
Once you've decided to go through with an Apple screen repair, you'll first need to schedule an appointment. Often times this will need to be done weeks in advance, as the number of Apple Stores around the country are limited. This means if your iPhone's screen is completely destroyed or nonfunctional, Apple Store repair may not be the best option for you.
If you're looking to save both time and money, the Swappa Repair Network might be a better fit. The Swappa Repair Network helps you find local repair shops with services that are not only faster, but significantly lower priced than Apple. With over 2,300 phone repair shops located in 270 metropolitan areas across the US, odds are there's a Swappa Repair Network shop already in your area.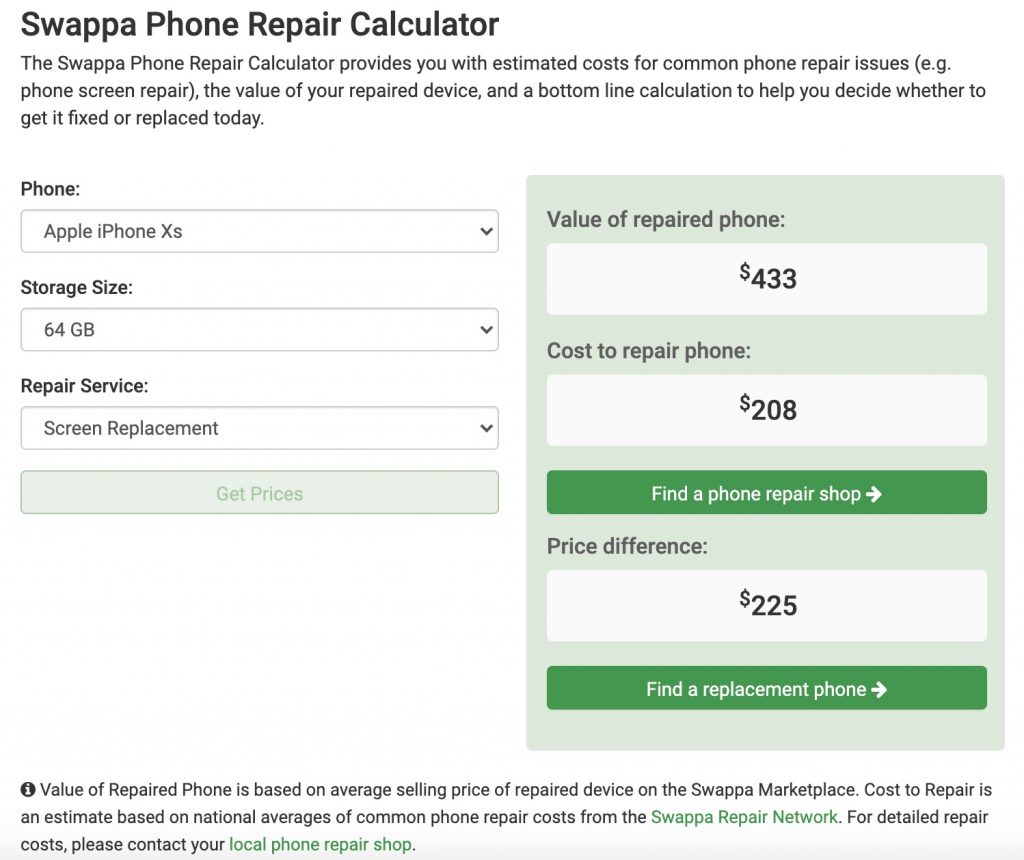 The Swappa Phone Repair Calculator gives you a ballpark idea of how much iPhone XS screen repair cost from local shops by providing average prices based on the shops in our repair network. In the case of the iPhone XS screen repair averages $208 — that's a full $71 cheaper than the Apple Store's out-of-warranty repair — and depending on your local shop, there's a good chance you'll be receiving same-day repairs to boot.
Is iPhone XS screen repair worth it?
There's no question that iPhones are some of the most premium smartphones available today, but Apple's level of quality doesn't come cheap. While diehard fans have no issue emptying their wallets for the newest iPhone every year, the vast majority of people hang onto older models for as long as possible (and there's nothing wrong with that).
When something does happen to your iPhone — cracked screen, water damage, etc. — most people have two options: repair or buy a new model. But there's another option that can save you hundreds of dollars: buy a gently used iPhone on Swappa.
When it first launched, the iPhone XS retailed for $999 — and that was for the lowest storage option. Although it was officially discontinued in 2019, you can still find a cheap iPhone XS on Swappa, with used prices starting at $384.
When it comes time to repair a broken iPhone, generally older models are cheaper to repair than newer models. So in the case of an iPhone XS repair — which averages $164 to fix a broken screen — it would be much cheaper to find a local repair shop than it would be to buy an entirely new phone or repair at the Apple Store. So yes, it's probably worth it to repair the phone. However, as iPhone XS prices continue to drop, it also might be worth checking the Swappa marketplace for the latest deals and prices.
To find cheap and affordable iPhone repair near you, hit the link below to browse available shops in the Swappa Repair Network.