---
Accidents happen, and if you find yourself with a broken iPhone 11 display, it's a good idea to start thinking about repair, or possibly, an upgrade. Now let's be clear — there is no absolute need to upgrade a (nearly) four-year-old iPhone. But if you bought your iPhone 11 in 2019 when it was first released, you may be tempted to upgrade.
Figuring out exactly how much it costs for iPhone 11 screen repair services can be difficult. But don't stress; in this post, we'll show you how much it costs to replace your iPhone 11 screen — and let you decide whether it'll be best to repair it or upgrade it.
---
iPhone 11 screen replacement cost
The first place most people turn when faced with a broken or malfunctioning iPhone is the Apple Store. While this makes sense for devices still covered by AppleCare+ — Apple's extended warranty — customers with a broken iPhone 11 screen may find Apple's out-of-warranty repairs less than affordable.
For instance, Apple repair prices for an iPhone 11 screen replacement will cost $199 using Apple genuine parts. To see how the iPhone 11 screen replacement costs compare to replacement costs, check out the table below.
Apple iPhone 11 screen repair price vs. Apple iPhone 11 replacement price (Prices current as of May 3, 2023)
Repairing your iPhone 11 screen at an Apple store depends on two key factors. The first factor is whether you live near an Apple store. And if you don't, the second factor is whether you are willing to mail your phone to Apple (and be without a phone for a while). If that leaves you tempted (or just curious) about upgrading — here are a few iPhones worth considering.
Read more: How much does it cost to repair my broken iPhone?
---
Find affordable iPhone 11 screen repair in your local area
The Swappa Repair Network is a network of local repair shops that can help you save time and money on what would otherwise be costly iPhone repairs. For the vast majority of people in need of affordable iPhone repair, local repair shops are typically a much cheaper option than relying on Apple Store services. The Swappa Repair Network makes it easy to quickly browse repair shop listings near you, many of which provide upfront pricing information and offer same-day services.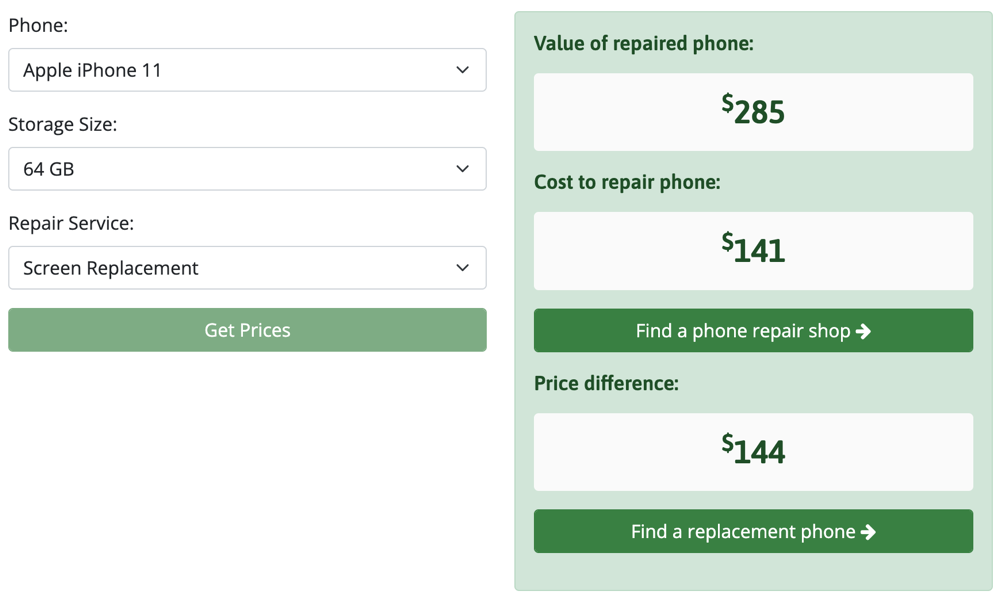 Don't waste time waiting for Apple, or even hours calling local repair shops. Whether your iPhone 11 has a cracked screen, water damage, won't turn on, or has other issues — Swappa's Repair Network will get you up and running with a fully repaired iPhone.