---
Whenever Apple releases a new iPhone, prices of the older models typically drop in price by around $100. For models that Apple no longer sells new — like the iPhone 6S — prices drop even more with Swappa shoppers reaping the biggest savings.
As Swappa's best selling phone in 2018, the iPhone 6S is a great option for people who don't want to spend a small fortune on a new phone. You might be wondering: how much does a used iPhone 6S cost? Buying a used iPhone 6S can save you hundreds of dollars compared to buying a new iPhone. Take a look at current iPhone prices on Swappa to see exactly how much you can save.
The iPhone 6S first launched in 2015 at the introductory price of $649 (16GB). In 2017, with the unveiling of the new iPhone 8 and iPhone X, Apple dropped the retail price of the iPhone 6S to $449 for the 32GB model and $549 for the 128GB model.
When Apple announced the new iPhone XS, XS Max and XR in 2018, four older iPhones models were quietly discontinued. In 2018, Apple no longer sold new models of the iPhone X, iPhone SE, iPhone 6S, or 6S Plus. Even though Apple no longer sells these iPhone models, you can still find them right here on Swappa and at a great price to boot.
The current used price for an iPhone 6S (32GB) is around $211 on Swappa, while the iPhone 6S (128GB) is around $229. When comparing the price of the iPhone 6S (128 GB) to Apple's new iPhone XS (128GB) at $999, you can save more than $770 when you buy the iPhone 6S!
iPhone 6S Price History
| | Nov '18 | Dec '18 |
| --- | --- | --- |
| iPhone 6S (16GB) | $177 | $177 |
| iPhone 6S (32GB) | $209 | $211 |
| iPhone 6S (64GB) | $205 | $201 |
| iPhone 6S (128GB) | $237 | $229 |
(Average price of used iPhone 6S sold on Swappa)
Swappa also offers an affordable Used Phone Protection Plan that protects your used iPhone from accidental damage. Whether you're buying the iPhone 6S for yourself or a loved one, you can rest easy knowing your transaction is safe with PayPal, the phone is covered with our protection plan, and that you're saving the most money possible on a gently used iPhone.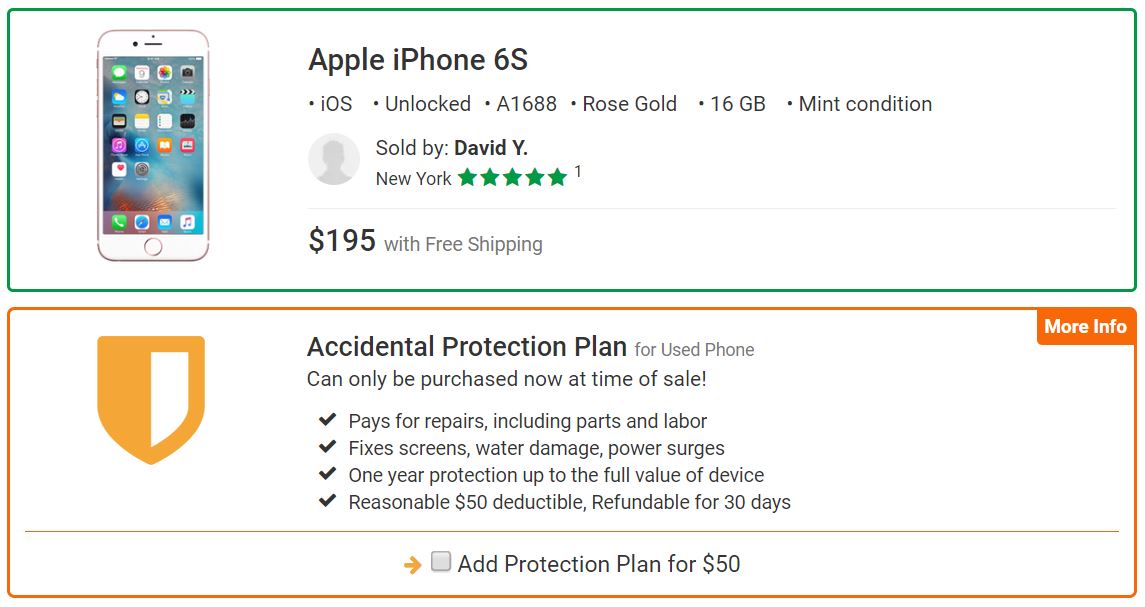 If you'd like to compare the prices of all the iPhone models currently available on Swappa, you can also check out our iPhone Price page (showing all models) here. Bargain shoppers can browse Swappa's entire selection of used iPhone 6S models by hitting the button below.