---
For Apple fans on a budget, staying several generations behind the latest iPhone releases is a smart way to stay in Apple's ecosystem, while saving hundreds of dollars on a cheap, yet fully functional iPhone. Lucky for you the Swappa marketplace has hundreds of cheap iPhone models in just about every color, storage configuration and carrier.
For anyone still holding onto older iPhones like the iPhone 6, you may find the iPhone 7 Plus a big upgrade. New iPhone 7 Plus features include IP67 water resistance, which can handle full water submersion for up to 30 minutes. This is complimented by a touch sensitive home button (instead of a physical button) that's lightning fast at reading fingerprints. Unfortunately, this was also the year Apple removed the headphone jack, which has been replaced by a Lightning adapter (dongle) you'll have to use with wired headphones.
Still, with newer features like water resistance, a dual camera system for 2X zoom, and a large battery, the iPhone 7 Plus is still worth it in 2020, especially given the low price point. To better help illustrate these savings, let's look at current the iPhone 7 Plus prices on Swappa.
iPhone 7 Plus Price
(iPhone 7 Plus starting prices on Swappa as of February 2020)
Right now, current prices for an iPhone 7 Plus sold on Swappa is around $238 (32GB) and $254 (128GB). You can also find the more elusive iPhone 7 Plus (256GB) for roughly $277. Just remember those are only average prices, so it's easy to find even lower priced iPhone 7 Plus models depending on the carrier, condition, and storage configuration.
For the absolute lowest price on an iPhone 7 Plus, simply choose a more well-loved model (like an iPhone 7 Plus in fair condition) to get the best price. When it finally comes time to upgrade your old phone to something this century, Swappa always gets you the best deals on newish tech like the iPhone 7 Plus. It's what we do.
iPhone 7 Plus Price History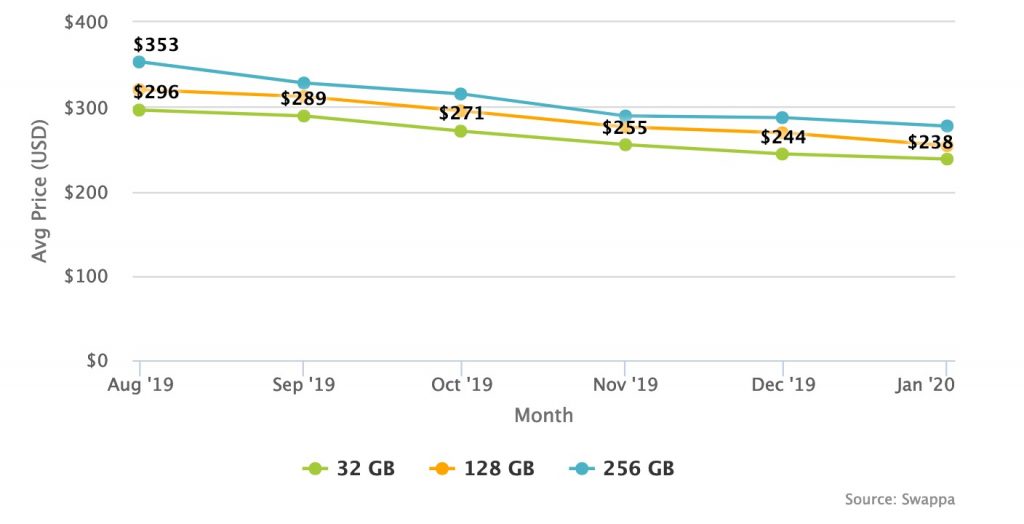 (Average iPhone 7 Plus prices on Swappa over the last 6 months)
The iPhone 7 Plus was first unveiled on September 16th, 2016, at the introductory price of $769. In 2017, with the arrival of the iPhone 8, 8 Plus, and iPhone X, we saw Apple drop the price of the iPhone 7 Plus down to $669 (32GB) and $769 (128GB). Sadly, this was also the year that Apple officially discontinued the 256GB iPhone 7 Plus, saving the higher storage configuration for their newer lineup instead.
With the release of the iPhone 11, iPhone 11 Pro and iPhone 11 Pro Max in 2019, Apple finally discontinued the iPhone 7 and iPhone 7 Plus entirely. Today, the only way to buy the iPhone 7 Plus is either refurbished, or by saving even more money with a gently used model on Swappa.
♻️📱💻📷🎮
Because Swappa only allows fully functional devices to be sold on our marketplace (i.e., no junk), we're able to offer another big perk for used iPhone shoppers: Swappa's Used Phone Protection Plan. Should you break your iPhone — whether it's a cracked screen, water damage, or power surges — you'll never have to worry about paying for repairs out of your own pocket. When buying an iPhone 7 Plus, just make sure you add the Accidental Protection Plan to your cart at the time of purchase and you'll be covered.
For more on the best time to pick up an iPhone 7 Plus and maximize your savings, head on over to our post: When will the iPhone 7 Plus price drop? And if you'd like to see how the price of the iPhone 7 Plus compares against every other iPhone currently available, check out our iPhone Price page. Cheers.