---
If you're on a budget, staying a few generations back on your iPhone is a great way to save money. And even though the iPhone 7 Plus is several years old now, it is compatible with the latest version of iOS (including the upcoming iOS 15 update), and it can run most apps with ease. With a huge 5.5-inch Retina display, IP67 water resistance, and low price, the iPhone 7 Plus the perfect first phone for kids or those looking for a more affordable option to stay in Apple's ecosystem for less.
Keep reading to learn how much the iPhone 7 Plus costs in 2022 and how you can get one for less by shopping gently used on Swappa!
iPhone 7 Plus Price

on Swappa

Right now, the current average used iPhone 7 Plus price is $178 for 32GB, $204 for 128GB, and $247 for 256GB. Just remember those are average prices, so it's possible to find an even lower priced iPhone 7 Plus depending on the carrier, storage configuration, and condition.

For the absolute lowest price on an iPhone 7 Plus, simply choose a more well-loved model (like an iPhone 7 Plus in fair condition) to get the best price. When it finally comes time to upgrade your old phone to something this century, Swappa always gets you the best deals on newish tech like the iPhone 7 Plus. It's what we do.
iPhone 7 Plus Price History
Apple released the iPhone 7 Plus on September 16, 2016, starting at $769 MSRP. A year later, Apple dropped prices down to $669 for 32GB and $769 for 128GB. While you can spend similar money on a refurbished iPhone 7 Plus today, these prices pale in comparison to the savings you can get when shopping gently used on Swappa. Here's what you can expect to pay: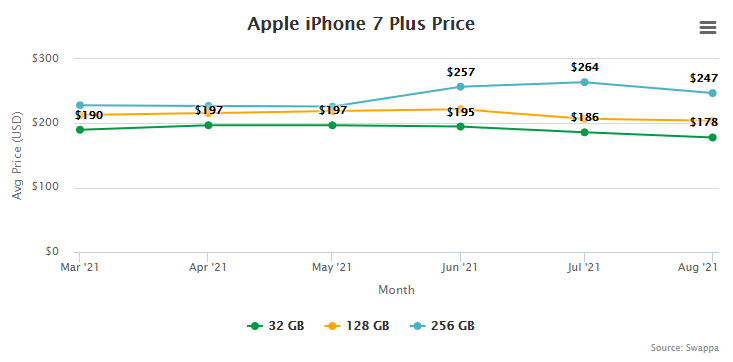 ---
Swappa doesn't allow junk, and we don't allow jerks. This means you can shop on Swappa worry-free, knowing you'll always get the best deals on a working device. Swappa makes buying even easier with Buy Now, Pay Later. Get the tech you want today, and pay for it in 4 easy installments spread over time.
Check out the best used iPhone deals on other models, visit our iPhone Buyer's Guide to find the best iPhone 7 Plus upgrade options — or click below to find the best deals on gently used iPhone 7 Plus.
---
Snag the best deals on used iPhones wherever you go. Download the Swappa App today!

---