Last year Apple unveiled the iPhone XS, iPhone XS Max, and the iPhone XR, some of the most expensive iPhones to hit the market. While the iPhone XS's incremental hardware changes were welcomed, not everyone needs, or can even afford, this latest set of iPhones. And that's okay.
Those holding onto older iPhones like the iPhone SE, or iPhone 6S Plus may find the iPhone 7 enough of an upgrade to warrant a purchase. By staying a generation behind Apple's latest releases, it's a smart way for consumers on a budget to stay in Apple's ecosystem, while saving hundreds of dollars on an iPhone.
Although buying a brand new iPhone 7 Plus from Apple is always an option, you can get a much better deal when you buy a gently used iPhone 7 Plus on Swappa. To show you just how much you can save, let's look at current the iPhone 7 Plus costs in the Swappa marketplace.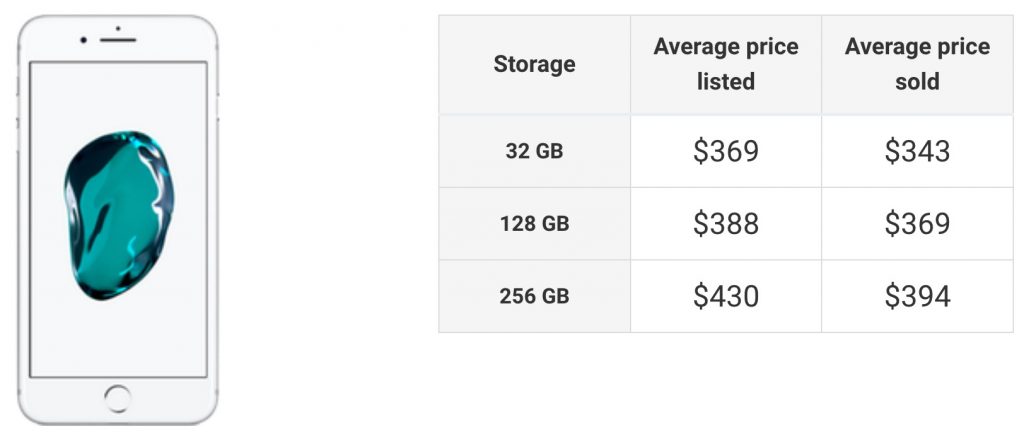 Average used iPhone 7 Plus price as of 01/19
The iPhone 7 Plus was first unveiled alongside the smaller iPhone 7 on September 16th, 2016, at the introductory price of $769. In 2017 the iPhone 8, 8 Plus, and iPhone X were officially announced, and we saw Apple dropping the price of the iPhone 7 Plus down to $669 (32GB) and $769 (128GB). Sadly, this is also the year that Apple discontinued the 256GB iPhone 7 Plus.
With the release of the iPhone XS, XS Max, and XR in 2018, Apple would again drop the price of the iPhone 7 Plus, where it is currently $569 (32GB) and $669 (128GB) brand new. However, you can find a gently used iPhone 7 Plus (including the discontinued 256GB model) for a fraction of the price right here on Swappa.
iPhone 7 Plus Price History
| | Nov '18 | Dec '18 |
| --- | --- | --- |
| iPhone 7 (32GB) | $349 | $345 |
| iPhone 7 (128GB) | $380 | $373 |
| iPhone 7 (256GB) | $408 | $401 |
(Average prices for iPhone 7 Plus models sold on Swappa)
Current prices for a used iPhone 7 Plus on Swappa average at $369 (32GB) and $388 (128GB). You can also find the discontinued iPhone 7 Plus (256GB) for around $430. That's more than 35% off the full retail price and a fantastic deal for anyone on a budget. In fact, those are only the average price for listings found in the Swappa marketplace, which means you find listings priced even lower than that. Can't beat that deal with a stick.
Because we only allow fully functional devices to be sold on our marketplace (i.e., no junk), it puts Swappa in the unique position to offer another big perk for iPhone buyers: Swappa's Used Phone Protection Plan from WarrantyLife.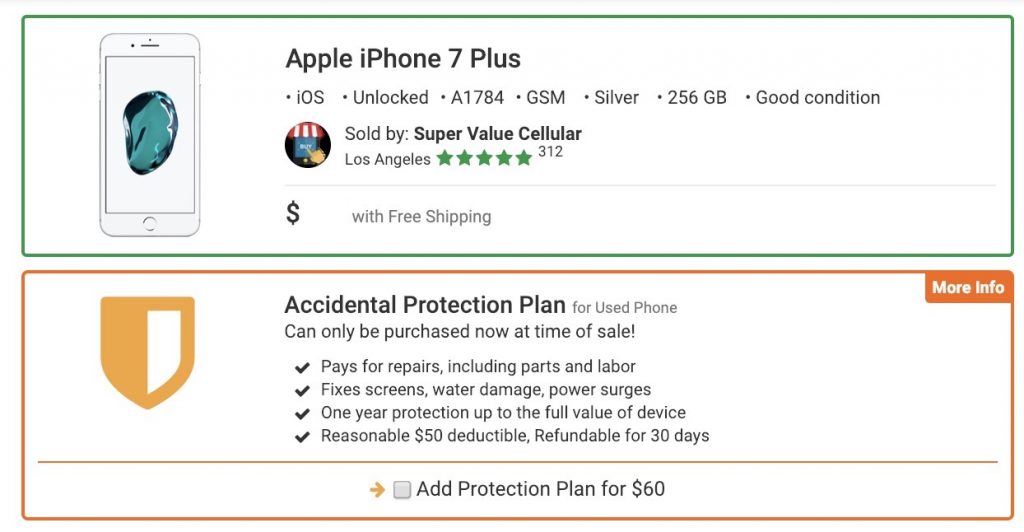 Whether it's a cracked screen, water damage, or power surges, you'll never have to worry about paying for repairs out of your own pocket. Just make sure you add the Accidental Protection Plan to your cart at the time of purchase and you'll be good to go.
For more on the best time to pick up an iPhone 7 Plus in order to maximize your savings, head on over to our post: When will the iPhone 7 Plus price drop? If you'd like to compare the price of the iPhone 7 Plus against every other iPhone currently available, check out our iPhone Price page right here.