---
Every year, Apple unveils a shiny new iPhone with all the new features. Although the latest bells and whistles are enough to make Apple diehards line up for city blocks, not everyone wants to spend so much money on the latest iPhone.
For most people, a previous-generation iPhone will suffice — and save you hundreds of dollars. So if you're looking for cheap used iPhones that you can get for under $100, a used iPhone 7 is still a great pick. Keep reading to find out how much an iPhone 7 costs in 2022.
iPhone 7 Price on Swappa
The average iPhone 7 price is $109 for 32GB, $132 for 128GB, and $175 for 256GB. Because these are average prices on Swappa, it's possible to find even cheaper iPhone 7 models depending on the individual seller, carrier, and the condition of the device.
It's easy to see that Swappa has the lowest prices on the iPhone 7 you can find online. Whether you're looking for a great starter phone for your kids, an inexpensive replacement iPhone 7, or simply an affordable phone that won't break the bank, you really can't go wrong with a cheap iPhone 7 on Swappa.
iPhone 7 Price History
Apple released the iPhone 7 in 2016, starting at $650 for the 32GB model. In 2017, along with the release of the iPhone 8 and iPhone X, Apple dropped the iPhone 7 retail price to $549 for 32GB and $649 for 128GB. Then a year later, with the release of the iPhone XS, XS Max, and iPhone XR, Apple dropped prices again to $449 for 32GB and $549 for 128GB. But if you shop on Swappa, you can get an iPhone 7 for much less: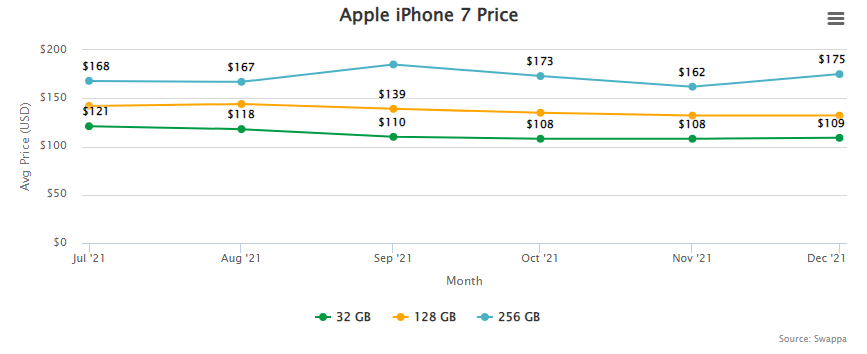 ---
If you want to buy used iPhones, it's hard to beat the iPhone 7. That said, don't forget to check out other great options on Swappa such as the iPhone 8, iPhone SE, iPhone XR, and iPhone 11 — you'll be surprised at the details you can get when shopping gently used!
Whether you're buying for yourself or for a loved one, rest easy knowing we don't tolerate junk or jerks. And Swappa makes buying even easier with Buy Now, Pay Later. Get the tech you want today, and pay for it in 4 easy installments spread over time.
Click below to get the best deals on a gently used iPhone 7. Or learn more in our iPhone 7 Buyer's Guide and iPhone 7 Upgrade Guide.
---
Snag the best deals on used iPhones wherever you go. Download the Swappa App today!

---