Every year Apple unveils a shiny new iPhone, gushing over all of its new features. One of the most important bits of information — the price — is always saved for the end of the show. That's when we learn exactly how much the new iPhone is going to cost us.
Cramming the latest hardware into the device, the cost of the iPhone has been steadily going up in recent years, but with that we also see the older model drop in price, providing consumers with a solid mid-range option in Apple's lineup.
Although all the latest bells and whistles are enough to make most fans line up for city blocks, not everyone needs, or has room in their budget for the latest iPhone. For many folks the previous generation will suffice, saving them hundreds of dollars by staying a generation behind Apple's release curve.
Although buying the iPhone 7 brand new from Apple is always an option, you'll find an even better deal when buying a used iPhone 7 on Swappa. Let's take a look at current iPhone prices to see exactly how much you can save.
iPhone 7 Price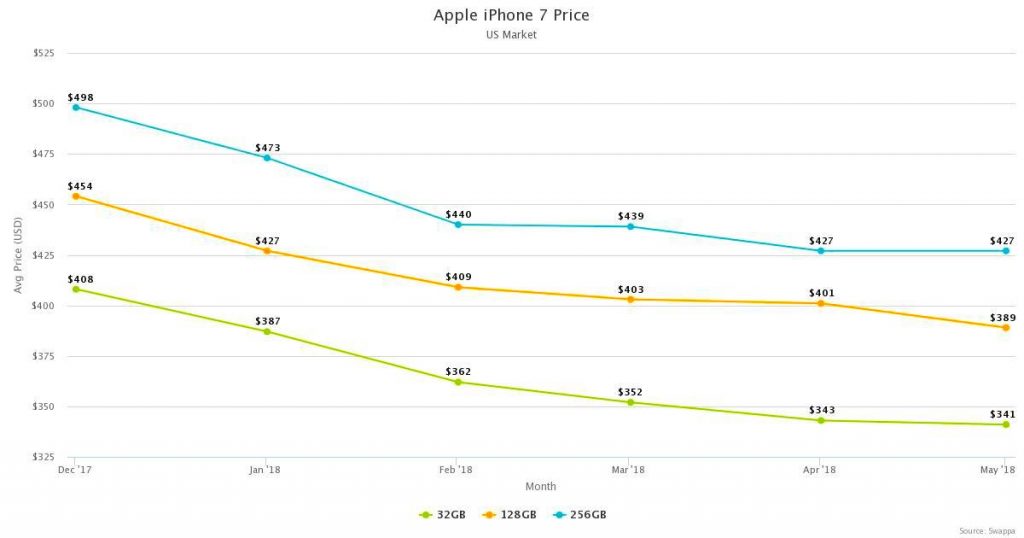 The iPhone 7 was first unveiled at the introductory price of $650 (32GB). When the iPhone 8 and iPhone X were officially announced on September 18th of last year, Apple dropped the price of the iPhone 7 by $100. This brings the current iPhone 7 retail price down to $550 for the 32GB model or $650 for the 128GB model on Apple's website (the 256GB model has been discontinued).
| | 12/2017 | 01/2018 | 02/2018 | 03/2018 | 04/2018 | 05/2018 |
| --- | --- | --- | --- | --- | --- | --- |
| iPhone 7 (32GB) | $408 | $387 | $362 | $352 | $343 | $341 |
| iPhone 7 (128GB) | $454 | $427 | $409 | $403 | $401 | $389 |
| iPhone 7 (256GB) | $498 | $473 | $440 | $439 | $427 | $427 |
On Swappa, pricing for a used iPhone 7 (32GB) is currently hovering around the $323 mark for the 32GB model, $392 for the 128GB, and $418 for the discontinued 256GB model. That's almost 41% off the full retail price and a heck of a great deal considering you can buy two used 32GB models for less than the price of a brand new 128GB.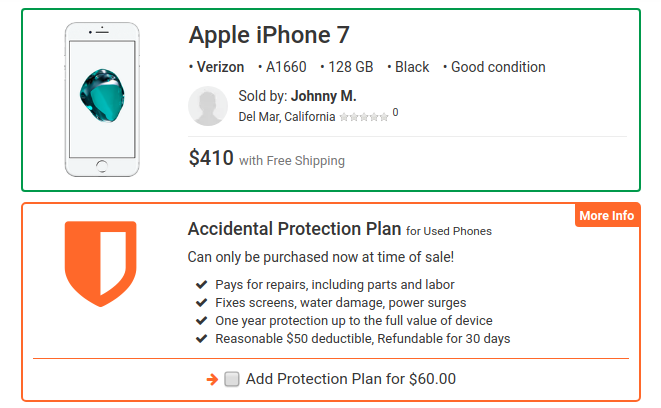 Swappa also offers an affordable Used Phone Protection Plan that protects your used iPhone from accidental damage. Whether you're buying the iPhone 7 for yourself or a loved one, you can rest easy knowing your transaction is safe with PayPal, the phone is covered with our protection plan, and that you're saving the most money possible on a gently used iPhone.
You can browse our entire selection by hitting the link below and for more on the best time to buy an iPhone 7, head over to our post: When will the iPhone 7 price drop? If you'd like to compare and contrast the going rate of all the iPhone models currently available, check out our iPhone Price page here.