---
Every year Apple unveils a shiny new iPhone with fans gushing over all the new features. Although the latest bells and whistles are enough to make Apple diehards line up for city blocks, not everyone needs — or has room in their budget — for the absolute latest iPhone.
For a good many folks, a previous generation iPhone will suffice and it's something that can save consumers hundreds of dollars by simply staying a few generations behind Apple's yearly release cycle. If you're looking for the best cheap iPhone money can buy, you can't go wrong with the now discontinued Apple iPhone 7.
Of course, you'll always find the best deals when buying a used iPhone on Swappa. Check out the table below to find out how much the iPhone 7 costs right now on Swappa, along with all the varying storage and carrier configurations.
iPhone 7 Price
(iPhone 7 starting prices on Swappa as of February 2020)
The current average price for an iPhone 7 (32GB) on Swappa is $171, iPhone 7 (128GB) is $192, while the elusive iPhone 7 (256GB) model is around $219. Because, these are average prices on Swappa, it's possible to find even cheaper iPhone 7 models depending on the individual seller, carrier, and the condition of the device.
It's easy to see that these are the lowest prices on the iPhone 7 you can find online. Whether you're looking for a great starter phone for their kids, an inexpensive replacement, or just an affordable phone that won't break the bank, you really can't go wrong with a cheap iPhone 7.
iPhone 7 Price History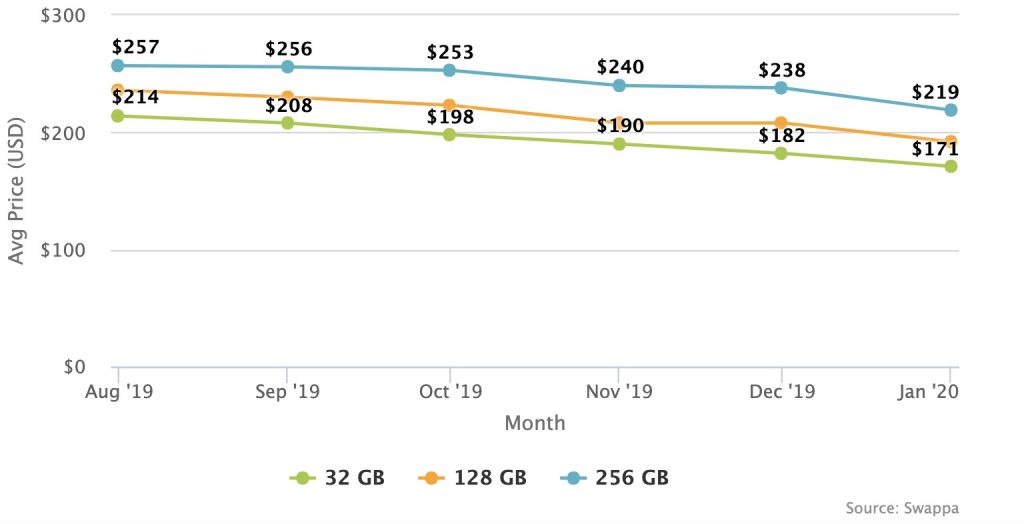 (Average iPhone 7 prices on Swappa over the last 6 months)
The iPhone 7 was first unveiled in 2016 at the introductory price of $650 (32GB). In 2017, along with the unveiling of the newer iPhone 8 and iPhone X, Apple dropped the retail price of the iPhone 7 down to $549 for the 32GB model and $649 for the 128GB model. Unfortunately, this was also the year the 256GB model was officially discontinued.
With the release of the iPhone XS, XS Max and iPhone XR in 2018, the iPhone 7 price dropped again to $449 (32GB) and $549 (128GB), taking its place as the most affordable iPhone offered by Apple. In September 2019, the iPhone 7 was officially discontinued, replaced by the iPhone 8 which is now the oldest and cheapest iPhone offered by Apple.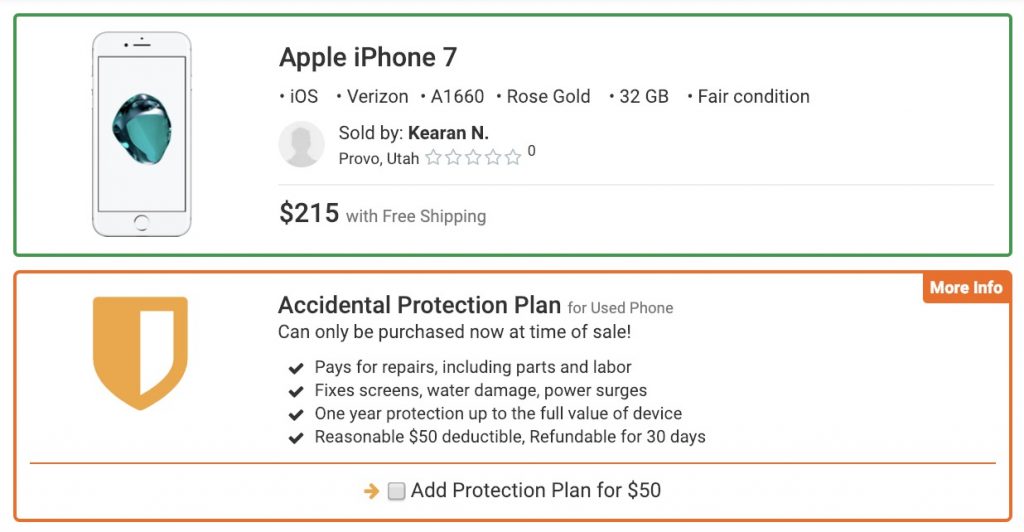 If you're looking to pick up a used iPhone 7 on Swappa, don't forget that we also offer an affordable Used Phone Protection Plan that protects your used iPhone from accidental damage. Whether you're buying the iPhone 7 for yourself or a loved one, you can rest easy knowing your transaction is safe with PayPal, the phone is covered with our protection plan, and that you're saving the most money possible when you buy a gently used iPhone on Swappa.
♻️📱💻📷🎮
If you'd like to compare price of all iPhone models currently available on Swappa, you can also check out our iPhone Price page where we've put together a comprehensive list of the all iPhone models — including various storage sizes — and their average selling prices. You can use this to value your own iPhone to sell, or even as a bargaining chip when buying for a used model.
For more on the best time to buy an iPhone 7, head over to our post: When will the iPhone 7 price drop? For everyone else, you can browse our entire selection of used iPhone 7 models by hitting the button below.