---
The retail price of a new MacBook can blow a tight budget out of the water. Purchasing a gently used or refurbished MacBook from Swappa can help you get all the quality of an Apple laptop at a fraction of the cost. Still, there are a lot of factors to consider in determining how much you want to spend. In this article, we'll hit the major features that will move you up or down the price scale of a refurbished Mac.
Price Considerations
One of the main factors in determining price is determining the family of MacBook you're most interested in. The MacBook Retina, MacBook Air, and MacBook Pro each have their place and purpose. The main features that differentiate a used Mac notebook are the size, weight, computing power and of course model year.
The MacBook has been positioned as the entry level model of MacBooks since it was relaunched in 2015 and will likely be priced in the used market for considerably less than the lightweight MacBook Air and Powerful MacBook Pro. Even though the MacBook Air served as the entry level Apple notebook after the MacBook Retina was discontinued in 2012, you'll usually find the MacBook Air with a bit higher price point than the MacBook Retina.
The MacBook Pro is the performance line of Apple MacBooks and new MacBook Pro pricing reflects this. Buying a refurbished MacBook Pro or pre-owned machine will allow you to choose from a wide range of specs that can help you dial into the budget figure you're hoping to hit. Buying a used or refurbished MacBook will give you more purchase options no matter which model fits your needs. An older MacBook from any family will be cheaper than a new one with the same configuration.
How to get the best price for a used MacBook
You know the retail cost of a new machine, but a pre-owned MacBook can span a spectrum of prices based on the model and configuration. To start you may want to browse through some of the listings of used MacBooks available on Swappa. This should help you set a baseline of how much you feel comfortable with spending. From there, if certain features deviate from your baseline you'll get a better understanding of how much value is associated to these features and decide if it's worth increasing or decreasing your budget.
On Swappa you'll find cheap MacBooks with great features in the low $300's to devices well over $1000. Price shouldn't be your only factor but getting to know how much a used MacBook will cost can help you filter choices even further.
How much does a used MacBook cost?
The price of a used Mac will depend mostly on the family of notebooks, storage and memory you choose. Assume you have a $1000 budget to purchase a used Mac. You may be able to come under budget by purchasing a slightly older device with less storage, but it depends on what model of used MacBook you buy.
Take a look at the following chart created using pricing data from Swappa's marketplace for used MacBooks. Your $1000 budget is represented by the 0% baseline. As you can see, most older model used MacBooks will be under your budget, except for the 15″ MacBook Pro (represented by the lighter green bar).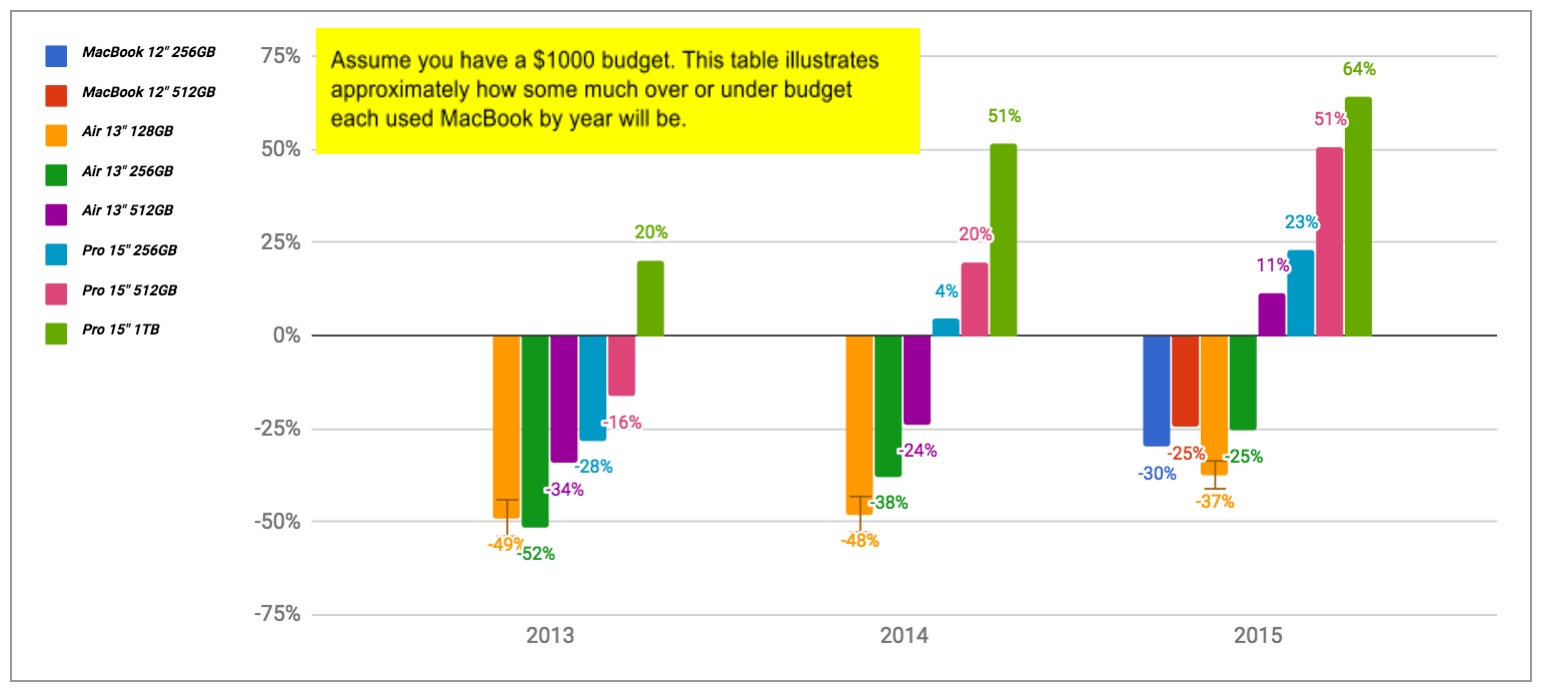 Ready to shop for a used MacBook
Once you have a budget in mind, you'll be better equipped to compare models and specs within your target price range. Next we'll take a look at some of the features that set each MacBook apart from the others.
Some of the features that make one refurbished MacBook stand out from the rest are the storage and memory as well as the size. At the end of each of our articles in The Essential Guide to Buying a Used MacBook, we'll have a couple of questions to help you make decisions on these features while you shop. You'll find all the questions in the Used MacBook Checklist found in the summary article entitle "Buying a Used MacBook, the essential guide – Summary".
Questions to answer before you buy a used MacBook:
What screen-size do I want?
What will I need the computer to do?
How much storage do I need?
How much am I willing to spend?
Skip to the next section using these links
---
Snag the best deals on used MacBooks deals wherever you go. Download the Swappa App today!

---