---
When you buy your used MacBook from Swappa, make sure to consider the following features:
The size of retina display you'll need
Keyboard style
If you want a Touchbar
What kind of ports you'll need
Retina Display
Apple trademarked the term Retina display to describe screens with a higher pixel density and the term applies to just about any Apple product with a screen. The screen resolution can be really important for people who need high resolution for work (like graphic design) or play (like watching movies).
Here are the native screen sizes for each of the Mac models:
MacBook Retina 12″ – 2304 x 1440
MacBook Air 13″ – 1440 x 900
MacBook Pro 13″ – 2560 x 1600
MacBook Pro 15″ – 2880 x 1800
Keyboard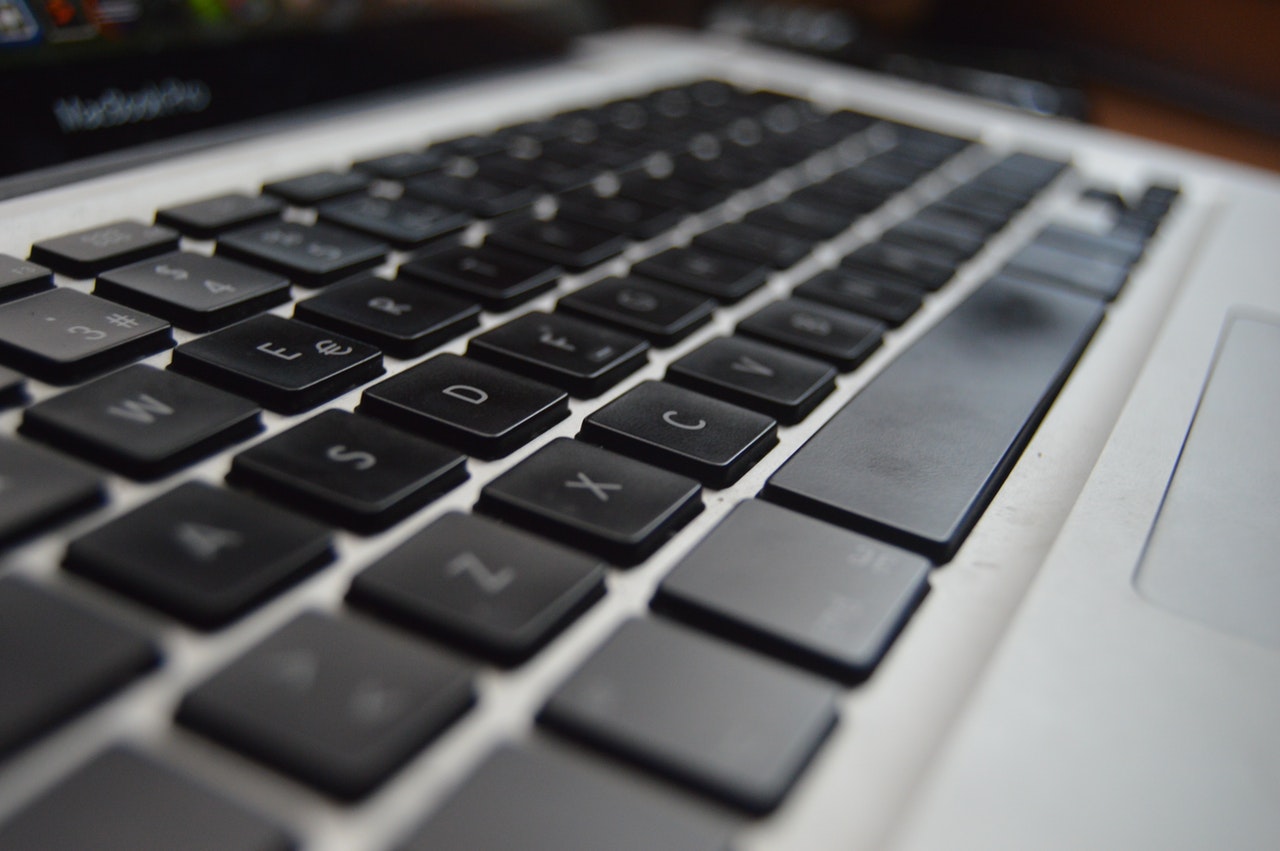 The keyboard is where you're going to "experience" your device the most. In 2015, Apple changed their key mechanisms from a traditional scissor mechanism to a butterfly mechanism on the 12" MacBook, which affected the feel of the keys when you pressed them. The new keyboard design came with some criticism, with the majority of complaints stemming from how the keys sound when pressed and the distance between the keys.
In 2016, when the MacBook Pro got the 2nd generation butterfly keyboard some reviews said it felt more natural and the keys had more give than the 1st generation keyboard introduced on the 2015 12" MacBook. The second generation of this new keyboard may be an improved experience but in the end it all comes down to preference.
If you're new to Apple MacBooks then the height and distance of keys, the icons used as well as the sounds they make will all be new to you. Don't worry, as you get use to your new-to-you laptop it will start to feel second nature.
Touchbar
The Touchbar is a relatively new feature that you'll find on slightly newer used MacBooks. You'll find listings for used Apple laptops that feature "with Touchbar" to call out this innovative way to interact with your content. Apple introduced the Touchbar on the MacBook Pro (15-inch, 2016) and later and MacBook Pro (13-inch, 2016, Four Thunderbolt 3 Ports) and later.
The touchbar is essentially a Retina display located at the top of the keyboard. It feels like smooth glass and the digital buttons change based on what you're doing. The display shows controls based on whatever you're doing. This dynamic content allows you to make changes in apps on the fly.
Why you may want to go "Touchbar"
You want to customize shortcuts
By default you'll get a soft escape key on the left and four shortcuts on the right. With the Touchbar you're able to customize which four shortcuts those buttons display. If you, for example, need a screen capture shortcut key rather than volume control you can customize one of those buttons to do screen capture and save yourself a few clicks.
You use apps with sliders
From watching videos on Youtube to editing video in a software application like Final Cut Pro, the slider that is available on the Touchbar while using these apps make it easier to dial into more specific locations within the media.
Security
The new Touchbar comes with a feature called Touch ID. You're able to quickly touch the screen and in an instant scan your fingerprint to unlock your laptop.
Why you may want to go "Non Touchbar"
Price
Not only are the models featuring the Touchbar newer, but there is a premium placed on this technology so devices with the Touchbar will cost more. Of course, buying a used or refurbished MacBook will help with the cost.
Better battery life
The Touchbar screen and processor will need to dedicate some battery to power these things. Although the battery difference may not be a lot some reviews suspect the non Touchbar model can get 15% to 20% more battery life.
You don't like to take your eyes off the screen
In order to use the Touchbar, you'll have to look down. If you find yourself frequently in the zone and don't want to look down to control things like your volume or screen brightness then getting used to the touchbar may take a little work for you.
Ports
At some point you may find the need to plug in a peripheral device to your refurbished MacBook which can arise from charging your phone or camera, saving pictures off of your SD card, or plugging in an external monitor; all of these things are possible with the kind of ports you have.  For those of you buying your first Mac, this is a really important feature as Apple has made considerable changes over the years in the kinds of ports and the number of ports available on each model.
Aside from your standard headphone jack, which should connect to most wired headphones and speakers, Apple has employed USB, Thunderbolt, HDMI, and SDXC card slots on many of their models up to 2016.  Here's a chart with a diagram of what the port will look like on your machine: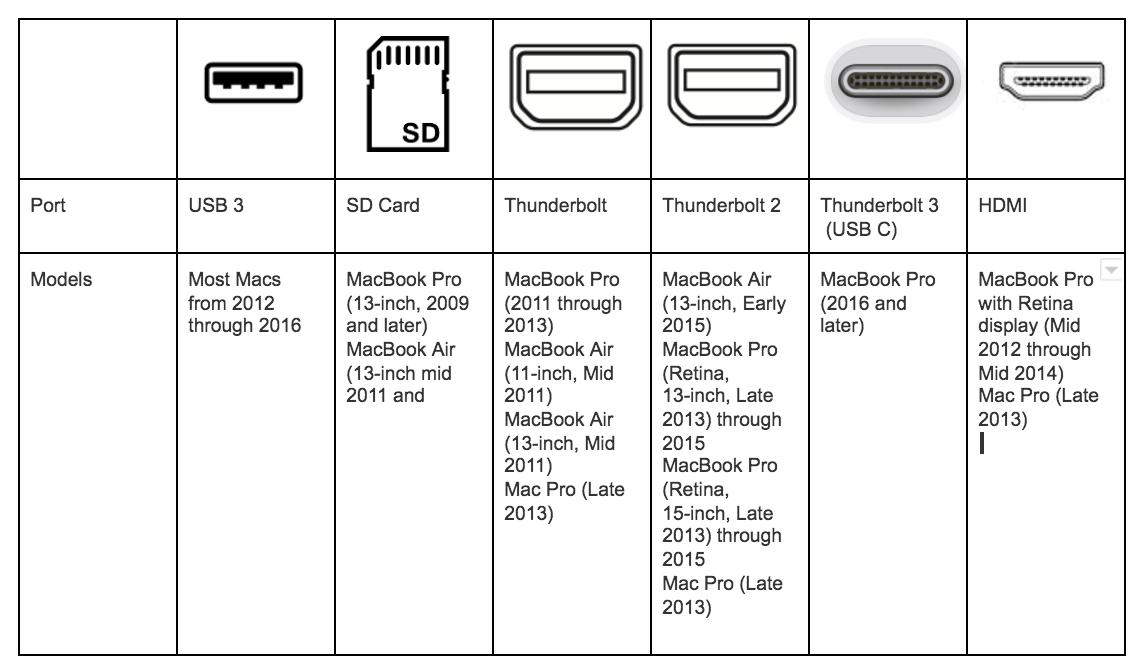 Apple has been able to design smaller, lighter products, in part, by removing features. The most recent MacBook designs (12″ MacBook and MacBook pros 2016 and newer) feature only one Thunderbolt 3 (USB C) port. If you're going with a newer MacBook device that was released in 2016 or newer, you'll want to pay attention to this feature. This port will enable you to pass information and charge an iPhone faster but you'll have to make sure to buy accessories that are compatible with this kind of port.
As you can see from the table above, 2016 and newer Macs will probably sport fewer ports. If you have have the need for a USB 3.0 port or the SD card slot, than adapters are available that plugs into the USB C port and extends your port capabilities . If you purchase a slightly older used device you'll likely see a port setup similar to the picture below, which is usually plenty for the general user.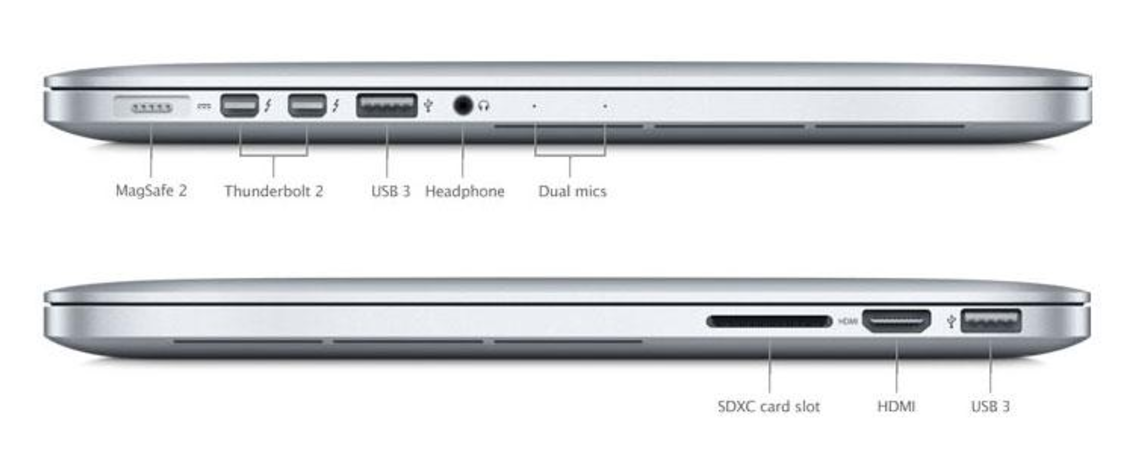 Next, explore other important features such as computing power, portability or our "Buying a Used MacBook, the essential guide" summary.
Questions to ask before buying your used MacBook:
Will I use apps where the Touchbar will be useful
Will I need ports to charge multiple items, hook up an external monitor or input an SD card?
Skip to the next section using these links: