---
If you're in the market for a used or refurbished MacBook, the smart way to purchase is to buy a used Apple laptop from Swappa. Even smarter – use PayPal Credit to spread your purchase over time to make the purchase more affordable.
In a previous series we shared "The Essential Guide to Buying a Used MacBook" where we gave you tips on what to look for when buying used. In this article, we'll show you how to make buying a cheap MacBook more affordable by using PayPal Credit to make your purchase on Swappa.
What is PayPal Credit and why should I use it?
PayPal Credit is a revolving line of credit that can provide interest free purchases if paid back within 6 months‒otherwise the interest rate is 19.99%. When you apply for PayPal credit the lender (Comenity Capital Bank) will check your credit. If approved, you'll get a line of credit of at least $250 that you can use at thousands of stores that accept PayPal Credit – including Swappa.
Similar to other credit accounts, PayPal Credit allows you to spread larger purchases out over time in smaller amounts and has protection against fraudulent transactions. Unlike many credit cards, PayPal Credit doesn't have an annual fee. Plus, you get 6 months to pay for purchases over $99, interest free. You can also score deals such as free shipping, valuable discounts and promotional offers.
PayPal Credit is also different from other traditional credit lines because it isn't reported to credit bureaus during the life of the account. If for some reason, you're unable to pay your PayPal Credit balance, your account can be sent to collections which will appear on your credit report, but while your account is in good standing it doesn't appear on your credit report. This could be a great option for people planning major purchases such as a house or car who may not want another line of credit on their credit report impacting that purchase.
"PayPal Credit is also different from other traditional credit lines because it isn't reported to credit bureaus during the life of the account."
How to Apply for PayPal Credit
Applying for PayPal Credit is easy and quick. You don't technically need a PayPal account to apply, but in order to use your PayPal Credit you'll want to create an account so you can checkout using PayPal and select PayPal Credit as your preferred way to pay.
Visit the PayPal Credit site and apply. When applying you'll be asked for your date of birth and Social Security Number. Once you accept the PayPal Credit terms you'll receive a credit decision within seconds.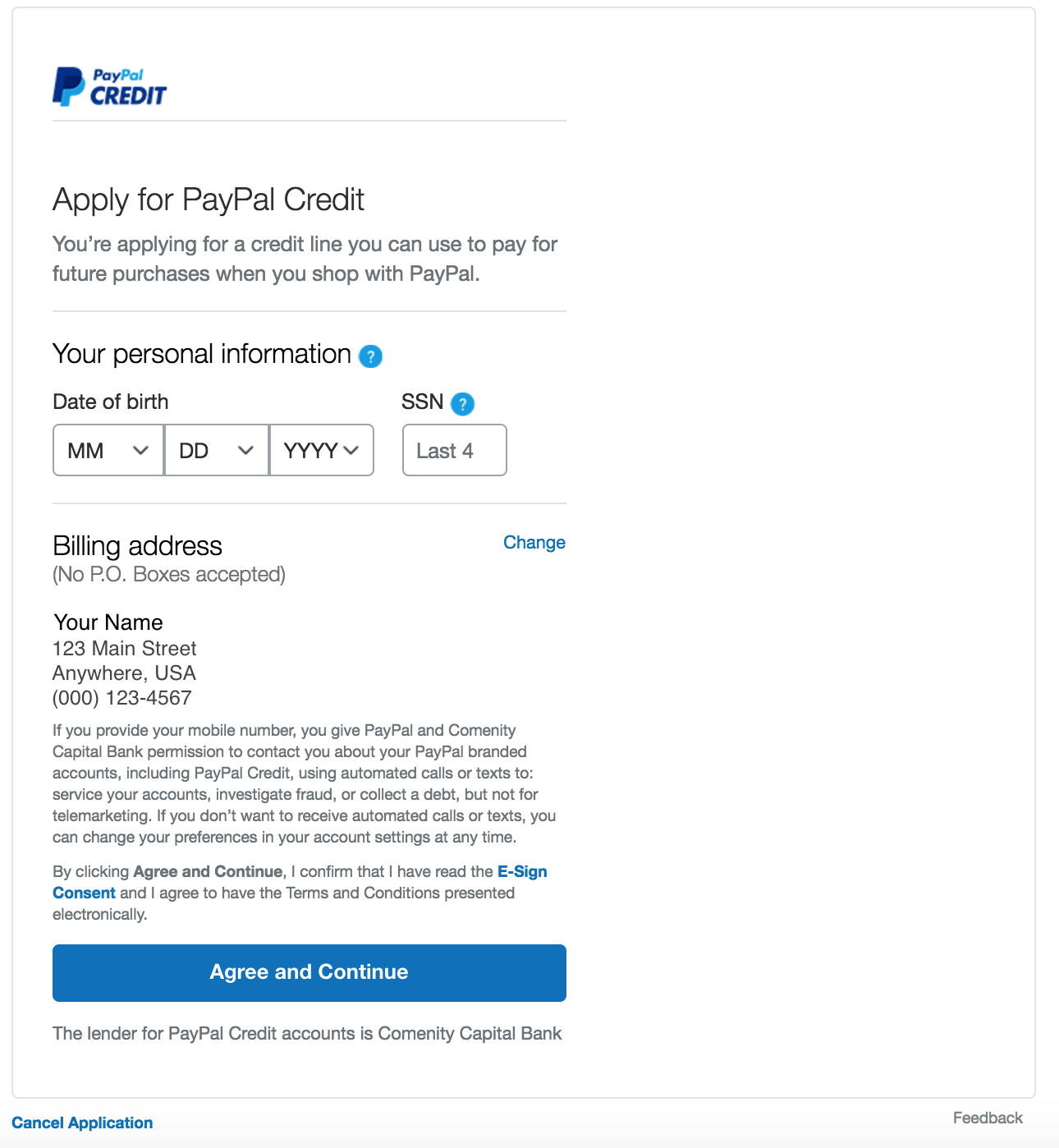 If approved, you'll be able to use PayPal Credit right away. When you checkout with PayPal you'll have the option to select PayPal Credit as your payment method. Let's take a look at how this would look when buying a used MacBook on Swappa.
Buying a used Macbook using PayPal Credit
Start with Swappa's pages for buying used MacBooks or cheap MacBooks (under $750)
Once you land on a listing you want, you can choose the "PayPal Credit" button.
Next you'll see a screen showing how much of the cost of the device will be paid to the seller and the low fee paid to Swappa. You'll want to select the "Pay Now using PayPal" button. This will take you to PayPal where you can complete the transaction.
You may have to log into your PayPal account. Once in you should see your transaction.
Make sure to check the shipping address and that PayPal Credit is selected as your payment option before you hit the "Pay Now Button".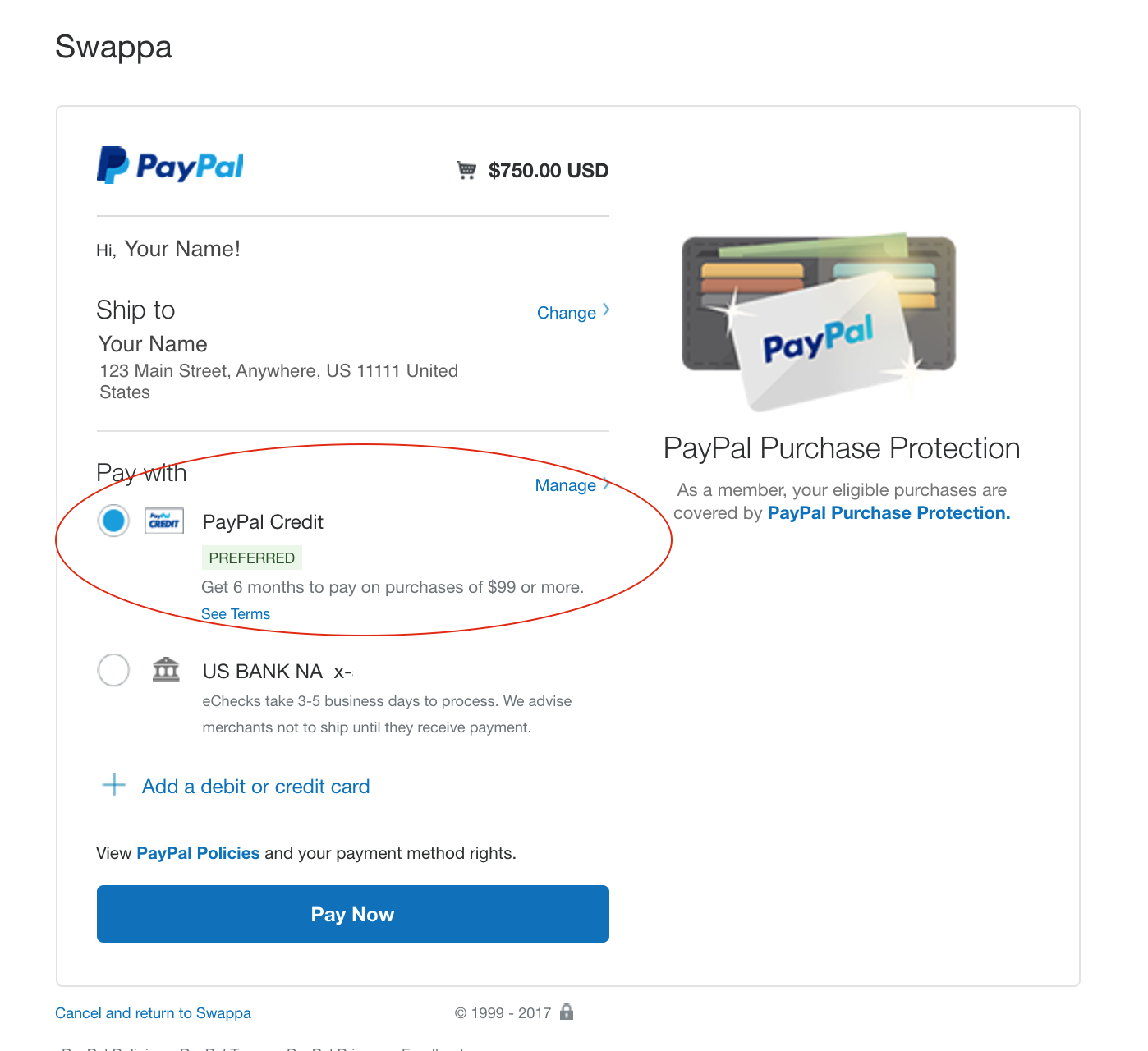 That's it! Using PayPal Credit to pay for a cheap MacBook will give you the option to get the laptop you need for school, work or play with fewer financial restrictions. You'll know when and how long you'll pay for your device so you can make your purchase with peace of mind.
Paying back a PayPal Credit purchase
Once you make a purchase you will receive monthly statements and can make payments at any time. If you pay in full before your 6 month interest free period expires, you will not be billed interest for that purchase. If you do not pay in full, interest will be calculated from the date your purchase posted to your account and that interest amount will then be added to your account.
If you don't make your minimum payment on time you will get hit with a late fee every month your payment is late. The first time you're late, the late fee will be the same as the late payment. The next time, the fee can be up to $38. You can set up automatic payments to make at least the minimum payment so you don't forget to make the payment and get hit with the late charge.
The secret to getting a cheap MacBook
Notebooks like the MacBook Air and MacBook Pro have a reputation for quality and performance that holds its shelf life, which is why so many people choose to buy used MacBooks on Swappa every month. These smart consumers pay far less than retail for Apple products.
By the way, if you're still trying to decide on which used MacBook is right for you, our Buying Guide for used or refurbished MacBooks is the place to start.
Using Swappa makes buying a used or refurbished MacBook easier by giving you options to buy more affordable, gently used Apple notebooks. Now with PayPal Credit buying a used MacBook is not only safe but more affordable too. Using PayPal Credit to buy a used laptop is the secret to getting a Macbook for cheap because you'll be saving hundreds of dollars on the cost of the device and will make smaller payments that are convenient, easy, and predictable.
Cheap MacBooks may seem like an oxymoron, like getting an "exact estimate" or "Microsoft Works" but, finding a low cost MacBook is possible on Swappa. Buying a gently used MacBook from Swappa means you don't have to sacrifice a big wad of cash to get a newish device with the level of performance and design you've come to expect from Apple.
---
Snag the best deals on used MacBooks deals wherever you go. Download the Swappa App today!

---