---
If you're looking to save money, a great place to start is by lowering your wireless bill. Ever since we launched the phone plan comparison tool, it's been Swappa's mission to save you money on your cell phone plan. To that end, we've written about some of the best prepaid carriers out there, and how they can save you money for the same wireless service.
Today, we're taking a closer look at one of the largest and most popular prepaid carriers: Boost Mobile. Rather than tie you down with annual contracts, taxes, fees, and fine print; Boost offers no-nonsense plans with competitive pricing and excellent perks. Is Boost Mobile right for you? Keep reading to find out.
Table of Contents:
Is Boost Mobile Sprint?
The short answer is, "sort of." Originally an Australian cell phone provider, the Boost Mobile brand was introduced in the US as a joint venture with Nextel in 2001. By 2003, Nextel was the sole owner of Boost's US operations. Sprint later bought Nextel in 2005, transferring ownership of Boost Mobile US to the Sprint-Nextel Corporation. Finally, when T-Mobile acquired Sprint in April 2020, Boost became a T-Mobile subsidiary.
Who owns Boost now?
From 2005 through early 2020, Sprint owned Boost Mobile in the US. As a result of the recent merger, T-Mobile now owns Boost Mobile in the US. However, one of the conditions in order to obtain regulatory approval was that Boost would eventually be sold to Dish Network, in order to bolster the latter's efforts to become a major cellular network. This sale hasn't happened yet, and the two companies have largely kept quiet on the matter in the time since the merger. We'll be sure to keep you updated as time goes on, so stay tuned to the Swappa Blog to find out more.
What's next for Boost Mobile?
Following T-Mobile's acquisition of Sprint, it's natural to wonder about Boost's long-term outlook. But rest assured that Boost Mobile's future is as bright as ever. In fact, Boost Mobile is part of Dish Network's core strategy to become a major wireless player. Furthermore, T-Mobile has committed to letting Boost users access their network for at least seven years while Dish builds its own 5G network.
What network does Boost use?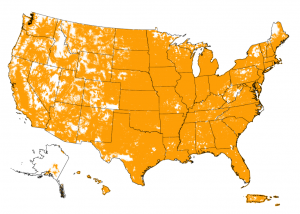 Boost Mobile operates on the Sprint network, which is now owned by T-Mobile. This means that despite being a smaller carrier, Boost customers can expect the same great coverage they'd get direct from Sprint. You can check coverage in your area using Boost's Network Coverage Map.
As of April 28, Boost customers in select regions who purchase the appropriate new devices can also access the T-Mobile Expanded Network. Currently, this is only available when purchasing a compatible device direct from Boost, and is restricted to select regions in Colorado, Texas, Kansas, and Pittsburgh.
Does Boost Mobile have 5G?
Yes, Boost Mobile currently offers 5G. In order to connect to 5G on Boost, you have to own a compatible phone such as the Samsung Galaxy S20 5G and subscribe to the Boost Unlimited Plus plan. That said, not everyone needs a 5G-capable device, and Boost offers fantastic speeds and coverage on their 4G LTE network. So if you don't have a 5G device or you simply want to save as much money as possible, we recommend taking a closer look at Boost's $35/month plan.
What phones are compatible with Boost?
Since Boost uses the Sprint network as its host network, you can connect with any unlocked phone that is compatible with the Sprint network. In other words, if you want to bring your own unlocked phone to Boost, it must be compatible with the Sprint's network bands: CDMA2000, LTE Band 25, LTE Band 26, and LTE Band 41. But why worry about bands, when we've already done all the hard work for you?
We recently launched Swappa Deals to highlight some of the best deals on new phones and service plans. If you want a killer deal on the latest Apple iPhones, you can save $100 on the iPhone 11 Pro Max, iPhone 11 Pro, iPhone 11, and more. If Android is more up your alley, you can save $100 on the Galaxy S20, save $200 on a pre-owned Galaxy S8+, or get an S10e for just $749.99.
Regardless of your mobile OS of choice, you can find these deals and more by clicking the button below. But if you'd rather buy gently used, we have you covered as well. Some of our favorite options include the Apple iPhone 7, iPhone SE, and Galaxy A20.
Boost Mobile Plans and Pricing
Now that we're done covering the basics, it's time to figure out what it actually costs. Boost Mobile currently offers 3 basic plans: 3 Gigs 4G LTE, Unlimited Gigs, and Boost Unlimited Plus. All three plans offer unlimited talk, text, and data; though they differ by how much of this unlimited data is at full 4G (or 5G) speeds.
In addition, all Boost Mobile plans offer unlimited music streaming on Pandora, Spotify, iHeartRADIO, Napster, 8tracks, Slacker, and Tidal. This means for individual or family plans limited to 3GB of 4G data speeds, you can stream your music and podcasts at maximum quality (up to 500kbps), without it counting towards your monthly data usage.
Boost Mobile Family Plans
For those looking to save even more, all Boost Mobile plans offer discounted pricing with multiple lines. Discounts vary based on which plan you select. Each additional line added to the 3 Gigs 4G LTE plan costs $30 ($5 savings per line). Additional lines on Boost Unlimited Plus cost $40 per line ($20 savings). Want to save even more? Boost even offers special pricing on family packages such as 4 lines on the Unlimited Gigs plan for just $25/month per line.
Is Boost Mobile Good?
Boost Mobile is one of the largest and most popular prepaid carriers. And since it has the backing of a major cellular network, Boost is certainly a great option for many people. To find out whether Boost Mobile is the right choice for you, start by taking a look at coverage in your area. If there's coverage where you need it, check out the plans, prices, features, and discounts to see if Boost offers what you're looking for.
If you live in an area with good Sprint coverage, Boost Mobile is definitely worth consideration. From special perks like unlimited music streaming to the no-nonsense pricing, devoid of hidden fees; Boost is undoubtedly a compelling option for many. And since the savings keep adding up with each additional line, Boost is well suited for those looking to get packages for their friends and family.
At the end of the day, Boost offers great plans and compelling prices, without the contracts, commitments, or baggage you'd typically find on larger carriers. What's not to love? If you are looking for a way to save on your monthly bill, Boost Mobile is certainly worth a shot.
So what are you waiting for? Click the button below to check out our selection of the best Boost Mobile Deals. While you're at it, don't forget to browse and compare the best Boost Mobile plans. And if you'd rather buy used, get a great deal on a newish Boost Mobile Phone today.