---
When people think about upgrading an old phone to something newer, one of the most important features they look at is the camera. While it's easy to take a quick peek at a spec sheet to see which phone camera has the most megapixels, that doesn't always tell you the whole story. In fact, it's entirely possible to have a 12MP camera that takes better photos than a camera with 48 megapixels. Just look at the iPhone, which has long been touted as offering one of the best smartphone cameras around, despite trailing behind other manufacturers when it comes to megapixel count.
That's because a phone's photo quality is based on many factors. While the actual camera hardware (lens and sensors) contributes to overall photo quality, computational photography has become increasingly important when it comes to picture and video quality. We've seen this firsthand on the iPhone, where newer models leverage the power of Apple's custom silicon and perform software magic to produce bright, clear, and sharp images — even in challenging lighting situations. Needless to say, there's a lot at play here.
Although iPhone cameras tend to get incrementally better with each new model, Apple's camera evolution can be highlighted by a few major milestones that really took iPhone photography to the next level: Portrait mode, Smart HDR, Deep Fusion, and Night Mode. Below we'll talk about these newer camera features, how they work, and which specific which iPhone models are compatible. This should give you a good idea on which iPhones have the best camera, while still being able to fit into your budget.
Best iPhone cameras for the price
Portrait mode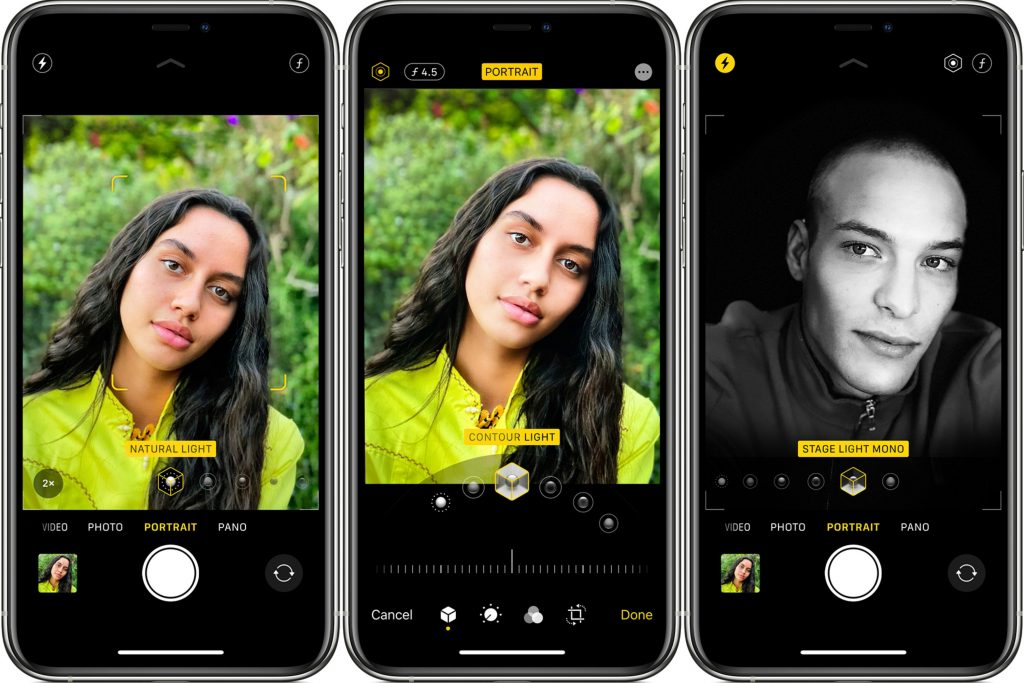 Portrait mode was one of those iconic features that forever changed cell phone photography. It's a must-have feature, and it simulates a full-sized camera and lens setup by creating a virtual depth-of-field effect by using the iPhones standard camera in combination with the telephoto lens. The iPhone's hardware — dual lenses — work in tandem with software to figure out what's the subject and what's the background, in order to create a shallow depth of field.
Over the years, Portrait mode has evolved, adding more customization options, like Apple's Depth Control feature that allows users to adjust the intensity of background blur to their liking, and Portrait Lighting that applies "studio-quality lighting effects" to your photos (only on iPhone 8 Plus, iPhone X, and later).
Initially only available on dual-lens iPhones, Portrait mode eventually made its way to single-lens iPhones like the iPhone XR and iPhone SE (2020). While both of these phones do a fine job at it, the effect doesn't work quite as well as their dual camera siblings. In 2017, Apple added Portrait mode selfies that can be snapped using the front-facing camera, a feature that's only available on the iPhone X and later.
iPhones that have Portrait mode:
Note: iPhone 7 Plus and iPhone 8 Plus only support Portrait Mode when using the rear camera.
Smart HDR
Apple's standard HDR (high dynamic range) feature has been around since 2010 when it debuted on the iPhone 4 with iOS 4.1. The way it worked was that when enabled, the user would press the shutter button and the camera would capture 3 or more photos at varying exposures: one underexposed, one normal, and one overexposed, then combine them into a single image that had much higher dynamic range than without.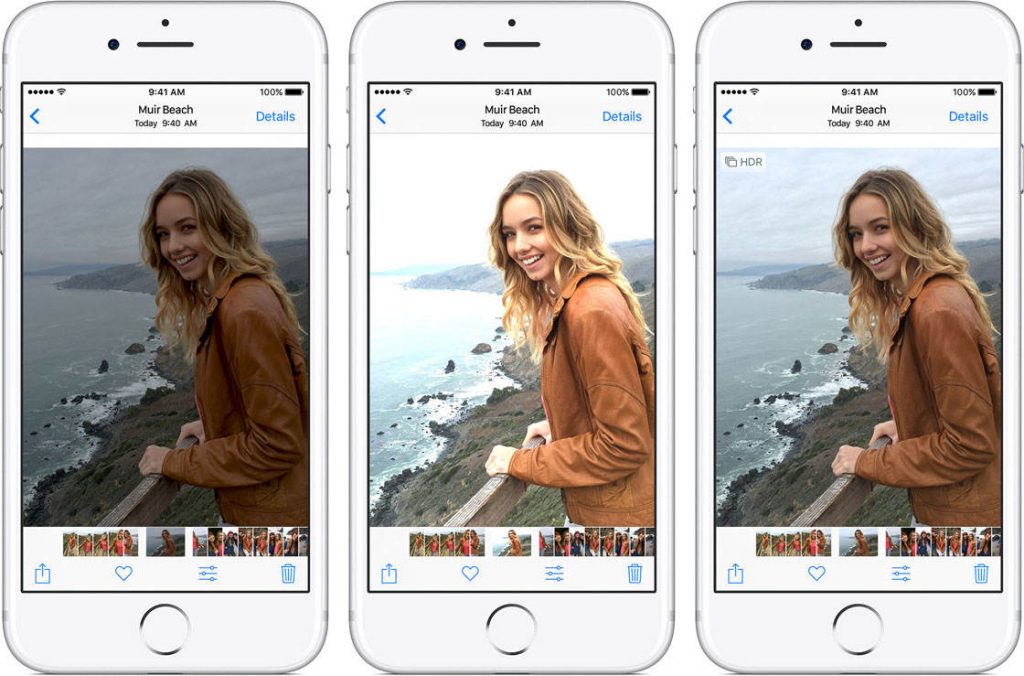 Old-school standard HDR on the iPhone
Although slower than snapping a normal photo, HDR was great for still subjects or landscape photography, and did a great job at darkening "blown out" portions of the image (like the sky with brightly lit clouds), while still allowing you see details in darker areas (like shadows). Over the years, HDR on the iPhone became faster and more advanced thanks to more powerful processors, and evolved into what Apple now calls Smart HDR.
Smart HDR was first introduced on the iPhone XS, XS Max, and iPhone XR. It works by snapping photos the moment you open the camera (before the shutter button is ever pressed), creating a buffer of images. The crazy part is that the camera is also shooting "interframes" in between those frames at different exposures. And like traditional HDR, these interframes are used to help bring out highlight and shadow details.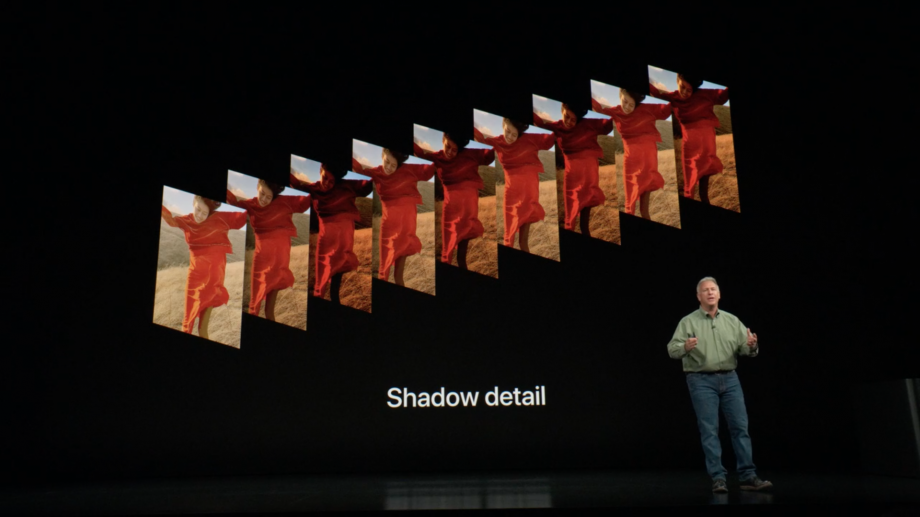 As soon as you press the shutter button, the processor goes to work. But instead of simply combining all the images, it intelligently analyzes them, picking out the best parts to produce a single, superior "smart" photo. This is what makes Smart HDR so smart and why Apple calls it "computational photography." So you can see why Smart HDR requires much more processing power, a big reason why it's only available on newer iPhones featuring the A12 chip.
One of the best parts about Smart HDR is that it works on Portrait mode, panorama photos, burst shots, individual frames inside Live Photos. And while it's not quite Smart HDR, the A12 processor also allows you to shoot "extended dynamic range" for video, something that wasn't possible in previous-gen models.
iPhones that have Smart HDR:
Deep Fusion / Night Mode
As you can see, we're getting into some pretty deep territory here when it comes to the newest iPhone camera updates (and we're not even discussing the physical camera hardware). This leads us to Apple's next biggest evolution in computational photography: Deep Fusion.
Apple showed off Deep Fusion at their 2019 iPhone 11 launch event, a new camera feature made possible by their A13 processor (yet oddly missing from the iPhone SE 2020). Whereas Smart HDR is great for handling brightly lit environments (like outdoors), Deep Fusion tackles the problem of poor image quality in medium-to-low lighting situations, like when shooting indoors or at night.
Image credit: Shevon Salmon
Deep Fusion does this by utilizing the A13's neural engine to perform pixel-by-pixel processing of an image to dramatically enhance detail, colors, and remove noise. It works similar to Smart HDR in that it uses multiple images captured at various exposures to produce a single superior photo. This happens before you even press the shutter button, with 4 standard exposure shots, taken along with 4 shorter exposure shots captured the moment you open the camera. It's when you press the shutter button, the camera then takes a long exposure shot to capture the available light.
From there, Deep Fusion goes to work, blending the short exposure shots into a reference frame. From there it blends the standard exposure shots with the long exposure to create a synthetic "long frame." Once that's completed (we're talking milliseconds here), the reference frame and synthetic long frame are combined and Deep Fusion is able to identify parts of the image — like the sky, hair, or clothing — and adjusts the image accordingly, pixel by pixel.
While Deep Fusion, understandably, has a huge impact on medium lighting conditions (like photos shot indoors), Apple's computational photography really shines is in otherwise impossible lighting conditions, like those shot in near darkness. It's there that Night Mode kicks in. But unlike Deep Fusion, which works quickly and in the background, Night Mode uses a really long exposure frame, forcing the user to remain perfectly still for 1-3 seconds, or all the way up to 30 seconds if they choose (this can be adjusted manually by the user).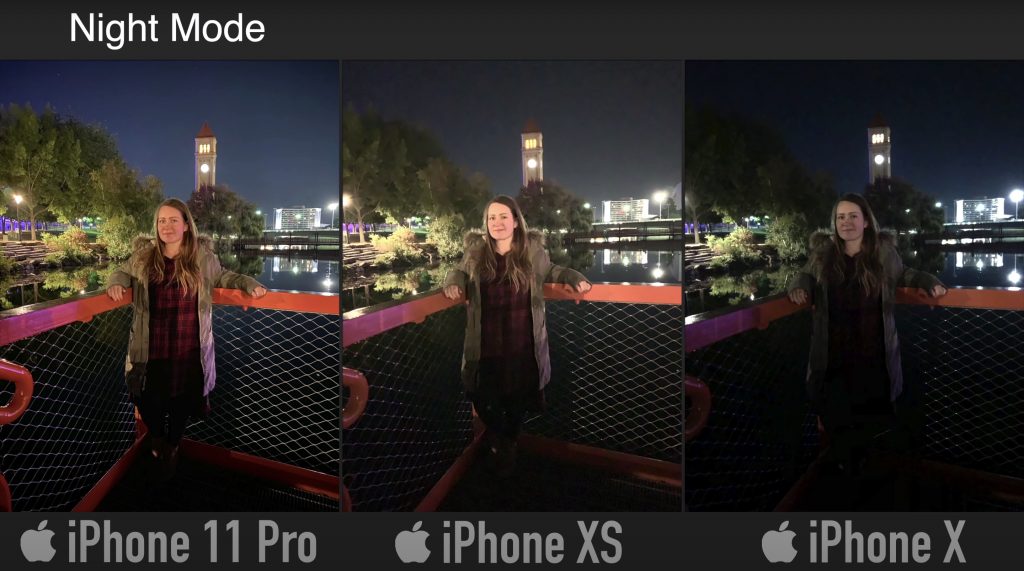 Image credit: Max Tech
You may have noticed that we haven't talked about the physical camera hardware, the sensor, or megapixel count because in recent years, it really has taken a backseat to computational photography "mad science" Apple has developed with their software. The results really speak for themselves, with the iPhone 11 series producing more crisp, clear, and vibrant photos in almost any situation, no matter the lighting, far better than any previous generation iPhone to date.
Deep Fusion and Night Mode are the iPhone 11's killer feature. If you want to know which iPhone has the best camera, without a doubt it's the iPhone 11, 11 Pro, and 11 Pro Max.
iPhones that have Night Mode / Deep Fusion:
---
Best iPhone camera for daytime photography: iPhone SE 2nd Gen
The iPhone SE 2nd Gen is the cheapest iPhone you can find with Smart HDR, Apple's specialty software that dramatically increases dynamic range. Unlike standard HDR, as found on the iPhone X, iPhone 8 and older models, Smart HDR features zero shutter lag where dynamic range is increased across the board (panoramas, Portrait mode photos, etc.) — even in videos. Harder, better, faster, stronger. This is perfect for outdoor shots where Smart HDR can handle direct sunlight and dark shadows simultaneously.
Best iPhone for TikTok and other viral videos: iPhone XR
Whether you're looking to become the next big sensation on TikTok, or you're a budding videographer hoping to record a viral smash hit, the iPhone XR is definitely worth looking at. It's one of the more affordable iPhones you can buy that features Apple's Smart HDR technology and although it may not be as cheap as the iPhone SE (2020), the large battery will last all day and the 6.1-inch display makes it easy to watch yourself while recording TikTok videos. For viral videos, the iPhone XR can shoot in 4K video with extended range for videos that look gorgeous and perfectly exposed.
Best iPhone camera for portraits and selfies: iPhone 11
The iPhone 11 is the cheapest iPhone you can buy that hands down takes the best portraits and selfies. For one, the front facing camera is 12MP (up from the previous generation's 7MP camera) and Deep Fusion — a new feature introduced on the iPhone 11 — that dramatically enhances detail in indoor lighting conditions. With the ability to take Portrait selfies — with Portrait lighting — using the front facing camera, it's perfectly suited for anyone who wants to take the absolute best selfies no matter the lighting conditions.
Best iPhone camera for landscapes and travel photography: iPhone XS
If you're looking for the best iPhone for outdoor landscapes and travel photography (buildings, art, etc.), you really can't go wrong with the iPhone XS. It launched at the same time as the iPhone XR and while they both feature Apple's Smart HDR technology, the iPhone XS has the added benefit of a 2x telephoto zoom lens. While Smart HDR is great for bright, high contrast, outdoor shots, the telephoto lens will help you zoom in on your subject when you aren't physically capable of moving closer. Oh, and if you're traveling, the smaller size of the iPhone XS is a bonus and support for HDR10 and Dolby Vision HDR content is an added plus for those long trips.
With iPhone SE (2020) prices dropping in recent months, the phone is now one of the best iPhone cameras you can buy for the money. The second generation iPhone SE is like a souped up iPhone 8, but Apple added their latest camera feature — Smart HDR — which dramatically increases dynamic range in daylight photos. Smart HDR works for almost any type of photo you can take on the phone, including Portrait mode, panoramas, and yes, it even helps with video. This is why the iPhone SE 2nd Gen is hands-down the best iPhone camera for the money, whether you're looking to take photos or video.
---
Which iPhone has the best camera?
Winner: iPhone 12 Pro Max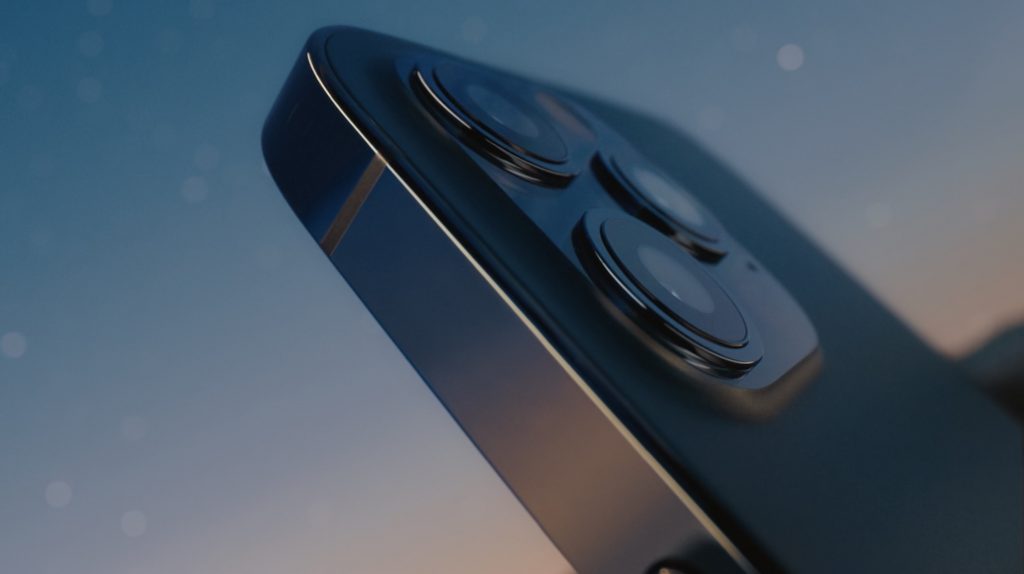 The iPhone 12 Pro Max is hands-down the iPhone with the best camera. The answer is probably not surprising to anyone as the best iPhone camera will almost always be the latest, highest-end model offered by Apple. In the case of the iPhone 12 Pro Max, it's also the largest.
iPhone 12 Pro Max camera system
Primary wide camera: f/1.6 aperture, 47% larger sensor with sensor-shift OIS
Ultra-wide camera: f/2.4 aperture, 120-degree field of view, now with Deep Fusion and Night Mode
Telephoto camera: f/2.2 aperture, now with Deep Fusion
TrueDepth front facing camera: 12MP f/2.2 aperture, now with Deep Fusion and Night Mode
To help shed a little more light on exactly why the iPhone 12 Pro Max is the best iPhone camera available, we only have to look at the hardware and software capabilities. The iPhone 12 Pro Max not only builds upon the camera advancements we've seen on previous generation iPhones, but also the upgrades introduced on the iPhone 12 and 12 Pro as well.
Most notably, the 12 Pro Max's primary camera features a similar 12MP f/1.6 camera spec as the 12/12 Mini, but adds a few improvements. Namely, the 12 Pro Max's image sensor is 47% larger than the 12/12 Mini with larger 1.7 μm pixels to help capture more light. But that's only half of it. Apple also added sensor-shift optical image stabilization to the sensor itself, allowing it to compensate for hand shakes, jitter, or movement in general.
This incredible new sensor, when combined with the new f/1.6 aperture lens, delivers an 87% improvement in low-light photos when compared against the previous generation iPhone 11 Pro. That's huge. When combined with the LiDAR sensor — which allows for 6x faster autofocus in low light and the ability to snap Night Mode Portrait photos — and the upcoming ability to shoot in Apple ProRAW, the iPhone 12 Pro Max camera is a beast and unlike anything we've seen before.
There's also a slightly tweaked telephoto camera that features a 2.5x optical zoom f/2.2 65mm lens on the 12 Pro Max. Whether or not this is technically "better" than the 12 Pro's f/2.0 52mm/2x optical zoom is debatable. Like we're also seeing on the iPhone 12 Pro, the 12 Pro Max can now take advantage of Deep Fusion using the telephoto camera, something the previous year's 11 Pro/Pro Max wasn't able to do.
When it comes to camera software, Deep Fusion and Night Mode have also been improved thanks to the A14 Bionic processor. Not only is Deep Fusion faster to process on the 12 Pro Max, but both Deep Fusion and Night Mode extend to the TrueDepth front facing camera and ultra-wide camera as well (something that was missing on the iPhone 11 Pro). You'll also find Smart HDR 3, which Apple says is better at automatically adjusting for white balance and contrast to provide for a more natural look. The iPhone 12 Pro Max can also record HDR video with Dolby Vision up to 60fps, instead of the regular iPhone 12's 30fps cap.
Runner up: iPhone 11 Pro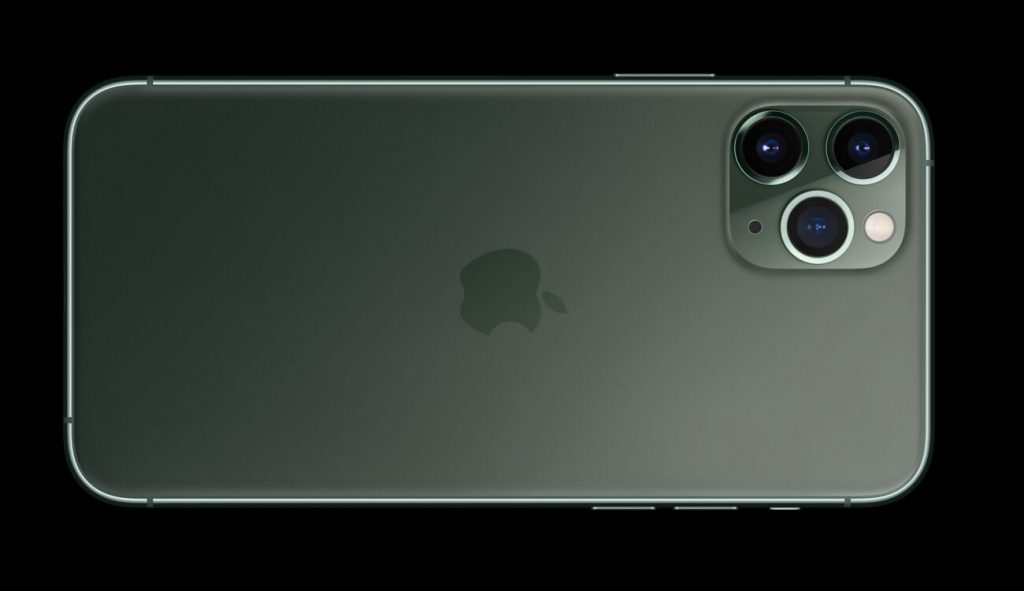 The iPhone 11 Pro's triple camera system is like a Swiss Army knife of functionality, featuring standard, ultra-wide, and telephoto lenses, along with an improved 12MP front facing camera. Here are some quick bullet points highlighting what each camera does, and how it affects your shots.
Standard lens – 12MP sensor with an f/1.8 aperture wide-angle lens (26mm focal length). This lens features optical image stabilization (OIS), and is likely the camera you'll be using for most shooting situations.
Ultra-wide lens – 12MP sensor with an f/2.4 ultra-wide lens (13mm focal length). This camera delivers a 120-degree field of view, allowing you to capture up to 4x more of the scene than the standard lens. This is great for photos or videos when you want to squeeze as much of the surrounding area in your shot. Just keep in mind that this lens does not work with Deep Fusion.
Telephoto lens – 12MP sensor with a 62mm f/2.0 lens, providing 2x optical zoom and OIS. This is the lens used to shoot Portrait Mode photos and is only available on the iPhone 11 Pro and iPhone 11 Pro Max (not the regular iPhone 11).
Front facing camera – 12MP camera with f/2.2 lens and the ability to record 4K 60 fps video, or 1080p 120 fps slow motion video.
But it's not just photos, the iPhone 11 Pro and Pro Max can switch between the aforementioned camera lenses on the fly, even while recording video. The A13 Bionic processor also beefs up the phone's video capabilities as well, allowing the phone to record up to 4K 60fps extended range video with stereo audio, and extends to the front facing camera as well. Apple also added a brighter True Tone flash, audio zoom that focuses on your subject, and QuickTake video capture that immediately records video by holding down the shutter button.
As mentioned in the beginning of this post, the iPhone 11 Pro and Pro Max also take advantage of Apple's latest software tricks like Portrait mode with portrait lighting, next-generation Smart HDR for improved daylight photos, Deep Fusion for sharp indoor shots, and Night Mode for the most challenging low light photos — the iPhone 11 Pro and 11 Pro Max are the next best iPhone cameras you can buy.
---
Snag the best deals on used iPhones wherever you go. Download the Swappa App today!
---