Apple announces a new iPhone every year without missing a beat. Like death and taxes, it's now become a certainty in life. But even the latest iPhone can't stay "new" forever. Eventually it's replaced by a newer model with even more bells and whistles than the one before it.
With this yearly release schedule, Apple makes it really easy to predict when the price of the iPhone will drop. Whenever a new iPhone is announced, the price remains unchanged for a full calendar year. That is, until a newer model is released and Apple drops the price of the outgoing iPhone by $100.
Even if the price of the latest iPhone isn't discounted through the year, the same can't be said of used models. This is where you can find the best deals and, using our data from the Swappa marketplace, you can even calculate the best times to pick up a used iPhone and maximize your savings. You may be surprised at the results.
iPhone 7 Plus Price Drop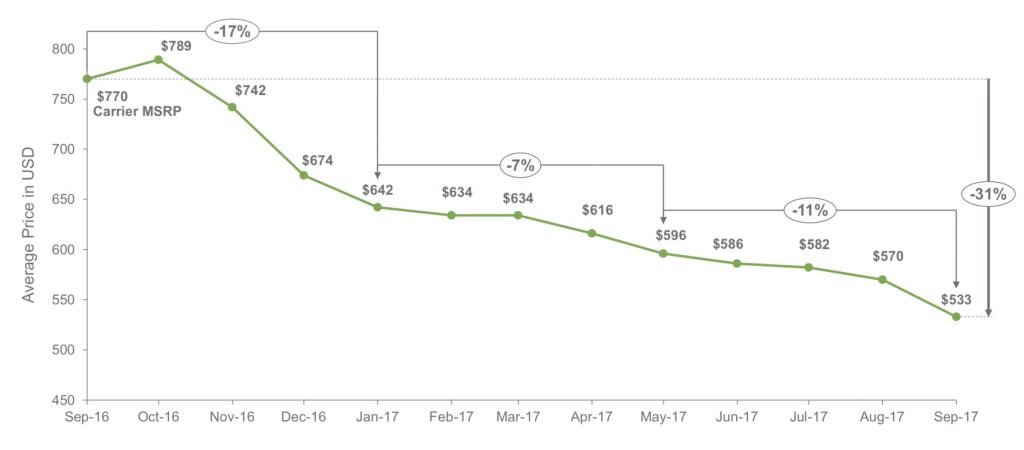 Average price of iPhone 7 Plus 32GB across all carrier variants
Typically, the price of used iPhones begin falling immediately after launch (this is something we saw with the iPhone 7). In the case of the iPhone 7 Plus, things worked out a tad bit differently.
This largely had to do with supply shortages driving up demand for the phone during that its first month, causing prices for the used model to actually exceed the MSRP. It was certainly a fluke and although used prices of the phone can fluctuate somewhat, it's rarely ever this severe.
For the most part, older iPhone prices see their biggest dip during the first months after they're available. With the exception of that initial spike, this is something we also see with the iPhone 7 Plus although not quite as dramatic as with the smaller sized iPhone 7.
From January through March, we don't see huge changes in the price. There is a slight down turn arriving in April and another big drop in August, right before the iPhone 8 and X were announced in September. Of course you can expect another big drop after that with Apple's release cycle once again repeating itself.
Best time to buy an iPhone 7 Plus
For the iPhone 7 Plus' initial launch year the used price dropped a total of $237. Using this data, you can see the best time to buy a current gen — used — iPhone 7 Plus could be in January, when the price of the phone fell 17%. If you don't mind holding out, you could always wait for another big dip, in which case May or September would be your best bet.
Worst time to buy an iPhone 7 Plus
This would probably be in the months leading up to a new iPhone announcement (May through August) where things slow down. At that point it's best to wait until after September for the retail price of the iPhone to drops again, driving down prices of used models in the process.
Thankfully, Apple's consistency that makes it easy to pinpoint when an iPhone will drop in price, how much, and the length of time before it drops again. This should help you decide if you want to pick up an iPhone 7 Plus right now, or continue saving up for a used iPhone 8 Plus.
If you're looking for the best price on an iPhone 7 Plus, buying a gently used iPhone on Swappa is definitely the way to go. We have a great selection of used iPhones in just about every color/carrier combination available.
The find a crazy good deal on an iPhone 7 Plus for you, check out our entire selection by hitting the link below. Oh, and don't forget to take a look at our hand-picked accessories for your iPhone 7 Plus inside the Swappa Store.