---
The Swappa team is always working 'round the clock to deliver the best experience possible for our users. Whether you're looking to find a great deal or make some extra cash, Swappa strives to be the #1 destination for buying and selling used tech online.
Millions of people visited Swappa in 2018. From our humble beginnings as a safer alternative to places like eBay or Craigslist, to conducting millions of dollars of seller proceeds every year, it's nice to receive a little recognition for everything you — the Swappa community — helped build.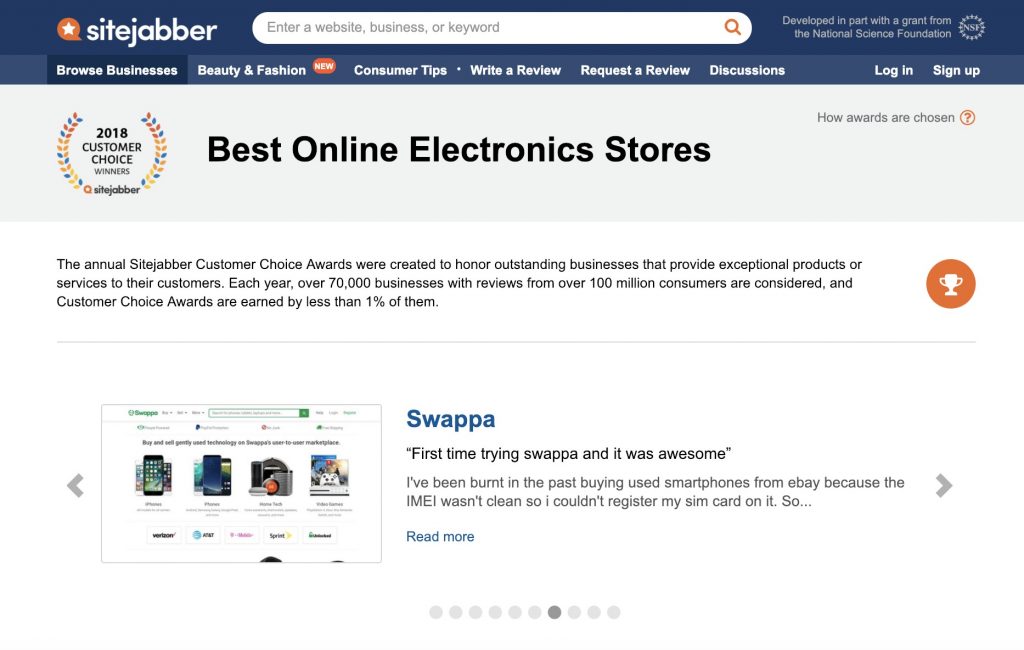 Rounding our Sitejabber's 2018 Customer Choice Awards is, you guessed it, Swappa. With a solid 4.7-star rating on Sitejabber and over 2,720 reviews, it's a pretty big deal. According to Sitejabber, many enter but few actually receive the award. Here's what it means to be one of the internet's "Best Online Electronics Stores."
The annual Sitejabber Customer Choice Awards were created to honor outstanding businesses that provide exceptional products or services to their customers. Each year, over 70,000 businesses with reviews from over 100 million consumers are considered, and Customer Choice Awards are earned by less than 1% of them.
Wow.
Quite frankly, we couldn't be more thrilled to be joining big dogs like Amazon, Apple, and Best Buy. Swappa's "human-powered" component is one of our core tenets and something we take great pride in. Whether it's manually approving our listings, performing ESN checks, or helping users buy and sell their used tech, it's a joint effort by everyone here on staff to provide outstanding service and something that helps make Swappa a safer place for everyone in our marketplace.
Awards like this are just a little pat on the back and shows that our efforts to provide the best marketplace online for buying/selling gently used tech is working. With that, we just want to say thank you. With 2018 behind us, we've got our sights locked firmly onto 2019. Here's to an even better New Year and more opportunities to serve you, our users, along the way.