---
[UPDATE] This program has been discontinued and is no longer available. Sorry for the inconvenience.
Orlando, Florida is widely known as the Theme Park Capital of the World, and for good reason. Massive theme parks like Disney World, Universal Studios Florida, and SeaWorld Orlando all call the city home, with more than 75 million tourists visiting the city last year alone.
And while there's no shortage of things to do (or ways to spend your money) Orlando residents may find their options limited when it comes to safely buying and selling used tech. With technology moving at a blisteringly fast pace, it can be hard to keep up. Rather than spending the full retail price on a new iPhone, MacBook, or other pieces of consumer tech, the secondhand market is a great way to save — and make — money by shopping gently used.
When it comes to finding the best deals on used tech or making some extra side money from the stuff you're no longer using, Orlando residents no longer have to compromise their safety or security dealing with sketchy users on Facebook or Craigslist. Today we're excited to announce that Swappa Local is now officially available in Orlando, Florida.
Smartphones are becoming more popular with every passing year and buying used ones is a great way to save a lot of cash. But before you fork over your money on a yard sale app, there are a few things you should know beforehand.
Much like a preowned car, phones have a history attached to them. If a phone has been reported lost or stolen, (or is still being financed), these things can prevent a device from being activated by your wireless provider. While this is a growing concern for bargain shoppers using yard sale apps and Craigslist, Swappa Local is tackling this issue head-on…
What is Swappa Local?
Swappa's online marketplace has been around since 2010, offering a safer alternative to Craigslist, Facebook Marketplace, and others. On Swappa, sellers are required to adhere to our strict 'no junk' policy which requires all devices to be fully functional and ready for activation. Swappa staff also manually approves each listing before it goes live in our marketplace, as well as performs background checks on used phones to ensure they haven't been reported lost, stolen, or iCloud-locked.
Swappa Local is built upon this same foundation of safety and support, only now we're providing our users with next-day pickup and delivery for local transactions. Whether an item is available for shipping or next-day local pickup and delivery, Swappa users can rest easy knowing the devices they're shopping for is legitimate and our support team is available 365 days a year to answer any questions or concerns along the way. With Swappa Local, you always get the best deals on newish tech without having to pay the full MSRP.
Swappa Local highlights:
Next-day local pickup and delivery
Get your newly purchased items fast
No junk, broken, or blocklisted devices
Trusted community of buyers and sellers
24/7 support, 365 days a year
Swappa Local allows you to trust the tech you buy
Swappa vs other online marketplaces
Other online marketplaces simply can't compare to the reliability or peace of mind Swappa Local offers. Even the most popular yard sale apps oftentimes look more like device junkyards, filled with non-functional and/or iCloud-locked devices sold by anonymous (and sometimes even fraudulent) users. These other services do little to verify the legitimacy of their listings, instead opting for a more hands-off approach to their marketplaces.
Unfortunately, this is great news for scammers who have seized the opportunity. Because other marketplaces do little in terms of policing, they have become a breeding ground for fraud. It's not exactly a great environment for honest buyers looking to spend their money. Swappa Local allows buyers to actually trust the tech they're buying. This is why Swappa Local is the best — and safest — choice for finding the best tech deals near you, or selling off old items for extra cash.
Whether it's our photo verification system or background checks we perform on used phones, there are plenty of reasons to buy your next device on Swappa Local. For more on how Swappa Local stacks up against yard sale apps, check out our blog post comparing Swappa vs OfferUp vs Letgo.
Swappa is the best way to buy and sell used tech in Orlando
Swappa was already seeing numerous online-only transactions taking place in the Orlando area. This is why it only made sense to open up Swappa Local to our users already enjoying our services in Orlando while welcoming new shoppers looking for the best tech deals near them.
And just like that, Swappa users in Orlando now have access to a safer marketplace, one that isn't plagued with scammers or non-functional, iCloud-locked devices. Swappa's Local marketplace is actively monitored by our support staff 24/7, 365 days a year. When we're not manually verifying listings, our support team is answering questions, resolving issues, and verifying the status of every phone sold in our marketplace.
Whether you're looking for a cheap iPhone in Rose Isle, a Samsung Galaxy in Rowena Gardens, an Apple Watch in Uptown, a MacBook Pro in Audubon Park, a DSLR camera in Baldwin Park, home tech, or video games in Lake Como — you'll find the lowest prices when you buy them gently used on Swappa.
Swappa Local is also perfect for Florida college students in need of some extra cash. Colleges like the University of Central Florida, Rollins College, Stetson University, and Seminole State College of Florida. Swappa Local makes it easy for college students on a budget to find great deals on used MacBooks online or used MacBooks in San Antonio and other discounted tech for school, all priced significantly lower than retail.
♻️📱💻📷🎮
At Swappa, we don't believe anyone should be forced to pay full retail on a new iPhone, MacBook, or other pieces of consumer tech. Whether you're looking to save money on a new purchase — or make some extra cash by selling stuff you're no longer using — the Swappa Local is a great way to both save and make money.
We know there are other services out there for buying and selling used tech, but we wholeheartedly believe none are as safe and reliable as Swappa. So don't risk your hard-earned money buying a sketchy cell phone on Craigslist or Facebook Marketplace. With Swappa Local, you can trust the tech you buy. Get started shopping by hitting the button below.
Cell phone repair in Orlando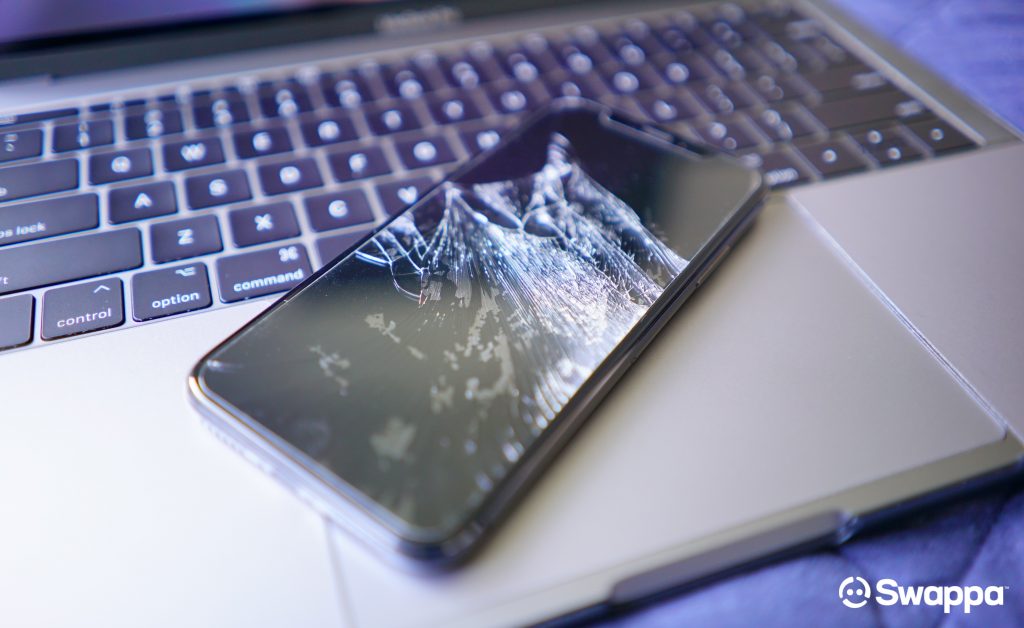 There's a good chance that if you're shopping around for a new or used cell phone, it's because your current one is cracked, broken, or otherwise damaged. While Swappa Local is a great way to find deals on cheap phones in your area, you may find it more worthwhile to simply repair your existing phone. No matter which route you decide to go — Swappa has you covered.
We've put together a collection of the best phone repair shops in the Orlando area, whether you're dealing with a cracked iPhone screen, water damage, or a bad battery, the Swappa Repair Network provides you with easy access to trained professionals standing by to fix your phone. The Swappa Repair Network lets you can shop, compare, and quickly find cell phone repair services in Orlando, all of which offer a minimum 30-day warranty, so you can rest assured that your phone will be good as new.
Whether it's buying a gently used phone in our marketplace, shopping for the best deals on new phones or phone plans, or repairing your current phone to like-new condition, Swappa's goal remains the same: do everything in our power to help save you time and money. For more on phone repair services in the Orlando area, check out the revamped Swappa Repair Network finder by clicking the button below.