---
Everyone loves finding great deals or making extra cash by selling the stuff they no longer need. For anyone who's ever attempted to buy or sell used tech in-person, you've likely run into the frustrating experience that is online meetups. If you've been looking for a better way to buy or sell your used tech in Las Vegas, we have the perfect solution…
We are thrilled to announce that Swappa Local is now available in Las Vegas, Nevada. Swappa Local provides Vegas residents with the ability to safely buy and sell used tech in their local community. By avoiding shipping charges and making devices available for local pickup, Swappa Local is changing the way people think of traditional face-to-face marketplaces.
Swappa's claim to fame is our topnotch support team that heavily moderates our marketplace, manually verifies listings, performs background checks on phones, and provides 24/7 support to address any questions or concerns from users along the way. It's because of these safeguards we can confidently say that Swappa Local is the only used marketplace where you can trust the tech you buy.
SHOP LOCAL TECH DEALS IN LAS VEGAS
Located smack dab in the middle of the Mojave Desert, Las Vegas is one of the most popular — and frequently visited — cities in the entire world. The self-proclaimed "Entertainment Capital of the World," Las Vegas is known the world over for their luxurious hotel accommodations, huge casinos, dazzling shows, and wild nightlife. Whatever you're into, you can find it in Vegas.
Of course, all that glitz and glamour is mostly found along The Strip (or nearby Fremont Street if you want to spend time in old-school Vegas). Drive a few short miles away from the resort city and you'll find a bustling community of local residents, suburbs, strip malls, and college students. Whether you're looking to catch the local Las Vegas Raiders game, hike in the Valley of Fire, or check out the Grand Canyon, there's still plenty to do outside of Sin City.
It's these folks who are looking to score the best deals on used tech, or make extra cash by selling goods they no longer need. The problem is gambling your money with un-moderated services like Letgo and OfferUp can leave you with worse odds than the casinos. This is why it was important for us to launch Swappa Local in Las Vegas as a safer, more reliable marketplace option for buying and selling used tech.
Las Vegas joins of a handful of cities carefully selected for "Round 2" of Swappa Local's nationwide rollout, as we work toward launching our market marketplace to new communities around the country. Swappa already sees a large number of online-only transactions taking place in the Las Vegas area, so providing these users — as well as newcomers — with a safer marketplace option only made sense to us.
What is Swappa Local?
Swappa has been around since 2010, offering a safer alternative to marketplaces like Craigslist or Facebook Marketplace. This has to do with our strict 'no junk' policy that requires all devices be fully functional and ready for activation. Our staff manually approves each and every listing before it goes live in our marketplace, and we perform background checks on used phones to ensure they haven't been reported lost/stolen.
Swappa Local is built upon this very same foundation of safety and support. Whether an item is available for shipping or pickup, Swappa users in Las Vegas can rest easy knowing the devices they're browsing are clean and our support staff is always available, 24/7, 365 days a year, to answer any questions or concerns. With Swappa Local you always get the best deals on newish devices — like used iPhones in Las Vegas — priced significantly lower than their retail counterparts.

This is in stark contrast to other online marketplaces that offer little-to-no moderation, do nothing to verify listings, and more closely resemble device junkyards with iCloud-locked or broken devices commonly being sold by completely anonymous (and sometimes even fraudulent) users. While other services have become a breeding ground for fraud and scammers, Swappa Local allows you to trust the tech you buy. In other words, Swappa Local is simply the best way to buy or sell used tech in your local community — bar none.

Swappa Local highlights:
No shipping charges

Get your devices fast

No junk, broken, or blacklisted devices


Trusted community of buyers and sellers

Swappa-approved swap spots for safe meetups


24/7 support, 365 days a year

Trust the tech you buy
Whether it's our photo verification system or background checks we manually perform on used phones, there are plenty of reasons to check out Swappa Local. For more on how Swappa Local stacks up against the other guys, check out our post comparing Swappa vs OfferUp vs Letgo.
Swappa has great tech for everyone. Whether you're looking for a cheap iPhone in South Summerlin, a Samsung Galaxy in Henderson, an Apple Watch in Sunrise Manor, a MacBook in Boulder City, a DSLR camera in Spring Valley, home tech or video games in Paradise — you'll find the lowest prices when buying them gently used on Swappa. Swappa Local also makes it easy for college students to find deals on used MacBooks in Las Vegas, cheap iPads and more, all priced significantly lower than retail.
To all of our friends in Las Vegas, both old and new, you can get started buying or selling with locals in your area by hitting the button below.
BUY AND SELL USED TECH IN LAS VEGAS
Best phone repair shops in Las Vegas, NV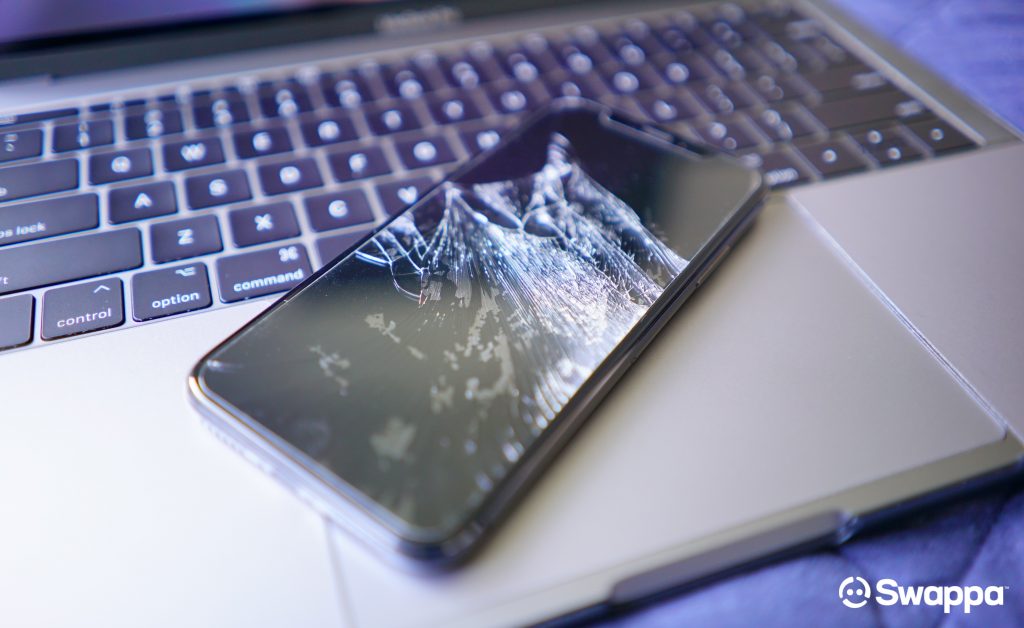 There's a good chance that if you're shopping around for a new or used cell phone, it's because your current one is cracked, broken, or otherwise damaged. While Swappa Local is a great way to find deals on cheap phones in your area, you may find it more worthwhile to simply repair your existing phone. No matter which option you decide to go with — Swappa has you covered.
With the newly revamped Swappa Repair Network, we've put together a collection of the best phone repair shops near Las Vegas, NV. Should you find yourself with a cracked iPhone screen, water damage, or a bad battery, the Swappa Repair Network provides you with easy access to trained professionals standing by to repair your phone, tablet, or laptop. This allows you to shop, compare, and quickly find phone repair services around the Las Vegas area, all of which offer a minimum 30-day warranty, so you can rest assured that your device will be good as new.
Whether it's buying a gently used phone in our marketplace, shopping for the best deals on new phones or phone plans, or repairing your current phone to like-new condition, Swappa's goal remains the same: do everything in our power to help save you time and money. For more on phone repair services in Las Vegas, check out the revamped Swappa Repair Network finder by hitting the button below.