---
[UPDATE] This program has been discontinued and is no longer available. Sorry for the inconvenience.
If you're looking to buy and sell used tech and you live in the Dallas-Fort Worth area, we have some exciting news for you. Instead of looking for a cheap iPhone on Craigslist, there's now a better way to find used tech that is reliable and trusted. We're thrilled to announce that with Swappa Local, you can now buy and sell used tech from a trusted marketplace, in Dallas-Fort Worth, Texas.
The Dallas-Forth Worth area is one of the first places to offer Swappa Local, as many Swappa buyers and sellers live in the Texas Metroplex. As the third most populous city in the state of Texas, Dallas-Fort Worth is home to over 800 thousand people and is an area that continues to grow. Known for things like the Dallas Cowboys, Dallas Market Center, and the Dallas Arboretum, there's no shortage of things to do in Dallas and its and surrounding suburbs.
Dallas-Fort Worth also has a variety of options for college, including schools like the University of Texas at Dallas, Texas A&M University, and Southern Methodist University. For students looking for deals on used tech like MacBooks or tablets, Swappa Local is a great option for finding tech you can trust.
What is Swappa Local?
Swappa online-only marketplace has been around since 2010, offering a safer alternative to sites like Craigslist or Facebook Marketplace. This is due to our strict 'no junk' policy that requires all devices to be fully functional and ready for activation. Our staff manually approves each listing before it goes live in our marketplace, and we perform background checks on used phones to ensure they haven't been reported lost/stolen.
Swappa Local is built upon this same foundation of safety and support, only now we're providing our users with next-day pickup and delivery for local transactions. Whether an item is available for shipping or next-day local pickup and delivery, Swappa users can rest easy knowing the devices they're shopping for is legitimate and our support team is available 365 days a year to answer any questions or concerns along the way. With Swappa Local, you always get the best deals on newish tech without having to pay the full MSRP.
Swappa Local highlights:
Next-day local pickup and delivery
Get your newly purchased items fast
No junk, broken, or blocklisted devices
Trusted community of buyers and sellers
24/7 support, 365 days a year
Swappa Local allows you to trust the tech you buy
Whether it's our photo verification system or background checks on used phones, there are plenty of reasons to check out Swappa Local.
Swappa has a little something for everyone. Whether you're looking for a cheap iPhone in Dallas, a Samsung Galaxy phone in Fort Worth, or an Apple Watch in Irving, — you'll find the lowest prices when buying them gently used on Swappa. Swappa Local also makes it easy for college students to find deals on used MacBooks in Dallas-Fort Worth along with iPads and more, all priced significantly lower than retail.
Best phone repair shops in Dallas / Fort Worth, TX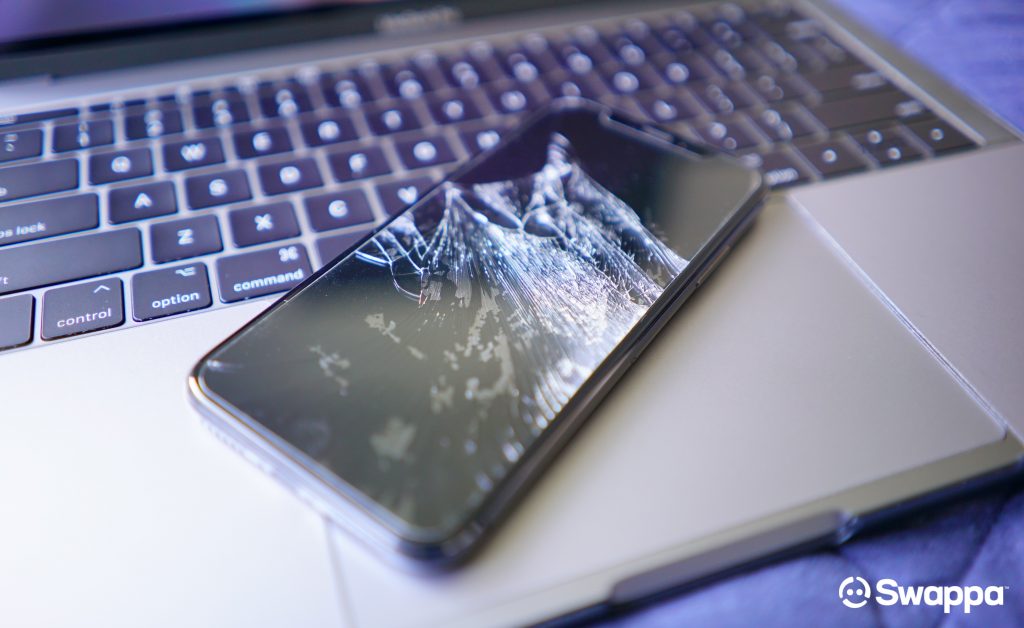 There's a good chance that if you're shopping around for a new or used cell phone, it's because your current one is cracked, broken, or otherwise damaged. While Swappa Local is a great way to find deals on cheap phones in your area, you may find it more worthwhile to simply repair your existing phone. No matter which option you decide to go with — Swappa has you covered.
With the newly revamped Swappa Repair Network, we've put together a collection of the best phone repair shops near Dallas / Fort Worth, TX. Should you find yourself with a cracked iPhone screen, water damage, or a bad battery, the Swappa Repair Network provides you with easy access to trained professionals standing by to repair your phone, tablet, or laptop. This allows you to shop, compare, and quickly find phone repair services around the Dallas / Fort Worth area, all of which offer a minimum 30-day warranty, so you can rest assured that your device will be good as new.
Whether it's buying a gently used phone in our marketplace, shopping for the best deals on new phones or phone plans, or repairing your current phone to like-new condition, Swappa's goal remains the same: do everything in our power to help save you time and money. For more on phone repair services in Dallas / Fort Worth, check out the revamped Swappa Repair Network finder by hitting the button below.