---
[UPDATE] This program has been discontinued and is no longer available. Sorry for the inconvenience.
Columbus is more than just the state capital of Ohio, it's one of the largest and fastest-growing cities in the US. Named after Christopher Columbus, the city acts as a central hub for the state's nearby cities. In fact, major cities like Atlanta, Chicago, and New York City are less than a day's drive away. Home of Guy Fieri, White Castle, and Wendy's fast food chain, notable Columbus landmarks include the Ohio Stadium, Easton Town Center, North Market, and the Ohio Theater.
When it comes to Columbus shoppers looking to save cash on used tech (or make a little money of their own), most are familiar with Craigslist or Facebook for handling in-person meetups. The problem is a lot of people don't feel safe using these services in order to find a great deal or put extra cash in their pockets. With a reputation of being the safest marketplace on the web for used tech, Swappa does things a lot differently. To all our friends living in Arch City, today we're excited to announce that Swappa Local is now officially available in Columbus, Ohio.
Most people have either tried — or at the very least considered — buying and selling used goods online. With a growing number of garage sale apps hitting the market, you can buy or sell virtually anything with users in your neighborhood. The problem is most services do virtually nothing to verify listings or check the validity of devices before they're posted online. And that's a big problem.
Whether you're looking to get rid of that old iPhone or find the best deals by shopping for newish tech, Swappa Local is changing the way people think of local marketplaces. Keep reading to find out why Swappa Local is, hands down, the best — and safest — way to buy and sell used tech in Columbus.
What is Swappa Local?
Swappa online-only marketplace has been around since 2010, offering a safer alternative to sites like Craigslist or Facebook Marketplace. This has to do with our strict 'no junk' policy that requires all devices be fully functional and ready for activation. Our staff manually approves each listing before it goes live in our marketplace, and we perform background checks on used phones to ensure they haven't been reported lost/stolen.
Swappa Local is built upon this same foundation of safety and support, only now we're providing our users with next-day pickup and delivery for local transactions. Whether an item is available for shipping or next-day local pickup and delivery, Swappa users can rest easy knowing the devices they're shopping for is legitimate and our support team is available 365 days a year to answer any questions or concerns along the way. With Swappa Local, you always get the best deals on newish tech without having to pay the full MSRP.
Swappa Local highlights:
Next-day local pickup and delivery
Get your newly purchased items fast
No junk, broken, or blocklisted devices
Trusted community of buyers and sellers
24/7 support, 365 days a year
Swappa Local allows you to trust the tech you buy
Swappa vs other online marketplaces
Other online marketplaces more closely resemble device junkyards, filled with broken or iCloud-locked devices that are sold by completely anonymous (and sometimes even fraudulent) users. This is because they offer little-to-no moderation and do virtually nothing to actually verify listings and make sure a listing is legitimate.
While competing services have become breeding grounds for fraud and scammers, Swappa Local allows buyers to trust the tech they're buying. This makes Swappa Local the best — and most logical — choice for buying and selling used tech in your local community.
Whether it's our photo verification system or background checks we perform on used phones, there are plenty of reasons to buy your next device on Swappa Local. For more on how Swappa Local stacks up against the other guys, check out our more detailed post comparing Swappa vs OfferUp vs Letgo.
Swappa Local is the best place to buy and sell used phones in Columbus
Columbus is the latest city to join Swappa Local's nationwide rollout, following our major launch in Florida just last month. Home to over 879,000 people, Swappa's online-only marketplace was already seeing a significant number of transactions taking place in the Columbus area. It only made sense to introduce our local buying option for Columbus residents searching for the best tech deals near them, as well as safer alternatives to Craigslist and Facebook Marketplace.
Swappa Local is also perfect for Columbus college students who may find themselves strapped for cash. Colleges like Ohio State University, Franklin University, Columbus State Community College, or Capital University. Swappa Local makes it easy for college students like these to find great deals on used MacBooks in Columbus and other tech — all priced significantly lower than new retail.
Whether you're looking for a cheap iPhone in North Linden, a Samsung Galaxy in East Broad, an Apple Watch in Forest Park East, a MacBook Pro in Southside, a DSLR camera in Northern Woods, home tech or video games in Eastmoor — you'll find the lowest prices when buying them gently used on Swappa.
♻️📱💻📷🎮
At Swappa, we don't believe anyone should be forced to pay full retail on a new iPhone, MacBook, or other pieces of consumer tech. Whether you're looking to save money on a new purchase — or make some extra cash by selling stuff you're no longer using — the Swappa Local is a great way to both save and make money.
We know there are other services out there for buying and selling used tech, but we believe none are as safe and reliable as Swappa. So don't risk your hard-earned money buying a sketchy cell phone on Craigslist or Facebook Marketplace. With Swappa Local, you can trust the tech you buy. Get started today by hitting the button below.
Best phone repair shops in Columbus, OH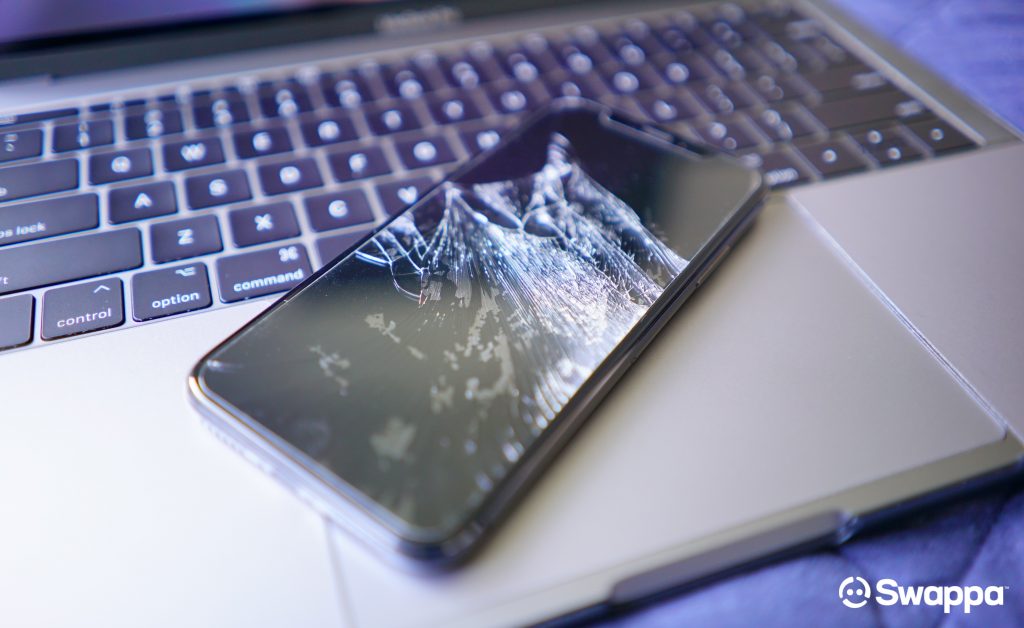 There's a good chance that if you're shopping around for a new or used cell phone, it's because your current one is cracked, broken, or otherwise damaged. While Swappa Local is a great way to find deals on cheap phones in your area, you may find it more worthwhile to simply repair your existing phone. No matter which option you decide to go with — Swappa has you covered.
With the newly revamped Swappa Repair Network, we've put together a collection of the best phone repair shops near Columbus, OH. Should you find yourself with a cracked iPhone screen, water damage, or a bad battery, the Swappa Repair Network provides you with easy access to trained professionals standing by to repair your phone, tablet, or laptop. This allows you to shop, compare, and quickly find phone repair services around the Columbus area, all of which offer a minimum 30-day warranty, so you can rest assured that your device will be good as new.
Whether it's buying a gently used phone in our marketplace, shopping for the best deals on new phones or phone plans, or repairing your current phone to like-new condition, Swappa's goal remains the same: do everything in our power to help save you time and money. For more on phone repair services in Columbus, check out the revamped Swappa Repair Network finder by hitting the button below.