---
Hello, Swappa Affiliates! In this month's update, we're filling you in on the latest Swappa news and highlighting one of our very own affiliates, MoneySavingPro. The goal of this update is to share insight and strategies so you have all the information you need to be successful with our program. Let's jump into the updates.
New iPhones Are Here
With a new lineup of iPhones on deck, now is a great time for buyers to shop on Swappa. This is because many people will be looking to buy and sell older phones in preparation for new iPhone models and everyone gets the best deal when they buy on Swappa. Compared to other online marketplaces, Swappa gets you the most money with zero seller fees. And since Swappa is human-powered, a real person is never more than a few clicks away.
In somewhat of an unexpected twist, Apple also announced that they're discontinuing the iPhone X, SE, and 6S. This is actually great news for Swappa sellers as it means more people will be looking for other ways to get great deals on these devices, especially since they'll no longer be available from Apple.
Affiliate Highlight
This month's Swappa affiliate highlight is all about MoneySavingPro. If you're unfamiliar with this site, MoneySavingPro offers a price comparison tool for buying and selling used tech. Their site states:
"As a team, we're dedicated to the task of saving consumers money. Our comparison tools highlight the three easiest proven ways to do so – switching to a low-cost cell phone carrier (MVNO), buying a refurbished or used smartphone, and selling your old tech for the best price to help pay for it."
The mission of MoneySavingPro aligns well with Swappa's and we are excited they are part of our affiliate program. Founder and CEO of MoneySavingPro, Rob Webber, had this to say about our partnership, "Swappa offers consumers great deals on used smartphones, so their affiliate program was an obvious fit for our site."
Let's take a look at how MoneySavingPro features Swappa on their site. In the screenshot below, they compare the price of an iPhone 6S on several different marketplaces. Because Swappa has the lowest price, their call-to-action button links directly to Swappa's buy iPhone 6S page and of course includes their specific affiliate code. Thanks to Rob and the team at MoneySavingPro for being a great Swappa affiliate!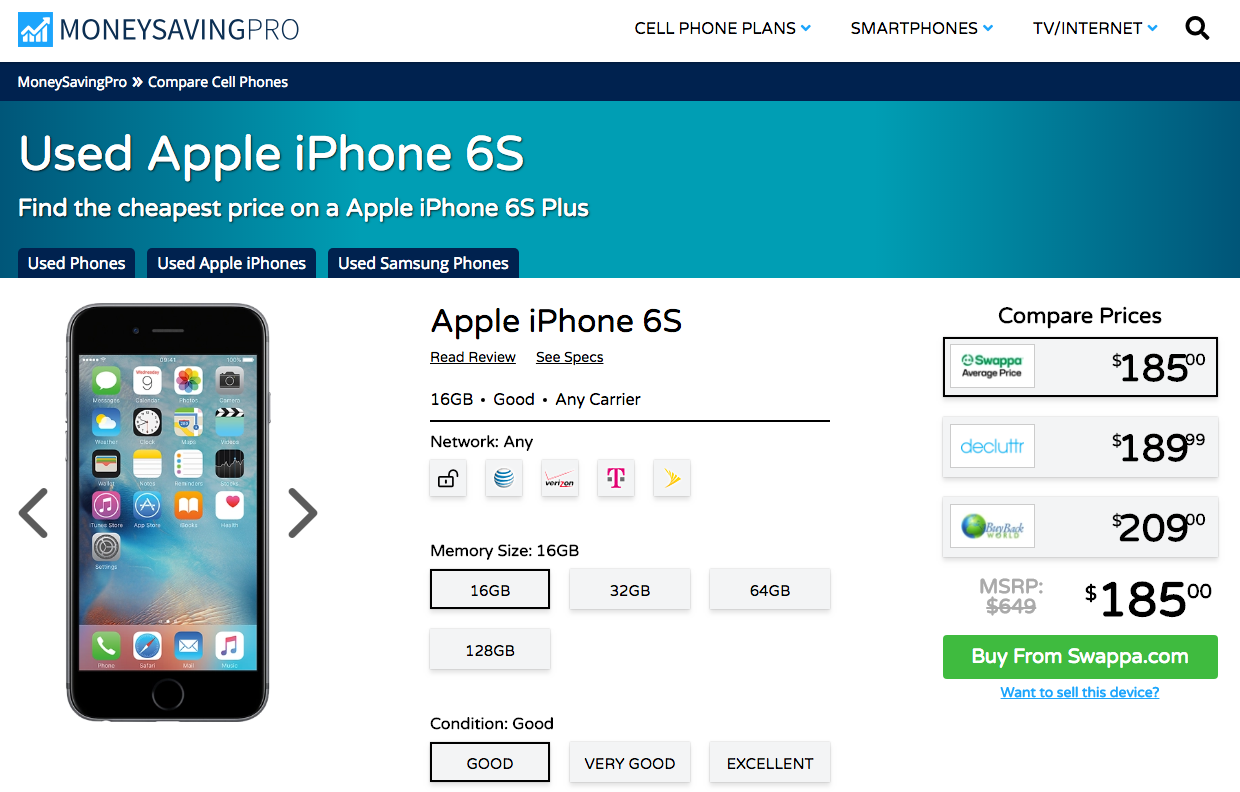 Swappa Banner Ads
Remember that you'll find all the Swappa banner ads in the affiliate portal. These include a few different styles that you can use to put on your website or blog. Here are a couple banner ads in the most frequently used sizes: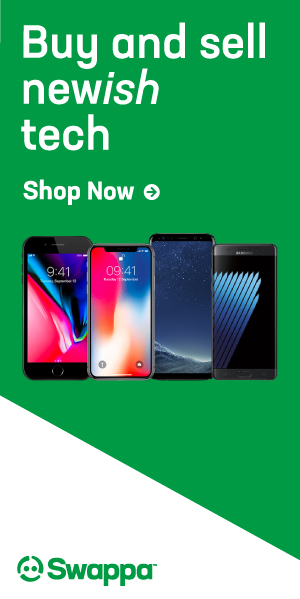 Swappa Affiliate Widget
To make it easier to share Swappa with your following, we've created an embeddable widget to add to your website. The widget allows you to display real-time pricing for popular devices from Swappa. Using a tag to specify a primary device allows you to give a more contextual advertisement to your audience, which should bring a higher engagement. Add the widget to your site.

Affiliate Overview
For any potential affiliates, if you have a website or following interested in saving money, tech, or anything related to Swappa, consider joining our program. It's free to join and we have great commissions. If you want to learn more about how it all works, check out the introduction to our affiliate program. For those interested, here's a breakdown of our commissions:

Got Ideas?
If you have any ideas about how we can improve the Swappa Affiliate Program — or if you'd like to considered for a future affiliate highlight — please feel free to reach out to use at [email protected].