---
We're nearing the release of another Google Pixel, but with prices once again expected to exceed $1,000 (that's pretty much the norm for flagship phones these days), there are still plenty of folks looking to older models as a way to save some much needed money.
In the case of the Google Pixel 3 — released back in 2018 — prices for the phone are so low that it's hard to ignore, especially for those on a budget. Is the Pixel 3 still worth it in 2020? Let's find out.
Google Pixel 3 Specs Comparison
Pixel 5
Pixel 4a
Pixel 4
Pixel 4 XL
Pixel 3
Screen size
6 inches
5.8 inches
5.7 inches
6.3 inches
5.5 inches
Network
5G
4G
4G
4G
4G
Display
FHD+ (1080 x 2340)
Flexible OLED at 432 ppi
Smooth Display (up to 90 Hz)
Full 24-bit depth for 16 million colors
FHD+ (1080 x 2340)
OLED at 443 ppi
FHD+ (1,080 x 2,280)
OLED at 444 ppi
Smooth Display (up to 90 Hz)
FHD+ (1,080 x 2,280)
OLED at 537 ppi
Smooth Display (up to 90 Hz)
FHD+ (1,080 x 2,160)
OLED at 443 ppi
Battery
4080 mAh
Wireless charging
Battery Share
3140 mAh
Fast charging
2,800 mAh
Wireless charging
3700 mAh
Wireless charging
2,915 mAh
Wireless charging
Water resistance
IP68
n/a
IP68
IP68
IP68
Security
Fingerprint sensor
Fingerprint sensor
Face unlock
Face unlock
Fingerprint sensor
Processor
Qualcomm Snapdragon 765G with Octa-Core
Qualcomm Snapdragon 730G
Qualcomm Snapdragon 855
Qualcomm Snapdragon 855
Qualcomm Snapdragon 845
RAM
8 GB
6 GB
6 GB
6 GB
4 GB
Rear camera
12.2 MP dual-pixel16 MP ultrawide
12.2 MP dual-pixel
12.2 MP dual-pixel16 MP telephoto
12.2 MP dual-pixel16 MP telephoto
12.2 MP dual-pixel
Front camera
8 MP
8 MP
8 MP
8 MP
8 MP (ultrawide)
Learn more about the Pixel 3 in our Pixel 3 Review and Pixel 3 Buyer's Guide, then see how it stacks up against other Pixel phones in our Pixel 3 Upgrade Guide.
Is the Google Pixel 3 a good phone?
Like any other technology, phones age and they depreciate. There's no getting around that. Most people researching older phones want to know whether or not they're actually still worth buying. Some phones age more gracefully than others, and Google's Pixel line has traditionally fallen into the category dominated by Apple's iPhones.
Is the Google Pixel 3 a good phone? The simple answer is yes. The Google Pixel 3 is most definitely a good phone, even by 2020 standards where there's plenty of stiff competition from rival phone manufacturers launching new devices with flashy bells and whistles. It's a top pick for anyone looking for a great small Android phone. But let's talk more about why the Pixel 3 is a good phone…
Minimal design and solid build quality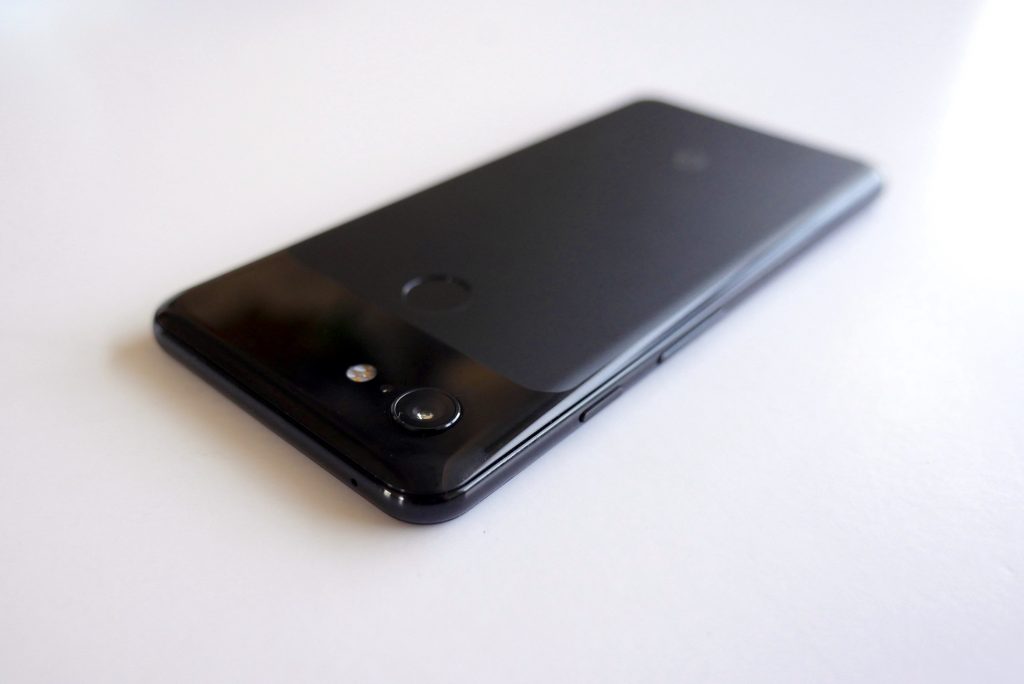 Image credit: Phandroid
Released in October 2018, the Pixel 3 was one of the last Android phones to arrive before the year's end. Unlike the countless shiny, polished metallic iPhone copycats you find from most OEMs, Google's Pixel design was unique and all its own.
Pick it up and you'll immediately notice how premium the phone feels in the hand. On the back, you'll find a beautifully designed 2-tone, all-glass panel. The top portion is glossy, while the bottom portion has a soft matte finish. The glass isn't merely aesthetic, it actually allows Google to include wireless charging on the device (something missing from the all-metal Pixel 2). The sides of the phone are painted metal, and are pressure-sensitive, allowing you to interact with the phone by squeezing the sides, a feature Google calls "Active Edge."
With an 18:9 screen, the Pixel 3's form factor is easy to use with a single hand. The regular-sized Pixel 3 has traditional black bezels along the top and bottom of the 5.5-inch screen, providing just enough room for the (very loud) stereo, front-firing speakers. The larger Pixel 3 XL doesn't follow the same screen design and instead features a huge notch at the top of the 6.3-inch display, separating the notification bar for added screen real estate. It's a bit more modern looking, but can be a bit of an eyesore. Luckily Google provides the option to hide the notch with a black status bar, making it look similar to the smaller Pixel 3.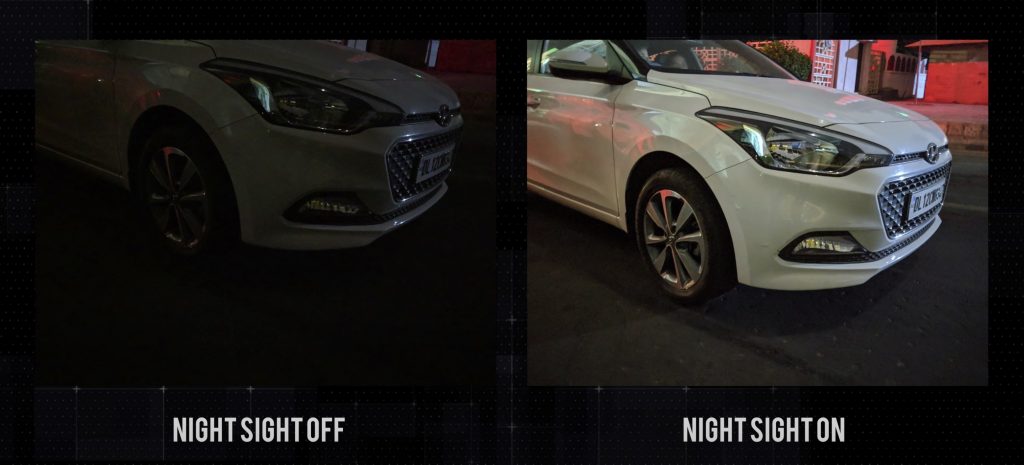 Image credit: Beebom
The biggest and best reason to buy the Pixel 3 is, hands down, without a doubt, the phenomenal camera. It's by far one of the best phone cameras around. But it has less to do with the actual camera hardware, and more to do with Google's machine learning imaging software. It's no wonder many reviewers called the Pixel 3 the best camera you could get on a smartphone when it first launched.
Even today, you can make a similar case (if extra wide-angle or zoom lenses aren't a big deal to you). Not much has changed since the Pixel 3 debuted, the AI-powered camera is still one of the very best there is, adding additional features like Night Mode that can capture beautiful photos, even in the most challenging lighting situations — we're talking next to no light.
The Pixel is 3 is also water resistant, with an IP68 rating, allowing it to last about 30 minutes fully submerged in about 5 feet of water. That means you shouldn't take it into the pool, but accidentally dropping the Pixel 3 in the toilet or watching your favorite podcast in the shower shouldn't be an issue.
What's missing?
Technology moves fast, and there have been several advancements in the mobile space over the past few years, so it's no surprise that the two-year-old phone Pixel 3 will be missing a few newer smartphone features. Here are some areas to consider:
Battery life is ok on the regular-sized Pixel 3, but certainly much better on 3 XL. If battery life is a concern, you may want to upgrade to the Pixel 3 XL.
RAM is limited to only 4GB, even at the time this was fairly low for a flagship smartphone. This means you can expect apps to close more frequently in the background, causing you to lose your place in apps, and/or wait as they pull new data.
The Pixel 3 has only a single camera lens on the back, where just about every phone these days features an optical zoom lens, and more recently, ultra wide-angle camera lens. Not everyone uses those extra camera functions, so it's possible the extra camera lenses won't be missed.
Front-facing camera cutouts are the latest 2020 feature found on even mid-range phones. The Pixel 3 on the other hand has thick black bezels along the top and bottom of the phone — and while these don't necessarily affect usability, it can make the phone look rather dated.
Clean software with exclusive Google features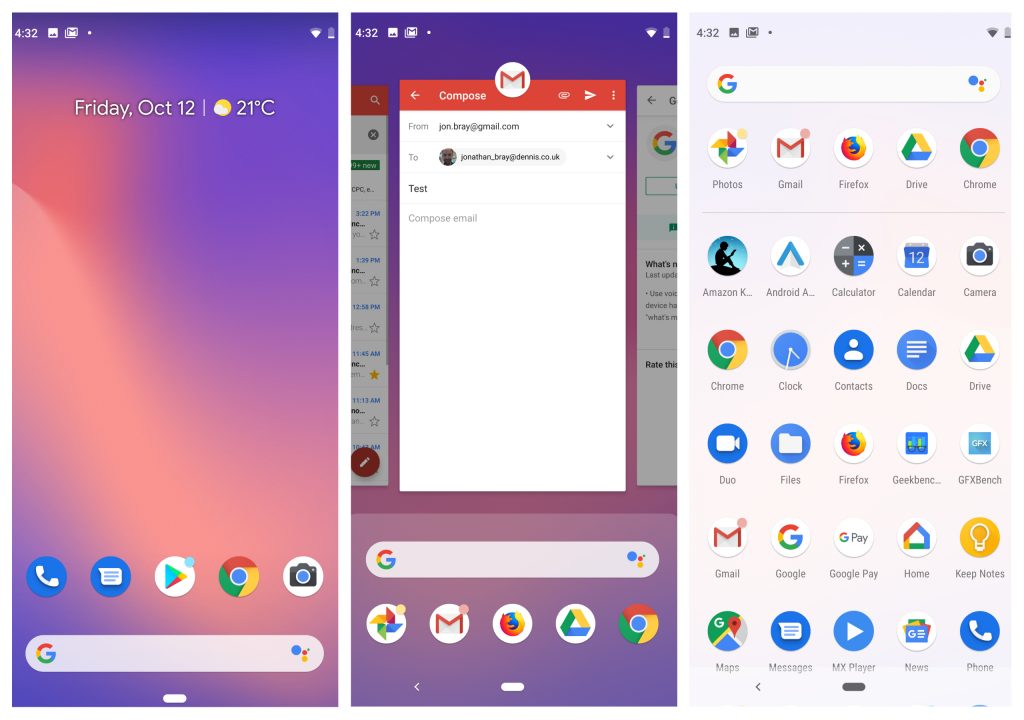 Image credit: Expert Reviews
The Google Pixel 3 runs the Android operating system (with some added flair) and receives over-the-air software updates directly from Google. That means — unlike the vast majority of phones made by other manufacturers — the Google Pixel 3 will receive both security updates and major platform versions the moment they're released. For instance, the Pixel 3 originally launched with Android 9.0 Pie (the last of Android's dessert-themed names), is currently running Android 10, and will be first in line to receive the upcoming Android 11 update as soon as it's available. This is ahead of phones made by Samsung, LG, and others, who typically only provide two platform updates at best depending on the phone in question. If you love Android and don't like playing guessing games, the Pixel line is for you.
Pixel 3 software features include:
Gesture navigation
Gesture shortcuts
Call screening
Dark mode
Flip to Shhh
Digital Wellbeing
Split Screen apps
And more
Google has committed to a minimum of three years of new Android version updates for the Pixel 3, up until October 2021. That means the Pixel 3 is guaranteed to receive Android 12 in 2021, although it may not receive a major platform update after that. Even then, you can still count on security updates for the foreseeable future.
Is the Google Pixel 3 XL worth it?
So what about the Pixel 3XL? Yes, just like the regular-sized Pixel 3, the Pixel 3 XL is also worth it in 2020. It takes everything you love about the smaller Pixel 3, and adds more features like a larger 6.3-inch screen, longer battery life, larger (louder) speakers, and a notched display reminiscent of newer iPhones. Although a bit thicker than your average iPhone notch, Google did add a software feature to hide the 3 XL's notch with a black status bar so it's not quite so noticeable. With one of the best camera experiences around, the Pixel 3 XL has all the features you need, with a low price point that makes it a great large-phone pick for those on budget.
Still stuck on which to buy? Head over to our Google Pixel Buyer's Guide to see how the most popular Pixel phones stack up.
How much does Pixel 3 cost?
| Google Pixel 3 model | Avg price |
| --- | --- |
| Google Pixel 3 (64GB) | $240 |
| Google Pixel 3 (128GB) | $347 |
| Google Pixel 3 XL (64GB) | $271 |
| Google Pixel 3 XL (128GB) | $321 |
Outside of a stellar camera and top-notch software support, one of the most attractive aspects of the Pixel 3 is its price. Initially priced at $799/$899 when it launched in 2018, Pixel 3 models on Swappa are now priced under $200. That's like 75% off the initial retail price. There's an even better deal on the larger version, with unlocked Pixel 3 XL prices starting at only $229.
---
Get a deal or Make More. In the App.


---
Compare that to the Pixel 3a — a fan favorite, mid-range version of the Pixel 3 — and you can see how Swappa allows you to get more phone for less money. It's an absolutely no-brainer. If you're looking for one of the best Android experiences out there, with a camera so good that it practically defies the laws of physics, grab yourself a Pixel 3 on Swappa today.