---
So you need a new phone?
With smartphone tech getting better and better every year and older models getting cheaper, you might be asking yourself: Do I really need this year's flagship?
If your budget is tight but you don't want to compromise on quality, a Google Pixel should do the trick. These Android devices offer the very best of Google's software with a camera that can go head to head with 2020 flagships.
As far as the Google Pixel 3 is concerned, this is a phone that is only two years old but has dropped in price dramatically since it's launch date. However, with features and specs that are still relevant today, the Pixel 3 is an excellent value in 2020.
Google stopped selling the phone earlier this year, so if you want a Pixel 3 you'll have to look elsewhere. Luckily, you can still find the phone on Swappa for a great price. Our safe, friendly people-powered marketplace is there to help you save — and trust the tech you buy.
Google Pixel 3 Overview: Features, specs, and price
Let's dig into the specs. How does the Pixel 3 compare to Google's latest Pixel 5?
While the Pixel 3 may not be 5G compatible, it does feature a faster processor (Qualcomm Snapdragon 845 compared to the Snapdragon 765G) and two selfie cameras.
Google Pixel 5
Google Pixel 4
Google Pixel 3
Screen size
6 inches
5.7 inches
5.5 inches
Network
5G
4G
4G
Display
FHD+ (1080 x 2340)
Flexible OLED at 432 ppi
Smooth Display (up to 90 Hz)
Full 24-bit depth for 16 million colors
FHD+ (1,080 x 2,280)
OLED at 444 ppi
Smooth Display (up to 90 Hz)
FHD+ (1,080 x 2,160)
OLED at 443 ppi
Battery
4080 mAh
Wireless charging
Battery Share
2,800 mAh
Wireless charging
2,915 mAh
Wireless charging
Water resistance
IP68
IP68
IP68
Security
Fingerprint sensor
Face unlock
Fingerprint sensor
Processor
Qualcomm Snapdragon 765G with Octa-Core
Qualcomm Snapdragon 855
Qualcomm Snapdragon 845
RAM
8 GB
6 GB
4 GB
Rear camera
12.2 MP dual-pixel
16 MP ultrawide
12.2 MP dual-pixel
16 MP telephoto
12.2 MP dual-pixel
Front camera
8 MP
8 MP
8 MP (wide)
8 MP (ultrawide)
Video
4K
4K
4K
Camera features
Night Sight
Top Shot
Portrait Mode
Super Res Zoom
Motion Auto Focus
Live HDR+
Frequent Faces
Dual exposure controls
Cinematic Pan
Ultrawide Lens
Portrait Light
Night Sight
Top Shot
Portrait Mode
Live HDR+
Dual exposure controls
Motion Auto Focus
Super Res Zoom
Group Selfie Cam
Frequent Faces
Night Sight
Top Shot
Portrait Mode
Live HDR+
Motion Auto Focus
Super Res Zoom
Group Selfie Cam
Audio
Stereo speakers
Stereo speakers
Stereo speakers
Learn more about the Pixel in our Pixel 3 Buyer's Guide, then see how it stacks up against other Pixel phones in our Pixel 3 Upgrade Guide. Still not sure which Pixel is right for you? Head over to our Google Pixel Roundup 2021 to see how the most popular Pixel phones compare.
Google Pixel 3 Specifications
The 5.5-inch Pixel 3 is also available in an XL variant (6.3 inches), and both sizes are available with 64GB or 128GB in storage.
The Google Pixel 3 launched in 2018 with Android 9, but is compatible with the current Android 11. Pixel phones are also among the first to receive Android updates as soon as they release — long before Samsung, LG, and others.
Google Pixel 3 Processor
The Pixel 3 comes with a Qualcomm Snapdragon 845, a two-year-old flagship processor. In contrast, Google's latest Pixel 5 is powered by the midrange Snapdragon 765G, which features a slightly slower CPU and significantly slower GPU. So if you're a mobile gamer or find yourself frequently using demanding apps, the Pixel 3 is the better choice. Performance still does the job in 2020 (especially considering that you can get the phone for as low as $154 on Swappa).
This processor still beats out the performance you'd expect from other cheap or mid-range Androids in 2020. With the Pixel 3, you're getting a phone that used to be a top-tier flagship just a couple of years ago. And when you buy gently used on Swappa in mint or good condition, you can have the peace of mind that the phone's condition has been verified by our team of experts.
Pixel 3 Display
Let's get into the display. The Pixel 3 has a 5.5-inche OLED screen with an 18:9 aspect ratio. OLED allows for a greater color depth, with vivid hues and deep blacks. You won't find that on an iPhone in this price range.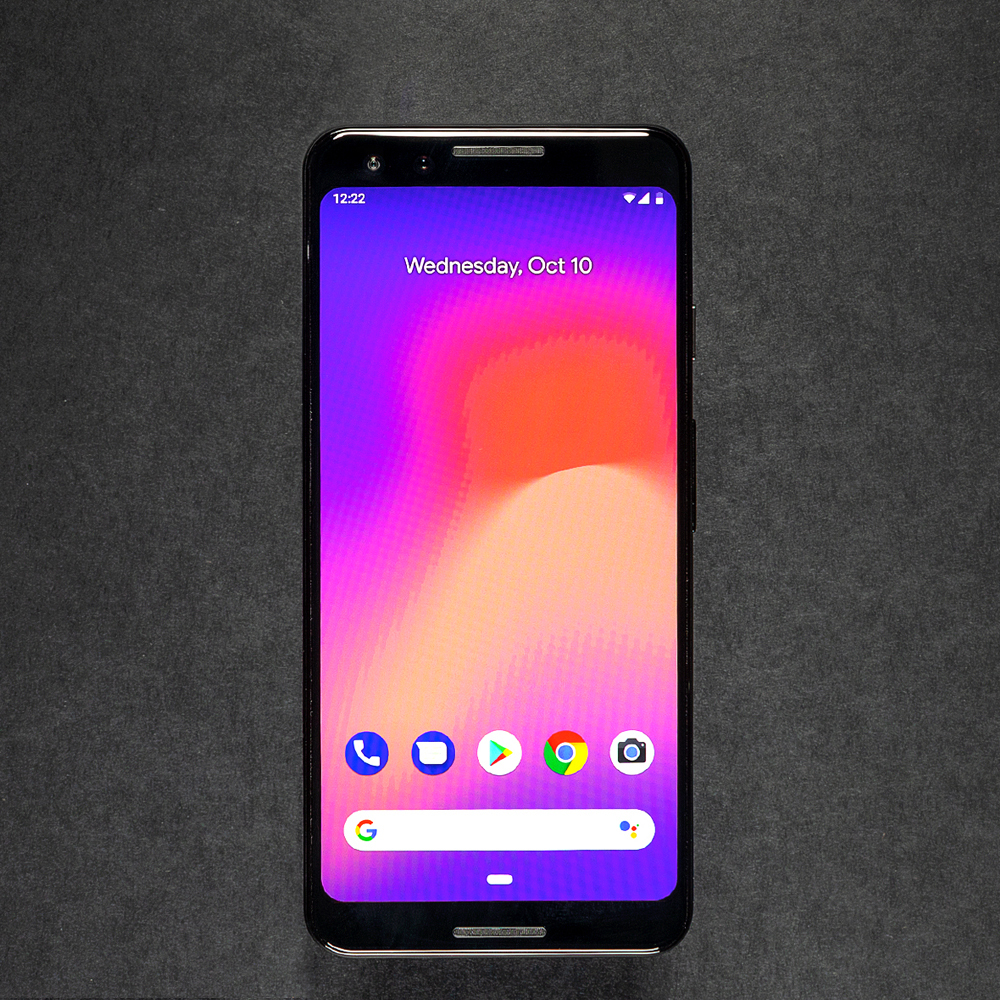 Pixel 3 Design
The Pixel 3 has a bit of a forehead to make room for the dual selfie camera, and it's balanced out with a bottom bezel. You won't notice it much in regular use.
Pixel 3 Size and Weight
At 148g, the size of the Pixel 3 is compact and easy to use in the hand. So if you're looking for an Android on the smaller side, this phone is a great choice.
Pixel 3 Colors
The Pixel 3 comes in 3 colors: Clearly White, Just Black, Not Pink. The back of the phone is all glass but with a dual toned effect. They also each feature a colorful power button, for an extra pop.
Pixel 3 Camera
The best reason to switch to a Pixel 3 today is hands down, without a doubt, the phenomenal camera. When it launched in 2018, it was by one of the best cameras on a smartphone — and you can still make a similar case today (assuming a telephoto lens isn't a big deal for you).
The power of a Pixel 3 camera has less to do with the camera hardware and more to do with Google's machine learning software. The software and image processing leads to sharp detail, a dynamic range, and accurate colors. Autofocus makes it easy to zero-in on what you're trying to capture, as well as features like Super Res Zoom and Portrait mode. Night Mode allows you to capture amazing shots even in low light situations. Both the front and back cameras include Auto-HDR, while the back also features Dual-LED flash and panorama.
And with the Pixel 3, you can say goodbye to your selfie-stick. The dual front-facing camera with the extra wide-angle lens gives the Pixel 3 one of the best selfie cameras around — and makes it super easy to take selfies with a large group of friends.
Not much has changed since the Pixel 3 debuted. Google's computational photography is still at the top, and they've added additional features like Night Mode that can capture beautiful photos, even in the most challenging lighting situations.
Pixel 3 battery
The Pixel 3 battery is not one of the phone's strong suits, largely due to its 2915 mAh capacity. If battery life is a concern, you may want to upgrade to the Pixel 3 XL (which is only a ___ more expensive on Swappa).
Price
Perhaps the biggest reason to buy the Pixel 3 right now is the price. Not to discount the great camera and decent specs, but when you consider the price — you really understand just how jam-packed this phone is with value. It'll leave you wondering… Do you really need to drop hundreds of dollars on a brand-new phone?

The Pixel 3 cost $799 at launch in 2018. Today, you can get the Pixel 3 for an average price of $213 on Swappa — that's 76% less chopped off the price, for the same great phone.
In the month of September 2020 on Swappa, we saw Pixel 3 64GBs going for about $196, with the 128GB version costing an average of $227. If you'd like the bigger size but most of the same specs, you can get the Pixel 3 XL 64GB for about $230, or the 128GB version for $274.
On Swappa, our moderation team verifies every listing to ensure no junk or broken devices make the cut. Our PayPal protections help ensure buyers and sellers experience a smooth transaction. Even if you've never shopped for newish tech before, you can feel safe knowing that Swappa's got your back.