---
Short answer: If you're looking for fast performance, great photos with high dynamic range, and awesome battery life, the iPhone XS is a great buy in 2021. With a premium body, dual camera system, and Apple's Smart HDR for photos, the iPhone XS offers the perfect mix of features and price.
The iPhone XS originally debuted back in 2018, alongside the iPhone XS Max and iPhone XR. A worthy followup to the original iPhone X, iPhone XS introduces a handful of worthwhile upgrades. If you value an improved camera, faster performance, longer battery life, (and more) — the iPhone XS is definitely still worth it in 2021.
iPhone XS hardware specs
| | |
| --- | --- |
| Processor | A12 Bionic |
| RAM | 4GB |
| Display | 5.8-inch Super Retina HD (2,436 x 1,125) |
| Front camera | 7MP TrueDepth |
| Rear camera | Dual 12MP wide-angle and telephoto |
| Water resistance | IP68 |
| Battery | 2,658 mAh |
| Original retail price | Starting at $999 |
With affordable pricing on Swappa, it's easy to see why the iPhone XS is one of the most popular smartphones sold in our marketplace despite being more than a few years old. If you're still on the fence, here are 9 reasons why the iPhone XS is still worth buying today.
---
1. The iPhone XS' premium OLED display is the perfect size
The iPhone XS features a gorgeous Super Retina HD (OLED) display and Apple's now iconic all-screen design. The 5.8-inch OLED display is larger than screens found on older "Plus" models, but because there are no bezels along the top and bottom, the phone is significantly smaller than those models.
The display itself is as premium as it comes. With a pin sharp 2436-by-1125 resolution, vibrant colors, deep blacks, and support for HDR10 and Dolby Vision, the iPhone XS is perfect for video or gaming. It also doesn't suffer from burn-in which can be common on phones made by other manufacturers.
2. Smart HDR is a big improvement from the iPhone X camera
Being able to take HDR photos has been around since the iPhone 4, but the iPhone XS further improves on this with the biggest upgrade yet: Smart HDR. Apple's Smart HDR allows the iPhone XS to capture drastically enhanced dynamic range, without the long delay you'd normally find when using the previous generation HDR.
Similar to regular HDR, it works by combining several photos into one, but instead of the usual long delay, Smart HDR does this in an instant. How does it work? Reference images are actually being captured in the background as soon as you open the camera app, so when you finally press the shutter button it goes to work and produces photos with vastly improved highlights and shadow detail.
The iPhone XS also has an improved image sensor for better low-light performance than the previous generation iPhone X, just keep in mind it's nothing close to iPhone 11 line's Deep Fusion or Night mode stills. Despite this, Smart HDR is still a great baseline for anyone who wants an iPhone with good photo quality for cheap.
3. iPhone XS is fast and great at multitasking
Whenever it comes time for Apple's "S" releases, you can always expect a bump in speed. With the new and improved A12 powering the phone — the iPhone XS is no different.
The iPhone XS features a 6-core processor with 2 high performance cores that are 15% faster than the previous A11, along with 4 low power cores that are 50% more power efficient. For gaming, the 4-core GPU is 50% faster than the previous A11 chip, meaning you can play games with higher frame rates and enhanced visuals.
Another big upgrade is RAM on the iPhone XS — which now features 4GB RAM — for better multitasking. It's an often overlooked spec, but it really helps prevent apps from closing prematurely in the background, so you easily pick up where you left off.
4. iPhone XS gives you all-day battery life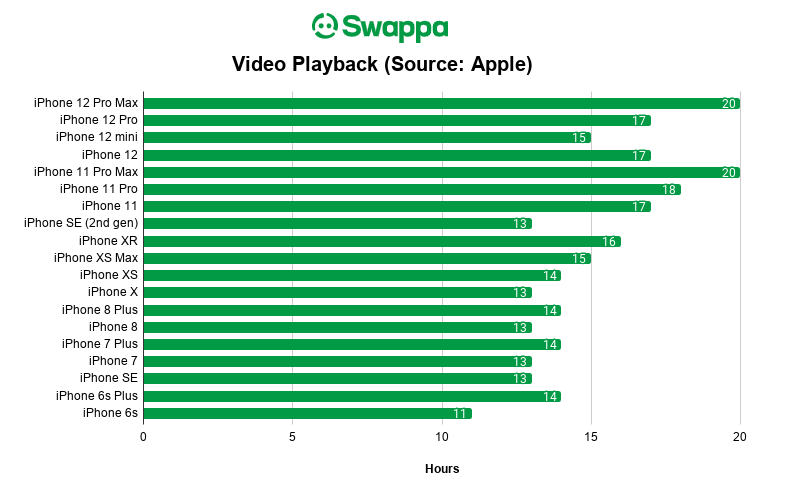 Battery life is always an important factor when buying a new phone (even if it's a used phone), and the iPhone XS does a great job in this area. This is thanks mostly in part to the more power efficient A12, which isn't just faster than the previous A11, but also does a better job at sipping precious battery.
According to Apple, the iPhone XS battery life is rated at 14 hours of pure video playback — that's one hour longer than the previous iPhone 10. Although one extra hour may not sound like much, it can go a long way depending on your own personal use.
5. Improved True Depth camera and Face ID
Keeping with the theme of S series, the iPhone XS also has faster Face ID, so it recognizes your face faster on the lock screen. This may sound like a small improvement, but holding your phone in front of your face to unlock can feel like an eternity. Thankfully the iPhone XS makes it virtually instant so you're not waiting around awkwardly.
Another upgrade is the improved True Depth selfie camera which also features Portrait mode with depth control. This is great for anyone who loves to take selfies, just keep in mind that you'll need to upgrade to the iPhone 11 Pro if you're looking for 4K video and slow-mo selfies.
6. Better water resistance means less worry
Water resistance is always an important feature on any phone, and the iPhone XS also improves on this with an IP68 water resistance rating. This means the phone can survive fully submerged in 2 meters of water (roughly 6 ½ feet) for 30 min.
This is double the depth found in the previous iPhone 10, and means you shouldn't worry at all about the iPhone XS taking a dip into the toilet or tub (just rinse it off afterward, mkay?).
7. 512GB storage option is perfect for 4K video recording
Whereas the previous iPhone X was capped at 256GB of storage, the iPhone XS bumps the maximum storage size to 512GB, which is perfect for heavy users who are constantly snapping photos or recording video.
With the ability to shoot Live Photos (seriously, why isn't everyone using this feature?) and record in 4K 60fps video, you're going to quickly find you need plenty of elbow room when it comes to the media storage.
8. iPhone XS adds missing gold color option
It's hard to imagine an iPhone not offering a gold color option, but such was the case when the original iPhone X launched with only two color options: silver/white, and space gray.
Thankfully, Apple rectified this issue with the iPhone XS, adding their usual gold color option with a slightly peach-colored back. It's not for everyone, but it's still a popular choice amongst Swappa buyers. Check out the data using the button below.
9. The iPhone XS is surprisingly affordable
The iPhone XS originally debuted at $999, but you can find the phone for a fraction of that price on Swappa. If you're looking for a cheap iPhone with a premium screen, fantastic camera, fast performance, and long battery life — the iPhone XS checks all the boxes.
With a starting price of $309, the iPhone XS is definitely still worth buying in 2021. In fact, it's one of the most popular phones sold on Swappa.
Looking for bigger screen and longer battery life? The iPhone XS Max might be a better fit
Looking for an even better camera with Night Mode? iPhone 11 Pro will be right up your alley
And finally if you're looking for even more info on the iPhone XS — including comparisons, hardware specs, and pricing trends — check out Swappa's official iPhone XS Buyer's Guide and iPhone XS Overview.