---
The iPhone XS Max originally landed on the scene back in 2018, and takes everything people loved about the original iPhone X, but kicks it up a notch with a handful of upgrades.
If you're looking for an iPhone with a large screen size, fast speed, a great camera, and exceptional battery life, the iPhone XS Max is definitely still worth buying in 2021.
If you're still on the fence about picking up an iPhone XS Max for yourself, or maybe going with something a little newer, in this post we'll give you the best reasons why the iPhone XS Max is still worth buying today.
iPhone XS Max hardware specs
| | |
| --- | --- |
| Display | 6.5-inch Super Retina HD |
| Processor | A12 Bionic |
| RAM | 4GB |
| Front camera | 7MP TrueDepth |
| Rear camera | Dual 12MP wide-angle and telephoto |
| Water resistance | IP68 |
| Battery | 3,174 mAh |
| Original retail price | Starting at $1,099 |
For more specs, comparisons, and pricing info, check out Swappa's iPhone XS Max Buyer's Guide.
The iPhone XS Max's massive OLED display is perfect for media consumption or gaming
The iPhone XS Max's features a huge 6.5-inch Super Retina HD display. It's significantly larger than the 5.8-inch screen found on the iPhone X, and very well could be reason enough to buy this phone. Believe it or not, the overall size of the phone is still a hair smaller than those older "Plus" models, while carrying a display that's almost a full inch bigger.
But it's not just the size that makes the iPhone XS Max screen great. The OLED display tech is pin sharp, has vibrant colors and high contrast with near infinite blacks. With support for HDR10 and Dolby Vision, the iPhone XS Max is absolutely perfect for watching videos, playing games, or browsing the web.
iPhone XS Max camera offers extended dynamic range and improved low-light
The iPhone X camera was really only suited for shooting in optimal conditions with plenty of light, but even then it has its shortcomings. Meanwhile, the iPhone XS Max features an improved image sensor for better low-light photos, but the real star of the show here is Smart HDR.
Smart HDR allows the iPhone XS Max to capture photos with dramatically improved dynamic range. The best part is it effectively eliminates the long delay you normally get when using the previous generation HDR.
Like normal HDR, Smart HDR combines several photos the moment the shutter button is pressed, but it goes about it differently. Smart HDR starts working the moment your camera is app is opened, capturing reference images in the background. Once the shutter button is pressed, the phone instantly combines a handful of those reference images to produce a single image with superior dynamic range.
If that didn't make any sense to you, that's ok. All you really need to know is photos you take will have improved highlights and shadow detail, and look far better than anything produced by previous generation iPhones, especially the iPhone X.
A12 Bionic offers faster performance and better power efficiency
Traditionally, Apple's S releases always come with improved performance and the iPhone XS Max continues this trend.
Inside you'll find Apple's A12 Bionic chip that features a 6-core processor. There's 2 high-performance cores which are 15% faster than the previous A11 chip, along with 4 efficiency cores that are 50% more power efficient. And when it comes to gaming, the 4-core GPU is 50% faster than the previous A11 chip which means you can expect better visual quality and higher frame rates.
Another helpful performance spec is RAM. The iPhone XS Max comes with 4GB RAM for better multitasking. This means you'll experience less app reloads (providing you don't manually close them), so you can quickly pick up exactly where you left off.
15-hour video playback rating means all-day battery life and then some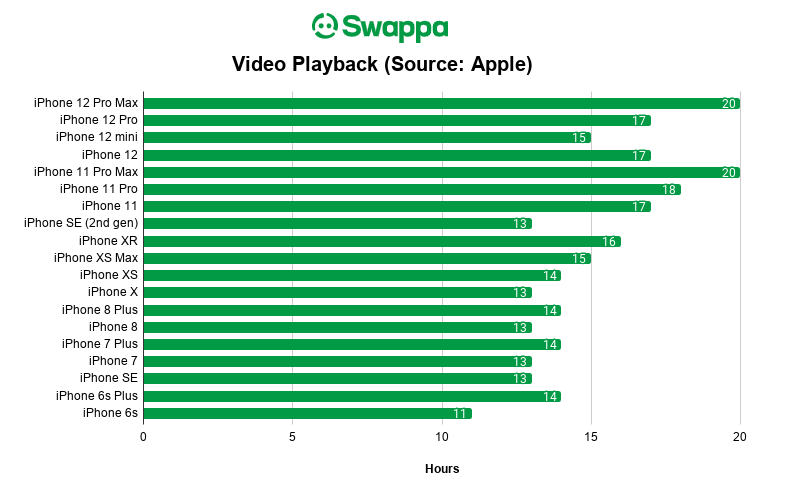 The iPhone XS Max's larger size means there's more room for a higher capacity battery for all-day battery life. Inside you'll find a 3,174mAh battery — much larger than the iPhone X's 2,716mAh.
According to Apple, the iPhone XS Max battery is rated for 15 hours of non-stop video playback — 2 hours longer than the previous generation iPhone X. While this may not sound like much, in the real world it adds up to a lot with mixed usage (playing videos, standby, checking messages, etc.).
TrueDepth camera now comes with Portrait mode and faster Face ID
It's not something most people think about, but there are few things more frustrating than a slow unlock method. This can be especially excruciating when holding your phone up to your face, where every millisecond can feel like an eternity.
This was one of the shortcomings that came with the iPhone X, but was greatly improved with the iPhone XS Max. The iPhone XS Max is faster than ever at recognizing your face using Face ID, something that mostly has to do with the new and improved processor.
This wasn't the only feature that was improved. The iPhone XS Max brings Portrait mode with depth control to their True Depth camera, allowing you to take professional looking selfies from the front facing camera.
IP68 water resistance means the iPhone XS Max can survive in deeper waters
Water resistance has been around since the iPhone 7, but the iPhone XS Max is the first time we saw some significant improvements to this feature with a new IP68 rating. This means the iPhone XS Max can survive fully submerged in up to 6 and a half feet of water for around 30 minutes.
With 2 times the depth of the previous iPhone X, the iPhone XS Max should have no issue surviving a dip into the pool or bathtub. Keep in mind this is more of a safety feature, and doesn't mean you should intentionally take your phone underwater.
iPhone XS Max's 512GB storage option offers plenty of room for 4K video, games, and more
There are few things worse than receiving the dreaded "not enough storage" popup on your iPhone. Where the previous iPhone X maxed out at 256GB, the iPhone XS Max doubles that with a much more roomy 512GB. This could be a godsend for anyone frequently snapping Live Photos, recording 4K 60fps video, or downloading the latest video games.
Classy gold color option is back on the iPhone XS Max
The original iPhone X only came in 2 color options: silver/white, and space gray. The iPhone XS Max marks the triumphant return of the gold color option, oddly missing from the iPhone X launch.
Just a quick heads up, the gold model's backplate is actually more of a peach color, much different from the vanilla cream hue found on newer models like the iPhone 12.
Affordable pricing makes iPhone XS Max one of the best values on Swappa
The iPhone XS Max originally debuted at $1,099, but you can find gently used models starting at $379 on Swappa — a mere fraction of the original new retail price.
With a massive premium display, great camera, fast performance, and long battery life — it's easy to see why the iPhone XS Max is one of Swappa's best-selling iPhones.
Looking for longer battery life and a better camera? The iPhone 11 offers 17 hours of video playback and vastly improved camera thanks to Deep Fusion and Night Mode.
To learn more about the iPhone XS Max — including comparisons with other iPhones, hardware specs, and pricing trends — check out Swappa's official iPhone Buyer's Guide and our iPhone XS Max overview for all the details. If you're wondering which iPhone XS Max is compatible with your wireless network, our Unlocked iPhone Carrier Compatibility Guide will also help.
No matter which iPhone you choose, Swappa makes buying even easier with Buy Now, Pay Later. Get the tech you want today, and pay for it in 4 easy installments spread over time.
---
Snag the best deals on used iPhones wherever you go. Download the Swappa App today!

---