---
Released back in 2018, the iPhone XR is still one of the best iPhones you can buy, but you don't have to take our word for it. Month after the month the iPhone XR is one of Swappa's best sellers, and growing increasingly popular as used prices continue to drop.
The iPhone XR originally launched alongside the iPhone XS and XS Max, but was billed as Apple's more affordable option. With the iPhone XR featuring Apple's new design language (gesture navigation and trademark notch) at a more appealing price point, it's no wonder the phone was a hit.
Even today, the iPhone XR's larger size appeals to those who find more premium models — like the iPhone 11 — a bit out of their price range, but still want something that's relatively modern and has a large screen. Seeing as how the phone is over 2 years old, you might be wondering if the iPhone XR is still worth it — the simple answer is a resounding yes.
In this post we'll take a look at everything the iPhone XR has to offer, including hardware, features, and most importantly: the price.
iPhone XR specs
The iPhone XR has a lot in common with the iPhone XS, sharing a similar design but featuring less premium (and thus less expensive) hardware. As a result, the iPhone XR isn't quite as high-end as its XS counterpart. That's not to say the iPhone XR isn't a fully-capable phone. But in order to cut costs, sacrifices had to be made. Apple played it smart, however, with most differences being small enough that the average user wouldn't even notice.
The biggest "sacrifices" made with the iPhone XR are the display — which uses older LCD technology at a lower resolution — and the absence of a secondary telephoto lens. Other than that, most everything else on the phone falls right in line with the iPhone XS, and in some cases even tops it. For instance, battery life is one area where the iPhone XR excels over the iPhone XS. In fact, one could make a solid case that Apple didn't compromise enough on the iPhone XR, a big reason why the phone was such a huge success.
If you're curious about the rest of the iPhone XR technical specs and how the XR compares to the iPhone XS or the previous-generation iPhone X, check out the spec sheet below:
| | iPhone X (2017) | iPhone XR (2018) | iPhone XS (2018) |
| --- | --- | --- | --- |
| Display | 5.8-inch 2436 x 1125 (True Tone) HDR | 6.1-inch 1792 x 828 LCD (True Tone) | 5.8-inch 2436 x 1125 (True Tone) HDR |
| Camera | 12MP + 12MP telephoto (rear) / 7MP (front) | 12MP (rear) / 7MP (front) | 12MP + 12MP telephoto (rear) / 7MP (front) |
| Chipset | A11 Bionic | A12 Bionic | A12 Bionic |
| RAM | 3GB | 3GB | 4GB |
| Storage | 64GB / 256GB | 64GB / 128GB / 256GB | 64GB / 256GB / 512GB |
| Battery | 2,716 mAh | 2,942 mAh | 2,658 mAh |
| Wireless charging | Yes | Yes | Yes |
| Water resistant | IP67 | IP67 | IP68 |
How big is the iPhone XR?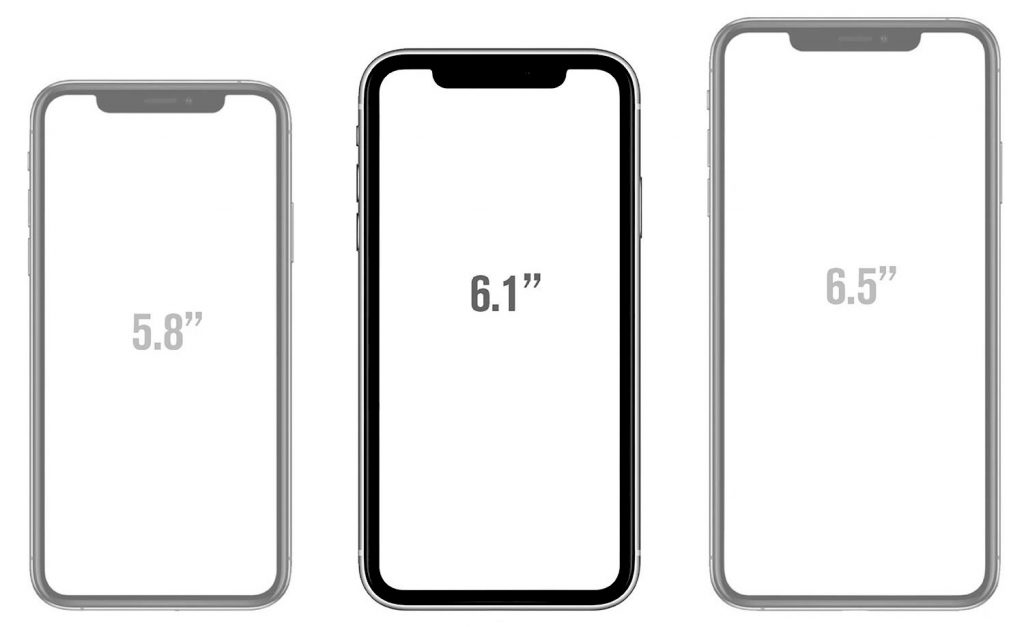 iPhone XS vs iPhone XR, vs iPhone XS Max
iPhone XR screen size measures in at 6.1-inches from corner to corner. When compared against the iPhone XS (5.8″) and XS Max (6.5″) OLED displays, you may notice the XR's slightly thicker black bezels surrounding the screen. As we mentioned previously, the iPhone XR's screen technology (LCD) and resolution aren't as high-end as Apple's OLED-laden flagships. The iPhone XR features a lower resolution 1792 x 828 "Liquid Retina HD" LCD panel, while OLED models have 2436 x 1125 "Super Retina HD" panels.
As for the overall size, the iPhone XR itself fits right in between the iPhone XS and XS Max. The iPhone XR size measures in at 150.9mm (tall) x 75.7mm (wide) x 8.3mm (thick) — taller than the iPhone XS, but smaller than the iPhone XS Max. It's also slightly thicker than both of these phones. And at 194 grams, the iPhone XR is heavier than the iPhone XS (177g) but lighter than the XS Max (208g).
iPhone XR camera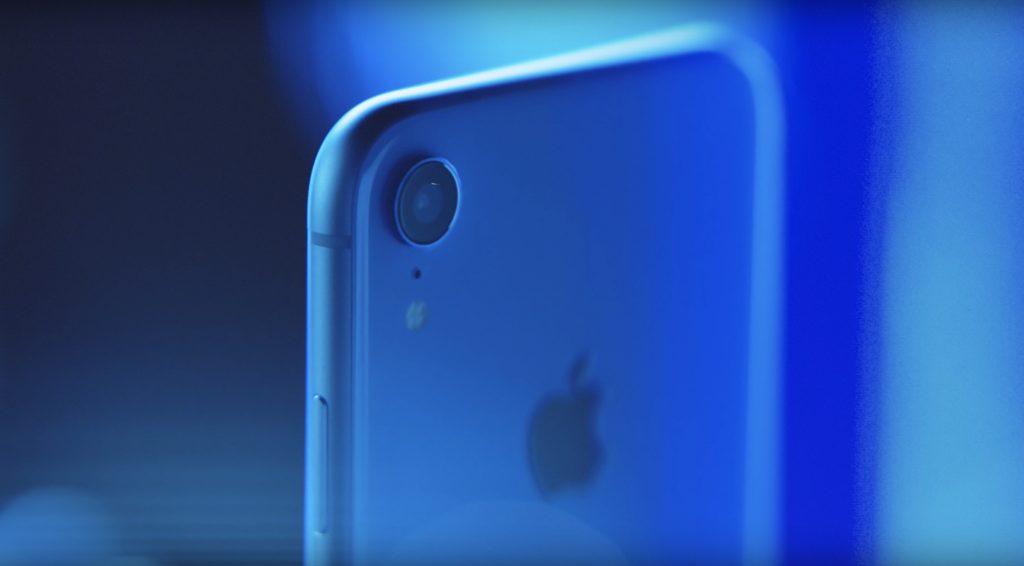 One of the most important features for anyone to looking to upgrade their old phone is the camera. With the iPhone XR now being 2+ years old, you might be asking yourself, "Is the iPhone XR camera any good?" On paper, the iPhone XR camera specs might not look like anything special, but that doesn't tell you the whole story.
Flip the iPhone XR around, and you'll notice the absence of an extra telephoto zoom lens, something you'll find on the higher-end iPhone XS. Despite this shortcoming, the iPhone XR's 12MP camera still has the chops to keep up with the best of them. In the right lighting conditions — mostly brightly lit outdoor shots — the iPhone XR camera is still a top performer.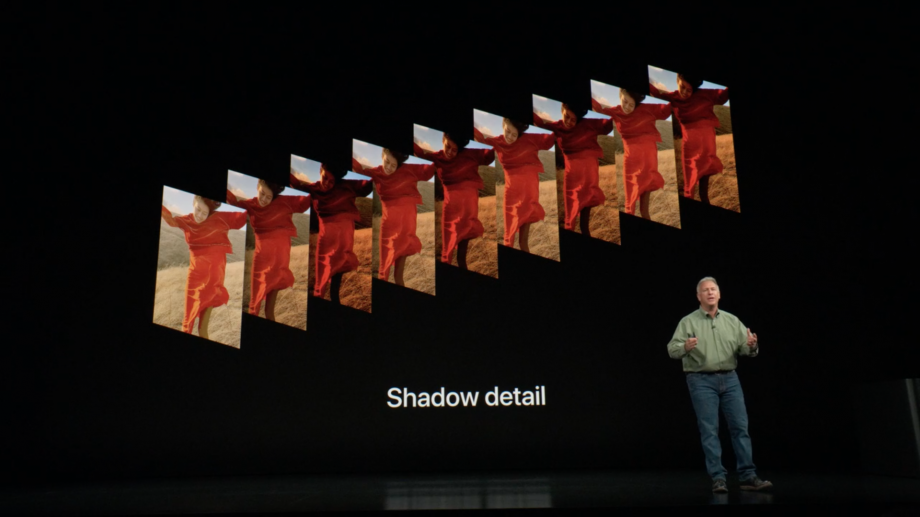 This largely has to do with Apple's Smart HDR image processing that was introduced with the launch of the iPhone XR, XS, and XS Max. Smart HDR is an evolution of standard HDR found on older iPhone models. It takes several photos at various exposures and combines them for a much sharper image with a dramatically enhanced dynamic range. Whereas HDR was slow and took time to capture/combine various exposures, Smart HDR happens in the background for a zero shutter lag experience.
Smart HDR also extends to Portrait mode photos which, despite having a single lens, is still available on the iPhone XR. Even panoramas and video take advantage of Smart HDR, making the iPhone XR camera leaps and bounds better than previous generation iPhones.
Simply put, the iPhone XR is one of the better smartphone cameras you can get for the money. The only area where things fall flat is in nighttime or lower lighting conditions. If that's a concern for you, the iPhone 11 line will be the way to go.
iPhone XR colors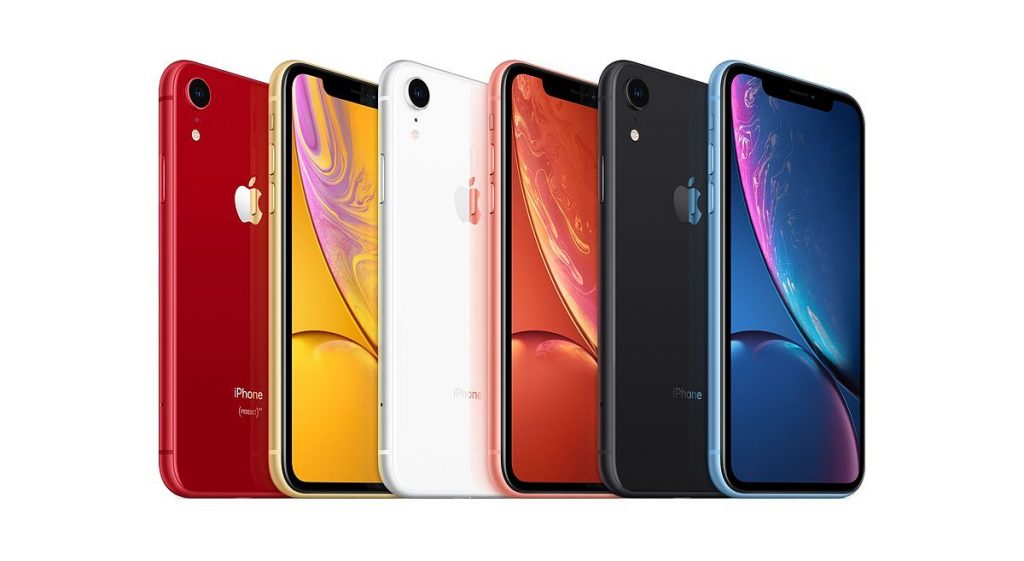 The iPhone XR features a brighter and more diverse color palette than Apple's higher-end XS and XS Max. Whereas the XS has a more muted color pallet and chrome frame, the iPhone XR offers a variety of fun colors that look like they were pulled straight from an 8-pack of Crayolas.
iPhone XR colors include blue, black, coral, red, white, and yellow, and features a matte aluminum frame that resembles previous generation models. It really helps set the iPhone XR apart from its XS/XS Max siblings, and gives the phone a style of its own.
Is the iPhone XR waterproof?
First off, there's no such thing as a truly waterproof phone, but Apple did introduce water resistance on iPhones dating back to the iPhone 7. The iPhone XR has an IP67 rating for water and dust resistance, meaning the iPhone XR can survive being fully submerged in 1 meter of water for up to 30 minutes.
This isn't quite as good as the iPhone XS's IP68 rating (2m/30 min), but is more than enough to survive a splash or drop in the toilet. Despite being water-resistant, under no circumstances should the iPhone XR be taken into the pool or intentionally submerged, as water damage can still occur.
iPhone XR battery life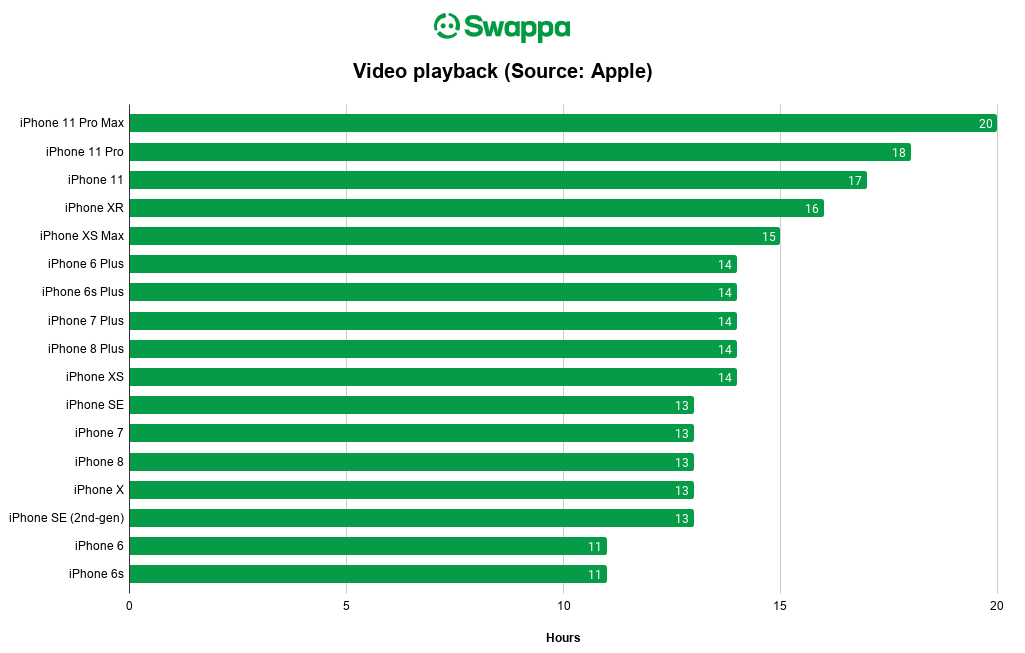 Battery life is something that's incredibly difficult to measure given the many factors that can influence it (apps, streaming video, games, etc.). While it's easy to list off the iPhone XR's battery specs (2,942mAh battery), that doesn't actually tell us how long the battery will last.
The good news is Apple does provide somewhat of a standardized measurement, with the "video playback score" giving us a better idea of how the iPhone XR compares to other iPhones. The iPhone XR delivers exceptional battery life and is easily one of the phone's better features. Whether this has to do with the processor, the beefy battery, or the display tech it's tough to say. But at 16 hours of video playback, the iPhone XR should make it through an entire day and then some.
Keep in mind this largely depends on how you use your phone. For instance, watching a downloaded movie is less taxing on the battery than streaming videos on YouTube or playing video games. In other words, your mileage may (and likely will) vary.
Is the iPhone XR worth it?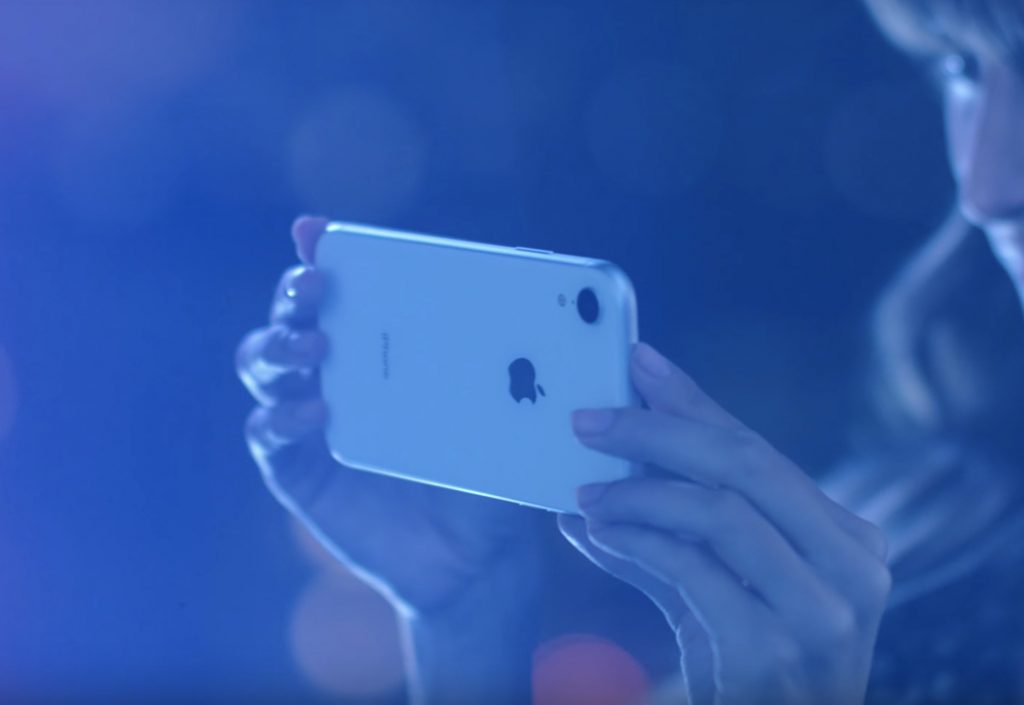 Now that most of your biggest questions surrounding the iPhone XR have been answered, it really comes down to the final deciding factor: price. On Swappa, prices for the iPhone XR start at only $290, that's a whopping $209 cheaper than if you bought the phone at Apple. Even when comparing to the $399 iPhone SE (2020), an iPhone XR on Swappa is still $109 cheaper, plus you get significantly better hardware. And with used iPhone Xr prices lower than they've ever been, it's always the perfect time to buy!
No matter how you slice it, the iPhone XR is worth buying in 2021. The iPhone XR is an incredible value and easily the best cheap iPhone you can buy in the larger size category. To find the lowest, most up-to-date prices on a used iPhone XR, hit the button below to get started.
---
Snag the best deals on used iPhones wherever you go. Download the Swappa App today!

---