---
The iPhone 8 and iPhone 8 Plus are some of the top-selling phones on Swappa and for good reason. The 2017 iPhones offer a great mix of features and affordable pricing, something that makes the iPhone 8 and 8 Plus an incredible value for anyone on a budget.
While the iPhone 8 and 8 Plus look similar (aside from the obvious difference in size), there are a few important differences you should be aware of. If you're stuck trying to figure out which model is best for you, this post should help clear things up. So sit back as we compare the iPhone 8 vs iPhone 8 Plus highlighting all the differences in features, hardware, and most importantly, the price.
iPhone 8 vs iPhone 8 plus comparison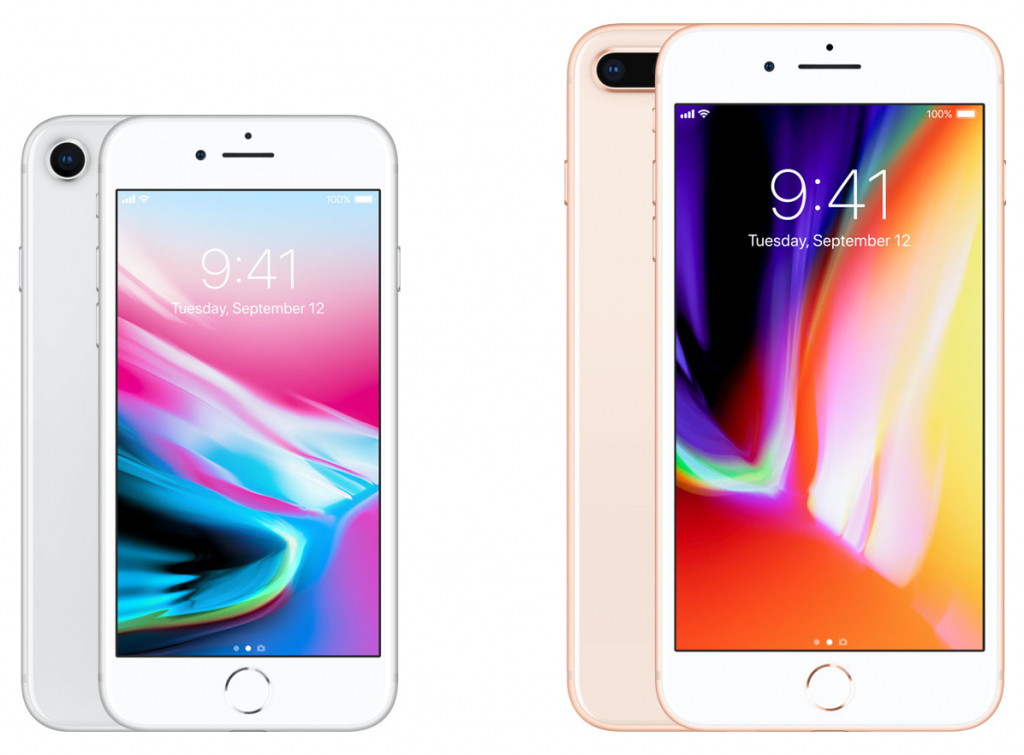 The iPhone 8 and iPhone 8 Plus both launched in September 2017 alongside the dramatically redesigned iPhone X. Although the iPhone 8 and 8 Plus weren't a huge departure from iPhone designs before it, they did have a handful of upgrades to help set them apart from previous flagships. In case you need a refresher, here are just a few of the more notable features you'll find on the iPhone 8 and 8 Plus.
Top iPhone 8 features
A11 Bionic chip
12MP camera
2X optical zoom (iPhone 8 Plus)
Portrait mode (iPhone 8 Plus)
Wireless charging
Fast charging (18W adapter not included)
IP67 water resistant in 1m of water for 30 min
Touch ID fingerprint sensor
Stereo speakers
3D Touch
64GB, 256GB storage options
iOS 14
When comparing the iPhone 8 with the 8 Plus, it's important to know how much more phone you're getting with the larger model. Because of its bigger overall size, the iPhone 8 Plus also has a much larger 2,675mAh battery that dwarfs the 1,821mAh battery found on the iPhone 8. You're looking at a 47% increase in battery capacity, which directly translates to longer battery life. Even though Apple's video playback score only shows a 1-hour difference, you can expect to see much more dramatic results with normal, day-to-day mixed usage — especially in standby mode when the A11 Bionic is sipping on the battery.
And while Apple doesn't mention this anywhere on their website, the iPhone 8 Plus actually features 3GB of RAM — vs 2GB on the smaller iPhone 8 — something that's vital for multitasking on the device. More RAM allows more apps to stay open in the background, which results in fewer reloads when returning to your most-used apps so you can pick up exactly where you left off.
It's worth noting that neither the iPhone 8 nor the 8 Plus have Face ID, a feature that was introduced on the iPhone X of the same year. Instead, you'll find the same familiar fingerprint reader — Touch ID — as previous iPhones. Of course, that comes at the cost of screen real estate, with both the iPhone 8 and 8 Plus featuring large black bezels along the top and bottom of their displays.
Other notable iPhone 8 and 8 Plus features include Fast Charge compatibility when using an 18W adapter (not included) that can reach a 50% charge in 30 minutes. And thanks to the new all-glass back, the iPhone 8 and 8 Plus support Qi Wireless Charging, although you'll want to stick with a Lightning cable for quicker charge times.
iPhone 8 vs iPhone 8 Plus size
Image credit: Dimensions
The biggest difference between the iPhone 8 and Plus is obviously the size of the two devices. Measuring 138.4mm tall, the iPhone 8 is compact enough for one-handed use, while the iPhone 8 Plus reaches 158.2mm tall, typically requiring two hands to operate the device. Now there are a lot of people out there that have no problem using a 2-handed phone, and many who even prefer it — but compact phone lovers will want to stick to the smaller iPhone 8. For more on the exact dimensions of each device, check out the table below.
| | iPhone 8 | iPhone 8 Plus |
| --- | --- | --- |
| Screen size | 4.7 in | 5.5 in |
| Dimensions | 138.4 x 67.3 x 7.3 mm | 158.4 x 78.1 x 7.5 mm |
| Weight | 148 g | 202 g |
iPhone 8 vs iPhone 8 Plus camera
The iPhone 8 and 8 Plus feature the same 12MP wide-angle camera on the back with optical image stabilization (OIS), and 7MP front-facing camera. But where the differences lie is with the iPhone 8 Plus' extra 12MP telephoto lens, allowing the phone to shoot with 2x optical zoom — a huge improvement over traditional digital zoom.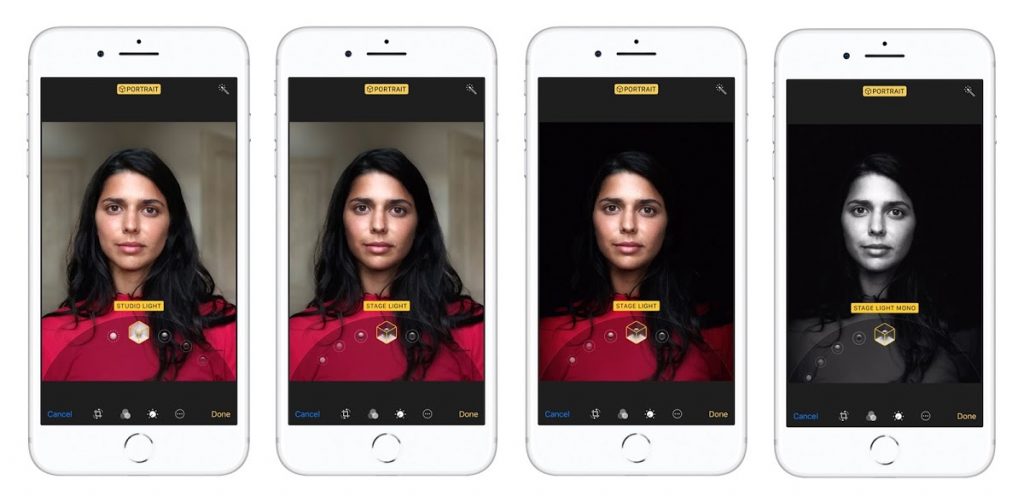 iPhone 8 Plus camera features Portrait mode and Portrait lighting (pictured)
With an f/2.8 aperture, the telephoto lens isn't really suited for anything but the brightest environments. However, the extra telephoto lens allows the 8 Plus to take advantage of Portrait mode, a must-have camera feature that spawned countless copycats. Portrait mode produces stunning portrait photos by digitally simulating a shallow depth of field (like those big professional cameras). Apple also added Portrait lighting, a new option that creates more dramatic portrait photos using Apple's software tricks.
The iPhone 8 and 8 Plus were the last phones to launch without Apple's Smart HDR. The 8 and 8 Plus offer improved image quality compared to the previous-generation iPhone 7, but they pale in comparison to newer iPhones in high-contrast scenes and medium to low light settings. Although somewhat lacking in the camera department, the iPhone 8 Plus does feature Portrait mode, so there's that.
Should you buy the iPhone 8 or iPhone 8 Plus?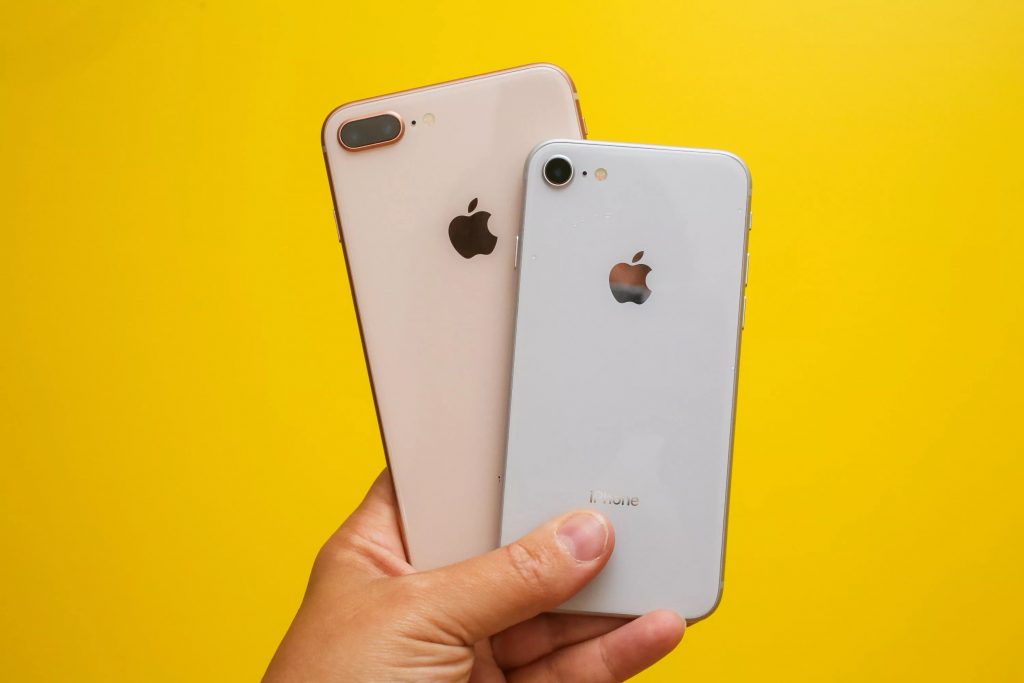 Image credit: CNET
Ultimately, the biggest deciding factor between these two devices comes down to the price. At the time of writing, the iPhone 8 price starts at $165 on Swappa, while the iPhone 8 Plus starts at $249. Of course, these prices will vary depending on the condition, carrier model, and storage size — so make sure you pay a visit to our marketplace to find the most up-to-date and lowest prices. Happy shopping.
Whether you're looking to upgrade your outdated phone to something more this century — or if you're in need of a cheap replacement to tide you over until newer prices drop — the iPhone 8 and 8 Plus are definitely still worth buying in 2021. The hard part is figuring out if the trade-offs are worth the savings, but with prices dropping all the time, you may be surprised at how much you can get for so little on Swappa.
---
Snag the best deals on used iPhones wherever you go. Download the Swappa App today!

---