---
You may not want to admit it, but there is a good chance you rely on your smartphone. Of course, you may also just take having a phone for granted — until the unthinkable happens and you find yourself staring at a cracked screen. Repairing a cracked iPhone screen shouldn't be expensive, and it shouldn't be a stressful experience so keep reading to learn more about iPhone 8 Plus screen repair services.
Have a broken phone? Make sure to also read our Broken Phone Repair Guide.
---
iPhone 8 Plus screen replacement cost
Most smartphones have the same basic design, which is to say, a thin rectangle-shaped slab of glass and metal. The metal may be somewhat durable, but glass can, and does break when dropped. If you need screen replacement for your iPhone, you are probably wondering about repair pricing.
In 2021, any iPhone 8 Plus repair is going to be handled out-of-warranty so the repair price will vary depending on where you get the work done. Plenty of iPhone users immediately look towards an Apple Store, but unless you have AppleCare or AppleCare+ — the screen repair cost will be pricey.
| | | |
| --- | --- | --- |
| | Apple Store screen repair (out of warranty) | Swappa Repair Network screen repair (average price) |
| iPhone 8 | $149 | $89 |
| iPhone 8 Plus | $169 | $95 |
The current out-of-warranty iPhone 8 Plus screen replacement price from Apple is $169. With the current value of an iPhone 8 Plus hovering around the $300 mark, you may not want to spend $169 for a screen replacement. After all, that is a little more than half the total value of the phone.
But there is some good news if you forget about the Apple Store and look towards a local repair shop. Based on estimates from the repair shops in the Swappa Repair Network, you will be able to get your iPhone 8 Plus screen replaced for under $100, which is a big savings as compared to the Apple Store.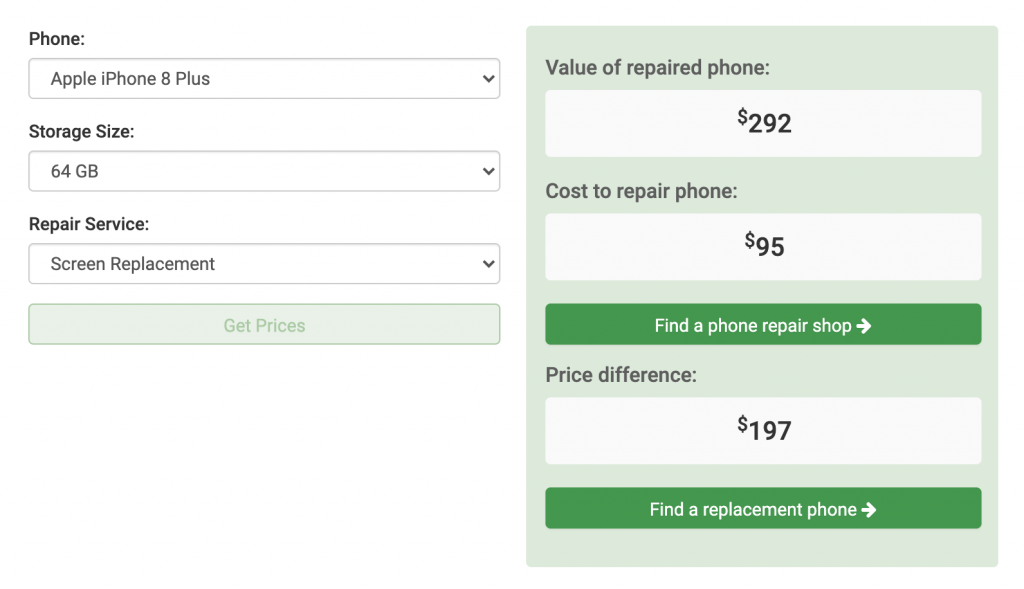 Is iPhone 8 Plus screen repair worth it?
Replacing the screen on your iPhone 8 Plus is absolutely worth it. The (estimated) $95 screen replacement cost is roughly one-third the total value of the phone, so in this case, it would be a good idea to replace the screen and extend the life of your phone.
Tapping the green button below will let you check the current value of your repaired phone, and get an estimate of the cost to repair the phone. The same green button will also let you find a local repair shop, or browse for a replacement phone if you want to see what other models are in your budget.
Looking at a $169 repair cost from Apple and looking at an (estimated) repair cost of $95 from a local repair shop — it is easy to see which will be better for your bank account. But there are several other perks that come with using a local repair shop.
For example, Apple has about 270 retail locations spread across the country, and the Swappa Repair Network has over 2,400 listed shops. All of the repair shops found in the Swappa Repair Network also offer a 30-day (or more) guarantee on any repair they complete.
With 2,400+ repair shops listed, you should be able to find a location close to your home or office. And just in case spending less and finding a closer location weren't enough — using a local repair shop often means you will be able to get same-day iPhone repair.
Thinking about using the cracked screen as an excuse to upgrade? Make sure to read our iPhone 8 Plus Buyer's Guide and iPhone 8 Plus Upgrade Guide to see how the iPhone 8 Plus stacks up against other iPhones.