---
Lots of smartphones feature large, vibrant screens. These displays make it easy to get the information you need or to kick back and do a bit of light reading or waste some time watching videos. But these displays also mean lots of glass and a greater potential for damage — even with just a simple drop. But don't worry, because repairing your cracked iPhone screen doesn't have to be stressful, time-consuming, or expensive. Keep reading to learn more about iPhone 7 Plus screen repair.
Have a broken phone? Make sure to also read our Broken iPhone Repair Guide
---
iPhone 7 Plus screen replacement cost
The cost to replace a cracked screen will vary depending on which phone you have. Or more specifically, on the type of display that is in the phone you have. But in lots of cases, it is relatively inexpensive to get professional screen repair for an iPhone.
You basically have a few options — try to do the repair yourself, get it repaired by Apple, or get it repaired at a local repair shop. Doing the repair yourself may, at first, seem like the most cost-effective (read: cheapest) method, but the professionals have the experience and the tools to do the job correctly the first time.
We recommend looking toward the professionals, so that narrows your options down to two — the Apple Store or an independent repair shop. Apple is a great option if you have a newer iPhone and still have AppleCare or AppleCare+, but an out-of-warranty screen replacement can be expensive.
| | | |
| --- | --- | --- |
| | Apple Store screen repair (out of warranty) | Swappa Repair Network screen repair (average price) |
| iPhone 7 | $149 | $82 |
| iPhone 7 Plus | $169 | $88 |
Apple currently charges $169 for an out-of-warranty iPhone 7 Plus screen replacement, which is closing in on the total value of an iPhone 7 Plus. At that price, you may find yourself tempted to look for a newish iPhone 7 Plus or to use the broken screen as an excuse to upgrade to a newer model. But you can find iPhone repair pricing at much lower prices.
The Swappa Phone Repair Calculator shows average prices for common iPhone repair costs. And, in the case of the iPhone 7 Plus, the current average screen replacement cost is $88.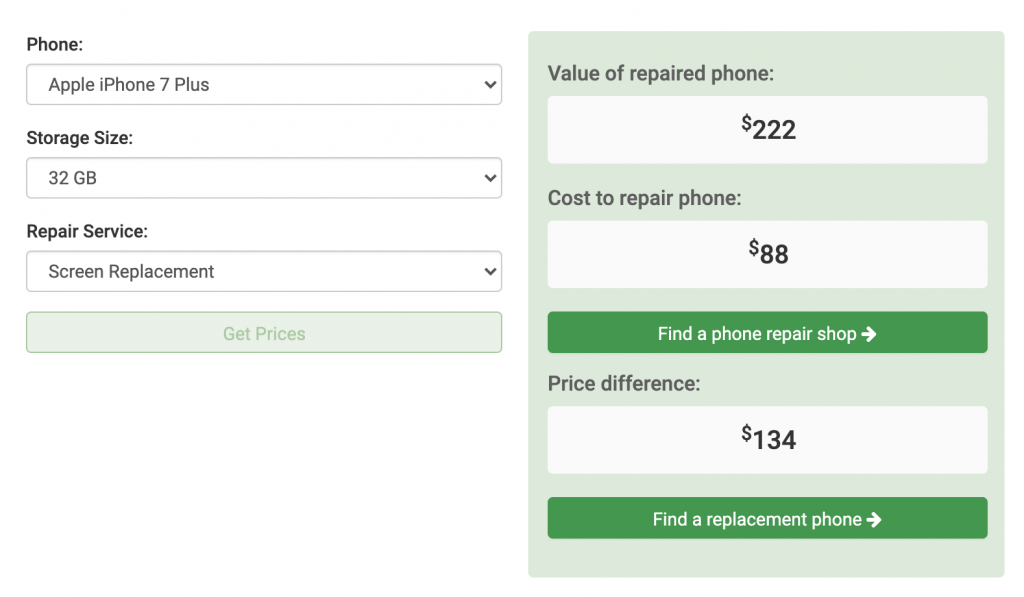 Is iPhone 7 Plus screen repair worth it?
Quite often, deciding if iPhone 7 Plus screen repair is worth it depends on the price. At $169, it may be better to replace the phone, but at (an estimated) $88, it makes more sense to replace the screen and extend the life of your smartphone. You can check current screen repair costs by tapping the green button below.
Apple currently has about 270 retail stores across the United States, whereas the Swappa Repair Network has over 2400 shops. This alone will make it more convenient to get the repair completed using a local shop. But there are other key benefits to use the Swappa Repair Network.
One of the benefits of using a local repair shop is that, quite often, you will be able to get same-day phone repair. With so much of our daily lives tied to our phones, being able to get a quick repair is a big perk. And, all of the repair shops listed in the Swappa Repair Network offer a 30-day warranty on the repair. Of course, the bottom line often comes down to money — getting your iPhone 7 Plus screen replaced for (an estimated) $88 is much better than paying $169.
Thinking about using the cracked screen as an excuse to upgrade? Make sure to read our iPhone 7 Plus Buyer's Guide and iPhone 7 Plus Upgrade Guide to see how the iPhone 7 Plus stacks up against other iPhones.