---
Let's face it, accidents happen. No matter how careful we try to be, our phones occasionally decide they'd like to better acquaint themselves with the pavement. But don't feel bad; cracked screens are extremely common. In fact, nearly 50 million Americans crack their phone screens every year.
Fortunately, a cracked screen isn't the end for your iPhone. And for newer smartphones like the iPhone 12, it generally makes sense to get your broken iPhone fixed. This post will walk you through cracked iPhone screen replacement, how to find repair services, and how you can get the best repair pricing in your area.
Read more: How much does it cost to repair my broken iPhone?
How much does it cost to replace an iPhone 12 screen?
The first thing to consider is whether your cracked iPhone is covered under Apple's extended warranty. If you paid extra for AppleCare+ or AppleCare+ with Theft and Loss when you purchased your iPhone, Apple will likely pay for the majority of your screen replacement costs.
AppleCare+ for iPhones
AppleCare+ for iPhones covers up to two incidents of accidental damage every 12 months. In other words, if this is your first or second time with a cracked screen in the past year, and you paid extra for AppleCare+ when you bought your iPhone, you are covered. Simply take your iPhone to the Apple Store, pay the $29 deductible/service fee, and wait about a week or two for the repair.
NOTE: Apple's standard iPhone warranty does not cover accidental damage or incidental damage. In other words, if you didn't pay extra for AppleCare+ when you purchased your iPhone, or you simply can't live without your phone for a week or two, you'll need to obtain an out-of-warranty screen repair.
iPhone 12 Screen Replacement Cost (Out-of-Warranty)
Cracked screen repair costs vary from store to store and from region to region. Usually, independent repair shops can perform similar repairs cheaper and faster than the Apple Store. However, to give you a better idea of what to expect, here's what Apple charges for out-of-warranty iPhone 12 screen repair:
NOTE: Out-of-warranty screen repair at an independent repair shop is almost always cheaper than getting a similar repair at the Apple Store.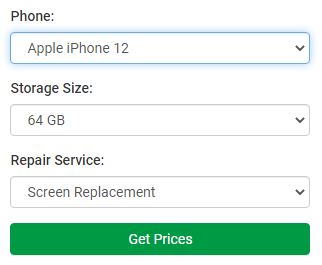 Is iPhone 12 screen repair worth it?
Fixing your cracked iPhone only makes sense if repair is cheaper than getting a replacement. Since the iPhone 12 lineup is so new and still commands a high value on the used market, you're almost always better off fixing your existing iPhone 12 rather than replacing it. That said, you can find out the best iPhone 12 upgrade options on our iPhone Buyer's Guide.
If you're still on the fence about whether to repair or replace your iPhone, get a free phone repair cost estimate using the Swappa Repair Calculator. The Swappa Repair Calculator tells you what cracked iPhone screen repair costs in your area and how that compares to your phone's value once repaired.
---
Don't pay full price for iPhone screen repair. Get the best deals on iPhone screen replacement on the Swappa Repair Network. The Swappa Repair Network connects you with over 2400 repair shops spread all across the country, so you're never far from a qualified repair technician.
All repair shops listed in the Swappa Repair Network offer at least a 30-day warranty on their work, so you can be confident that the repairs will be done right the first time. Click the button below to find a local iPhone repair shop near you.
Ditch the repair bill — get a protection plan for $5.99 per month

Cell phones break, but you shouldn't be stuck with a costly repair bill. Swappa teamed up with Warranty Life to get you full repair coverage for just $5.99 per month. Whether it's a cracked screen, broken power button, or water damage; a used phone protection plan will save you money by making expensive out-of-pocket cell phone repair a thing of the past. Click below to learn more.