---
Swappa's marketplace has traditionally catered to individuals purchasing a single smartphone or tablet at a time. To better meet the needs of businesses looking to buy and sell in bulk, we are launching Swappa B2B Exchange.
Swappa's B2B Exchange is a new and separate marketplace, designed from the ground up for business-to-business sales. B2B Exchange brings the simplicity, transparency, and safety you've come to expect from Swappa, allowing businesses to effortlessly find and purchase devices from one another in bulk. Keep reading to learn more about how Swappa B2B Exchange can streamline inventory acquisition and sales, and ultimately benefit your bottom line.
What is Swappa's B2B Exchange?
The Swappa B2B Exchange is a better way to buy and sell used tech in bulk. Although Swappa's B2B Exchange works independently from Swappa's end-user marketplace, it brings the safety and convenience you've come to expect from Swappa into the B2B domain. B2B Exchange streamlines the process of buying and selling devices in bulk, so your business can better allocate its resources and ultimately generate more revenue.
How is Swappa's B2B Exchange different?
Although other B2B options currently exist, these services are often plagued with stale stock listings, bad products, poor organization, and inefficient purchasing procedures. In contrast, Swappa B2B exchange delivers well-organized, live inventory results; and Swappa hand-selects businesses before they can join the B2B Exchange.
Swappa's B2B Exchange is better:
Swappa verifies every business prior to joining B2B Exchange
The safety of Swappa, but in a business exchange environment
Simple and straightforward dashboard aggregates stock lists, offers, transactions, and messages in one place
B2B Exchange brings order to the chaos of bulk device sales
Integration with WholeCell Inventory Management System allows for ongoing updates to your Swappa B2B Exchange and your WholeCell inventory. It's extremely easy to set up and maintain to help you drive sales and bypass the need for manually creating stock lists.
How to use B2B Exchange
Swappa's B2B Exchange makes bulk device transactions simple and easy. Its highly focused user interface places all the relevant information at the forefront, helping you stay organized and giving you the flexibility to buy and sell on your own terms. We believe you'll be up and running in no time. Here's a quick primer of what to expect: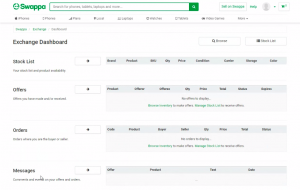 Exchange Dashboard
The Exchange Dashboard serves as your centralized hub for Swappa B2B Exchange. Here, you'll find a high-level overview of all your B2B activities, allowing you to quickly view your stock list, incoming and outgoing offers, existing orders, and messages pertaining to your offers and orders at a glance.
Make and Accept Offers
Navigating to the Offers page gives you an in-depth look at your incoming and outgoing offers. This allows you to easily compare offers, view any status updates, and easily determine which options make the most sense for your business.
Streamlined Inventory Browsing
Viewing and selecting available inventory is just as simple. Search for devices by name or view them in a grid format, complete with pricing, volume, and activity data. This helps you make an informed decision of what items to buy, and when.
Sign up for B2B Exchange today
Swappa is the safest and easiest way to buy and sell used tech online. Our expert moderation team and extensive marketplace protections facilitate a smooth experience for both buyers and sellers. Swappa B2B Exchange expands on this mission by bringing these same benefits to businesses.
Built from the ground up to facilitate business-to-business transactions, Swappa B2B Exchange takes away the chaos and confusion from bulk device transactions, allowing you to buy and sell with ease and devote more time to building your business. B2B Exchange works in conjunction with our recently-announced Incoming Inventory tool and WholeCell integration to provide an end-to-end platform for used tech acquisition and resale.
Swappa B2B Exchange costs just $30 per month, and we are confident that it will quickly pay for itself many times over by optimizing how your business buys and sells devices in bulk. Click the button below to see how Swappa B2B Exchange can benefit your business today!