---
You have enough on your plate, and when it comes to selling your devices on Swappa we know your time is limited. That's why we created Swappa's Incoming Inventory. It's a powerful tool that helps you list multiple devices faster than ever.
If you ever thought "it's too much work to list on Swappa," Incoming Inventory changes all that. In this post we'll show you how to use Swappa Incoming Inventory, so you can quickly get your inventory in front of Swappa's community of qualified buyers and start smarter — not harder.
Want access to Incoming Inventory? Send a request to [email protected]
You can learn more about Swappa Incoming Inventory in our blog post: Swappa Incoming Inventory: Listing creation made easier. For now, let's take a step-by-step look at using Incoming Inventory.
How to add a single item

From the Swappa homepage, you can quickly access your Incoming Inventory and add a single item by following these steps:
Select your profile and then from the dropdown menu, select My Business.
From your Business Dashboard, select Incoming under the Inventory category.
From the Incoming Inventory homepage, click the 'Add Item' button to manually add a single item.
Enter the device's serial number and product details along with a condition, price, headline and description.
After saving your changes, use the 'Add Photos' button to upload photos to the inventory item.
You'll be able to upload new photos or add existing images from your image bank.
You can use your profile code rather than the traditional Swappa listing code in your verification photos.
When you're happy with your photos, click the link at the top of the page to return to the Incoming Inventory homepage.
Now it's time to make your inventory items live…
Select the inventory items you're ready to publish and click the green 'Ready to List' button.
Enter your Ship from information and hit the 'Create Listings' button to publish your inventory items.
From there, your listing will enter Swappa's moderation process to be approved by one of our staff members.
How to import ESNs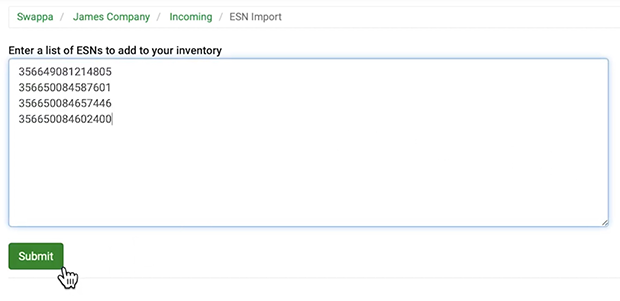 The Import ESN feature allows you to create multiple inventory items by simply copy/pasting a list of valid ESNs. Here's how it works:
Enter your list of device ESNs into the text field and click the 'Submit' button.
Swappa's system will try to auto-match the ESNs to existing products in our catalog.
You can select the product from the dropdown, type in the name of the product, or submit the ESN without a product attached.
Once you've completed the product selection process, you'll need to edit each listing where you can provide missing information like product variant, condition, price, and description. That's how easy it is to import ESNs into Incoming Inventory.
How to import a spreadsheet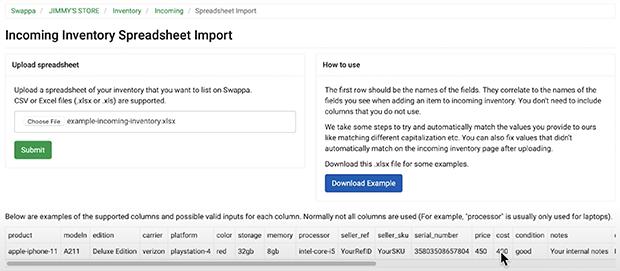 The import spreadsheet feature is a convenient way to create a large number of incoming inventory items in a next to no time. If you need help getting started, we even provide an example spreadsheet you can download from the Import Spreadsheet page. Feel free to edit the sample and use it as a template.
From the Incoming Inventory page select Import Spreadsheet
Click the Choose file button to find your spreadsheet
Select the Submit button to import your spreadsheet
Once your spreadsheet has been uploaded and submitted, you'll be taken back to the Incoming Inventory homepage where you can edit your newly imported inventory items and add pictures.
How to use multi-select edit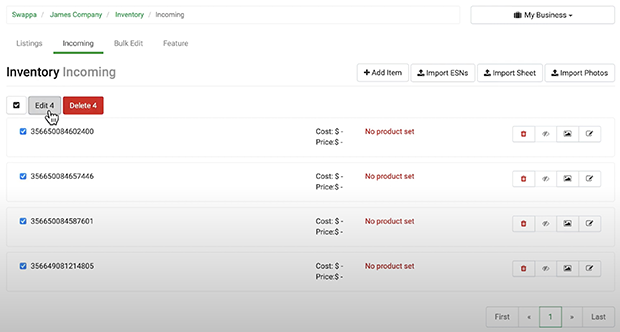 If you're listing batches of products through Incoming Inventory that have similar product variant details like color, condition, price, or description; you can change those details across multiple inventory items all at once using the multi-select edit feature.
Select each inventory item you'd like to change and click the 'Edit' button.
You're now editing multiple inventory items. Any changes you make on the edit screen will be applied to the items you have selected.
Additional notes:
Fields left blank on the edit screen will remain unchanged.
To clear a specific field, you will need to edit the item individually.
To delete inventory items, you can select one or more items and click the 'Delete' button.
---
And that's everything you need to know to get up and running with Swappa's Incoming Inventory. Feel free to reach out to us at [email protected] and a member of Swappa's helpful staff will be happy to answer any questions or assist you in enabling this powerful new tool.
WholeCell.io + Swappa integration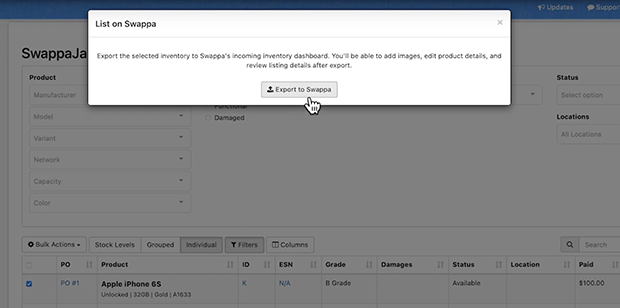 If you're looking for a serialized inventory management system we highly recommend our preferred partner WholeCell.io. With just a few clicks, you can import your inventory from WholeCell directly to Swappa's Incoming Inventory system, saving countless hours in the process. Check out our blog post to learn more about how Swappa + WholeCell integration saves you time and money, or sign up for a free WholeCell 15-day trial using the button below.