---
Smartphones have become something we rely on in our day-to-day activities, so cracking the screen on your smartphone can feel like a nightmare. Once you get past the initial shock of seeing the cracked screen — you will likely start to wonder how quickly you can get your phone repaired, and how much it will cost. Keep reading to learn more about how much iPhone SE screen repair costs and whether you're better off getting your screen fixed or picking up a cheap iPhone SE 2020 replacement phone instead.
Read more: iPhone Screen Replacement Cost — Is it worth it?
---
Can I fix my cracked iPhone screen myself?
You have a few options when it comes to getting your iPhone SE (2020) screen repaired. The first option, which we will quickly rule out, is to repair the phone yourself. This may sound like a great way to save some money, but it really is best to leave this for the professionals who have the tools and experience.
iPhone SE 2020 screen replacement cost
As soon as you realize a professional repair is the way to go — you can decide between getting the screen replaced by Apple or by a local repair shop. Getting the screen replaced by Apple makes sense if you have AppleCare or AppleCare+. If your iPhone SE (2020) is no longer covered by AppleCare you would be looking at paying $129 for out-of-warranty service.
The iPhone SE (2nd generation) was released in April 2020, and if you bought it new you would have paid $399, or more, depending on the amount of storage. Paying $129 to repair a $400 phone doesn't sound all that bad, but if you use a local repair shop you can knock that cost down to under $100.
Of course, saving a few bucks isn't the only benefit you get from using a local repair shop. There is also a good chance that you can get your phone repaired much quicker. The Swappa Repair Network lists over 2,400 repair shops across the country, whereas Apple has about 270 retail locations. Not only are you more likely to have an independent repair shop closer to where you live or work, but you are also more likely to get the repair work completed the same day.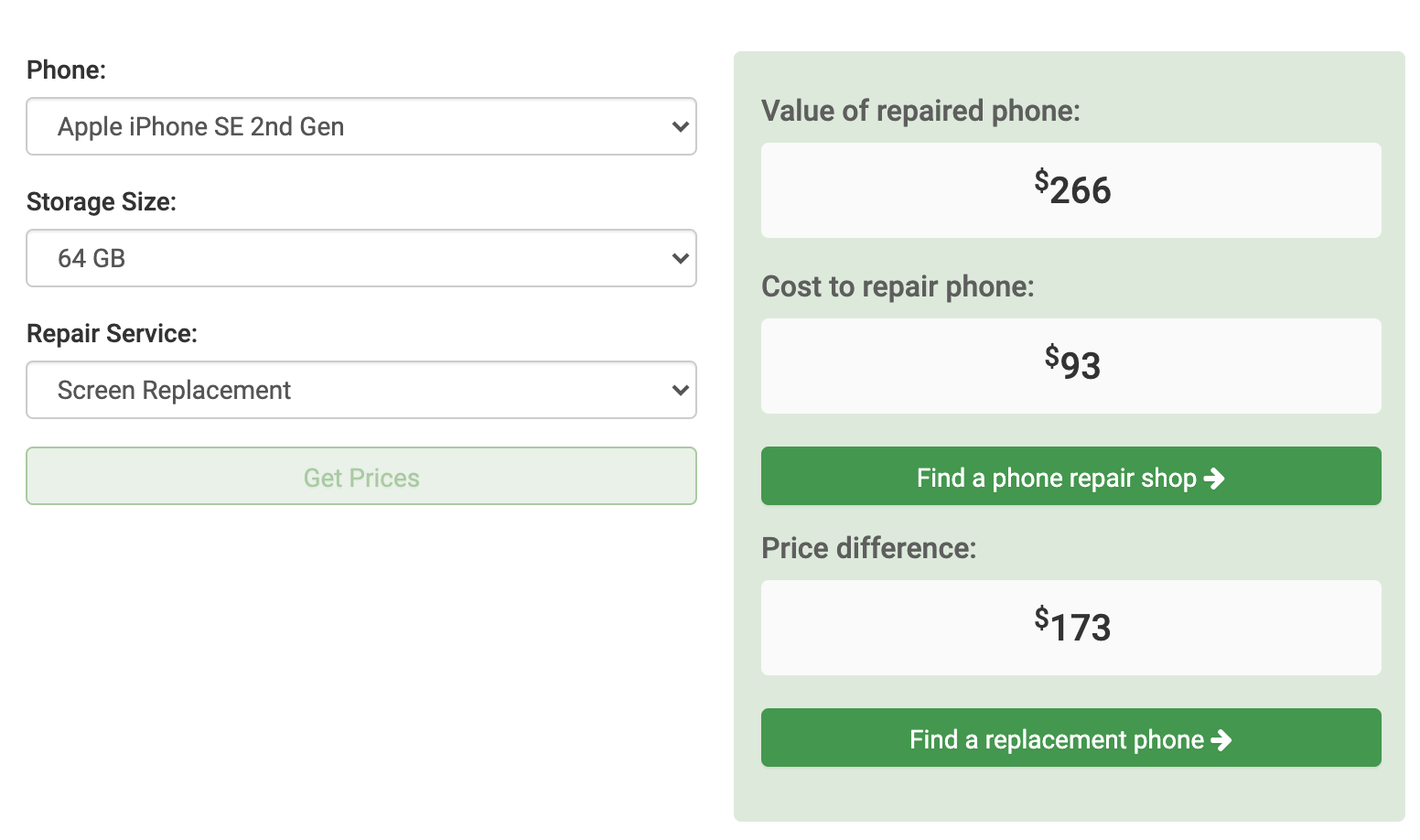 Is iPhone SE screen repair worth it?
The 2nd-generation iPhone SE is a great phone, and it may be worth getting your screen repaired — especially if you're sure that the cracked screen is all that's wrong with it. But if you have been looking for an excuse to upgrade, now's the perfect chance to check out other cheap iPhones like a used iPhone 11. Learn more about iPhone SE upgrade options in our iPhone Buyer's Guide.
Click below for a free iPhone SE repair cost estimate and to figure out whether it's better to repair or replace your existing phone.
Being able to save money and get a quick repair are great perks, but you also get a few additional comforts if you find a repair shop in the Swappa Repair Network. Each shop listed in the repair network offers a 30-day warranty on any repair they complete. The repair shops must also meet certain criteria before they are listed. For example, each repair shop must have a verifiable business name, address, phone number, and web presence. They must also be operating out of a retail location.
Thinking about using the cracked screen as an excuse to upgrade? Make sure to read our iPhone SE (2020) Buyer's Guide and iPhone SE (2020) Upgrade Guide to see how the iPhone SE (2020) stacks up other cheap iPhones.
Ditch the repair bill — get a protection plan for $5.99 per month

Cell phones break, but you shouldn't be stuck with a costly repair bill. Swappa teamed up with Warranty Life to get you full repair coverage for just $5.99 per month. Whether it's a cracked screen, broken power button, or water damage; a used phone protection plan will save you money by making expensive out-of-pocket cell phone repair a thing of the past. Click below to learn more.
---
Snag the best deals on used iPhones wherever you go. Download the Swappa App today!

---