---
You're probably familiar with the sinking feeling in your stomach if you've ever dropped your phone. It is kind of like you are afraid to pick up the phone to check for damage. And because smartphones have become an almost necessary tool in our modern lives — it doesn't even matter if you have the newest iPhone, or an older model like the iPhone 8. But don't worry, because getting your screen repaired isn't as stressful or expensive as you might think.
Keep reading to learn more about iPhone 8 screen repair services and whether it's better to repair your broken phone or pick up a cheap iPhone 8 replacement instead.
Does your iPhone have more than just a cracked screen? Head over to our Broken iPhone Repair Guide to learn how much it costs to fix a broken iPhone 8.
---
iPhone 8 screen replacement cost
People often think getting a screen repaired will be expensive and time-consuming. Sure, that can be the case in some instances, but it doesn't have to be. In fact, you should be able to get an iPhone 8 screen repaired for under $100. And, when you look towards a local repair shop you can often get the screen replaced the same day.
If you have AppleCare or AppleCare+ it makes sense to look towards Apple and get the repair done under warranty. But Apple stopped selling the iPhone 8 in April 2020, so there is a good chance that any repair work being done in 2021 will be out-of-warranty.
| | | |
| --- | --- | --- |
| | Apple Store screen repair (out of warranty) | Swappa Repair Network screen repair (average price) |
| iPhone 8 | $149 | $89 |
| iPhone 8 Plus | $169 | $95 |
Apple currently charges $149 for an out-of-warranty iPhone 8 screen replacement. At first thought, the Apple out-of-warranty price point may not sound bad, but current estimates from the Swappa Phone Repair Calculator show you will be able to get your screen replaced for $89, which is a savings of $60.
The other aspect to consider is time. Apple has less than 300 retail locations across the United States. The Swappa Repair Network has over 2,400 shops. Essentially, this means you have a much better chance of getting to a local repair shop. While each shop listed in the Swappa Repair Network is independent and sets their own schedules and timelines — many are able to offer same day repair services, often repairing your phone within an hour or two.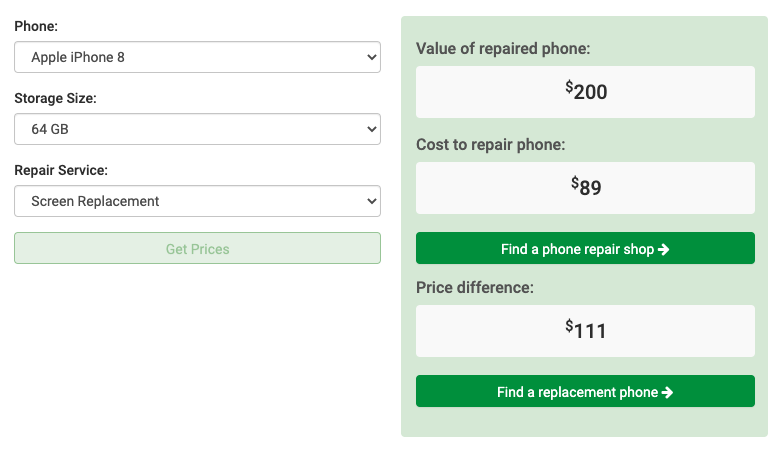 Is iPhone 8 screen repair worth it?
Fixing your screen is the most important aspect, obviously, but you should also consider the overall value of the phone when you are trying to decide if iPhone 8 screen repair is worth it. The $149 iPhone 8 screen repair cost that Apple charges is obviously not worth it because you can get a used iPhone 8 on Swappa for about the same price.
If you are spending (an estimated) $89 it would be worth getting your screen repaired so you can extend the life of the phone. You can check current iPhone 8 screen replacement prices by tapping the green button below or visit the Swappa marketplace to check current prices on other iPhone models.
We already mentioned one benefit of using the Swappa Repair Network, which was the bit about having 2,400 listed shops. But there are also a few other key reasons to consider getting your phone repaired using the Swappa Repair Network.
Swappa requires all repair shops to have a verifiable business name, address, phone number, and web presence, which means you will be getting your phone repaired by a trusted professional. All the repair shops must also be working from a retail location, and offer a minimum 30-day warranty on all repairs.
Thinking about using the cracked screen as an excuse to upgrade? Make sure to read our iPhone 8 Buyer's Guide and iPhone 8 Upgrade Guide to see how the iPhone 8 stacks up against other iPhones.
---
Snag the best deals on used iPhones wherever you go. Download the Swappa App today!

---