---
Not many phones offer the level of polish and performance found on Apple's higher-tier iPhone models like the iPhone 11 Pro Max. With high-end features like a triple camera system, frosted back glass, and Apple's Super Retina XDR display, the iPhone 11 Pro Max is packed with premium hardware. This is part of why a used iPhone 11 Pro Max is one of the best iPhones you can buy in 2022.
Protecting your phone with a case or glass screen protector helps with scratches, but the iPhone 11 Pro Max's all-glass body is still fragile enough to shatter from a drop. It's no surprise that the most common type of iPhone repair is screen replacement.
A broken iPhone 11 Pro Max screen can be more than just cosmetic. Oftentimes, screen cracks compromise a phone's water resistance, making it more susceptible to water damage or further breakage. In more extreme cases, the screen may become unresponsive to the touch, or become so damaged that a black liquid can obstruct your view — or it may simply refuse to turn on.
Figuring out iPhone 11 Pro Max screen repair pricing isn't always straightforward, so keep reading to learn how much you can expect to pay to repair a broken iPhone 11 Pro Max screen and whether it's worth it.
Read more: Broken Screen Repair Cost – Is repair worth it?
iPhone 11 Pro Max screen replacement cost
Typically, when someone finds themselves with a broken iPhone 11 Pro Max screen, the first place they turn is Apple. When it comes to accidental damage, the Apple Store can be a great place for anyone who paid extra money for an extended AppleCare+ warranty. Under this scenario, iPhone repairs can be relatively inexpensive.
If you never purchased AppleCare+ coverage or if it expired, you'll discover that out-of-warranty repairs (like those caused by accidental damage) can be significantly more expensive. Here's how much you can expect to pay for an out-of-warranty iPhone 11 Pro Max screen repair from Apple.
iPhone model
Apple Store Screen Repair
(out of warranty)
iPhone 11 Pro Max
$329
iPhone 11 Pro
$279
iPhone 11
$199
Swappa Repair Network
If you're in desperate need of iPhone repair in a hurry, local repair shops are not only cheaper on average than Apple's services, but they oftentimes get the job done quicker too. The Swappa Repair Network is a quick and easy way to find quality repair shops near you and unlike the Apple Store, many of them offer same-day services to get you and your iPhone 11 Pro Max back on its feet again. The Swappa Repair Network includes over 2,300 phone repair shops located in 270 metros areas across the US. Essentially, that means there's a good chance you'll find a participating shop in your area.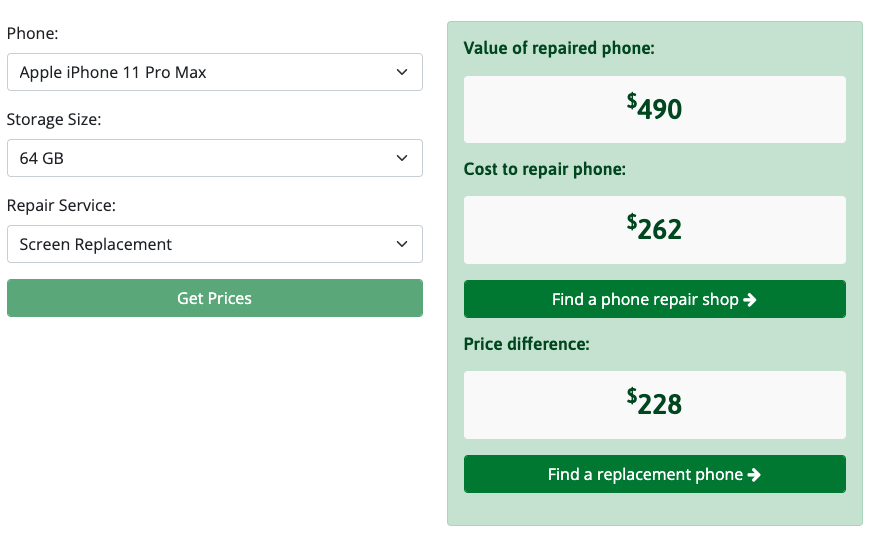 When it comes to repair pricing, there are better ways to spend your time than calling every shop in your area to find out pricing. That's why we created the Swappa Phone Repair Calculator which makes it easy to receive a repair estimate in seconds. We do this by providing you with the average price of repairs from participating shops in our Repair Network, allowing you to quickly find out how much money can expect to pay. Whether it's a broken screen, dying battery, charging ports, or any other issue — the Swappa Repair Network can help find you a fix.
Using the Phone Repair Calculator, we can see that the iPhone 11 Pro Max screen repair averages around $262. Not only is that a little cheaper than the Apple Store, but you'll probably also get a same-day repair instead of waiting several weeks for an Apple Genius Bar appointment. Since individual repair shop pricing will vary, you can view an individual shop's listing for more pricing details, or find contact information to give them a call.
Is iPhone 11 Pro Max screen repair worth it?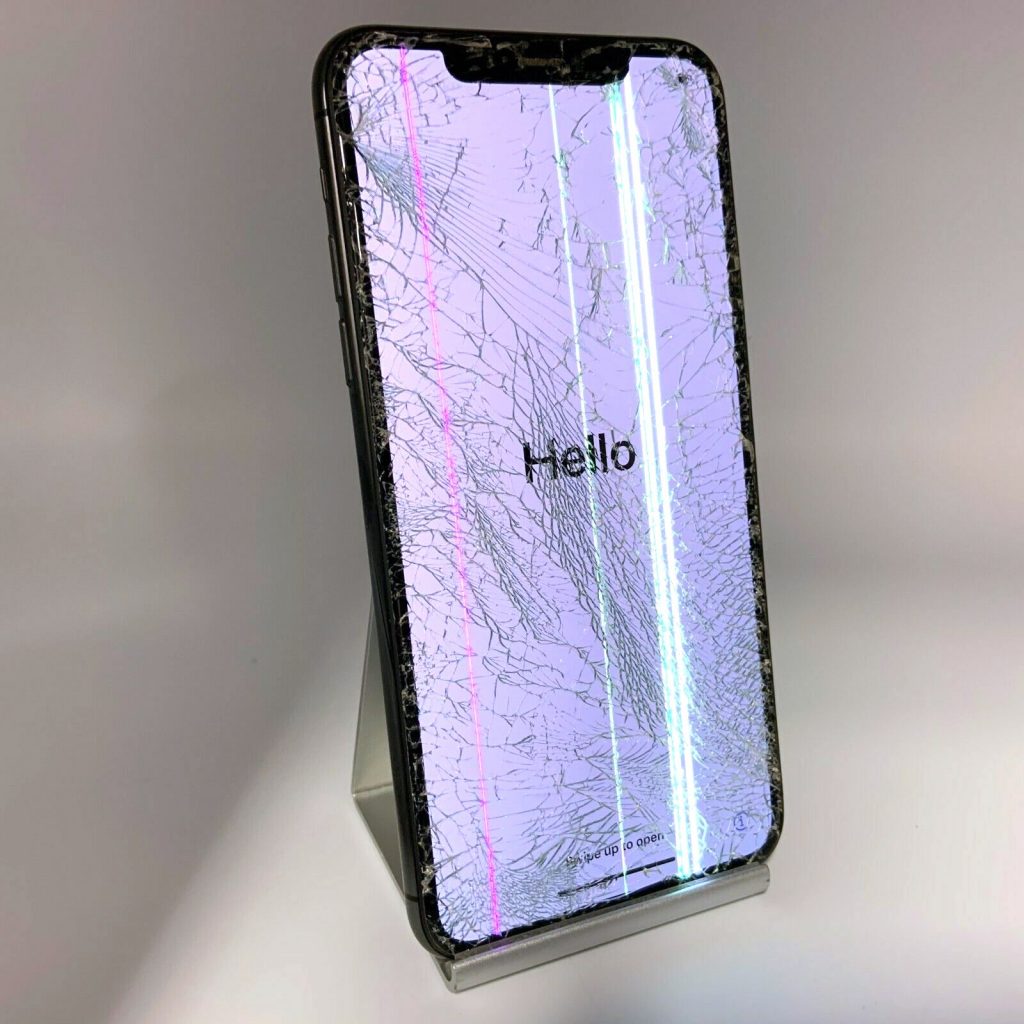 There really are only two things to consider when trying to figure out if you should repair your cracked iPhone screen: how much it will cost for the repairs, and how much it will cost to completely replace the phone itself.
Typically, the older the iPhone, the cheaper it will be to replace commonly broken parts like the display. For instance, iPhones like the iPhone X, XS, 11 Pro, and Pro Max use higher-end screen hardware — Apple's Super Retina HD/XDR OLED panels — and because of that, are a bit pricier given the more premium tech.
Meanwhile, the iPhone 7 and 8 use older LCD panels and are significantly less money to repair. Oh, and prices also jump according to the size, with the larger Plus and Max options being a bit more expensive to repair.
Read more: iPhone Buyer's Guide and iPhone 11 Pro Max Upgrade Guide
While you could always take your broken iPhone to the Apple Store, it usually makes more sense to find a local repair option using the Swappa Repair Network. So don't wait any longer. Search for a local repair shop near you by hitting the button below.
Ditch the repair bill — get a protection plan for $5.99 per month

Cell phones break, but you shouldn't be stuck with a costly repair bill. Swappa teamed up with Warranty Life to get you full repair coverage for just $5.99 per month. Whether it's a cracked screen, broken power button, or water damage; a used phone protection plan will save you money by making expensive out-of-pocket cell phone repair a thing of the past. Click below to learn more.