---
The iPhone X was launched in November 2017, and it featured one of the most radical evolutions to Apple's iconic iPhone design to date. Barely a year later, the iPhone X was officially discontinued, replaced by the iPhone XS, which featured the same body as the original iPhone X, but with upgraded internals. That design was preserved a year later, with the iPhone 11, iPhone 11 Pro, and iPhone 11 Pro Max — and even the iPhone 12 lineup looks pretty similar overall.
Although Apple introduced a handful of innovative features on its newer models, not everyone needs — or has room in their budget — for the latest iPhone. Fortunately, the iPhone X is still a great phone in 2021. And with used iPhone X prices starting at just $275, the iPhone X is a great way to save hundreds of dollars on your next upgrade.
iPhone X price
On Swappa, the average iPhone X price is $303 for 64GB and $330 for 256GB. Keep in mind these are average prices on Swappa, so you'll find cheaper prices depending on the individual seller or device condition. It's easy to see these are some crazy good deals whether you're looking for low-cost replacement or cheap iPhone X upgrade that won't break the bank.
iPhone X price history
The iPhone X launched alongside the iPhone 8 and iPhone 8 Plus in 2017. When the iPhone X first came out, the price was $999 (64GB) and $1,149 (256GB), making it the most expensive iPhone ever produced. Prices for used iPhones don't depreciate as much as most other devices. Today, the iPhone X price has dropped almost 70% since it was first released, which means now is a great time to buy a used iPhone X on Swappa.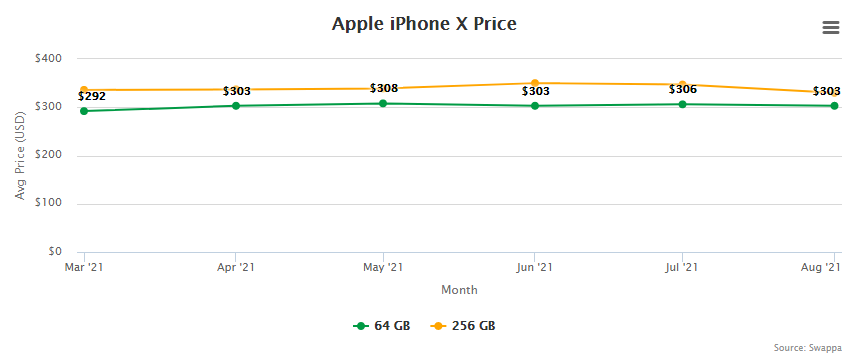 Is the iPhone X still for sale?
Apple discontinued the iPhone X in 2018, with the introduction of the iPhone XR, iPhone XS, and iPhone XS Max. It's possible to find refurbished models, with the current refurbished iPhone X price at $679 for 64GB and $809 for 256GB at the Apple Store. But with newish iPhone X prices starting at $275 on Swappa, you'll save even more buying on Swappa.
---
Why buy a used iPhone X on Swappa instead of a refurbished model? For starters, it's much cheaper. And if you want to make sure it lasts, Swappa also offers an affordable Used Phone Protection Plan that protects your used iPhone from accidental damage for just a few bucks a month. Whether you're buying the iPhone X for yourself or a loved one, you can rest easy knowing Swappa doesn't allow junk and we don't allow jerks. Check out other models on our Best iPhone deals page or click below to get the best price on a gently used iPhone X!