---
When it was first unveiled, the iPhone X marked the most radical evolution in Apple's iPhone design we had seen in years. But barely a year later, the iPhone X was officially discontinued, replaced by the iPhone XS which featured the same body as the original iPhone X, only with upgraded internals.
Earlier this year, we saw Apple launch the iPhone 11, iPhone 11 Pro, and iPhone 11 Pro Max, and while they all carry that now familiar X design, Apple managed to introduce a handful of new hardware features to entice die-hard fans. But not everyone needs, or even has room in their budget, for the latest iPhone. For many folks, a previous generation iPhone will suffice and it's something that can save consumers hundreds of dollars, simply by staying a generation or two behind Apple's unrelenting yearly release cycle.
So while buying the latest iPhone from Apple is always an option, you'll always find a much better deal when buying a used iPhone on Swappa. Don't believe us? Here are the current iPhone X prices in the USA. With iPhone X prices starting at $375, you'd be hard pressed to find a better deal anywhere else.
iPhone X Price
(Current prices on Swappa as of November 2019)
On Swappa, the current iPhone X (64GB) price averages $499, while the iPhone X (256GB) is only $551. Keep in mind these are average prices on Swappa, so you'll find cheaper prices depending on the individual seller or device condition. It's easy to see these are some crazy good deals whether you're looking for low-cost replacement or cheap iPhone X upgrade that won't break the bank.
iPhone X Price History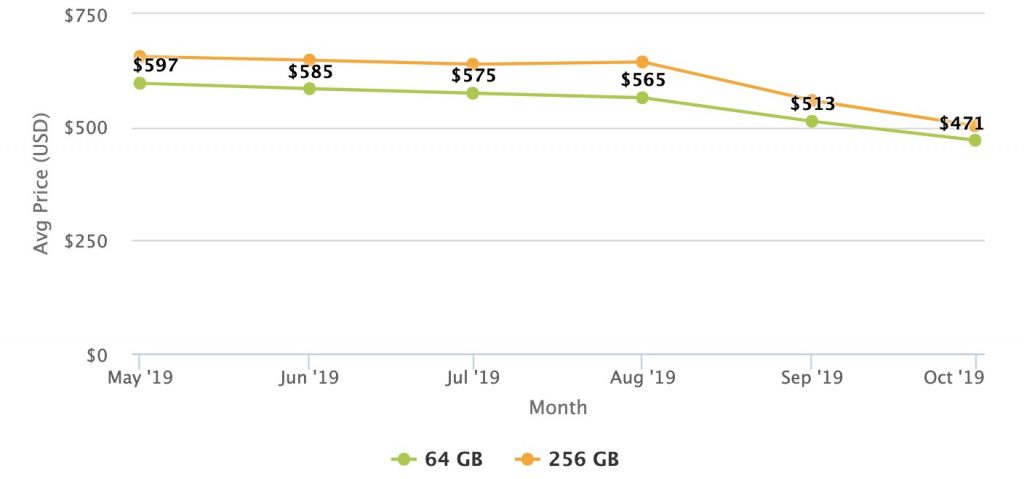 (Average prices for used iPhone X on Swappa)
The iPhone X launched alongside the iPhone 8 and iPhone 8 Plus in 2017. When the iPhone X first came out, the price was $999 (64GB) and $1,149 (256GB), making it the most expensive iPhone ever produced. Prices for used iPhones don't depreciate as much as most other devices. Today, the iPhone X price has dropped over 50% since it was first released, which means now is a great time to buy a used iPhone X on Swappa.
Is the iPhone X still for sale?
In 2018, with the introduction of the iPhone XR, iPhone XS, and iPhone XS Max, Apple completely dropped the iPhone X from its lineup and the phone was officially discontinued. It's possible to find refurbished models, with the current price of a refurbished iPhone X being sold for $679 (64GB) and $809 (256GB) from Apple. With newish iPhone X prices starting at $375 on Swappa, you can save even more money when buying a gentle used model instead.
♻️📱💻📷🎮
Why buy a used iPhone X over a refurbished model? Well, Swappa also offers an affordable Used Phone Protection Plan that protects your used iPhone from accidental damage. Whether you're buying the iPhone X for yourself or a loved one, you can rest easy knowing your transaction is safe with PayPal, the phone is covered with our protection plan, and that you saved the most money possible by buying a gently used iPhone X on Swappa.
To compare price of all iPhone models currently available on Swappa, you can also check out our iPhone Price page where we've put together a comprehensive list of the all iPhone models — including various storage sizes — and their average selling prices. That or you can start shopping our entire selection of used iPhone X models by hitting the button below.