Every year Apple releases shiny new iPhones and along with that, they discount outgoing models to help make them more enticing to consumers. With the release of the iPhone XS, iPhone XS Max, and iPhone XR in 2018, the iPhone 8 and 8 Plus were officially on their way out and found themselves discounted by a cool $100. They may not look as nice as newer models but for Apple fans who don't mind sacrificing the glitz and glamour of newer iPhones can look to these older models for something a little easier on the wallet.
We've already explored iPhone 8 prices in a previous post but those interested in the larger model can now find the iPhone 8 Plus retailing for $699 (64GB) and $849 (256GB) on Apple's website. But for anyone looking for the best deal on a cheap iPhone 8 Plus need only to head over to Swappa.
The current price for a used iPhone 8 Plus on Swappa starts at $400 and goes up depending on the specific carrier model and storage configuration. Some quick math shows you're looking at around 43%-off the new retail price, simply by choosing a gently used model instead.
For a more detailed breakdown of all the iPhone 8 Plus models currently available on Swappa, check out the table below.
iPhone 8 Plus Prices on Swappa
(Prices accurate at the time of post)
The iPhone 8 Plus was originally announced in September 2017, carrying with it an introductory price of $799. Released alongside the smaller iPhone 8 and iPhone X, the iPhone 8 Plus offered several improvements over the previous year's iPhone 7 Plus, most notably wireless and fast charging, improved True Tone display, and enhanced graphical performance thanks to an updated processor.
When it comes to the body, this is the first time Apple has introduced an all-glass back, making the iPhone 8 Plus one of the most fragile iPhones ever released. Because of this, we recommend anyone buying a used iPhone 8 Plus also consider picking up our Used Phone Protection Plan to go along with it. The Protection Plan covers the phone against accidental damage, so you won't have to worry about destroying the back glass in the event of a fall. For more details on our Used Phone Protection Plan, check out the blog post here.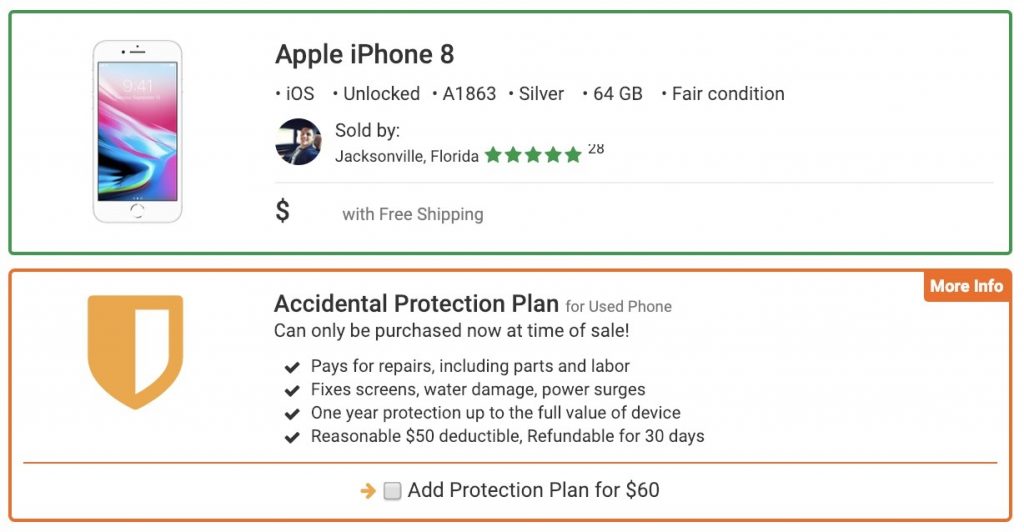 So that just about covers everything related to the iPhone 8 Plus price. You now know exactly how much the phone retails for brand new, and how much you can save when buying a gently used model on Swappa. To start browsing our entire selection of cheap iPhone 8 Plus models, simply hit that button below to start shopping.
BUY CHEAP IPHONE 8 PLUS ON SWAPPA