---
Smartphones are fragile, and even if you are super careful, they can break. There are plenty of available options when it comes to fixing a broken phone, however, there are times when someone will continue using a broken phone. There is also the group of people who immediately set it aside thinking a broken phone is completely worthless.
It is true that a broken phone is worth less as compared to a non-broken phone, but that doesn't mean there isn't some value. Basically, as we see it, there are five things you can do if you have a broken phone — sell it broken, repair it and then sell it, toss it in the trash, recycle it, or just set it aside to collect dust.
While recycling is an option worth checking out, we will rule out tossing the phone in the trash. We'll also rule out letting the phone sit and collect dust, so that narrows things down to two options — get it repaired or sell it broken.
---
Getting your phone repaired
Should I repair my broken phone before selling it?
The simple answer here is yes, we recommend getting your phone repaired before selling it. But there is a bit more to that answer because in some cases, it may not be worth the repair cost.
Additionally, some online markets will not allow you to sell a broken or damaged phone. In fact, that is our stance here at Swappa. Sellers are now allowed to list broken phones in the Swappa marketplace. All phones listed on Swappa must be fully functional, and without any cracks, missing buttons, or water damage.
So at the very least, we suggest you get an estimate to see what the repair would cost. When selling a phone — the goal is often to maximize your sale and get the most money for your phone. If the repair is not expensive, it will make more sense to get the phone repaired and then sell it for more money.
Estimate the cost to repair your phone
Where can I repair my broken phone?
You'll find thousands of repair shops across the country, which may be a bit overwhelming — where should you start, which repair shop (brand) should you trust? And perhaps more of a concern is how much the repair will cost.
Fortunately, the Swappa Repair Network is here to help if you are considering getting your phone repaired. Swappa launched the Repair Network in an effort to help you find a local repair shop that can offer a fast and reliable fix at a fair price.
With more than 2,400 repair shops listed in the Repair Network — you shouldn't have trouble finding a reputable repair shop near where you live or work. Along with being able to find a shop near where you live, another good reason to use the Swappa Repair Network is the warranty. All of the shops listed in the Repair Network are required to offer a 30-day warranty on the repair work — and many shops even offer a longer warranty.
So how much will your phone repair cost? The Swappa Repair Network will not only help you find a trusted local repair shop but in many cases, you will also be able to get a phone repair cost estimate. Pricing details for many common repairs are found on the repair shop profile pages. And, most shops will also offer a free estimate before you commit to getting the phone repaired.
If you have a broken phone you can tap the green button to begin your search for a local repair shop.
Browse the Swappa Repair Network
---
Selling your broken phone
Where can I sell my broken phone?
It is possible to sell a broken phone, but the options are a bit more limited as compared to selling a phone that is in good condition and isn't broken or damaged. Not all places that buy phones will buy a broken phone, and of the places that do buy broken phones — there are often limits on what they will buy. For example, if your phone is broken in two pieces, or if it has been blocked by a carrier — it will likely not be eligible for sale, even when marked as faulty and/or broken.
A few places that buy broken phones include SellCell, UpTrade, Decluttr, ecoATM, and Gazelle. Of course, while there are places that allow you to sell or trade-in a broken phone — you should consider getting the phone repaired to maximize your return.
Here at Swappa, we do not allow broken phones to be listed in the marketplace. But repairing your phone and then listing it for sale in the Swappa marketplace is a sure-fire way to get the most money.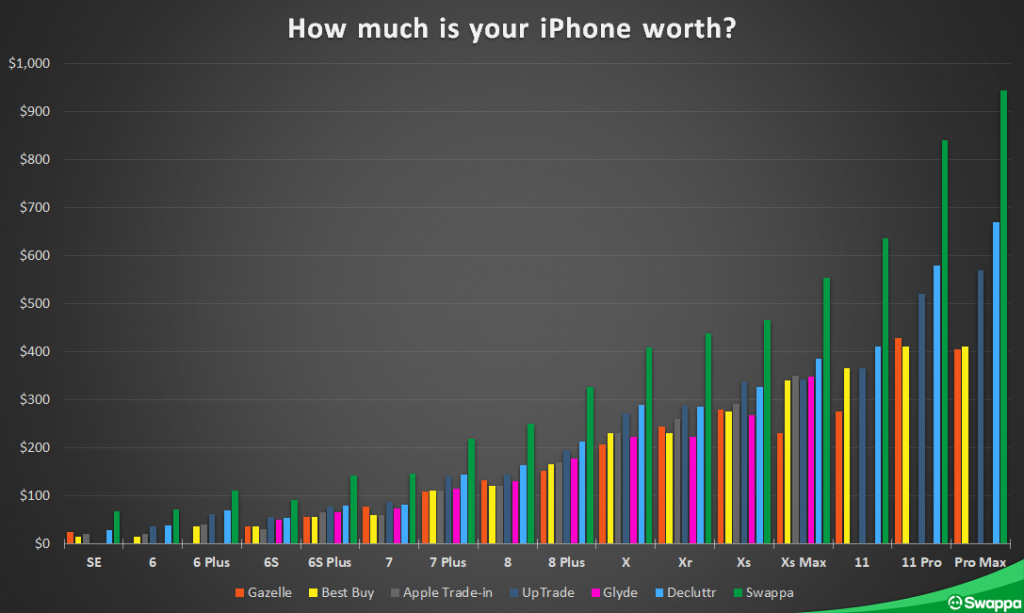 If you've recently gotten your phone repaired, you can tap the green button below to create a listing in the Swappa marketplace. You can also tap the green button to see the current sale prices on the exact phone you are thinking of repairing and selling.
How much is your phone selling for?
How do I sell my broken phone?
When it comes to selling your broken phone, the best advice is to carefully review and follow the instructions outlined by the company that is going to buy your phone.
Broken phones include more than just phones with obvious damage, such as a cracked screen. Your phone may be in good overall condition, but if the microphone or speaker isn't working, the phone would be considered broken. Similarly, a broken SIM card slot or faulty buttons, and even a phone with an excessive amount of scratches or dents may be considered to be broken by some companies.
Similar to selling a phone that isn't broken, you'll want to pay attention to the condition. But instead of the device being in mint, good, or fair condition, you'll find conditions such as good, cracked (a broken screen or case), or faulty, which deals with liquid damage as well as hardware or software faults.
We recommend checking out each of the services mentioned here in this post while making sure to carefully review the criteria for each.
Why would someone want to buy a broken phone?
People buy broken phones for a variety of reasons. In some cases, they may just be on a strict budget and want to spend less money. Your phone may have a cracked camera lens, which for you could be a big deal, but someone that doesn't want to take pictures may not care. But a little more realistically, people or companies, will buy broken phones to either repair and resell, or to use for parts.
How much can I get for a broken phone?
Similar to selling a phone that isn't broken, the value of your broken phone will vary based on the specifics for the model you are selling. In the case of a phone that isn't broken, the value will be determined by things such as the overall condition, and the specs (such as the internal storage).
A broken phone will be valued similarly, which is to say the value will be determined by the condition — what is damaged, and what isn't working. Just instead of listing the phone as being in good, or fair condition, it would be described as faulty or damaged.
Repair costs vary based on what needs to be repaired, and by what model phone you are getting repaired. Speaking generally, it may not be as cost-effective to repair an older phone. If you have an older model, it may be better in the long term to recycle it and upgrade to a newer (not broken) phone. However, if you have a newer model phone — a repair will likely be beneficial. For example:
Using a quote from UpTrade: They are currently offering to pay $161 for an unlocked (128GB) iPhone XR with a cracked screen.
Using a repair estimate from uBreakiFix (located in the Swappa Repair Network): An iPhone XR screen replacement will set you back about $150.
Assuming you have an iPhone XR with a cracked screen you could trade it in and get $161. Or, you could spend the $150 and get it repaired — and then sell it for around $500. Current pricing for a good condition unlocked 128GB iPhone XR in the Swappa marketplace ranges from $479 – $560.
As we've mentioned, you will not get as much money if you sell a broken phone.