---
YouTube has seen an influx of "vlogging" style videos over the past few years. These day-in-a-life videos typically follow content creator as they go about their day and shooting on location whether it's vacationing, walking down a street, or even just talking inside their car.
Vlogging is a great format for creators because it doesn't require a lot of production or scripting and the video length is generally long enough to squeeze in a few ads into for higher revenue. Of course, viewers love vlogging style videos because they're more personal and engaging, something that makes them more willing to smash that like button and subscribe. It's a win-win for everyone.
If you're looking to become the world's next big YouTuber vlogger, Swappa is here to help. We've put together a bang up list of the best cameras for YouTube vlogging, so you can get out there and start building that subscriber base. Let's jump in.
What makes a good camera for YouTube vlogs?
As for criteria, a good vlogging camera is compact and portable, lightweight for easy handheld shooting, shoots in 4K, and ideally has a flip out screen so you can see yourself while recording. Oh, and if you're looking for more general, all-purpose DSLR cameras to kick start your YouTube channel, don't forget to check out our post: Best Cameras for YouTube.
Sony RX100 IV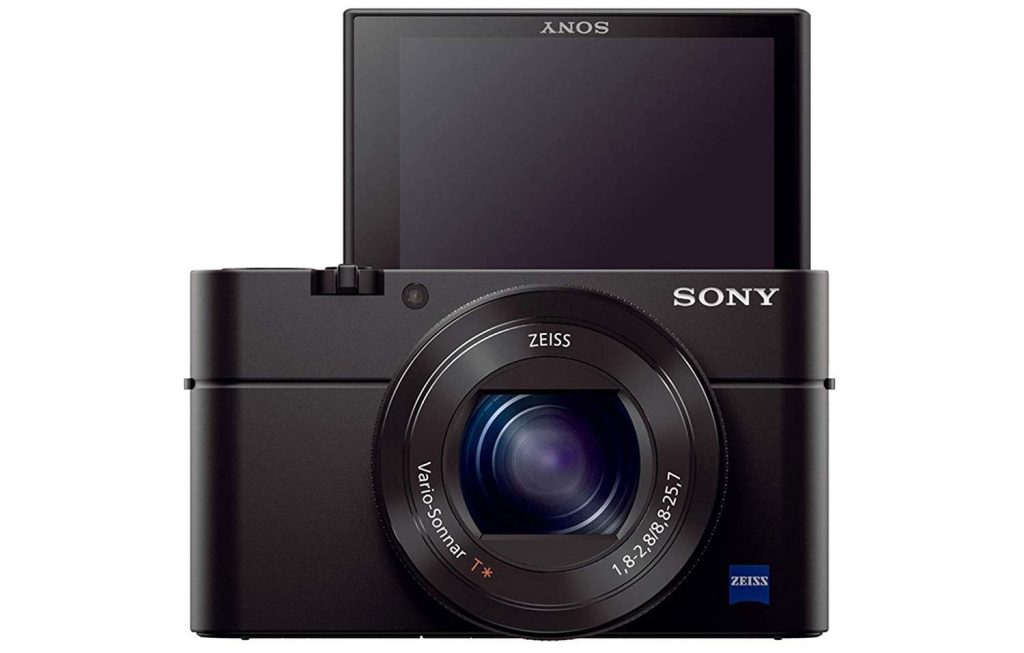 Without a doubt, the Sony RX100 IV (aka Mark 4) is one of the best on-the-go cameras you can find. But don't be fooled by its size: this isn't your dad's old point-and-shoot camera. The RX100 IV features a large (for its size) 1-inch sensor, wide-angle 24-70mm f/1.8 lens and 180-degree tilting selfie display. It's by far the best camera for handheld shooting or propping up inside the car for a quick vlog sesh (it just so happens to take great photos too).
There's also the newer RX100 V (Mark 5) and VI (Mark 6) which take marginally better photos and have higher 200mm zoom, but retail price for those models easily exceed $1,000. Our advice for YouTube vloggers? Save a ton of money by getting the older RX100 IV and save even more money by buying it used on Swappa.
Canon G7X II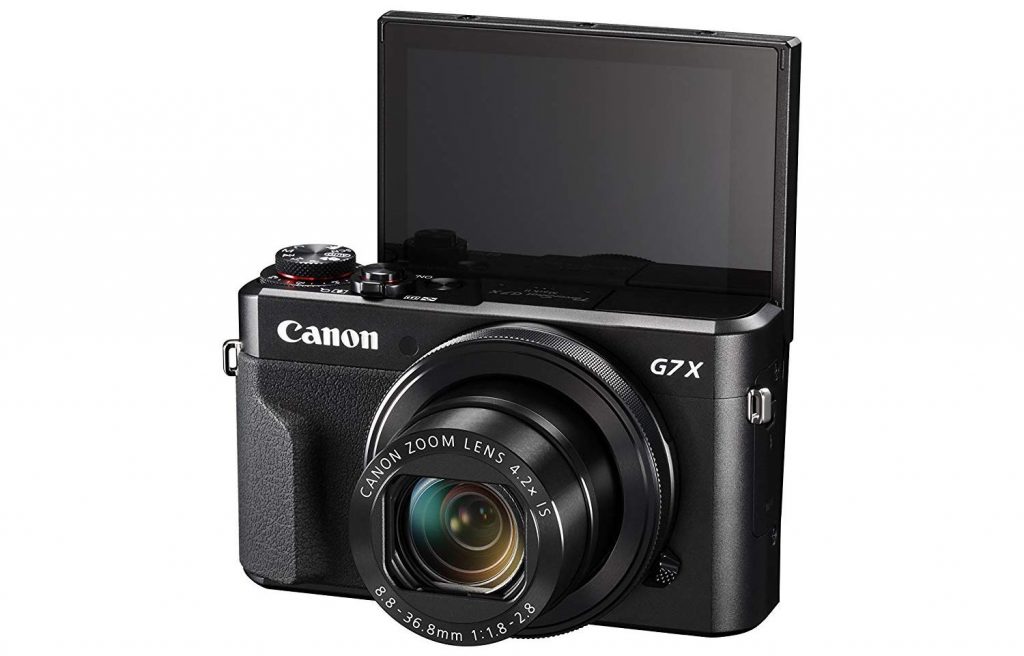 In many ways the G7X II is Canon's answer to the somewhat pricey Sony RX100. You'd be hard pressed to spot a difference in hardware specs with the G7X II featuring a similar sized 1-inch sensor, 24–100mm f/1.8 lens, and 180-degree flip display.
Unfortunately, unlike most of the cameras on this list, the G7X II is lacking 4K video, so you'll have to make do with 1080p. For most folks, the biggest difference is the price, with the G7X II retailing for a slightly more reasonable $650, a full $150 less than the RX100 IV. Of course, you can get the best price by shopping for a used Canon G7X II on Swappa. Hit the link below to get started.
Sony A5100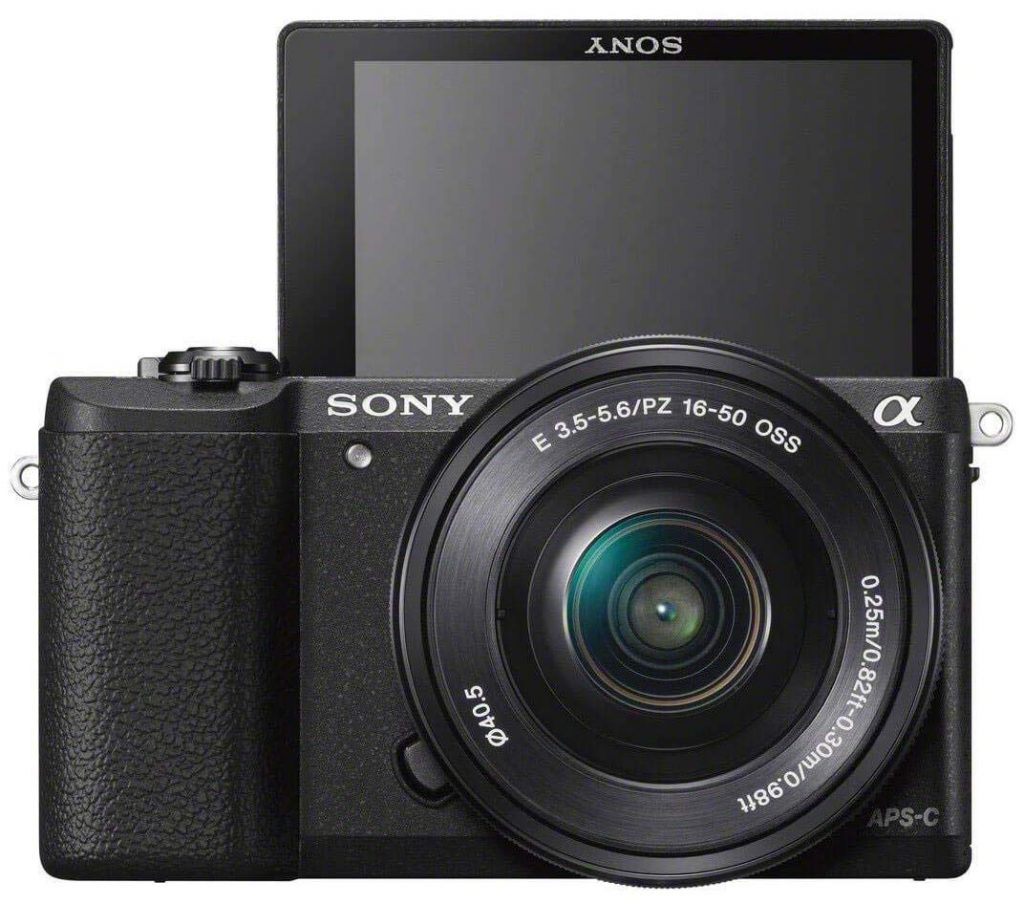 The Sony A5100 is a fantastic starter camera for anyone on a budget. At $399 retail, the Sony A5100 has many of the features of its more expensive siblings (APS-C sensor, built-in WiFi) only it's lighter and features a flip screen for easy vlogging.
The only trade-offs are that it maxes out at 1080p video, and there's no microphone jack or hot shoe, so don't expect a full video rig. The kit lens is a nice (and wide) motorized lens, but you can always swap that out for an even more pocketable 16mm pancake lens for ultimate portability.
You can find the best deals on used Sony cameras by shopping on Swappa, where prices are much lower than retail. Hit the link below to start browsing.
Fujifilm X-A5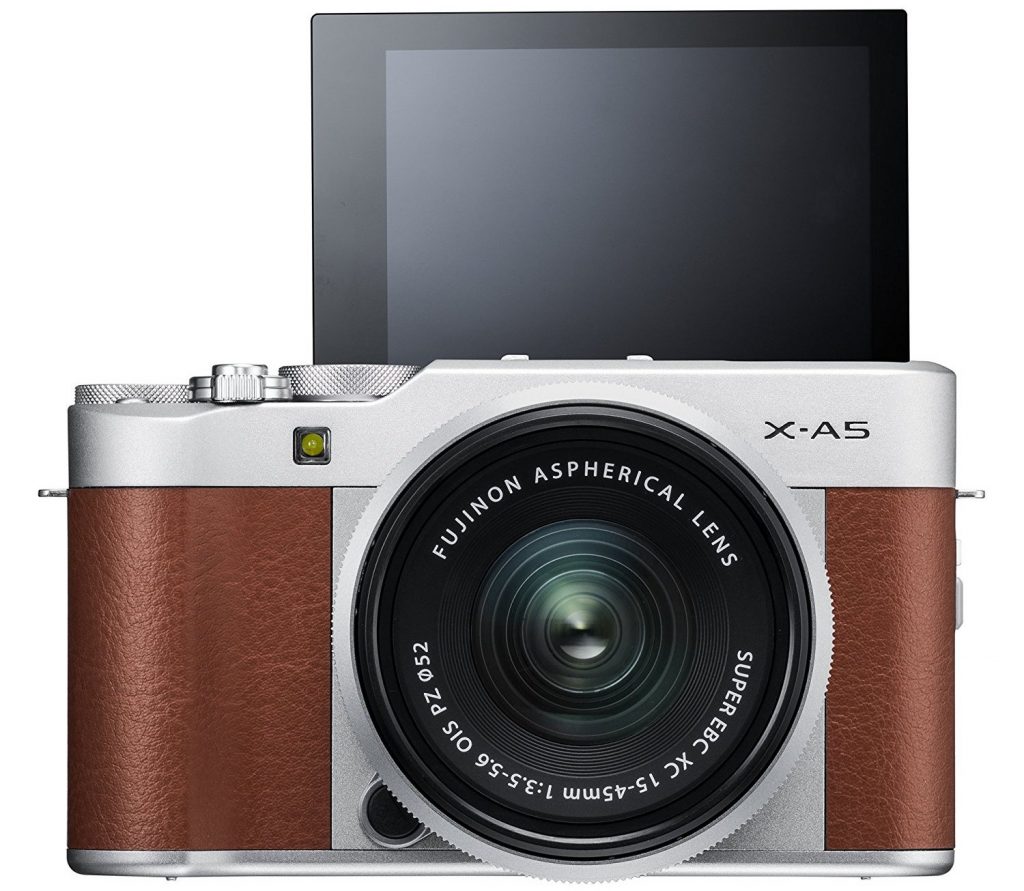 The Fujifilm X-A5 is a solid contender for one of the best compact(ish) cameras on this list. It's not going to slide into your pocket like the Sony or Canon above, but there's enough here to warrant a good hard look. First, the APS-C equipped camera shoots in 4K and you have the ability to swap out lenses which means you could potentially find an even more compact lens that doesn't protrude as much.
The stock 15-45mm kit lens is wide enough for vlogging and the full 180-degree LCD will ensure you're always in the frame. And because every successful YouTuber needs to share their adventures on social media, and the X-A5 has built-in Bluetooth that can automatically transfer photos to your phone for near instant sharing online.
Retail price is around $500 brand new, but you can save more money by shopping for a used Fujifilm X-A5 on Swappa.
Olympus Pen E-PL9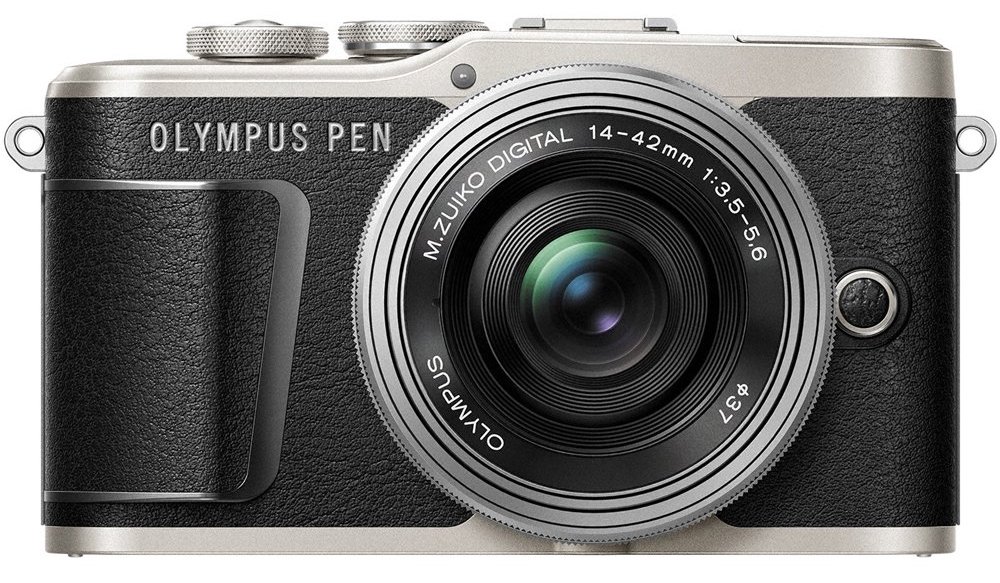 The Pen E-PL9 is very nice micro four thirds format interchangeable lens camera from Olympus. It's a great YouTube vlogging pick because it's relatively small, features a 180-degree flip screen (which folds out from the bottom, oddly enough) and shoots in 4K.
The Pen E-PL9 kit lens is a motorized 14-42mm f/3.5-5.6 lens, while the camera body has 3-axis image stabilization that's great for minimizing shake in videos and shooting lower light photos. Built in WiFi allows you to wireless transfer photos, making it great for shooting on the go. It's really hard to go wrong with the Pen E-PL9 and it's easily one of the best YouTube vlogging cameras on this list.
To get an even better price on a used Olympus E-PL9, hit the button below to find one on Swappa.
BUY OLYMPUS PEN E-PL9 ON SWAPPA
GoPro Hero7 Black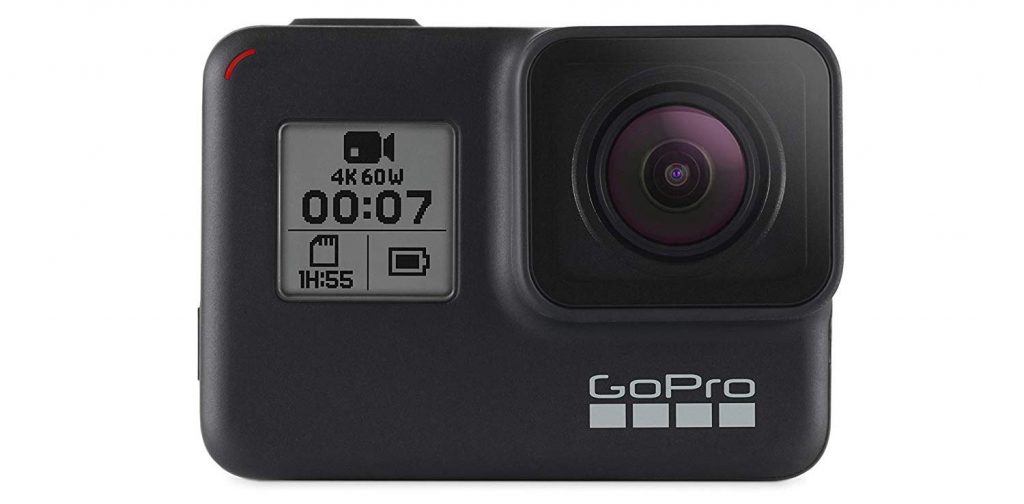 It's almost impossible to talk about great cameras for YouTube vlogging without GoPro being mentioned. The "action cam" is easily the best choice for active YouTubers documenting their adventures, whether it's mountain biking, sky diving, or water sports.
The GoPro is by far the most compact camera on this list and even if you're not into extreme sports, it's the perfect size to take with you anywhere and small enough to fit inside a 5th pocket, or mount onto a selfie stick or gimbal.
The GoPro Hero7 Black is the latest release from GoPro and they've really worked some magic when it comes to video image stabilization. And don't forget it's the only camera on this list that can shoot 4K 6ofps — that's pretty darn impressive. Shop for a used GoPro Hero7 Black by hitting the button below.
BUY GOPRO HERO7 BLACK ON SWAPPA
iPhone X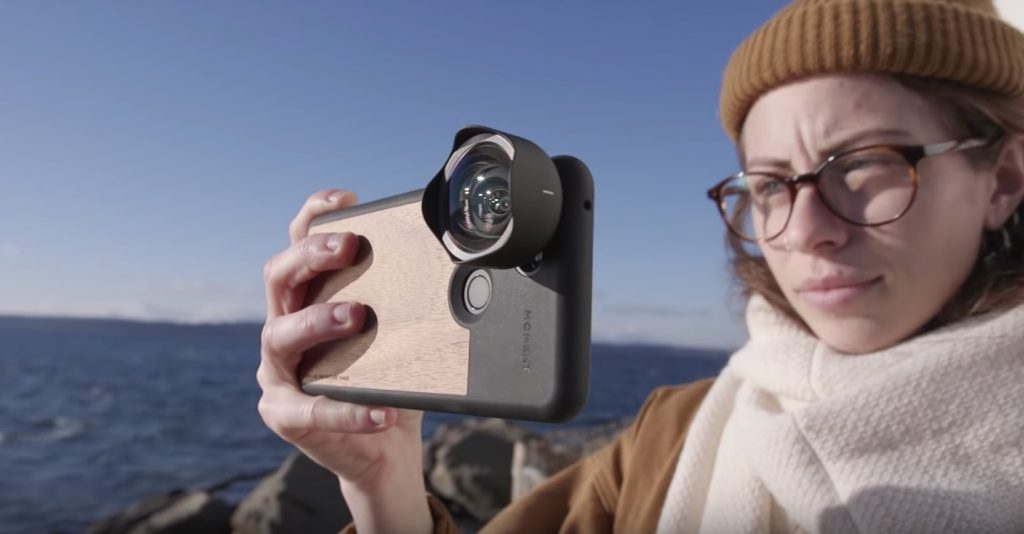 If worrying about another extra gadget to carry around doesn't sound ideal, why not use a smartphone you'll already have in your pocket?
The iPhone X is one of the smallest, most compact cameras on the market and because it has an active data connection, it's also a camera that can directly upload video to social sites. With the ability to shoot in 4K 60fps or more cinematic 24fps, you can achieve a cinematic look straight from the phone.
Because of the iPhone's popularity, you can find a near limitless amount of accessories to help take your video recording abilities to the next level. Everything from mounts, external microphones, to lighting or even attachable lenses for a wider field of view.
The only problem is you video quality suffers when using the front facing camera, capping out at 1080p. We'd still recommended using the rear camera with a wide angle lens for better video quality and to help keep you in the shot (since you can't see yourself on screen). Pair the iPhone X with an official Apple Smart Battery Case and you have a vlogging camera that can definitely go the distance.
You can find used iPhone X prices starting at $540 on Swappa with prices are falling all of the time. To start shopping, simply hit the button below to find the model that right for you.