---
Despite being the third largest carrier in the US, T-Mobile has managed to get a head start on rivals, launching their next generation 5G network in more places around the US than any other carrier. In fact, there's a good chance that T-Mobile's 5G is signal is already available where you live — you'll just need a phone to take advantage of it.
In this post we'll dive into more detail about T-Mobile's 5G network, while showing you the best T-Mobile 5G phones that are currently available for the carrier. When all is said and done, you should know exactly what you need to look for when buying a 5G phone on T-Mobile.
5G vs 4G LTE
It's been 7 years since T-Mobile first launched their 4G network back in 2013. Since then, they've managed to cover nearly 99% of Americans with 4G LTE. With all the buzz surrounding 5G, the next evolution of mobile data, you might be wondering how 5G compares to 4G, and whether or not it's even worth it.
Similar to the jump from 3G to 4G, 5G delivers faster data speeds, improved network reliability, and has a greater capacity to handle more connected devices without straining the network. How you use T-Mobile's fifth generation network is up to you, whether it's streaming HD videos with no buffering, playing online video games with no lag, crystal clear group video calls, or sending/receiving large file sises. Simply put, 5G is fully capable to handle all your wireless needs better, faster, and more efficiently than 4G ever could.
T-Mobile's 5G network: 600MHz vs mmWave
Now that you know the difference between 5G and 4G, it's time to delve a little deeper into T-Mobile's 5G network and what that entails. When it comes to 5G, there are three types you can expect to see depending on the wireless network in question.
High-band (mmWave): Best suited for cities and urban areas. Shorter waves means much higher data speeds, although high-band frequencies deliver poor building penetration and thus, only offer limited coverage.
Mid-band (TBA): Mid-length waves equates to a mix of higher speeds, overall range, and coverage.
Low-band (600MHz): Best suited for suburban or rural areas, low-band networks are not affected by obstacles such as buildings and the long waves provide much greater nationwide coverage.
Currently, T-Mobile 5G comes in two very different varieties: 600MHz (low-band) and mmWave (high-band). While their 600MHz spectrum may not offer the insanely high data speeds as their mmWave network, it's also not as limited in coverage and still offers improved speeds over T-Mobile's current 4G network.
With T-Mobile laying the groundwork for their 5G network using 600MHz spectrum, they've got a good head start over the competition and can bring 5G to more people all over the US (providing their customers have the necessary hardware to take advantage of it). This is important information to know when it comes time to buy either an unlocked or T-Mobile 5G phone as mmWave support may not be as high a priority, if at all.
Where is T-Mobile 5G available?
T-Mobile's 600MHz 5G network already covers 200 million people across 5,000 cities in the US. Since going live last year, T-Mobile's low-band 5G already spans one million square miles, with much of that including rural America. It's their low-band 5G network that T-Mobile is really marketing right now and the one most customers should care about.
Keep in mind that it's T-Mobile 5G is still in its infancy, so you can expect to see some gaps in coverage depending on where you live. So before you rush out and buy a T-Mobile 5G phone, you'll want to check T-Mobile's 5G coverage map to see if it's available in your area. Using the T-Mobile coverage map, you will be able to check for coverage based on your city, state or zip code. For more on T-Mobile 5G and progress updates, click the button below.
T-Mobile 5G phones
At launch, support for the T-Mobile's 600MHz 5G network includes only two phones: the OnePlus 7T Pro 5G McLaren and the Samsung Galaxy Note 10+ 5G. With so few 5G compatible phones out there, T-Mobile customers can expect to pay a higher premium for a 5G-ready T-Mobile phone. With both of T-Mobile's 5G phones $900+, you'll probably want to look for a better deal by shopping for gently used models in the Swappa marketplace.
As for T-Mobile phones supporting T-Mobile's mmWave 5G network, there's the Samsung Galaxy S10 5G. The T-Mobile Galaxy S10 5G includes support for 5G on the 28GHz and 39GHz bands and allows for 5G speeds in "pockets of select cities," but with such limited high-band coverage, it's probably not a viable option. It's definitely worth holding off on this model, that is until (lots) more mmWave areas become available.
OnePlus 7T Pro 5G McLaren
The OnePlus 7T Pro 5G McLaren is exclusive to T-Mobile and currently priced at $899.99 for a brand new model. It's the most expensive phone OnePlus offers, and one of the few devices on the market that's compatible with 5G. The T-Mobile OnePlus 7T Pro 5G features a 6.67-inch 90Hz display, Snapdragon 855+ processor, 48MP camera, motorized pop-up selfie camera (16MP), 12GB of RAM, 256GB of storage, and a 4,085mAh battery.
Although a bit pricey, you can already find used OnePlus 7T Pro 5G models on Swappa starting at $720. Whether you want it shipped to your door, or you're looking for local pickup, Swappa is the best way to find the lowest prices on OnePlus 7T Pro 5G McLaren.
Samsung Galaxy Note 10+ 5G
Not to be confused with the standard Samsung Galaxy Note 10+ (which also available for T-Mobile), the Galaxy Note 10+ 5G is the only variant of the Note 10 that's compatible with T-Mobile's new low-band 5G network. Unlike the AT&T model, the T-Mobile Galaxy Note 10+ 5G features only a single storage option (256GB) priced at $1,299.99. With a phone that expensive, you'll probably want to find the lowest price possible.
Luckily the Swappa marketplace is a great place to find the best deals on T-Mobile 5G phones. It's on Swappa you can find a gently used Galaxy Note 10+ 5G for T-Mobile, helping you save hundreds of dollars over the carrier's brand new retail price. But don't just take our word for it, hit the button below to see for yourself just how much you can save.
T-Mobile 5G phone plans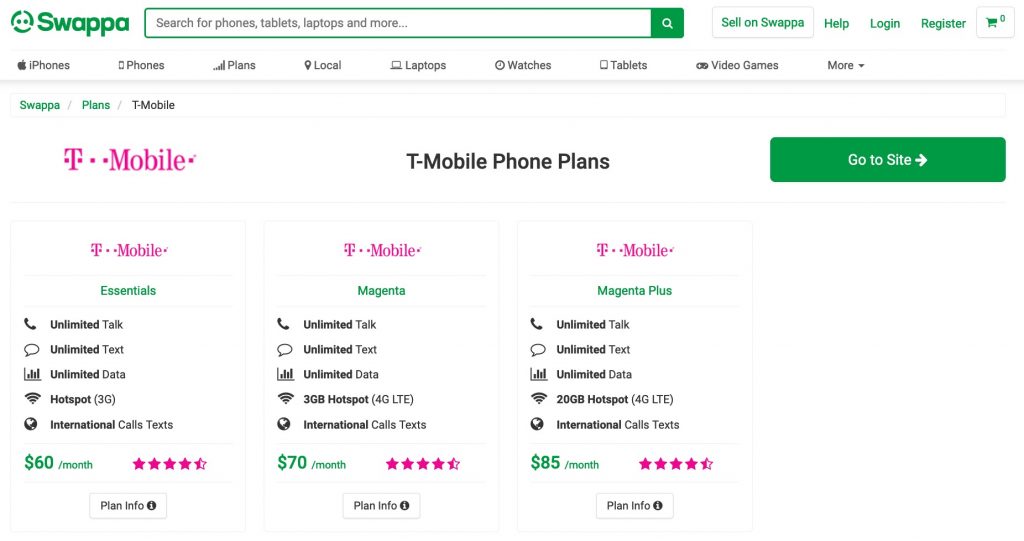 When it comes to other 5G phones on T-Mobile, you'll want to make sure to keep an eye out for "5G" somewhere in the name as more devices become available. We'll be continually updating this list, so you can expect to find more T-Mobile 5G phones as we head deeper into 2020.
It's also worth noting that unlike AT&T, T-Mobile does not charge extra for 5G and it's included on all their current unlimited data plans. Only thing you'll need is a compatible 5G phone. To shop and compare all T-Mobile phone plans and find the right one for you or your family, hit the button below to get started.